The Fantasia Film Festival held their press conference today to unveil their 2012 line-up and honestly we are still processing the information dump. Mitch Davis said during the press conference that the only way to properly describe the festival would be "to tie you to chairs, force feed you caffeine and sugar and talk to you for 17 days." As usual, Mitch is simultaneously completely insane and completely accurate.
Last year, we published over 100 reviews/articles about/from Fantasia and recorded six podcasts. We intend to at least equal those numbers this year. Expect articles about our most anticipated films from several of us in the next few days, once we have time to study the 2012 Fantasia program book. (At 396 pages, you could use the damn thing to do wrist curls and I think that it has already been declared a Weapon of Mass Destruction by bugs everywhere.)
While you are waiting, the 2012 Fantasia web-site is online now for you to check out.
Most of the information given at the press conference came from excited festival programmers highlighting the films they are excited to show off. I am sure that some of that will influence our individual choices in the days to come, but there were also three fascinating, intriguing, awesome and borderline insane stories that emerged from the press conference that you won't necessarily find in the official Fantasia press release or on the web-site.
*****
1. Headline: ParaNorman is the Official Closing Film of the 2012 Fantasia Film Festival
Insanity: It will be presented in the Hall Theatre in 3D!
Just to explain why this is insane/awesome, Fantasia is having 3D projection equipment specially brought in to the Hall Theatre to be able to present the closing film ParaNorman in 3D.
I should probably explain that I share the skepticism of Roger Ebert and many others about 3D films. I find that the process needlessly darkens the films and that most filmmakers use the process in very unimaginative ways. There are exactly six filmmakers and films in my opinion that have used the technology in interesting ways: James Cameron (Avatar), Martin Scorcese (Hugo), Ridley Scott (Prometheus), Wim Wenders (Pina), Werner Herzog (Cave of Forgotten Dreams) and Henry Selick (Coraline).
It's the last film that is pertinent here. Coraline is the only animated film that is substantially improved by watching it in 3D. Now Henry Selick is not directing ParaNorman, but the film is by Laika the same company that made Coraline and 56 members of the artistic crew from that film also worked on ParaNorman. One can only hope that they learned from the experience and can squeeze the Coraline 3D Special Sauce into ParaNorman. So, I am actually quite excited to see the results of the grand experiment of projecting a 3D Animated film in the Hall Theatre.
*****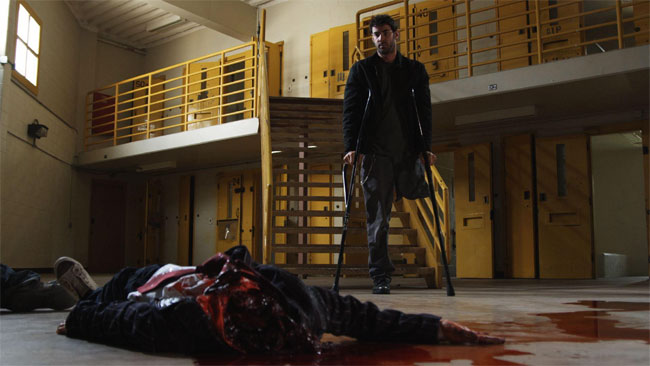 2. Headline: Paul Hough, director of The Backyard, brings the World Premiere of his follow-up film The Human Race to Fantasia
Insanity: After being accepted, to successfully complete their film, Paul Hough and his star Eddie McGee had to raise $6,200 on Kick Starter!
The Human Race has probably the best back story of any film in Fantasia in terms of the perseverance and creativity and sheer bloody refusal to take no for an answer required to get a film made. Paul Hough had an idea for a film. He wanted to cast his friend (and star of Paul's award-winning short film The Angel) actor Eddie McGee in the lead. Paul was offered Hollywood money to make his film, but only if he cast someone other than Eddie in the part.
The reason? Eddie only has one leg.
It gets better.
Here's the description of the film:
"The Human Race is about 80 people who find themselves in a foot race. They are given rules –
If you are lapped twice, you will die.
Do not step on the grass, or you will die.
Race Or Die."
In that kind of film, a one legged man is the biggest underdog possible. Casting Eddie makes perfect creative sense. I applaud Paul and Eddie's determination to make the film independently.
When the filmmakers submitted their Rough Cut to Fantasia, they were overjoyed to be accepted into the Festival, but they had no more money to complete their film. So, they turned to Kick Starter. Needing $6,200 to complete their film in time for Fantasia, they actually raised $7,926.
It's a great story. Hopefully, it will also be a great film.
The Human Race Fantasia listing
*****
Headline: Kino filmmakers are making three short films inspired by feature films being programmed this year at Fantasia. 
Insanity: The short films will be presented this year at Fantasia before the feature films that they were inspired by… without having been seen by Fantasia programming staff!
This isn't just walking a programming tightrope without a safety net – it's doing it during a hurricane.
The Kino filmmakers will have had about a month to plan, film, edit and complete their short films.
Here's the really insane bit: One of the films picked is Yves Simoneau's Dans le ventre du dragon. The screening will be attended by the director, and many of the cast and crew of the film. So, you're not just making a short film inspired by an all-time classic Quebec film, in a month, but you are showing it to an audience for the first time when the director, cast and crew of that classic film will be there.
Madness. Beautiful, inspired, but barking mad.
The films that will be preceded by these suicidal shorts and the filmmakers who will be presenting their short films:
Dans le ventre du dragon (Yves Simoneau) Short Film Director: Jesse Malcolm
Alter Egos (Jordan Galland) Short Film Director: Hugo Matte
Miami Connection (Y.K. Kim, Richard Park) Short Film Director: Rémi Frechette
*****
At its best, Fantasia is a film festival where film makers, film programmers and the festival audience come together to take a monumental collective risk. Those risks don't always pay off, but the results are rarely boring. And those three stories are great examples of the creative madness that drives the Fantasia Film Festival.
Stay tuned. The insanity it just getting started.