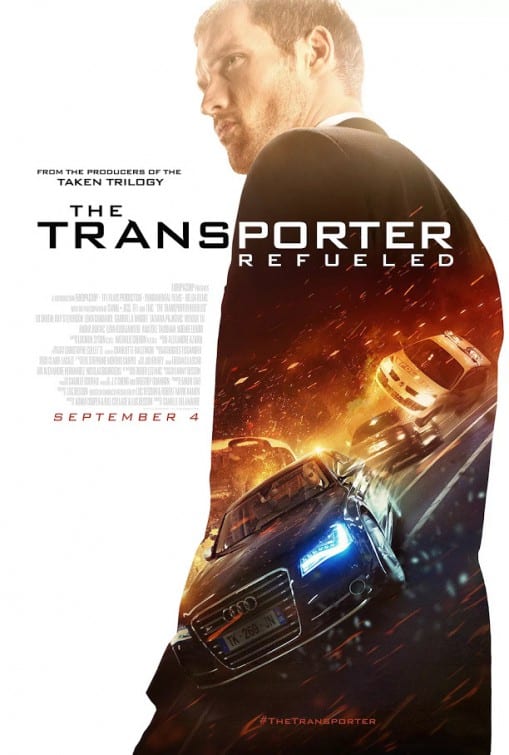 The Transporter: Refueled
Written by Luc Besson, Bill Collage and Adam Cooper
Directed by Camille Delamare
France/China, 2015
Whereas each of the first three Transporter vehicles were released at three-year intervals, Refueled arrived in theatres in September of 2015, seven years since audiences last saw lone wolf Frank Martin pack a mean punch towards clients that always try to change the deal. Since then, a television series starring Chris Vance (a co-Canadian production, no less) lasted a couple of seasons and the film franchise's true star, Jason Statham moved on to bigger things, although whether they were better is entirely up for debate. Luc Besson, co-creator of the first trilogy, saw fit to dive back into the well in the hopes of reviving the character and his many antics in southern France, announcing at the 2013 Cannes Film Festival Frank Martin's eventual return to the silver screen. Without Statham on board, who bowed out due to contract disputes, could a fourth film, titled Transporter: Refueled, accomplish what its namesake promises and get the series back on its feet?
Still trying to enjoy the good life along the delightful French Riviera, Frank Martin, this time played by English rapper Ed Skrein, has a new package to deliver: a present to his father to celebrate the latter's retirement from government service. Frank Sr. (Ray Stevenson) is looking towards a long, relaxing final chapter of his life, and maybe even enjoy some quality time with his ever gruff, obtuse son. Their family time is cut short however when a quartet of similarly disguised bleach-blonde bombshells kidnap Frank's father and hold him for ransom in exchange for his driving services during a series of missions they need to accomplish in order to exact revenge on a human trafficker and pimp named Arkady Karasov (Radivoje Bukic). It turns out that the ladies were once his hookers, but now, led by feisty Anna (Loan Chabanol), they are determined to even the odds, benefitting from the precarious situation they have forced Frank into, as he has no choice but to help them in order to get his father back in one piece. A tenuous alliance is bridged as the action begins to roar.
Truth be told, apart from the obvious major casting change, not much differentiates this Transporter film from the three that precede it. Even then, it has to be argued that Statham, who, in his defence, has earned himself a considerable fan base along the years, is not the most dynamic of actors. He essentially plays the same character over and over again, and while it is often amusing and serves as a comforting signature to his fans, replacing him for the role of Frank Martin could not have been the most difficult thing in the world to accomplish. Enter Ed Skrein, an unlikely choice seeing as his acting experience is limited, but provided he can pull off most of what Statham did previously, then things should run smoothly enough. Thankfully, Skrein is capable in the role, able to play the standoffish anti-hero with relative conviction. He doesn't have Statham's grimy voice, but he does his best at sounding mildly annoyed whenever forced to utter a response to anyone. It isn't exactly the same without Statham, but nor it is terribly different either. For the better or worse, the filmmakers appeared to have found their replacement as the eponymous transporter.
The only truly charismatic performer in the entire picture however is, unsurprisingly, Ray Stevenson. A veteran of both the large and small screens, Stevenson plays Frank Sr. a lot like Sir. Sean Connery played Indiana Jones' father in The Last Crusade. He is a charmer with the ladies, frequently trying to seduce his captors, and shares a loving if sarcasm-filled relationship with his son. He brings a joy de vivre to a film that few of the other cast members can match. Loan Chabanol is serviceable as leading lady Anna, if unspectacular. She is on the feisty side, which makes her a more or less heroic, less psychotic version of the crazed Lola from the second instalment, although when asked to deliver serious, dramatic lines, many fall flat. The series has never seemed very preoccupied with the casting of the female leads, basically hiring whoever looks drop dead gorgeous, and worrying about acting skills, if at all, when the actress is on set. The real letdown however is the villain. Radivoje Bukavic is as bland as bland can be, injecting little menace into the role, which hurts the film's intention at establishment a backstory between his character and Frank. While the idea is ripe for some decent drama, Bukavic is simply uninspiring, thus killing whatever impact their dynamic could have had.
Camille Delamare, after serving as editor for parts 2 and 3, is promoted to the role of director this time around. Interestingly enough, it seems as though when not controlling the cutting room, Delamare actually has a decent sense of visual storytelling. From that standpoint, Refueled is a considerable upgrade from part 3 (although that, honestly, could not have been a difficult challenge to rise to), finding itself establishing an identity more along the lines of what the very first entry offered. The action is more controlled, better staged, cut with a bit more logic and the colour palette is more natural, nicely showing off the beautiful locations the crew had the privilege to shoot. Delamare occasionally reverts to old habits of fast cutting, but on the whole the increased restraint, relatively speaking, is welcomed.
Credit where credit is due. Skrein genuinely looks good swinging his fists and legs out and about, landing them on any poor sap whose face is unfortunately in the way. Better still, the long hiatus taken by the series evidently reinvigorated the creativity and slight jabs at humour the filmmakers employ in the action sequences. One moment when Frank has to contend with four huge thugs in a tiny space with drawers on both side is among the highlights of the movie, reminding viewers that Frank does not limit himself to simply kicking ass, he does so in ways that amuse as much as they get the adrenaline pumping. Yet another sequence has Frank exit his slowly advancing Audi in order to fend off a hoard of oppressors as the ladies watch, incredulous, from inside the vehicle. Little touches like these are what make the Transporter action beats as fun as they are.
Does The Transporter: Refueled earn its place in the series? On most accounts, yes it does. The chief antagonist is a bore and it features what is arguably the least interesting plot of the quadrilogy, to say nothing of the fact that it essentially re-hashes that of the first film, basically replacing Chinese labour slaves with European sex slaves. Despite those flaws, Ed Skrein is a fine Frank Martin, Ray Stevenson is having plenty of fun playing the protagonist's father and the action, both from a quality and comedic standpoint, is a return to form following the abysmal Transporter 3. It is unclear whether audiences will see Frank Martin again, but if the series concludes with Refueled, at least it's a decent end point.
Coming up next…
-Edgar Chaput