The Victorian Era is generally limited to Queen Victoria's reign of the British Isles from 1837 to 1899. Outwardly, it was a triumphant period as the monarchy presided over a number of territories abroad and proudly extolled the virtues of its ruling classes. Beneath the pomp and circumstance were the millions of sickly poor who struggled against a system that left little room for them to rise above the lot they were born into. They toiled to make the lives of their titled employers easy with their own lives often falling to the wayside. Charles Dickens keenly observed these interactions between the haves and have nots and used them to become one of the most famous authors associated with the time. His success with dissecting classism in no way diminishes the insight and entertainment from other authors who chose to spin tales of love among the elite or murder mysteries. Love stifled by societal restrictions or unfortunate circumstances is also common theme that reverberates through many of Victorian stories.
Sweeping epics with lavish costumes and manners no doubt dominate the public's cliche vision of the genre but there are imaginative exceptions that completely subvert expectations of period movies as well as satiating the emotional needs of the audience. Most Victorian films are adaptations of books or plays written during the time by the likes of Dickens, the Brontë sisters, Oscar Wilde, and H.G. Wells. Tales of men's' exploits abound and the advent of science fiction is still lauded but there are now new films emerging that look back with more honesty towards repressed sexuality and provide more nuanced accounts of women's' struggles in a society built around their subservience in exchange for protective exploitation.
What follows is a list compiled of the 20 best Victorian Era British films. This excludes TV movies or BBC produced miniseries and pertains only to theatrical releases.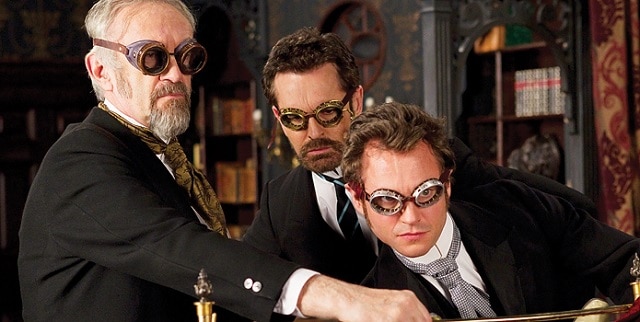 20) Hysteria (2011)
Directed by Tanya Wexler
Written by Stephen Dyer and Jonah Lisa Dyer
In Hysteria, yes, we really are watching a dramatization of a man getting paid to soothe women by pleasuring them even though he and his patients can't articulate the specifics of the interaction as anything other than a medically necessary procedure. Stimulating a woman to orgasm with fingers and machinery is still something that is relatively left in the cinematic shadows (or in this film, under the privacy of a classy blanket). While some of the film feels muddled- it deals well with knowing a woman's value and how many women's opinions were maligned purely because of their biological sex. The catch all diagnosis of "hysteria" devalued the intricate minds and bodies of women. Certified as being "less than" men, the humane alternative to putting women into asylums where they would be subjected to numerous abuses came to be a pelvic massage administered by a doctor. Mortimer Granville is a compassionate and scientifically minded young doctor (Hugh Dancy of TV's Hannibal) who becomes a part of an established doctor's practice and household. He is so good at relieving women of their worries that his hands nearly give out from overwork. The vibrator is born out of his desire to keep business going and with the help of a sarcastic friend (Rupert Everett). This film plays as a comedy but could have very well just been a tragedy if the characters had been less wealthy. The power of the orgasm still being firmly in the hands of men is important because women knowing the full extent of what they could do for themselves would have given them confidence and a better sense of control over their sexuality. The philanthropic daughter (a fiery Maggie Gyllenhaal) of Granville's boss is a socialist who is aware of women's rights and thinks they should have a say over their bodies. Gyllenhaal portrays her as an intellectual match for Granville and they mutually benefit each other without involving his popular therapy. While the idea of taming women with sexual massage is rather repugnant, the discovery of alternative modes of pleasure for women is recognized as being invaluable even if it was ignored as delivering orgasms at the time. The dire consequences that befell outspoken women are only mildly dealt with but the film is keenly aware of how the scientific revolution contributed to the fight for equality. The little incidents of sexual and economic revolt in Hysteria nourish the period genre by addressing the invisible.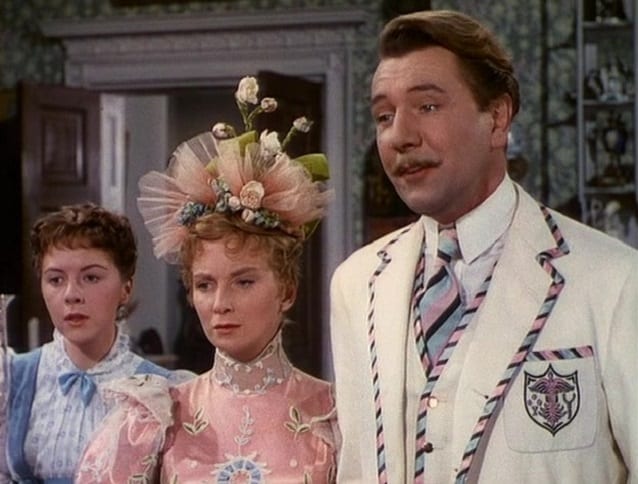 19) The Importance of Being Earnest (1952)
Directed by Anthony Asquith
Based on the play by Oscar Wilde
Asquith's extremely faithful adaptation of Oscar Wilde's play is full of love, mystery, practical advice, and witty societal barbs. It lets the interactions play out in their entirety without the fanciful camera techniques getting in the way. Michael Redgrave and Michael Denison headline as Ernest Worthing and Algernon Moncrieff, two men set against the world of Victorian convention. Edith Evans as Lady Bracknell is a scene-stealer with her upper crust persona rapid fire cutting into the confidence of the younger characters with an exacting precision. Since there isn't much to distract from the art of Wilde's words, this treatment of the play has stood the test of time.
18) Time After Time (1979)
Directed and written by Nicholas Meyer
Story by Karl Alexander and Steve Hayes
A fairly bizarre movie from the late 70s in which two names synonymous with Victorian England become tied to one another when Jack the Ripper commanders H.G.Wells' time machine. Jack sends the machine back and Wells sets off from 1893 London to track him down in 1979 San Francisco. It turns out that London's biggest monster isn't as shocking in modern America. He still makes headlines but the world is less shocked by the depravity. Wells imagined the future as utopian but finds that violence still persists and with more efficiency. The mustachioed Malcolm McDowell (A Clockwork Orange, If….) plays Wells with headstrong sincerity and convincing naivete. It's a slow burn chase between innovative author and infamous killer which detours into romance when Wells connects with an amiable woman (Mary Steenburgen) who exchanges foreign currency for him at a bank. Her progressive single life collides with his old fashioned English manners in a lovingly predictable manner that doesn't annoy but becomes more engaging as they work against time to get Jack. Why Wells doesn't use the machine more is completely baffling and frustrating but our sweet protagonist fighting a cynical world to stop a murderer out of altruism and love is entertaining. McDowell puts all he has into this unabashedly silly but charming sci-fi thriller.
17) The Invisible Woman (2013)
Written by Abi Morgan
Directed by Ralph Fiennes
Actor Ralph Fiennes' second directorial effort (the first being 2011's Coriolanus) puts the spotlight on Charles Dickens' long-term romance with a much younger woman. Fiennes explicates how the prolific Victorian writer came to so brazenly act on his heart's desires and outside the bounds of strict societal standards. Felicity Jones (Like Crazy) is Nelly, who would become Dickens' mistress until his death. It's a true story that begins with an attraction between like minds and wanders ever so slowly into physical intimacy that doesn't match the warm intensity of their mutual opinions. Thinking they can have paradise, they lead each other away from prim and proper culture but not necessarily to happiness. Their relationship complicates our view of Dickens and expounds upon a woman largely brushed under the rug of literary history. Concentrating on Nelly's personal struggles, the film gives realistic insight into her time as a muse living under scrutiny and the many years of life she led in anonymity after his passing.
16) Mr. Turner (2014)
Written and directed by Mike Leigh
Suffused with the landscapes that the famed British painter J.M.W. Turner admired and translated into legend, director Mike Leigh's film hints at the inner life of the man behind the accomplishments but stops well short of explicating his eccentric actions. Unable to articulate his feelings and more often than not treating the people around him with callous indifference, it's obvious that Leigh's Turner has cultivated an environment of emptiness that has allowed him ample space to do exactly what he wants with his life. The silence is frequently richer than the dialogue, with the luscious scenery speaking more to the turmoil of his mind than he can adequately express to those who want to be close to him. Mr. Turner tests one's patience as we crawl through the waning years of the man's life, but Spall's offbeat performance and the gorgeous backdrops immerse the viewer just enough to offset the sparsity of the artist's stunted emotional intelligence. With the script so noticeably lacking exposition, Spall staves off the some of the hollowness of Leigh's minimalism with his audacious and nuanced depiction of Turner's idiosyncratic personality. Besides Spall, the greatest aspect of Mr. Turner may very well be that Leigh stresses with some import that the man behind these spectacular renderings of nature is not a figure that can be possessed by history. However exhaustively we gaze at his work, we cannot condense his spirit to something knowable.
15) Jude (1996)
Directed by Michael Winterbottom
Written by Hossein Amini
Based on the book by Thomas Hardy
Jude is a punishing film that's light on traditional entertainment. Derived from a work by Thomas Hardy, the plot follows a man working against cruel circumstance to be with his cousin. It's decidedly dark with committed performances by leads Kate Winslet and Christopher Eccleston. The cousin aspect is quasi off-putting until the true affinity that the couple feels for one another shines through. The acting carries Jude to crushing depths that are hard to shake after the finale.
14) Effie Gray (2015)
Directed by Richard Laxton
Written by Emma Thompson
The Emma Thompson penned Effie Gray is the true story of a bright young woman who marries ambitious albeit austere art critic John Ruskin. Ruskin neglects her emotionally and physically to such an extent that her health declines. The story is lethargic but so are the conditions that Effie (Dakota Fanning) has to bare. Her predicament of being intertwined with a man that refuses to fulfill any part of the marital contract was only partly unique. Women trapped in loveless unions where their needs were not considered happened were commonplace but Effie establishing a couple of key supportive contacts outside of Ruskin's suffocating family made all the difference in her case. Deconstructing the devastating effects that a lack of affection or any attention can have on youth and self image, Fanning conveys a good-hearted weariness. One of the best scenes has Effie happening upon the bathing protege of Ruskin. Her observation of him as a woman is direct and without stigma. The story being so concerned about her pleasure without shallowly consuming her image for the male spectator is a rare endeavor. There are some stagnant moments but Effie Gray rightly attends to the silent plight of some Victorian women while wallowing in an artistic awe for the natural world.
13) Angels and Insects (1995)
Directed by Philip Haas
Written by Belinda Haas and Philip Haas
Based on the book by A.S. Byatt
Mark Rylance (Bridge of Spies, TV's Wolf Hall) plays a naturalist named William Adamson who marries into a rich British family after suffering a shipwreck that robs him of all of his wealth. The story's engaging oddness and riches are found in how earnestly it presents the goodness of the protagonist and how easily he holds his own against privilege. His life with the elite is tainted by the presence of an entitled and jealous brother-in-law but buoyed by the company of Matty Crompton (Kristin Scott Thomas of The English Patient) who is the family's strong-willed governess. She encourages his scientific curiosity and bolsters his professional ambitions while also exploring her own instinct for keen observation and creativity. The film wrestles with some important ideas of Victorian England's turbulent society. The declining value of nepotism and the examination of the effects of Darwinism being central to the the scientific atmosphere and the prism of how well we treat others. Rylance's William registers as the opposite of Heathcliff from Wuthering Heights. He wishes no one ill will even though others do him great harm. He is quiet, loving, slow to anger, and eager to better the world around him. Possessing an education but no fortune, he is not bound to material excesses. He yearns to explore and pass onto others what beauty he finds. One of the best strengths of the film is that William's pacifism is not mistaken for being meek. Instead, his calm assertions and willingness to be generous despite what has been done to him is seen as an asset to all. Angels and Insects revels in carnality but ties the best of its sexual outcomes to kindness and intelligence in a way that isn't shameful or circumspect.
12) Mrs. Brown (1997)
Directed by John Madden
Written by Jeremy Brock
After the death of Prince Albert, Queen Victoria (Judi Dench) falls into despondent grief. It's only through the sarcastic compassion of Scottish servant Mr. Brown (comedy legend Billy Connolly) that she is able to lift herself out of depression. Connelly balances the severity of Dench's manners with a lively wit and a well-played concern for her state of mind. The brightening of Queen Victoria's attitude in this little explored part of her reign is also fraught with the danger of getting close to a man far below her rank and creating commotion by spending so much time alone with him. In that small way Mrs. Brown is transgressive. Their friendship and love for one another endangers the Queen in much the same way that other women in Victorian times feared being scorned by society for any interaction outside of marriage. An older woman in possession of such power is an infrequent image on the big screen and Dench excellently emotes Victoria's turbulent inner life and emotional rebirth.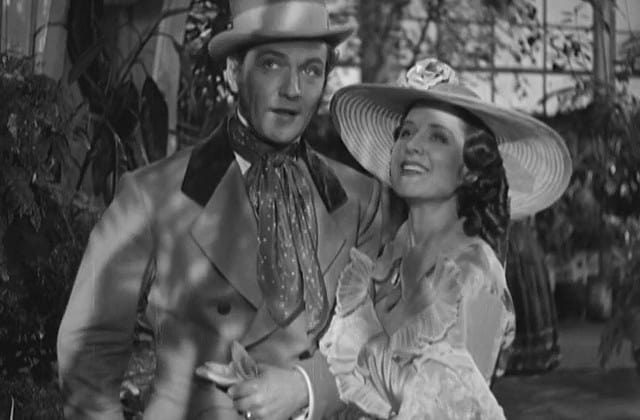 11) The Barretts of Wimpole Street (1934)
Directed by Sidney Franklin
Written by Ernest Vajda, Claudine West, and Donald Ogden Stewart
Based on the play by Rudolph Beiser
Although this film is encumbered by slow pacing, the acting of the great Norma Shearer as housebound poet Elizabeth Barrett and Charles Laughton (Jamaica Inn, Witness for the Prosecution) as her oppressive father, is tremendous. Elizabeth is courted by Robert Browning (played by the spirited Fredric March) who is determined to extract her from her toxic surroundings. March and Shearer make the relationship feel believably close and the strain of the distance between them almost unbearable. Laughton brings his usual gusto and is a palpably imposing to the union of the amorous writers. A remake from 1957 with Jennifer Jones breathes beautiful color into the story and more fluidity to the action but lacks the dynamics of the actors of this version.
10) The Elephant Man (1980)
Directed by David Lynch
A severely deformed man named John Merrick (John Hurt) is rescued from a sideshow by a sympathetic doctor (Anthony Hopkins) in David Lynch's second feature. Lynch presents the sad realities and gentle dignity of Merrick's existence without trippy ambiguity. An intelligent person who wants no more than the simple pleasures of life is terribly gawked at and paraded in front of civilized society for cheap thrills. Hurt brings a pained yet thoughtful weight to Merrick's interactions with a world that rejects him. Hopkins' admiration for Merrick is clear and colored by Lynch's compassionate storytelling.
9) Hobson's Choice (1954)
Directed by David Lean
Written by David Lean, Norman Spencer, and Wynyard Browne
Based on the play by Harold Brighouse
The enchanting Hobson's Choice by masterful director David Lean is unexpectedly delightful with each of its upheavals. Charles Laughton is a boozing patriarch in charge of three grown women ready or (because of the era) overdue for marriage. Laughton's bombastic deliveries can seem overdrawn at first but the charm of the dialogue soon overrides any misgivings the viewer initially feels. The eldest daughter Maggie (Brenda Da Banzie) is branded a spinster by her father and to show him up, she makes an employee of his bootmaking shop propose to her. It's a battle of wills ensues which work out splendidly under Lean's distinctly smooth vision.
8) Wilde (1997)
Directed by Brian Gilbert
Written by Richard Ellman
Based on the book by Julian Mitchell
Quick with witty retorts and famous for works that skewered the foibles of society he quite astutely observed, Oscar Wilde lived life to its fullest extent within the restrictive structure of a Victorian world that criminalized homosexuality. Stephen Fry (British TV's QI, Gosford Park) charismatically emanates this personality who broke the mold of an author's public persona with his outspoken intelligence but not without developing powerful enemies. The sexuality of the film thankfully doesn't shy away from the truth of Oscar's relationships. The tragedy and triumph of Wilde are apparent in a sharp tongue that is both his making and ultimate undoing.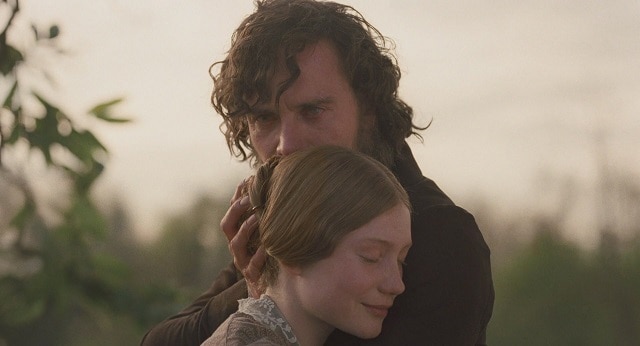 7) Jane Eyre (2011)
Directed by Cary Fukunaga
Written by Moira Buffini
Based on the book by Charlotte Brontë
There are many versions of Charlotte Brontë's Jane Eyre but this recent film is inclusive of many of the best traits of all of them. This is truly Jane's story as Mr. Rochester- the grumpy, seemingly unkind man with a dark past that Jane comes to love while working as his ward's governess is out of the picture for a good 40 minutes with the exception of his whispering voice on the wind. Jane is acted with tender care but tenacious spirit by Mia Wasikowska (Crimson Peak, Stoker). She is pitted against the dark and biting intensity of Michael Fassbender as Rochester. They spar as equals and seem scared of a union but magnetized to each other all the same. The harshness of Jane's upbringing as a cast off orphan is built eloquently and we see her grow up into a good person despite the many difficulties she has had to weather. Rochester's previous life is sketchy but this incarnation of Jane projects a redemptive aura that heals him as well as others who cross her path in a realistic way that leaves the audience in a good place after assessing the unfairness of life's events. This Cary Fukunaga (Beasts of No Nation, TV's True Detective) directed Jane Eyre is saturated by tragedy but heightened by its violent and passionate portrayal of a mutual love that verges on madness. Jane calling back to Rochester's disembodied voice is as frightening as it is sweet.
6) The Picture of Dorian Gray (1945)
Directed and written by Albert Lewin
Based on the book by Oscar Wilde
The Victorian principle of inner beauty being tied to outer beauty is twisted around on itself with Oscar Wilde's The Picture of Dorian Gray. Dorian Gray is a young gentleman (Hurd Hatfield) with little trepidation of selling his soul to preserve his appearance. All his moral ills are collectively worn on the face of a painting of him that is hid away from the world. This conceit presents the horror of what titled and civilized people are capable of reaping. An exceptional use of color that pops up in an otherwise completely black and white film is striking.
5) Dr. Jekyll and Mr. Hyde (1931)
Directed by Rouben Mamoulian
Written by Samuel Hoffenstein and Percy Heath
Based on the book by Robert Louis Stevenson
An innovative take on the classic story of a man who splits his personality with the aid of a scientific breakthrough. With some elixir, his dark side is able to take over and run amok. Dr. Jekyll's transformation into the hideous Mr. Hyde is still impressive despite filmmaking's now advanced special effects. The transitions between scenes are often stopped between split images while close-ups beautifully augment an individual's thoughts. A long held point-of-view shot from Jekyll feels fresh and that it could take us anywhere. There is a dangerous spastic energy to Fredric March's performance that ignites any scene he enters.
4) Wuthering Heights (1939)
Directed by William Wyler
Directed by Charles MacArthur and Ben Hecht
Based on the book written by Emily Brontë
While William Wyler's take on Emily Brontë's windswept tale of toxic love on the moors omits a crucial final segment of the book, sterling performances by Laurence Olivier as Heathcliff and Merle Oberon as Cathy make up for it. Olivier's Heathcliff is not as wild as his literary personality but he does nail down his coldness as Cathy and Heathcliff are separated by stubbornness and blind jealousy throughout the years. The dark heart of Heathcliff casts a shadow of gloom over the action that only Olivier can pull off without tanking the audience's involvement. An undeniably grim atmosphere seeps into the whole production giving the film a feel of inevitable tragedy. It's a multi-layered experience of Brontë's work that sees all aspects of the storytelling expertly realized.
3) Gaslight (1944)
Directed by George Cukor
Written by John Van Druten, Walter Reisch, John L. Balderston based on the play by Patrick Hamilton
Gaslight is an anxiety ridden ride that treads closely to madness. Following the murder of her famous opera singer aunt in London, Paula (Ingrid Bergman of Notorious, Intermezzo) goes to Italy and is eventually wooed by a mysterious Gregory (Charles Boyer). Playing upon Paula's fragility and obedience, the movie digs a deep well of psychological trauma for her after her marriage to Gregory and their settlement back in the London home where the grisly crime took place. Gregory cruelly severs social ties while repeatedly reinforcing her purported forgetfulness and kleptomania. The isolation and domination takes Bergman's innocent confusion to a compellingly frenzied state of delirium. Boyer's denigrating deliveries while maintaining fanatical control over her make for a darkly discomforting tale of greed and murder. Supporting roles from Joseph Cotton as a suspicious outsider and Angela Lansbury as a saucy and unfriendly maid in her first role at 18 contribute to well-acted and excellently drawn suspense.
2) The Innocents (1961)
Directed by Jack Clayton
Written by Truman Capote, William Archibald, and John Mortimer
Based on a novella by Henry James
Within moments of being immersed in the chilly opening imagery of a pair of grasping, desperate hands bent into prayer while an eerie song serenades us through the credits- we know that nothing will be alright in The Innocents. Miss Giddens (Deborah Kerr) is led to become a governess to two odd children as their sole guardian is an inattentive uncle who wants little to do with them. Left alone with them and a handful of servants on a large estate, a disquieting fear is conjured for the audience. As the governess learns of previous deaths on the property and sees mysterious figures, we too see the children become stranger and their smiles turn into threats. The distant charges are able to whip her into a psychotic frenzy as she tries to make sense of the power that apparitions may have over the young ones. The Innocents lingers on shots of faces and events in a way that is confrontational and makes us complicit in what consequences follow unmitigated fright.
1) Great Expectations (1946)
Directed by David Lean
Written by David Lean and , based on the book by Charles Dickens
From the first jolting scene where young Pip is confronted with a moral decision while visiting the graves of his parents, David Lean manages to hook you. The wholesomeness of Pip, a boy born into nothing who is chosen at random to play in the house of a wealthy woman with nefarious plans- the audience is invested in his future and that he will be able to free himself of people who will take advantage of him because of his poorness. John Mills embodies the adult Pip with the same with virtuous sensibilities and gives him a humanity that is hard not to be moved by. It's a nerve racking storyline that throws you in several different directions as you try to figure out how well or tragically it all may end. Lean interjects some ingeniously artful but unobtrusive shots that bolster meaning in this timeless, heartwarming albeit distressing epic from Dickens.