To borrow the chorus of Gotye's song, now you're just somebody that I used to know…on the small screen. Some of the most loved and financially successful stars in Hollywood came to us through TV shows, doing their time on soap operas, cult miniseries, and other shows before making the leap to the silver screen. Below are 10 celebrities who routinely drive millions at the box office, but who were originally known for their TV roles.

1. George Clooney
Urbane, effortlessly charming George Clooney starred for years on hit show ER before transitioning into film. Starting out with Roseanne, Sisters, and an appearance in the initial run of ER, which was quickly canceled before returning a decade later and becoming a long-running classic, Clooney worked his way up in television. His role for five years as Doctor Doug Ross on ER turned him into a national hearthrob – a status that, as it turned out, would never go away. The consummate Hollywood Renaissance man, he's an actor, screenwriter, producer, director, and activist, working on films as diverse as Ocean's Eleven, Good Night, and Good Luck, Syriana, and The Descendants. A worldwide movie star, his films gross in the millions, and he's built a pedigreed, versatile career for the last decade.
2. Will Smith
One of a very few actors in Hollywood who reliably pulls in audiences, Will Smith got his television start with the NBC sitcom The Fresh Prince of Bel-Air, which became a widely loved small-screen staple and ran for seven seasons. as a rapper (under the name The Fresh Prince), not an actor. Hit action films Bad Boys and Independence Day launched his career in blockbuster films,and Men in Black, Hitch, and The Pursuit of Happyness solidified that career over the next few years, ensuring that by Men in Black in the late 90's he was making 8-figure salaries for his films.
3. Shailene Woodley
Shailene Woodley played small parts in a number of TV shows in the early 2000's, before being cast as the lead in The Secret Life of the American Teenager. Unexpectedly cast in 2011's The Descendants opposite George Clooney, the role gained her a great deal of critical attention, as did her 2013 role in The Spectacular Now. In 2014, she leaped to worldwide fame playing Tris Prior in the first of the Divergent film series, which made more than $288 million worldwide. Woodley is now one of Hollywood's most prominent young actresses.
4. Jennifer Aniston
American's Sweetheart after playing Rachel Green for 10 years on Friends, Jennifer Aniston is easily the Friends cast member with the most commercial success. Transitioning relatively easily into a career in comedies and romantic comedies, she starred in Bruce Almighty (2003), The Break-Up (2006), Marley & Me (2008), Just Go with It (2011), Horrible Bosses (2011), and We're the Millers (2013). One of the highest paid actresses in Hollywood, her net worth as of 2015 was estimated to be $150 million.
5. Chris Hemsworth
Little-known fact about one of our favorite Aussie imports: prior to Thor, Chris Hemworth appeared in 171 episodes of Australian soap opera Home and Away (notable for helping give starts to a number of other famous Australian faces, particularly Heath Ledger and Naomi Watts). Leaping with ease from the small screen to the very, very large screen, he appeared briefly in 2009's Star Trek before being cast as Thor in the Marvel films. He's since headlined two Thor films as well as appearing in Avengers, Avengers: Age of Ultron, and the highly successful Snow White and the Huntsman. He's estimated to be worth around 60 million.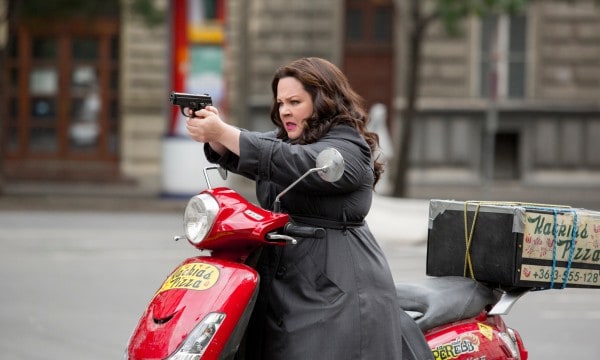 6. Melissa McCarthy
Prior to Bridesmaids, Melissa McCarthy was best known for her supporting role as kooky, warm-hearted Sookie on Gilmore Girls. Then came a lead role on sitcom Mike & Molly, followed by one of the lead roles in comedy sensation Bridesmaids, which landed her an Academy Award nomination and catapulted her to fame. Since then, she has starred in Identity Thief with Jason Bateman ($174 million worldwide), buddy-cop comedy The Heat with Sandra Bullock ($229 million worldwide), and is set to star in the hotly-anticipated Ghostbusters remake. Forbes ranked her as the third highest-paid actress of 2015, with earnings of $23 million.
7. Tom Hanks
Tom Hanks got his start on TV in the early 90's in a variety of sitcoms, most notably Bosom Bodies, in which he played an employee of an ad agency who dressed in drag in order to get cheap housing at a female-only hotel. Then in 1984, after four years on the small screen, he got his first film role starring in Ron Howard's Splash. He's since had a long and illustrious career, and is one of the most iconic and respected figures in Hollywood, as well as one of its most bankable stars. Known for classics such as Big, Forrest Gump, Apollo 13, and voicing Woody in Toy Story, Hanks' films have grossed over $3.5 billion.
8. Steve Carell
After five years on The Daily Show with Jon Stewart, Carell had a breakthrough small-screen role as Michael Scott on instant classic The Office. He went on to star in a string of successful comedies, including The 40-Year-Old Virgin (2005), Get Smart (2008), and Crazy, Stupid, Love (2011). More recently known for his dramatic roles in Foxcatcher and The Big Short, he's revered in the industry, and has an estimated net worth of $50 million.
9. Johnny Depp
Before he was the oddball world megastar we're all familiar with, Depp was an '80's small-screen teen idol due to his role on procedural 21 Jump Street. With dark cult classic Edward Scissorhands, he shifted to film success, and has starred in lucrative films like Sleepy Hollow (1999), Charlie and the Chocolate Factory(2005), and Alice in Wonderland (2010), as well as mob classic Donnie Brasco (1997). The franchise Depp will always be associated with is Pirates of the Caribbean however, which have grossed $3 billion worldwide, partly due to his inspired performance as Captain Jack Sparrow. Films with Depp have grossed over $7.6 billion worldwide.
10. Mila Kunis
Girl-next-door and powerhouse dramatic actress Mila Kunis took to the small screen before the age of 15, playing Jackie Burkhart on That 70's Show. Her breakout film role came in 2008 with Forgetting Sarah Marshall, and she's since starred in a mix of hit comedies and including Friends with Benefits with Justin Timberlake, the wildly successful Ted with Mark Wahlberg, and Black Swan in 2010, for which she was nominated for several acting awards. Since 1999 she has also voiced Meg Griffin in Family Guy. Her estimated worth based on average film earnings is $30 million.
Who's your favorite TV-star-turned-mega-bankable-actor?