2011 is upon us, and hence a whole new year's worth of films are here to look forward to. 2010's Top Tens have been meticulously finalized, marathons have been tirelessly watched, and now it's time to start anew. Although it's obviously too early to tell how the year in film will hold up to previous years, one thing is for sure: 2011 looks very promising and should be an exciting year for movie buffs and casual filmgoers alike. Here are just a few to get pumped up for, in no particular order. Have a Happy 2011, and may all your films be Top Ten-worthy. The plot details come courtesy of each film's official synopsis.
10. The Grandmasters
Director: Kar Wai Wong
Cast: Tony Leung Chiu Wai, Ziyi Zhang, Chen Chang
Release Date: February 2011
Synopsis:
"With martial arts getting more popular in the thirties, more people seek to learn them via the professionals at Foshan in Southern China. Some of the experienced masters like to challenge their counterparts and undergoing battles. To ensure their full concentration, it is their practice to lock up the venues and no one is allowed to leave during battles. Ip Man is a rich young man extremely talented in martial arts, but he chooses to keep a low profile – yet this doesn't keep him out of trouble. The day comes when he is forced to fight, and the masters are amazed by his abilities. Master Kung and his daughter Kung Yi are amongst them, and the latter is attracted to this newcomer. A high warlord is assassinated by his own guard, Yi Xian Tian, and all of Foshan's masters vow to take Tian down no matter what."
Why the hype?
Nothing gets the old adrenaline pumping like a kung-fu film. And with a crew of Zhang Ziyi (star of Crouching Tiger, Hidden Dragon), Yuen Woo Ping (choreographer of The Matrix), and a story following the martial artist who taught the young Bruce Lee, this film is a must-see for any action junkie. If that doesn't get you, the tagline sure will: "In martial arts, there is no right or wrong, only the last man standing." Righteous!
9. Tinker, Tailor, Soldier, Spy
Director: Tomas Alfredson
Cast: Tom Hardy, Gary Oldman, Colin Firth
Release Date: September 16, 2011
Synopsis:
"Based on John Le Carre's 1974 bestseller, the story is set in the aftermath of the Cold War and involves a spy hunt within the highest echelons of the British Secret Intelligence Service. Le Carre's novel also spawned a 1970s Brit TV series that starred Alec Guinness."
Why the hype?
Coming off of the success of Inception, it'll be nice to see how Tom Hardy will mold his star power. Not to mention the acting strength of Gary Oldman, it'll be very refreshing to see him take the lead to a concept not new to Hollywood: espionage. I'm sure with this dynamic duo, alongside the brilliant director of Let the Right One In, the stakes will be high and tension will be palpable. I'm in!
8. The Skin That I Inhabit
Director: Pedro Almodóvar
Cast: Antonio Banderas, Elena Anaya and Marisa Paredes
Release Date: November 18, 2011
Synopsis:
"Pedro Almodovar's new film loosely adapts Thierry Jonquet's 1995 novel "Mygale." Almodovar describes Skin as 'a horror story without screams or shocks.' It is about a plastic surgeon who exacts terrible revenge on the man who raped his daughter."
Why the hype?
While Skin seems to have all the elements necessary for a suspenseful yet slow-burning genre film, the single aspect that makes this film very appealing is the choice of casting Banderas. Now whatever you may think of him, whether you are sick of his takes as a cat in the Shrek films or not, it'll be quite interesting to see a creepy performance from an actor known for his charm and suaveness. Like Tarantino possibly pointing to Justin Timberlake as a ruthless killer in his next project, for the sheer appeal of turning a teen idol into an anti-hero, it'll be interesting to see what Antonio will showcase in what is said to be a "brutal" performance. Hopefully that's brutal in the good sense of the word.
7. Hugo Cabret
Director: Martin Scorsese
Cast: Asa Butterfield, Chloe Moretz, Ben Kingsley, Sacha Baron Cohen, Jude Law, Christopher Lee and Emily Mortimer
Release Date: December 9, 2011
Synopsis:
"Based on the book by Brian Selznick, The film tells the tale of an orphan boy living a secret life in the walls of a Paris train station. When Hugo encounters a broken machine, an eccentric girl, and the cold, reserved man who runs the toy shop, he is caught up in a magical, mysterious adventure that could put all of his secrets in jeopardy."
Why the hype?
It's a film by Martin Scorsese. That should be reason enough. Want more? It's his first attempt at 3D. Now I'm not one for 3D, and am at a point where I don't even bother contemplating getting tickets anymore, but this film might be the light at the end of the tunnel. 3D has been slandered for being too dark, too expensive, and pointless, particularly in its 2D post-conversion form. But if there is one director that can breathe life into this sales gimmick, and actually make use of the technology and its visual possibilities, it's Scorsese. Can I get my IMAX tickets now please?
6. We Need To Talk About Kevin
Directed by Lynne Ramsay
Cast: Tilda Swinton, John C. Reilly, Siobhan Fallon
Release Date: September 2, 2011
Synopsis:
"Based on Lionel Shriver's novel, Kevin tells the story of a smart, educated New York mother who does her best to raise a son she never wanted in the first place. He turns out to be extremely difficult and is at the center of the woman's marital breakdown before going on a killing spree at his high school with a crossbow."
Why the hype?
Casting, casting, casting. Did I mention casting? What makes this adaptation so intriguing is the merging of two distinct acting styles. Although having dramatic roles under his belt, Reilly has recently come into the limelight with his extremely zany comedies. It'll be exciting and questionable to see him take on a more subdued role in this horrific tale, especially with the ever so talented Swinton, who specializes in drama.
5. Source Code
Director: Duncan Jones
Cast: Jake Gyllenhaal, Vera Farmiga, Michelle Monaghan and Jeffrey Wright
Release Date: April 1, 2011
Synopsis:
"A soldier becomes part of an experimental government program that is investigating a train bombing in an attempt to prevent a future bombing from occurring. The soldier is sent into the body of a civilian aboard the train, in the last eight minutes of his life. He is forced to relive the incident over and over again until he can find out who is responsible and how to prevent the next terrorist attack from occurring."
Why the hype?
With the success of his critically acclaimed Moon, everyone is excited to see what's in store for Jones' sophomore effort. It's exciting to see the birth of a director's filmography, and follow it as a hardcore fan. Sure it's a lot of pressure on a director, and there is already speculation that Jones has "sold out" with a more mainstream, high-concept script, but if it's anything like his debut, I'm sure it'll be quite the hit.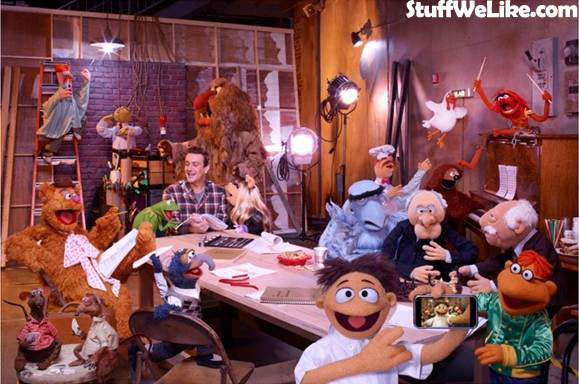 4. The Muppets
Director: James Bobin
Cast: Jason Segel, Amy Adams, Chris Cooper and Rashida Jones
Release Date: November 23, 2011
Synopsis:
"On vacation in Los Angeles, Walter, the world's biggest Muppet fan, and his friends Gary (Jason Segel) and Mary (Amy Adams) from Smalltown, USA, discover the nefarious plan of oilman Tex Richman (Chris Cooper) to raze the Muppet Theater and drill for the oil recently discovered beneath the Muppets' former stomping grounds.
To stage The Greatest Muppet Telethon Ever and raise the $10 million needed to save the theater, Walter, Mary and Gary help Kermit reunite the Muppets, who have all gone their separate ways: Fozzie now performs with a Reno casino house band called the Moopets, Miss Piggy is a plus-size fashion editor at Vogue Paris, Animal is in a Santa Barbara clinic for anger management, and Gonzo is a high-powered plumbing magnate."
Why the hype?
You probably grew up with The Muppets. So why wouldn't you be eager to see a childhood classic come back to the big screen? With Jason Segel co-writing and starting, we can expect big laughs and a great script from the mastermind of Forgetting Sarah Marshall. It's nice to see Hollywood raise the nostalgia factor sometimes, and to see familiar friends plotting around a quaint story. It'll definitely be one to remember for the 2011 holiday season.
3. Red State
Director: Kevin Smith
Cast: Michael Parks, John Goodman, Melissa Leo, Stephen Root, Kevin Pollak, Michael Angarano, Kyle Gallner, Nicholas Braun and Ralph Garman
Release Date: TBD
Synopsis:
"Red State begins by following three horny high school boys who come across an online ad from an older woman looking for a gang bang. Boys being boys, they hit the road to satisfy their libidinal urges. But what begins as a fantasy takes a dark turn as they come face-to-face with a terrifying "holy" force with a fatal agenda."
Why the hype?
What makes this film special is the mere fact that after a string of higher-budgeted duds, Smith is returning to his independent by relying on a witty script, strong talent, and a less-is-more approach to cinematography with a minimalist budget. It'll be intriguing to see what he has to offer in a new genre, hopefully proving that "good screenwriting crosses all genres," and mark his place on top again. What makes the film extra special is that it has achieved cult status without any distribution or release date. With the efforts of his Smodcast network, Smith has been promoting the film's development single-handedly and perhaps is revolutionizing how films are being distributed and owned. What could just be anticipation for a film's release may well be turning into film history in the making, and that's something to be excite any movie buff.
2. We Bought a Zoo
Director: Cameron Crowe
Cast: Matt Damon, Scarlett Johansson, Thomas Haden Church, Colin Ford, Patrick Fugit and Elle Fanning
Release Date: December 23, 2011
Synopsis:
"We Bought a Zoo, a memoir by Benjamin Mee, tells the true account of how the author and his family used their life savings to buy a dilapidated zoo, replete with 200 exotic animals facing destruction, in the English countryside. Mee, along with his children, had to balance caring for his wife, who was dying of brain cancer, with dealing with escaped tigers, raising endangered animals, working with an eclectic skeleton crew and readying the zoo for a reopening."
Why the hype?
A-list actors, a December release date, and a heart-wrenching storyline. The film doesn't even have a trailer and it already emanates Oscar buzz. Whether or not you like the emotional clatter of the Oscar season, these are the type of films movie watchers cherish. Add Cameron Crowe to the mix, and you've got yourself a must-see for the year. Get your tissues ready and cry it all out, no one will judge you.
1. Tree of Life
Director: Terrence Malick
Cast: Brad Pitt, Sean Penn and Jessica Chastain
Release Date: May 27, 2011
Synopsis:
"The eldest son of a 1950's-era Midwestern family sets out on an existential journey that leads him to question his faith while seeking the answers to life's most challenging mysteries in this evocative drama from celebrated director Terence Malick. Meanwhile, as Jack's (Sean Penn) innocence slowly erodes, his turbulent relationship with his father (Brad Pitt) becomes the specter that hangs over his every thought and action."
Why the hype?
For what seems like a better part of a year now, Tree of Life has been publicized and had its release date dropped and pushed back further and further. Finally, the time has come, and Malick maniacs can rejoice. The release date is firm and trailer has been released, and boy does it look beautiful. For a known director who creates masterful works of art sparingly within his career, it'll be a certain treat to catch Tree of Life in theaters this year.
Christopher Clemente
[wpchatai]