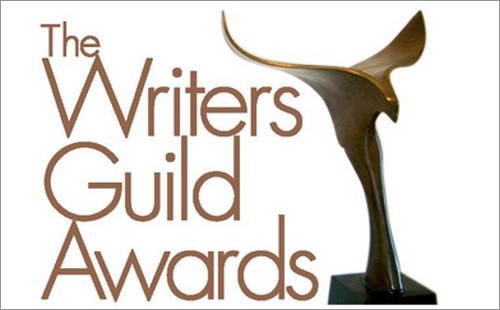 The Writers Guild of America has announced their nominations for the best screenplays of 2010. If you are like me and you like to bet on who's going to win at the Oscars, you will want to take a close look at the nominees. The Writers Guild of America is one of the strongest voting bodies in Hollywood and usually a reliable predictor for Oscar gold. In fact the winner of the WGA award has gone on to win the Oscar in the same category 11 of the last 16 years. Oscar favourites Winter's Bone, Toy Story 3 and The Kings Speech failed to meet eligibility requirements to be considered, and was therefore disqualified (as were a number of other scripts).
Check out their 2010 nominees below from the press release:
ORIGINAL SCREENPLAY
Black Swan, Screenplay by Mark Heyman and Andres Heinz and John McLaughlin; Story by Andres Heinz; Fox Searchlight
The Fighter, Screenplay by Scott Silver and Paul Tamasy & Eric Johnson; Story by Keith Dorrington & Paul Tamasy & Eric Johnson; Paramount Pictures
Inception, Written by Christopher Nolan; Warner Bros.
The Kids Are All Right, Written by Lisa Cholodenko & Stuart Blumberg; Focus Features
Please Give, Written by Nicole Holofcener; Sony Pictures Classics
ADAPTED SCREENPLAY
127 Hours, Screenplay by Danny Boyle & Simon Beaufoy; Based on the book Between a Rock and a Hard Place by Aron Ralston; Fox Searchlight
I Love You Phillip Morris, Written by John Requa & Glenn Ficarra; Based on the book by Steven McVicker; Roadside Attractions
The Social Network, Screenplay by Aaron Sorkin; Based on the book The Accidental Billionaires by Ben Mezrich; Sony Pictures
The Town, Screenplay by Peter Craig and Ben Affleck & Aaron Stockard; Based on the novel Prince of Thieves by Chuck Hogan; Warner Bros.
True Grit, Screenplay by Joel Coen & Ethan Coen; Based on the novel by Charles Portis; Paramount Pictures
DOCUMENTARY SCREENPLAY
Enemies of the People, Written, Directed, Filmed and Produced by Rob Lemkin and Thet Sambath; International Film Circuit
Freedom Riders, Written, Produced and Directed by Stanley Nelson; International Film Circuit
Gasland, Written and Directed by Josh Fox; HBO Documentary Films and International WOW Company
Inside Job, Produced, Written and Directed by Charles Ferguson; Co-written by Chad Beck, Adam Bolt; Sony Pictures Classics
The Two Escobars, Written by Michael Zimbalist, Jeff Zimbalist; ESPN Films
Who Is Harry Nilsson (And Why Is Everybody Talkin' About Him)?, Written and Directed by John Scheinfeld; Lorber Films
Feature films eligible for a Writers Guild Award were exhibited theatrically for at least one week in Los Angeles in 2010 and were written under the WGA's Minimum Basic Agreement (MBA) or under a bona fide collective bargaining agreement of the Australian Writers Guild, Writers Guild of Canada, Writers Guild of Great Britain, Irish Playwrights & Screenwriters Guild or the New Zealand Writers Guild. Theatrical screenplays produced under the jurisdiction of the WGA or an affiliate Guild must have been submitted for WGA awards consideration.
Documentaries eligible for a Writers Guild Award featured an onscreen writing credit and were exhibited theatrically in Los Angeles or New York for one week in 2010. While credited documentary writers were required to join the WGAW's Nonfiction Writers Caucus or WGAE Nonfiction Writers Caucus to be considered, scripts need not have been written under WGA jurisdiction to be considered.
The 2011 Writers Guild Awards will be held on Saturday, February 5, 2011, simultaneously at the Renaissance Hollywood Hotel-Grand Ballroom in Los Angeles and the AXA Equitable Center in New York City.