If a single recent event can help to sum up what's happened to television in 2010, at least on a symbolic level, it's this one: Charles Eglee, one of the writer-producers who had worked on AMC's wildly popular The Walking Dead before either leaving or getting sacked by showrunner Frank Darabont (depending on who you ask), was hired by FX to oversee a small-screen adaptation of Brian Michael Bendis' comic Powers. The announcement came only a few days after FX president John Landgraf announced that the network had to cancel Terriers, their critically adored hourlong dramedy about lower-middle class amateur PIs working and living in Ocean Beach, San Diego. In an unusual move, Landgraf actually held a conference call to discuss the cancellation later that day – at least in part to help stem accusations that the channel's dog-themed advertising helped to doom the show, which never exceeded a paltry half-million US viewers in the coveted 18-49 demographic, making it by far the worst-rated show in the network's history. Landgraf had his own theory, which he based on quick audience polls he devised after the show's first three episodes hadn't been up to snuff in terms of viewership: the show was off-brand. Not as violent as Sons of Anarchy or The Shield, not as sexy as Nip/Tuck, and not breezy enough to be a good fit over at the USA Network, either (Burn Notice, Psych). Simply put, it just didn't quite belong anywhere. "Too small to fail," indeed.
The people over at AMC, home of Mad Men and Breaking Bad, had already gone through a similar process a month earlier. Their highly serialized conspiracy thriller Rubicon had overcome serious hurdles – a post-pilot showrunner shakeup, a sluggish set of early episodes, and a struggle to define its approach – to gradually develop into a quietly amazing show with a unique sense of atmosphere and an unparalleled amount of serious political commentary. Like Terriers, the show lacked an obvious hook, was relatively talky, and was watched by almost no one, and the network, which only started producing original series a few years ago, announced that Rubicon would be its first canceled series – news that was hardly surprising given the incredible ratings garnered by newcomer The Walking Dead, which instantly became the highest-rated show in AMC's history – by a huge margin.
AMC might never have even brought Rubicon to series if they'd had more confidence in The Walking Dead's chances for success. Instead, they hedged their bets, giving it a UK-style first season of only six episodes, and affording it what appeared to be a relatively limited production budget. Apparently, they weren't sure if American audiences were going to get excited about long-form hardcore genre fare. As it turned out, they needn't have worried: the show filled a vacuum no one knew existed, and FX's pursuance of Powers suggests they haven't missed the memo. Undiluted genre fare used to be considered risky and character-based drama a fairly safe bet; it appeared the reverse was now true.
The future trajectory of television comedy, on the other hand, can't be charted so neatly. While many would like to think that the laugh track is becoming a thing of the past, three of TV's most popular sitcoms (Two and a Half Men, The Big Bang Theory, How I Met Your Mother) still employ it. On the other hand, television comedy is more adventurous now than ever before. Mother, despite its use of the aforementioned device, continues to impress with its clever use of self-reflexive techniques and jumbled chronology. NBC's Community, which was somewhat surprisingly awarded a sophomore season, breaks format so often that it basically has none. Most promising of all is FX's Louie, from star and showrunner Louis CK, who writes and directs every episode himself on a shoestring budget. Louie contains traces of previous shows, especially Larry David's two series, but its tone and execution are entirely its own; the fact that it managed to find a reasonable audience is heartening.
Bearing in mind that I wasn't able to catch nearly everything (most notably, I've yet to see the widely-adored Friday Night Lights), here are my thoughts on the best (scripted) TV shows of 2010, in hourlong and half-hour formats (sorry, Children's Hospital). Shows that don't appear below were either not seen by me, or deliberately not included – start complaining in the comments, and I'll likely reply to distinguish the unseen from the unloved. These are all spoiler-free, by the way:
Hourlongs:
1. Breaking Bad (AMC)
——————
Vince Gilligan's incredible crime thriller managed to top its already-great second season, eschewing its meticulously plotted approach (complete with flashforwards, episode-title puzzles, and an ambitious finale gambit) for a more freewheeling, chaotic set of episodes that consistently defied audience expectation, whipping through plot points that some expected to span the whole season, while shifting character sympathies in surprising ways. Leads Bryan Cranston and Aaron Paul astonished on a weekly basis, and supporting players Anna Gunn and Dean Norris got their juiciest material yet. Best of all, the show managed to find ways to shock and surprise viewers while keeping the narrative twists grounded in the reality of its characters. For sheer integrity of storytelling and virtuosity of writing, nothing else touches it.
2. Terriers (FX)
—————-
Destined to one day be discussed in the same hushed tones that short-lived shows like Freaks and Geeks are now, Terriers was a one-season wonder like no other. Bringing to mind a more adult, more sophisticated version of Veronica Mars, Terriers boasted a great cast, a strong sense of tone and setting, witty writing, and a soulful lead performance from former comic Donal Logue, whose paunchy, cash-strapped ex-cop Hank Dolworth was 2010's most unlikely hero. Its sole, 13-episode season was brilliantly conceived as a self-contained, Chinatown-esque story of class warfare, deep-seated corruption and constantly deepening peril, but it never lost sight of its winning comic sensibility. Its lack of an easy narrative hook (no drug dealers, no superpowers, no terminal illness, no zombies, no vampires…), its unflinching timeliness and its unglamorous heroes probably spelled its doom from day one, but thankfully its creators had the foresight not to leave too many plot threads dangling, unlike 2010's other critically beloved junior flop (see #4).
3. Justified (FX)
——–
For the second time (rest in peace, Deadwood), Timothy Olyphant donned a cowboy hat and assumed the role of gunslinging lawman in FX's winning Justified, in which he took on the role of Elmore Leonard's straight-shooting US Marshal Raylan Givens. Showrunner Graham Yost (The Pacific) managed to fashion the best Leonard adaptation since Steven Soderberg's Out of Sight, finding the right balance between wiseass dialogue and gritty, detailed storytelling, aided in no small part by its excellent use of its heavily rural Eastern Kentucky setting. It also boasted one of the best and most unusual femme fatales in recent pop-culture history in the form of Ava Crowder (Joelle Carter), a sawed-off-toting badass unafraid to square off with any of the show's genuinely menacing male figures. Above all, though, it's Olyphant's turn as the cool-but-flawed Givens that makes the show special. Here's hoping its second season can keep the quality level up.
4. Rubicon (AMC)
———-
Cursed from day one, Rubicon started as one show, and ended as another, much better one. Jason Horwitch's two-hour pilot was a stylish amalgam of conspiracy-thriller notes plucked from vintage thrillers like Three Days of the Condor and The Parallax View, but suffered from major credibility issues. TV veteran Henry Bromell took over, and after a few episodes of gear-grinding, upped its game considerably with its fourth episode, the tense, ambitious "The Outsider," and took off from there. Possibly the year's most intellectually ambitious show, Rubicon regularly evoked questions about the nature of patriotism, the role of the intelligence community, and the monolithic mechanisms of political power that seem to elude us even as they shape our lives. Sadly, the show's muddled opening killed its chances of securing an audience, but Bromell and his team deserve immense praise for their work.
5. Mad Men (AMC)
———
The most Emmy-adorned show on any network took a slight dip in quality with its fourth season, which was perhaps inevitable given its remarkable previous year, but remained a fascinating and exciting hour with some of the best acting and writing around. It might have provided the best showcase yet for star Jon Hamm, whose already-iconic Don Draper was completely deconstructed and re-assembled in what was by far the season's most successful character arc. Other plot threads were soapier and less successful, and the show's work/home-life balance was a little off-kilter this time around, but Matthew Weiner's period drama is still unparalleled in terms of dramatic ensemble work, visual flair, and attention to detail.
6. In Treatment (HBO)
————-
A total formal break from most dramatic television, In Treatment is one of the purest pleasures around, a no-frills showcase for great performances with no distraction from support casts, multiple locations or format divergences – just two or three actors at a time, sinking their teeth into some of the best writing in the medium. As ever, Gabriel Byrne anchors it all as Paul Weston, the psychoanalyst with a litany of his own, ever-present issues complicating his work. This season boasted excellent turns from the likes of Debra Winger and Amy Ryan, the latter of whom is rumored to take over for Byrne should the show get a fourth season. Regardless of whether or not it continues, In Treatment has proven to be one of the most consistently high-minded and engaging dramas anywhere.
7. Fringe (Fox)
———-
Perhaps JJ Abrams learned from the disastrous Lost finale that viewers like their answers doled out on the regular, because Fringe has been a consistent delight to watch since about the middle of season two, when it began exploiting the possibilities of its colorful universe to the fullest instead of just building up an arsenal of potential future plot points. The increasingly efficient storytelling has continued into its third season, currently underway, which hasn't quite reached the greatness of last season's high-wire two-part finale, but has consistently provided creepy, slightly campy thrills to a TV landscape that's been short on good sci-fi for some time. Recently consigned to the "Friday death slot" (a designation mocked by Fox in its advertising), I'm reasonably confident Fringe can survive a while longer – but if it ends prematurely, at least it will have been making the most of its time.
8. Treme (HBO)
———
Easily the new series most burdened by the wight of expectation, David Simon's Treme was a hit-and-miss affair whose highs were predictably transcendent, even as a bog-slow pace threatened to sink the series from time to time. The Wire will be exerting considerable influence over the way TV and film depict crime for decades to come – see A Prophet, Carlos, and the Red Riding trilogy for evidence – so it's a little disappointing that Treme lacks that series' sense of dramatic momentum. Still, its solid cast, incredible soundtrack, and urgent sense of outrage keep it from being a failure, and the fact that the second season will likely explore the return of the criminal element to New Orleans following the city's partial recovery holds major promise.
9. The Walking Dead (AMC)
———
Anyone who listened to our Walking Dead podcasts know that I was severely disappointed by the series' first-season finale, which involved a huge, 24-esque countdown clock, a few head-scratching script decisions, and the distinct sense that our surviving heroes were in essentially the same place they were four episodes back. Still, a little over the first season's plot elements worked, and lead Andrew Lincoln slowly grew on me. Hopefully, the show's immense success means that showrunner Frank Darabont will have the time and money to fashion a full second season that will live up to the pilot's impeccable sense of atmosphere, stunning makeup effects, and emotional potency.
10. Sons of Anarchy (FX)
—————
Another immensely popular show that's not quite as good as it could or should be, Kurt Sutter's motorcycle gang drama/thriller is FX's most popular, and it's not hard to see why: it combines juicy Oedipal themes with an endlessly fascinating subject. Its second season was mostly stellar, until its finale, which relied on a series of absurd contrivances that undid some of the goodwill built up over the previous dozen episodes. The show's third season, which recently wrapped up, was burdened by that episode's twists, but still managed to be mostly entertaining, if naggingly slow at times. Having resolved some of its knottier plot issues and unburdened itself of at least one irritating character, so here's hoping the show can finally reach its true potential in 2011.
Half-hours:
1. Louie (FX)
———–
Possibly 2010's most formally daring series, Louie saw comic, writer and occasional actor Louis CK get another crack at running his own show after the failure of his HBO series, Lucky Louie, which attempted to reap dividends by combining a deliberately artificial '60s-sitcom style approach with unvarnished, bitter humor informed by the failure of his marriage, but mostly confused and alienated viewers. This time around, CK embraced his inner film-school nerd for a no-budget, freeform show that managed to keep up with his world-weary, self-deprecating monologues by openly shunning tonal and structural consistency. Magic realism, nostalgic interludes, sugar-induced hallucinations, and occasional lapses into dead-seriousness ("God") are all welcome here. Anchoring it all is CK himself, playing a very thinly veiled version of himself: a successful comic, 41, divorced, with two daughters he has only partial custody of and a dismal-to-nonexistent sex life. Now this is reality television – and with CK taking on nearly all aspects of the production himself, it might be a true first: auteur TV.
2. Party Down (Starz)
———
Rob Thomas' hilarious and sympathetic portrait of showbiz casualties forced to work in catering actually managed to get a second season before Starz pulled the plug, treating viewers to another ten episodes of its wonderfully misanthropic brand of comedy. Over its twenty episodes, it managed to showcase a remarkable amount of comic talent: Adam Scott, Jane Lynch, Megan Mulally, Ken Marino and Martin Starr were all series regulars, while guest turns from JK Simmons, Steve Guttenberg (!), Enrico Colantoni, Jennifer Coolidge and Michael Hitchcock all reaped dividends. It might be the last time we ever see such a remarkable comic ensemble in one show, and thankfully it was in service of a show that acted as a refreshing corrective to the likes of Entourage.
3. The Venture Bros. (Adult Swim)
———-
Boasting the largest cast of characters and the most complex mythology of any show on television (take that, Lost), The Venture Bros. divided its fifth season into two parts, helping Doc Hammer and James Urbaniak – who supply most of the character voices and do a good chunk of the production work – to produce the insanely ambitious, densely plotted show they wanted to make. The result was the most gleefully convoluted season in the show's history, culminating in an hourlong finale that managed to resolve a number of key plot points, while still finding time for several minutes of debauched comic riffing, before ending on a thrilling (and even a little moving) montage set to an excellent Pulp b-side: it's simultaneously the geekiest and the hippest show around.
4. It's Always Sunny In Philadelphia (FX)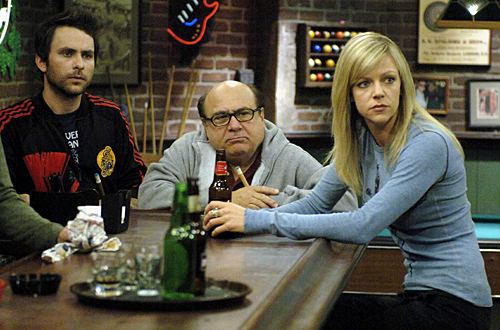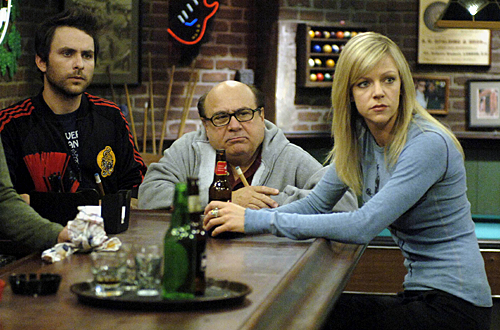 ———

While the adventures of Charlie, Dennis, Mac, Dee and Frank aren't quite as instantly gut-busting as they were back in It's Always Sunny's third-season heyday, largely due to its increasing reliance on high-concept episodes, their sixth season of errant behavior still towers over almost everything else on television in terms of sheer hilarity, and a bird-related sight gag in "Who Got Dee Pregnant?" probably served as 2010's funniest moment in any medium.
5. Archer (FX)
———-
Possibly the most underrated show on this list, Archer's key ingredient is the winning deadpan voicework of star H. Jon Benjamin. whose turn as master spy Sterling Archer kept the series grounded as it found its footing over the course of its mostly successful first season. Adult-oriented cartoon television is hard to do; Archer managed a nice balance of overarching plot elements, running gags and silly one-offs, and boasted a clean, sharp look that doesn't quite resemble anything else out there. Also, boasting as it does regular voice work from Judy Greer, Jessica Walter, and Jeffrey Tembor, it's a sort of spiritual successor to Arrested Development, and it also happens to be the show that comes closest to replicating that series' lightning-fast comic pacing. It's back with new episodes in February, and hopefully its status as FX's only animated content will help it survive, given its less-than-stellar ratings.
6. Peep Show (Channel Four, UK / BBC America, US)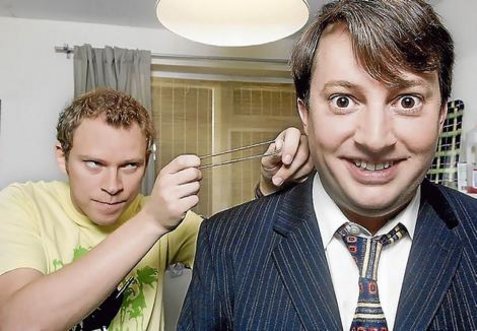 ——–
My knowledge of current UK programming is sadly limited, but here's one thing I know for sure: no show on either side of the Atlantic provides quite as steady a supply of uncomfortable humor as Peep Show, which began airing in the US for the first time this year, while its seventh season began just a few weeks ago in the UK. Not every episode works, but the show's brilliant use of inner monologue and the subjective, head-mounted camera remains a consistent source of queasily truthful humor, and twin leads David Mitchell and Robert Webb's characters are so well-defined that we can forgive almost any trespass.
7. Community (NBC)

————-
Easily NBC's most innovative sitcom, Dan Harmon's Community isn't consistently amazing, but its highs have rivaled anything on the tube. Episodes like "Debate 101," "Modern Warfare" and "Conspiracy Theories and Interior Design" combined savvy pop-culture parody, genuine character development, and top-notch direction to create a charming, totally original show. The second season, currently underway, has gone somewhat astray in terms of characterization, particularly in the cases of Abed (Danny Pudi), whose meta-referencing is growing wearisome even as his mental health issues lack definition, and Pierce (Chevy Chase), who has mostly been relegated to dumb physical humor. Nevertheless, the show boasts one of the best comic ensembles around, including at least two performers – Danny Glover and Alison Brie – who should be bona-fide breakout stars before long.
8. Eastbound and Down (HBO)
———-
The first season of Eastbound and Down is one of the funniest, most deftly executed TV comedies ever, essentially a brilliant three-hour comedy feature broken up into six episodes. Its sophomore outing wasn't quite as good – the show ditched most of its winning supporting cast and relocated to Mexico, a setting it didn't have as much fun with. Still, Kenny Powers might well be the role Danny McBride was born to play, combining as it does schlubby charm, foulmouthed tirades, foolhardy overconfidence, and just the slightest twinge of self-aware sadness. Perhaps the third (and purportedly final) season can fully correct the series' course.
9. How I Met Your Mother (CBS)
——–
The best sitcom still associated with that seemingly immortal TV irritant, the laugh track, How I Met Your Mother has managed to stay mostly fresh and funny through six long seasons, still managing to find new wrinkles in its highly affected flashback format, including cute "unreliable narrator" gags, series-spanning recurring jokes, and a surprising attention to narrative consistency. It's also managed to hang onto its great cast, including the always-charming Jason Segel, and Neil Patrick Harris, whose tireless comic energy helps make up for the fact that his character's hedonistic shtick is getting a bit tiresome.
10. Modern Family (ABC)
————-
Though a few shades too genial for my deeply cynical tastes, I can't deny that Modern Family, which has become US television's most popular sitcom, is sharply written and acted, with a refined sense of comic timing. It's such an effortlessly likeable show that even Republicans have been watching in huge numbers, even though it prominently features a married gay couple who have adopted a Vietnamese child. Its adherence to the tired mockumentary format can be forgiven seeing as it's probably doing more for gay-straight relations in the US than any number of shoddy "gay-themed" dramas. (I'm looking at you, The L Word.)
Honorable Mentions: The League (FX), Better Off Ted (ABC), 30 Rock (NBC), Futurama (Comedy Central), The Increasingly Poor Decisions of Todd Margaret (IFC).
Simon Howell
[wpchatai]