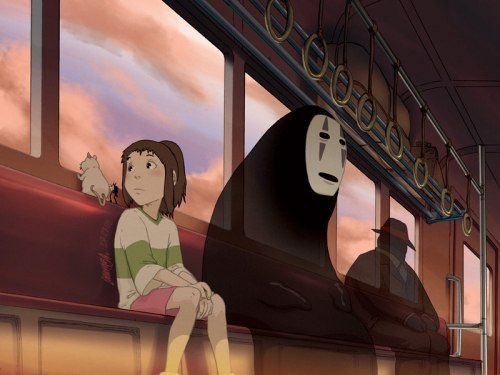 Could the magic that has come from films like Spirited Away, My Neighbor Totoro and Grave of the Fireflies be coming to an end? Thompson on Hollywood is reporting that Hayao Miyazaki's Studio Ghibli may be closing its doors because the cost of making hand-drawn animated films with the attention to detail they include might just be too cost prohibitive to continue.
Their source is a Japanese website that explains that the studio is considering becoming little more than a copyright management company, free of the obligation of actually making movies.
TOH! points out that Ghibli continues to experience high costs because they refuse to export their labor out to cheaper companies in pursuit of greater quality. More over, recent Ghibli films that have made huge amounts of money, like Miyazaki's latest The Wind Rises, or Isao Takahata's The Tale of Princess Kaguya (which opens in America in October), have either broken even or been outright flops. The Wind Rises has raked in over $90 million and Kaguya has already made $50 million.
With Miyazaki supposedly retiring, Ghibli's last film could be the upcoming When Marnie Was There, which just opened in Japan earlier this month.
—————–
Variety reported Thursday that Dick Smith, a legendary, Oscar winning makeup artist, passed away at the age of 92. Smith was known as the "Godfather of Makeup" in part for his work on Marlon Brando in The Godfather. Smith won an Oscar in 1985 for Amadeus and an Honorary Governors' Award in 2012. He also worked on such classics as The Exorcist, Taxi Driver, Scanners and The Deer Hunter.
—————–
Robert Pattinson has been busy at work distancing himself from his teen heartthrob status in Twilight for quite some time now, having picked up roles in auteur driven works like The Rover, Cosmopolis, Maps to the Stars and coming projects like Werner Herzog's Queen of the Desert, Anton Corbijn's Life, James Marsh's The Theory of Everything and Olivier Assayas's Idol's Eye (phew!). If he hasn't been as successful as his Twilight co-star Kristen Stewart, it's certainly not for lack of strong career choices.
Well Pattinson may have better luck with a director who very recently helped sensationalize the image of some former child stars in Spring Breakers, Harmony Korine. The Playlist has put two and two together and presumed that Korine is writing a "Southern Gothic crime family picture" that he announced back in 2013. Korine mentioned he was working on a gangster script with Pattinson in mind in an interview with Esquire. The jury is still out as to whether Pattinson is a good actor.
—————–
Also making news:
[wpchatai]