Jigoku de naze warui (Why Don't You Play In Hell?)
Written and directed by Sion Sono
Japan, 2013
In this outrageous action opus from writer/director Sion Sono, an ambitious young film director Hirata (Hiroki Hasegawa) gets caught in the middle of a bloody Yakuza war sparked by the vengeful wife of a powerful crime boss who is sent to prison after massacring several of her husband's rivals. The plot is so convoluted, your head will spin when trying to piece it all together. In short, it bounces back and forth between Mitsuko (Fumi Nakaido), a former child star and the daughter of the kingpin, and a group of independent, but talented guerrilla filmmakers who call themselves the FUCK Bombers. Mitsuko's father, one of her biggest fans, wants to satisfy her dream of becoming a movie star before his wife is released from prison. Ten years after the young rebel filmmaker Hirata makes a prayer to the Movie God, his wish is finally answered when The FUCK Bombers are offered a chance of a lifetime to shoot an epic 35mm samurai/yakuza feature film starring Mitsuko. The F*** Bombers convince the Muto and Ikegama clans to settle their differences on camera. The two rival groups of gangsters agree and volunteer to be both the film crew and the extras. The film – and the film within a film's climax — is a prolonged and elaborate bloodbath in which the men slaughter one another on camera for the benefit of a group of struggling filmmakers.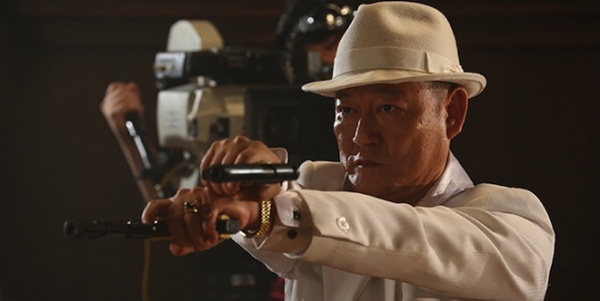 Sion Sono debuted as a poet at the age of 17, and began making 8mm films at Hosei University, eventually winning the Pia Film Festival's Grand Prize in 1986 for A Man's Flower Road. This was just the start of a very promising career, but it wasn't until the 2001 film Suicide Circle when he truly became a well-known cult filmmaker. Sono wrote, directed, shot, and assembled, in the record time of 4 weeks, what would later become his most successful movie to date. Since then, the filmmaker has pushed buttons, provoked, shocked, and consistently delivered some of the best genre films of the past decade. Thanks to films like Love Exposure and Cold Fish, which combine an inventive mix of genres with powerful cultural commentaries, Sono is now one of the best directors working today. Why Don't You Play In Hell? feels like a tribute to his earliest days as a director – a self-evaluation as well as one of the medium, executed with the sophistication that could only come with years of experience. Based on a script the director wrote 17 years ago, Why Don't You Play in Hell? finds Sono returning to that same rebellious brand of filmmaking, and youthful enthusiasm from his earlier career. Why Don't You Play In Hell? is a grand artistic vision, and a movie with such raw ambition and spirit, inspired by an imagination that spent thousands of hours absorbing samurai flicks and pulp paperbacks. This love letter to the art of cinema utilizes every trick in Sono's formidable arsenal. Why Don't You Play In Hell is eye-popping, wild, unruly, and blessed with a few extended sequences worth watching over and over.
Sono's trademarks are in full display here, both the good and the bad. Yes, the majority of the characters scream out their dialogue in loud volumes, but the film is punctuated with such high-octane, imaginative camera work; and an exhilarating soundtrack, that makes it almost impossible to resist. A rookie Bruce Lee impersonator, played by the talented martial arts fight choreographer, stuntman, and actor Tak Sakaguchi, has some turbulent fight sequences, and a running gag about the catchiness of a toothpaste jingle is cleverly inserted throughout. And although the story is set in modern day, Muto's enemies dress in traditional kimonos, so they can look as cool as the characters from the classic samurai films they adore. The film is meticulously structured, self-referential, and features some stunning sequences, such as a the young Mitsuko sliding across a blood-drenched floor. The blast of cinematic insanity in its final act is as much of a guilty pleasure as the schlock of Tarantino's Kill Bill, Vol. 1. The epic and completely preposterous setpiece easily labels Why Don't You Play in Hell? as the bloodiest film of the year, and outright rivals anything that the auteur has previously made. Sono's ballet of violence is smart, fast, overblown, and surprisingly hilarious.
Why Don't You Play in Hell? is a throwback to a time when movies were made for the love of the art. Along with a riff on how digital filmmaking has overtaken 35mm film stock, the picture functions as a satirical jab between the Japanese entertainment industry and organized crime. Sono also takes time to comment on how cinema continuously inspires, reshapes, and affects our society. But Sono isn't trying to send a heavy-handed message here. The last shot of this movie in particular reveals this very truth. He simply set out to enjoy the visceral pleasures of filmmaking. In the final battle, the 35 mm cameras temporarily protect the yakuza-now-actors from the harsh realities of their ongoing deadly feud. Ultimately, they are fully aware they might all die before it ends, but everybody is prepared to die for the love of cinema. Messy, ambitious, and masterfully orchestrated, Why Don't You Play In Hell? will have you believe in the movie Gods.
– Ricky D
The Festival du Nouveau Cinema runs from October 9 to October 20, 2013. For a complete schedule of films, screening times, and ticket information, please visit their official site.
Chat Box - Go ahead, make my day and ask me questions about movies and TV shows...