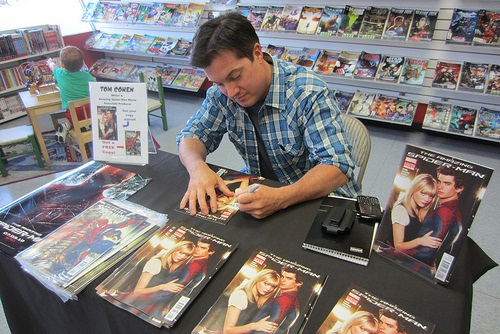 Thanks to Sony Promotions, we have a Men in Black 3 Blu-Ray to give away along with two variants of The Amazing Spider-Man comic #1, signed by Tom Cohen and the other by Marc Webb and Stan Lee.
To much surprise Men In Black 3 is not only better than its predecessor, but manages to exceed expectations, largely due to the likes of Josh Brolin and Michael Stuhlbarg's impressive performances along with Rick Baker's exceptionally creative creature designs. Men in Black 3 is fun and entertaining and would make a great addition to anyone's DVD collection.
Here is how you enter to win:
Simply like our Sound On Sight facebook page and email feedack@popoptiq.com with MIB3 in the subject line.
A random winner will be chosen and contacted via email. Please remember to include a mailing address.
The contest is open to US residents only, and a winner will be announced on December 11th.
Good luck!
[quote by="Synopsis"]In MEN IN BLACK™3, Agents J (Will Smith) and K (Tommy Lee Jones) are back…in time. J has seen some inexplicable things in his 15 years with the Men in Black, but nothing, not even aliens, perplexes him as much as his wry, reticent partner. But when K's life and the fate of the planet are put at stake, Agent J will have to travel back in time to put things right. J discovers that there are secrets to the universe that K never told him – secrets that will reveal themselves as he teams up with the young Agent K (Josh Brolin) to save his partner, the agency and the future of humankind.[/quote]