As with any year, some people have begun arguing that 2013 was a bad year for film, because of the expected glut of effects-heavy blockbusters that litter the multiplexes each summer, or because there was a lack of auteur-driven storytelling for the majority of the year. Though it is indeed frustrating that studios hold their more prestigious films until the last month or two of this or any year, 2013 was an excellent year for film. You shouldn't have to look first to Sound on Sight's list of the 30 best films of 2013 for proof, but you should add it to the pile, no doubt. We asked our film writers to provide their personal lists of the 15 best films of the year; everyone's number-one pick got 15 points allocated, everyone's number-two pick got 14 points, and so on. (As you'll see, the point values for each of the 30 films is included here.) Over 40 contributors sent in their lists; there were over 160 films that got points. So if that's not proof enough, consider the following list and capsules as a reminder that 2013 was yet another banner year for cinema.
* * *
10. Blue is the Warmest Color (104 points)
Written by Abdellatif Kechiche and Ghalia Lacroix
Directed by Abdellatif Kechiche
France, Belgium, and Spain, 2013
Based on the French graphic novel by Julie Maroh, Blue Is the Warmest Color has been making headlines since its debut at this year's Cannes Film Festival. Proponents laud the strong female characters and poignant love story, while detractors slam the borderline pornographic setpiece between the two leads. Yes, it's that three-hour lesbian epic. Note the nearly ten-minute sequence in which Adèle (Adèle Exarchapoulos) and Emma (Léa Seydoux) make love for the first time (a brightly lit and emotionally sterile spectacle with countless long shots of the actresses entire bodies), and how different it is from the earlier scene in which Adele loses her virginity to her short-lived high school boyfriend (shot and edited more traditionally in the cinematic sense, with fragmented medium shots of the bodies and close-ups of their faces that convey the simultaneous earnestness and awkwardness of The First Time). Overlooking this sexual dichotomy, the crux of the film's flaws, and letting go of feminist interpretations of director Abdellatif Kechiche's artistic choices, one is left with a brilliant coming-of-age story. Seydoux lends a mysterious air to the older, blue-haired artist who catches Adele's eye and later befriends her, but it's Exarchapoulos who truly anchors the film. Her wide-eyed innocence belies a new-found inner strength as her character navigates the ups and down of young adulthood (graduating, falling in love, starting a career, breaking up) with such force and honesty that anyone – gay, straight, male, female – would be hard-pressed not to sit up and take notice.
— Misa Shikuma
9. The World's End (106 points)
Written by Edgar Wright and Simon Pegg
Directed by Edgar Wright
UK, 2013
After directing just four feature films, Edgar Wright has comfortably become one of the best directors of his generation, someone whose upcoming films have earned a fever pitch of anticipation. The World's End, the end of the so-called Cornetto Trilogy, reunites Wright with Simon Pegg (who co-wrote with Wright) and Nick Frost in a heady, fast-paced blend of social science fiction, verbally dexterous comedy, and inwardly insightful character drama. The first half-hour is an examination of a selfish, self-loathing addict on the verge of a nervous breakdown, Pegg's Gary King, a self-deluded loser who can't stop chasing the greatest night of his life: the evening when he and his four best friends attempted to complete The Golden Mile, drinking at 12 different pubs in their small town of Newton Haven. When King gets "the band back together," it's to relive a past glory that his four, more mature pals begrudgingly enable. But Wright smoothly shifts the tone, still peering into Gary's soul as a representation for modern middle-aged nostalgia, but using that nostalgia to skewer the homogenization (or "Starbucking") of small towns, as it's revealed that Newton Haven is now literally and figuratively alien. From the first shot, The World's End represents Wright's finest, most assured, and most confident work so far, a propulsive, smart, and fully committed film that invokes positive comparisons to everything from The Big Chill to The Hitchhiker's Guide to the Galaxy.
— Josh Spiegel
8. Her (112 points)
Written and directed by Spike Jonze
USA, 2013
It is nearly impossible to describe the feeling that sets in almost instantly while watching Her, the newest directorial effort from the experimental Spike Jonze. Though the opening shots, like those which follow, are stitched together carefully, crisply, and beautifully, it's not simply a blend of sleek cinematography, editing, and emoting from leads Joaquin Phoenix and Scarlett Johansson (the latter acting only through her voice) that sets it apart from other recent mainstream films. There is an invisible, sure-handed guiding force and confidence in those moments, an unerring and ineffable sense that Jonze knows exactly where he's headed, how each step on this slick, slinky, zig-zagging journey of the modern relationship fits with those before and after it. So rarely these days do we get such films, constructed with such clarity, earned confidence, and ambition; what a breath of fresh air, then, to experience Her.
— Josh Spiegel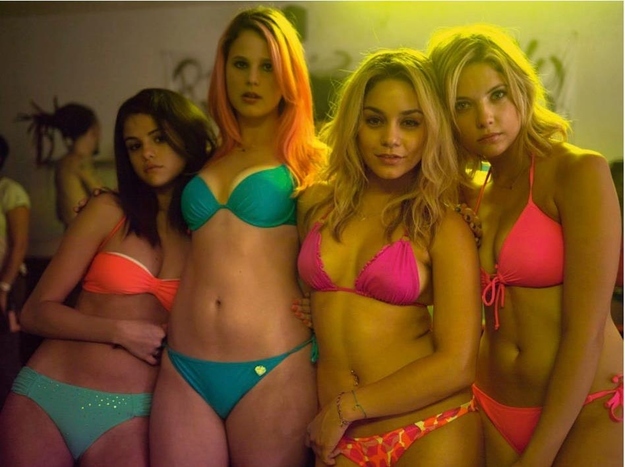 7. Spring Breakers (115 points)
Written and directed by Harmony Korine
USA, 2013
A core cast comprised largely of teen idols might have caused many to give this film a pass, if not for the presence of Harmony Korine behind the camera. Regardless of what one may feel of his prior works, he always comes with a unique vision, and it's no different in Spring Breakers, as he turns what could have been a forgettable tale into a subversively feminist tale of powerful women in their youth. The best aspect of the film is how the women, no matter the circumstances, are never victims. Quite the opposite, in fact; to paraphrase Breaking Bad's Walter White, these girls are the danger. It would not be surprising to hear that they have become ruthless CEOs or organized crime leaders in 20 years, and to see them push their limits in this quasi-origin story is a delight. Of course, the movie also succeeds in its other aspects, beginning with James Franco's memorable performance as Alien, a character who's the perfect embodiment of swagger without substance. Skrillex's soundtrack is a great accompaniment to the jarring nature of the characters and their actions, and it's a combination of these factors, along with the unexpected but fitting addition of Britney Spears, that makes this one of the best films of 2013.
— Deepayan Sengupta
6. Frances Ha (151 points)
Written by Noah Baumbach and Greta Gerwig
Directed by Noah Baumbach
USA, 2013
Getting through each day, struggling to survive in the face of mounting desperation turned into one of many prevalent undercurrents in the year in film. Greta Gerwig's title character in Frances Ha must do exactly that, making it through each day and week and month as best she can, scraping by in New York as an apprentice ballet dancer who will probably never get promoted to the full company. She leaps from apartment to apartment, much as she jumps and pirouettes boisterously down a city street at one point, in a standout moment scored to David Bowie's "Modern Love." Gerwig walks a delicate line in her performance, balancing the character's inherent neediness with a winning, effervescent spirit. Gerwig is so charming that it's hard to believe she is, as another character dubs her, "undateable." Even in crisp black-and-white, Gerwig and her director, Noah Baumbach, have crafted a thoroughly delightful and insightful character study in Frances Ha, a pitch-perfect portrait of Millennial-era aimlessness.
— Josh Spiegel
5. Inside Llewyn Davis (159 points)
Written and directed by Joel and Ethan Coen
USA, 2013
Detractors of Joel and Ethan Coen often argue that the writers/producers/directors not-so-secretly revel in mocking and deriding their characters, nudging the audience to laugh at how silly the leads in Raising Arizona or Fargo or O Brother, Where Art Thou? are. An excellent counterargument (or, at least, the most recent example) would be Inside Llewyn Davis, ostensibly a snapshot of the folk music scene in Greenwich Village, circa 1961. In actuality, Inside Llewyn Davis is, no surprise considering the title, an aching and bracingly emotional character piece about one week in the life of a talented singer-songwriter who floats adrift bitterly amongst colleagues who have a firmer control of their existences. Oscar Isaac, biding time in supporting roles over the last few years, has a difficult role in Llewyn, whose outbursts can seem inappropriately cruel even if they're rooted in his dark, hinted-at past, but portrays him with aplomb. Like the best Coen films, Inside Llewyn Davis is rich with character depth, and is also extremely funny (the "Please Mr. Kennedy" sequence offers a superb intersection between the film's humor and lovely soundtrack). But it is more bittersweet than Barton Fink, more wistful than Miller's Crossing, and more poignant and keenly felt than anything they've made yet. Inside Llewyn Davis, in spite of its main character being put through an emotional and spiritual ringer, is a film whose lead its creators love, just not unconditionally.
— Josh Spiegel
4. Gravity (179 points)
Written by Alfonso Cuaron and Jonas Cuaron
Directed by Alfonso Cuaron
USA, 2013
Gravity, Alfonso Cuaron's long-overdue follow-up to Children of Men, is a breathtaking experiment in blockbuster minimalism. The narrative is a fairly straightforward exploration of the difficulties faced by a woman fighting for survival as she battles seemingly impossible odds. While the story is simple, Gravity is a technical marvel that has inspired awe among critics, filmmakers, and audiences worldwide. In this remarkable collaboration with longtime cinematographer Emmanuel Lubezki and visual effects supervisor Tim Webber, Cuaron and his team have created one of the greatest visual achievements in the history of cinema. These accolades are no doubt a direct result of pushing the relevant technologies to their limits to tell this story. Cuaron's camera speaks more loudly than his screenplay, opening with a stunningly choreographed 13-minute long take that plunges us immediately into the beauty and majesty of space. For 91 minutes, the camera dips and dives in a series of breathtaking extended shots that gives the audience a sense of what it's like to be in orbit. This is the sort of eye-popping visual spectacle that demands to be seen on the big screen. Everything, from the specifics of camera movement, the sound design, the score, the scope, the production design, and the acting, is pretty much perfect. It's a rare combination of jaw-dropping special effects and visual artistry.
About halfway through the film, Sandra Bullock's Ryan Stone seeks refuge in an abandoned spacecraft and curls into a floating fetal position. It's this simple image that wraps up the movie's central theme of rebirth, while demonstrating Cuaron's skill to guide us through an action-packed spectacle full of heart and emotion. Gravity is a celebration of movies and life itself.
— Ricky D
3. Upstream Color (183 points)
Written and directed by Shane Carruth
USA, 2013
If you loathed Upstream Color, there's only one person you could possibly blame. Shane Carruth is the most hands-on filmmaker in recent memory, and Upstream is further proof that no one tells the stories he does, in the manner that he does. Combining Carruth's interest in bioengineering and other forms of scientific experimentation with a fragmented, so-unaffected-it's-an-affect take on a traditional film love story (quite literally love at first sight), Upstream is unsparing in its pacing and its willingness to dive headfirst into unconventional territory, but unlike Primer, it's not content to be merely a puzzle or a clinical exploration of human or natural behavior. Instead, it's a potent and even beautiful examination of the ways, both intentional and unintentional, both palpable and invisible, both humane and cruel, that lives come together and break apart. In a sense, it's Carruth's version of the dreaded Network Narrative, in which it's proven that everything is connected and our collective fates are intertwined, only in Carruth's version, that's just a starting point. Anchoring it all is the great Amy Seimetz, whose profound conveyances of both confusion and resolve cut through Carruth's detached directorial approach to access viewer empathy in unexpected ways. Here's a movie that will be giving to us for a long time.
— Simon Howell
2. Before Midnight (256 points)
Written by Richard Linklater, Julie Delpy, and Ethan Hawke
Directed by Richard Linklater
USA, 2013
Often imitated, never even remotely duplicated, Richard Linklater's Before movies mine the possibilities, difficulties and mysteries of romance with a depth and lucidity that seems to escape virtually all others that make a go at the subject matter. Before Midnight might very well be the best of the lot so far, a stunning showcase for Ethan Hawke and Julie Delpy's acting (and writing!) and a chance to remember that Linklater can still be a force to be reckoned with behind the camera when he's not servicing hackery on the screenplay end. Answering a lot of questions about Jesse and Celine's fates while leaving itself open to at least a few more, Midnight recalls Waking Life in its willingness to digress and expand upon any number of conversational tangents, before ultimately settling into a stunning final act reminiscent of Godard'sContempt. Blistering but still hopeful, it's either a testament to the strength of lasting love or an indictment of romantic complacency, to which the only solution is destruction; the beauty of Before Midnight is that the film works wonders either way.
— Simon Howell
1. 12 Years a Slave (275 points)
Written by John Ridley
Directed by Steve McQueen
USA, 2013
The still-festering tragedy that slavery of black people has wrought across the world harbors a near-infinite amount of stories to tell. But none may be quite as unique as that of Solomon Northup, a free black man who was kidnapped and sold into slavery in the Deep South in 1841, forced into servitude for a dozen years. His struggle to both survive and live, offered in dialogue and action as two separate possibilities for anyone in his position, is the story of 12 Years a Slave, a massive, intensely uncomfortable achievement from director Steve McQueen. An ensemble cast headlined by the long-overdue-for-a-big-break Chiwetel Ejiofor, a throbbing and menacing score from Hans Zimmer, the unflinching extended-take photography by Sean Bobbitt, and McQueen's patient sensibility combine for a powerful, unexpectedly sensory experience. In documenting but one small facet of slavery, manifesting as the bleakest, most evil side of humanity, 12 Years a Slave does not strike a false note, in spite of being a punishing, grim piece of modern cinema.
— Josh Spiegel
[wpchatai]