Throughout the month of October, Editor-in-Chief and resident Horror expert Ricky D, will be posting a list of his favorite Horror films of all time. The list will be posted in six parts. Click here to see every entry.
As with all lists, this is personal and nobody will agree with every choice – and if you do, that would be incredibly disturbing. It was almost impossible for me to rank them in order, but I tried and eventually gave up. Enjoy!
****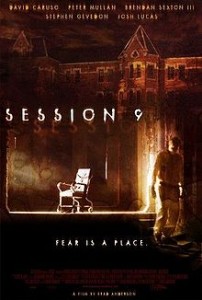 150: Session 9
Directed by Brad Anderson
Written by Stephen Gevedon and Brad Anderson
2001, USA
If there was ever a perfect setting for a horror movie, it would be the abandoned Danvers State Mental Hospital. Built in 1878 on an isolated site in rural Massachusetts, it was a multi-acre, self-contained psychiatric hospital rumoured to have been the birthplace of the pre-frontal lobotomy. The hospital was the setting for the 2001 horror film Session 9, where an asbestos clean-up crew discover a series of nine tapes, which have recorded a patient with multiple personalities, all of which are innocent, except for number nine. With a shoestring budget and no real special effects, Session 9 relies strictly on psychological horror to make its point. Director-writer Brad Anderson (The Machinist) knows how to pull all the strings to keep the audience guessing and squirming. This is one genuinely creepy thriller.
149: The Girl Who Knew Too Much (The Evil Eye, La ragazza che sapeva troppo)

Directed by Mario Bava
Written by Enzo Corbucci and Mario Bava
1963, Italy
Mario Bava's final black and white production is regarded as a seminal work in what would become known as the Giallo genre. Much Like Brian De Palma, Bava was very influenced by the master of suspense and borrowed heavily from Alfred Hitchcock over the years. The title itself spoofs The Man Who Knew Too Much, a story Hitchcock adapted twice to the big screen. The Girl Who Knew Too Much helped kick-start a whole school of Italian thrillers, but only a few were able to surpass the genius of Bava. The Girl Who Knew Too Much is beautifully shot, composed of pristine blocking, framing, pans, dollys, and sharp edits, creating suspense amid all the shadowy photography. Bava's films might not always make a lick of sense, but as a former cinematographer working for directors such as Roberto Rossellini, his movies always looked better than other Giallos. With a a solid performance from the always reliable John Saxon, The Girl Who Knew Too Much is incredibly entertaining, with a few twists and a surprise ending as to "whodunit" and why. Part mystery, part horror, part comedy, part romance, The Girl Who Knew Too Much is essential viewing for any horror aficionado.
148: Society
Directed by Brian Yuzna
Written by Rick Fry and Woody Keith
1989, USA
After the suspicious death of his sister's ex-boyfriend, a teenage boy discovers the shocking reality behind the society that surrounds him: Directed by Bryan Yuzna and starring Billy Warlock, Society is a weird, mind-bending and clever satire about paranoia, social outcasts, and the relationship between the upper and lower class. The inventive, over-the-top and utterly shocking final act, with scenes of incest, insane orgies, rabid cannibalism and more, must be seen to be believed. The last ten minutes crammed full of Screaming Mad George's special effects have become famous in the annals of low-budget horror. When the truth is finally revealed, Society takes body horror to an extreme level of insanity.
147: When A Stranger Calls

Directed by Fred Walton
Written by Steve Feke and Fred Walton
1979, USA
This film really doesn't get enough respect. One of the first slasher films to follow on from the massive success of John Carpenter's Halloween, When a Stranger Calls originally started out as The Sitter, a short film made by director Fred Walton, expanded out to form the basis of a feature. The slow-burn approach is book-ended by some truly excellent classic horror movie moments – the opening alone serves as the entire basis for Wes Craven's Scream. Walton does an incredible job of mounting the tension almost entirely using sound – the constant phone ringing, the killer's creepy voice and the powerhouse score. Charles Durning gives a more than capable performance – he gets the most memorable scene, in which he breaks down, completely nude, in front of his reflection in the washroom mirror. (The film's portrait of its psycho is unusually sympathetic.) Highly recommended.
146: Janghwa, Hongryeo (A Tale of Two Sisters)
Directed by Ji-woon Kim
Written by Ji-woon Kim
South Korea, 2003
Inspired by a Korean legend, this is the odyssey of two sisters, who after spending time in a mental institution, return home to their father and cruel stepmother. There's a reason why Hollywood has been so busy in recent years remaking Asian horror movies. There's more overwhelming suspense and inscrutable mysteries in this South Korean psychological thriller than in most American mainstream horror films. Mixing classic horror in the vein of Hitchcock and Argento, A Tale of Two Sisters is a groundbreaking film, and well worth seeking out.
145: Poltergiest

Directed by Tobe Hooper
Written by Michael Grais and Steven Spielberg
1982, USA
Poltergeist has become legendary for two major reasons other than being a great film: First, there were rumours that co-producer/co-writer Steven Spielberg took over as director midway through production. Secondly, its young co-star Dominique Dunne was murdered just before the film hit theatres. I will always remember Poltergeist, however, as the film that left me sleepless for a week as a child. Someone once famously said that Poltergeist does for TV sets what Psycho did for showers. I never had a problem taking a shower but I'm still left unsettled having a TV set left on over night. Hooper's directing skill combined with Spielberg's ability to make anything family-friendly makes this one of the few on the list the entire family might theoretically enjoy.
144: Slither
Directed by James Gunn
Written by
Gross-out horror comedy is my guilty pleasure. Among the best are Peter Jackson's Dead Alive, Stuart Gordon's Re-Animator, and James Gunn's Slither. Essentially a pastiche of the zombie and alien-invasion genres, Slither combines a 50′s sci-fi plot with gross-out gore making for an effective, if familiar, horror film. This tongue-in-cheek flick shows off first-time director Gunn's skill for blending comedy and horror. Slither recalls Tremors, only with much more gore; it's the best kind of B-movie, one whose laughs are just as effective and intentional as the imaginative gross-out-effects. More importantly, Gunn probes the genre's cliches without ever mocking them. Slither is a labor of love and a film that deserves higher praise. Regardless if Slither is your cup of tea or not, the film is so skillfully executed, you have to admire it.
143: Bubba Ho-Tep

Directed by Don Coscarelli
Written by Don Coscarelli
2002, USA
If you're tired of conventional horror movies, try Bubba Ho-Tep, a cinematic oddity from director Don Coscarelli. Elvis Presley (Bruce Campbell), is an old man living in an East Texas retirement home, having switched identities with impersonator Dan Haff some time before his apparent death. The problem is he never got the chance to switch back. He teams up with fellow resident Jack (Ossie Davis), who believes himself to be John F. Kennedy, and the two of them battle an evil Egyptian mummy who attempts to take over their retirement home and use it as a hunting ground for souls on which to subsist. Featuring a bravura lead performance by Bruce Campbell, Bubba is a smart comedy that dares to take on the sublime and the ridiculous. It is kitschy, lowbrow, and aggressively low-budget film, but above all, it is a one-of-a-kind film experience.
142: The Mist

Directed by Frank Darabont
Written by Frank Darabont
2007, USA
There is no other director that has had more success in adapting the work of writer Stephen King than Frank Darabont. Along with The Shawshank Redemption and The Green Mile, The Mist is the director's third film based on King's work. The film is a dark, tense and uncompromising big-budget creep-fest – punctuated by just enough gore to keep viewers on edge. But it isn't the creatures that makes The Mist a great film. Instead, The Mist strives to be more about the conflict taking place within the grocery store amongst the humans who begin to turn against each other. There is also a knockout performance from Marcia Gay Harden as a religious freak. She is every bit as scary as the monsters flying outside the supermarket. The film also features one of the ballsiest endings in a mainstream horror film. You'll either hate it or love it.
141: 28 Days Later
Directed by Danny Boyle
Written by Alex Garland
2002, UK
Apart from being a terrifying horror movie with a sharp political allegory, 28 Days Later (along with Zack Snyder's Dawn Of The Dead) is credited with reinvigorating the zombie sub-genre. It was also a critical and commercial success and was the first feature shot entirely on a digital camera. The film's soundtrack and score is incredible as is the performances from the entire cast. Director Danny Boyle might not have brought anything new to the table in terms of epidemic / zombie films, but there is no denying that this movie is bloody entertaining.
140: The Tenant

Directed by Roman Polanski
Written by Gérard Brach and Roman Polanski
1976, France
1976's Le Locataire (The Tenant) is the final film in Polanski's unofficial "Apartment Trilogy" following Rosemary's Baby and Repulsion. Polanski stars as Trelkovsky, a Polish-born French citizen who moves into an spooky apartment whose previous tenant (a beautiful young woman) committed suicide. His neighbours eye him with suspicious disdain. Over the course of the film, Trelkovsky becomes increasingly paranoid believing that the other tenants are engaged in a conspiracy to drive him to suicide. The Tenant was poorly received on its release and is still overshadowed by Polanski's more famous efforts, but the film is a perfectly crafted paranoid nightmare about a man's loss of identity and descent into madness. It also features one hell of a shocking double climax.
139: The Hills Have Eyes

Directed by Wes Craven
Written by Wes Craven
1977, USA
Horror auteur Wes Craven's sophomore effort The Hills Have Eyes is a demented morality fable about a a family who while on a road trip get stranded in the Nevada desert and become hunted by a family of deformed cannibals in the surrounding hills. Craven has an unique skill for creating an all-encompassing atmosphere of dread long before he unleashes the true terror. A heady mix of ironic allegory and nail-biting tension make Hills a solid entry in the genre.
–
138: Scream
Directed by Wes Craven
Written by Drew Williamson
1996, USA
From the striking and thoroughly engrossing opening sequence, it was clear Scream would become an instant classic. Admittedly, that stand-alone scene ultimately stands as the high point of the film, but Scream offers so much more. The film popularized a self-referential strain of the genre that's resulted in the likes of Tucker and Dale Vs. Evil and Cabin In The Woods. The end result is a fun, well-paced slasher that remains one of the best modern examples of its kind and perhaps the most influential horror movie of the past thirty years.
137: Saw

Directed by James Wan
Written by Leigh Whannell
2004, Australia
I assume everyone by now is familiar with Saw. The indie horror film, shot in less the three weeks for a miniscule budget, was a huge box office success and introduced a new iconic villain, Jigsaw, to the world of horror. Many like to classify Saw as torture porn, but writer Luke Y. Thompson of OC Weekly argued that unlike Hostel, the Saw films actually have less torture than most in the sense of sadism or masochism, as Jigsaw believes that those who survive his methods, will be stronger people for it. He called him a kind of a (deranged) philanthropist. Saw is twisted, constantly surprising, extraordinarily tense and features one of the best endings of any horror film to date.
136: Kwaidan
Directed by Masaki Kobayashi
Written by Masaki Kobayashi
Japan, 1964
Kwaidan (Kaidan) is a 1964 Japanese portmanteau film directed by Masaki Kobayashi; the title means 'ghost story'. Based on stories from Lafcadio Hearn's collections of Japanese folk tales, this impressively mounted anthology horror film consists of four separate and unrelated stories. It won the Special Jury Prize at the 1965 Cannes Film Festival, and received an Academy Award nomination for Best Foreign Language Film. Kwaidan's haunting poetry is conveyed with what might possibly be the most beautiful horror film you will ever see. The soundtrack is equally impressive, and although it might not outright scare, you can't help but admire the craft and artistry.
135: Village of the Damned

Directed by Wolf Rilla
Written by John Wyndham, Stirling Silliphant
1960, UK
Adapted by director Wolf Rilla from John Wyndham's novel The Midwich Cuckoos, Village of the Damned, certainly has dated but regardless, it is a seminal piece of work and a timeless classic. Village doesn't rely on gimmicks or special effects but remains an intelligent, creepy tale nonetheless. "Those eyes, those screams." The chilling performances by the unknown cast of blank-eyed child actors remains incredibly creepy decades later.
–
–
134: The Exorcist III
Directed by William Peter Blatty
Written by William Peter Blatty
1990, USA
William Peter Blatty, author of The Exorcist, directed this creepy, deliberately-paced thriller based on his novel Legion. Thankfully he ignores the events of John Boorman's disappointing Exorcist II: The Heretic. It isn't quite as good as the first film, but thanks to some powerful performances by Brad Dourif and George C. Scott, The Exorcist 3 is just as scary and ranks as one of the best sequels ever made.
–
–
133: Onibaba

Directed by Kaneto Shindô
Written by Kaneto Shindô
Japan, 1964
This landmark in fantasy cinema is bleak, sexually charged and dripping with depravity. Symbolism runs rampant and the dialogue is minimal in this harrowing study about the rotten nature of humanity and the useless wars they wage. Kiyomi Kuroda's startling black-and-white cinematography, the excellent, percussive jazz soundtrack, and the final twist (one which might seem obvious today but not back then), is reason enough to watch this gem.
132: The Long Weekend
Directed by Colin Eggleston
Written by Everett De Roche
1978, Australia

A very well executed and innovative film for the time, The Long Weekend marked the beginning of a solid run of good Australian horror films, penned by Everett De Roche, including Patrick (1978), Roadgames (1981) and Razorback (1984). The Long Weekend is an extremely tense thriller that doesn't rely on the usual standard shock strategy to deliver its scares – and ranks as one of the best "nature vs.man" films – steeped in the mid-70s statements of environmentalism, and hinting at a broader ecological agenda with mention of nuclear testing and oil exploration. The small cast is solid despite the minimal amount of dialogue, the sound design is carefully layered gradually escalating to increase the tension, and the camera work by cinematographer Vincent Monton gives the pic a realistic feel with voyeuristic documentary-quality shots of the outback surroundings. Not a typical horror film in the standard sense but this small masterpiece is a must see for its slow, eerie pacing and atmosphere.
–
131: Next of Kin
Directed by Tony Wilson
Written by Tony Wilson
1984, Australia
The slow, measured pacing may put off some people but if you have the patience to sit it out, Next of Kin offers one of the best payoffs of any film mentioned on this list. Next of Kin starts as a gothic style mystery-thriller with a hint of the supernatural and than jumps to a full on giallo-style third act – culminating with an unforgettable final shot. Perhaps influenced by Robert Wise's The Haunting, Next of Kin is the closest I have seen to matching the atmosphere of The Shining. Along with an absolutely breathtaking distinctive musical score by Klaus Schulze (drummer of the early incarnations of Tangerine Dream) and incredible, stylish visual imagery, Next of Kin is a must see.
130: Frighteners

Directed by Peter Jackson
Written by Fran Walsh and Peter Jackson
1996, New Zealand / USA
Following the critically acclaimed Heavenly Creatures, Peter Jackson delivered his version of Ghostbusters. The Frighteners is an incredibly underrated horror-comedy that deserves more praise. Jackson directs at a breakneck pace and the cast all deliver fine performances – including Michael J. Fox, doing a better than adequate job in the lead, and Jeffrey Combs as the over-the-top Special Agent Milton Dammers. The special effects were done exclusively by Jackson's New Zealand company Weta Digital, who of course went on to do the effects for The Lord of the Rings trilogy. Poltergeists, ghostbusters, serial killers, gore, laughs and mystery – The Frighteners is simply awesome.
129: The Devil`s Backbone
Directed by Guillermo del Toro
Written by Antonio Trashorras and Guillermo del Toro
Spain / Mexico, 2001
As director Guillermo del Toro explains, "It's a very moving and very dark fable about war. And within its walls is contained a ghost story." Backbone is a supernatural allegory set against the backdrop of the Spanish Civil War. A multi-layered tale, following ten year-old Carlos in a remote orphanage which provides him refuge from the horror of war but leaves him vulnerable to the supernatural. Del Toro, working with cinematographer Guillermo Navarro, create a genuinely scary, exquisitely shot and eerie, unnerving mood that holds to the very end. In a nutshell, it's a ghost story with soul.
128: Häxan

Directed by Benjamin Christensen
Denmark / Sweden, 1922
Häxan (a.k.a The Witches or Witchcraft Through The Ages) is a 1922 Swedish/Danish silent documentary about the history of witchcraft, told in a variety of styles, from illustrated slideshows to dramatized reenactments of alleged real-life events. Written and directed by Benjamin Christensen, and based partly on Christensen's study of the Malleus Maleficarum, Häxan is a fine examination of how superstition and the misunderstanding of diseases and mental illness could lead to the hysteria of the witch-hunts.  At the time it was the most expensive Scandinavian film ever made, costing nearly two million Swedish krona. Although it won acclaim in Denmark and Sweden, the film was banned in the United States and heavily censored in other countries for what were considered at that time, graphic depictions of torture, nudity, and sexual perversion. Depending on which version you're watching, the commentary is either in the form of inter-titles or narration recorded in the mid-1960s by William S.Burroughs. Haxan is a fascinating historical document and one of the earliest films that takes misogyny and sexual repression as its subject.
127: The Ordeal (Calvaire)

Directed by Fabrice Du Welz
Written by Fabrice Du Welz and Romain Protat
2004, Belgium / France
Director-co-writer Fabrice du Welz takes a clichéd premise and infuses it with a slick stylish perversity and the gory surrealism of early Wes Craven. Apart from the bravura direction and the slick cinematography of Benoît Debie (whose camera-work in the climax features an overhead shot in a slow 360-degree spin), the main draw comes from the gut-wrenching performance from actor Laurent Lucas. This is a strange, compelling horror film – part Misery and part Deliverance. Calvaire's premise may be a familiar but it is still one of the better Backwoods Horror entries in recent memory.
126: The Brood
Directed by David Cronenberg
Written by David Cronenberg
1979, Canada / 1986, Canada
David Cronenberg's 1979 effort The Brood could provide the biggest genre-movie highlight reel of his entire body of work, with killings perpetrated by bizarre down-syndrome-mutant, pig-faced dwarves. The last scene in this movie, in which a mother bites through her "psycho-plasmic" placenta to lick the birth fluids from her angry spawn, is worth the price of admission alone. The Brood is visceral, highly disturbing, and downright disgusting. It was Cronenberg's first major success and a highly personal one as well: It is also the director's most bitter, uncompromising statement about gender politics, children, and sexuality. Often described as Cronenberg's Kramer Vs. Kramer, The Brood is a definitive metaphor for the harsh realities of acrimonious divorce. The premise is simple – a crazy woman's psychoses creates these evil murderous creatures. The husband if left to clean up the mess. Do yourself a favour and rent it if you haven't yet seen it.
125: The Fly

Directed by David Cronenberg
Written by David Cronenberg
1986, Canada
The Fly was released in what could arguably be called the most fertile period of David Cronenberg's career. To date, it is easily his most commercially successful motion picture, winning an Oscar (for makeup) and later it spawned a sequel. Cronenberg's The Fly is more a "re-imagination" as opposed to a "remake." The movie uses the premise found in both the original short story and the original film, but changes everything else including names and basic plot points.
Cronenberg has always been fascinated with the reshaping of the human body in various forms and the horror and abomination that comes with that change. With The Fly, Cronenberg focusses on the slow transformation and decomposition of a mad scientist and while Chris Walas' makeup and creature effects is groundbreaking for the time, the picture is less about its effects than it is about Cronenberg's obsessions. It also features some great dialogue:
Brundle: "I'm an insect who dreamt he was a man and loved it. But now the dream is over and the insect is awake."
Ricky D