Every year I spend the majority of the month of October watching as many horror movies as I possibly can. So I decided to take it upon myself to list off the greatest horror movies ever made. I felt the need to break up the list into several categories. You see, usually when people ask me for recommendations of what horror films they should see, they still have some idea of what sub genre they are interested in watching. So as appose to having one big jumbled list, I've broken it down to help with those looking for recommendations in a specific area. PLEASE
Filmmakers have interpreted the cult of vampires in many ways; some emphasizing on the traditional vampire mythology, while others using vampires as tools to induce comedy, or gross out special effects and gore. The most popular cinematic adaptation of vampire fiction has been from Bram Stoker's Dracula, with over 170 versions to date. Running a distant second are adaptations of Carmilla by Sheridan Le Fanu. And although vampires are generally associated with the horror genre, vampire films may also fall into the science fiction, romance, comedy or fantasy genres, among others. It is for these reasons that of all the lists I am writing for this series, this one was the toughest to do. There are simply so many to choose from.
There are a few films listed below that some people might not consider horror. Blade would be a prime example. While I admit that Blade is best viewed as an action film or comic book adaptation, one must remember that at the time of it's release, it was rated a hard R. In fact the underground club scene, which is also the bloodiest moment of the film, really did disturb me when I first saw it. So while many can argue that some of the films below shouldn't be included, I can turn around and respond in saying that if we base what we consider horror simply on how much a movie scares us or how much blood and gore it features, than you would have to eliminate some of the greatest horror films ever made including Nosferatu. With that said, here is the list of what I think are the best vampire movies ever made, regardless if they scare you or not.
34- Horror Of Dracula (1958)
Directed by Terrence Fisher
I must admit that I am not a huge fan of Hammer horror films, but Horror Of Dracula ranks as one of the studio's very best, and rightfully deserves to be included in the pantheon of genre classics, while not really being a great film in its own right. This sexually charged Gothic horror film put actors Christopher Lee and Peter Cushing on the map, thanks to their standout performances. Terence Fisher's direction helps the film attain a certain atmosphere, taking a serious approach to the macabre theme, even if it's a little silly at times.
33- The Living Corpse / Dracula In Pakistan (1967)
Directed by Khwaja Sarfraz
At first I didn't include this movie on my list, although I had seen it before. Thankfully I second guessed myself and took some time off to watch it once again. The Living Corpse is simply spellbinding. This Pakistani Dracula film leans heavily on the Hammer-style vampirism with a fusion of exotic song-and-dance numbers once comes to expect from films made in Pakistan. This is a worthy Lollywood interpretation of Bram Stokers classic. Seek it out!
32 -Captain Kronos – Vampire Hunter (1974)
Directed by Brian Clemens
A late entry from the foundering Hammer Studios, this intriguing twist on the vampire motif is one of the studio's best and most original concoctions. Captain Kronos: Vampire Hunter (also known as Kronos) is equal parts gothic vampiric horror, satire and semi Errol Flynn-type swashbuckling adventure. Writer/director Brian Clemens seems set on desexualizing his vampires as their quest for blood is driven by a pervasive narcissism instead. As seen with Daughters of Darkness, the mythology here is that by drinking the victim's blood, one can retain their youthful appearance. Kronos is notable mainly for its tongue-in-cheek approach. Clemens infuses the film with striking imagery; most memorable, a scene featuring a sword smelted out of a crucifix. Clemens's direction is often uneven and but the fabulous cast all deliver well. Kronos is is anything, a fascinating effort to emerge from the latter days of the Hammer studio.
31- Lifeforce (1985)
Directed by Tobe Hooper
Director Tobe Hooper adapts Colin Wilson's novel The Space Vampires in this horror/sci-fi epic. Lifeforce is a film that really divides opinion, but I personally think it makes for a fun watch. A 1985 end of year reviewers' poll in Sight and Sound magazine saw Lifeforce placed in both one critic's Top 10 list and also listed as another critic's worst film of the year. The film was written by Dan O'Bannon (Alien), and featured effects by John Dykstra (the man behind the visual effects on Star Wars). Imagine a cross between Alien, Invasion of the Body Snatchers and Night of the Living Dead, Lifeforce is rightly infamous, as an entertainingly bad movie, but one that was extremely ambitious. Lifeforce is an ingenious, highbrow science-fiction reworking of classical vampire mythology with an end of the world scenario. Where else would you see British zombies, space vampires, French models who walk around naked for the majority of the pic's running time, and a gay Patrick Stewart?
30- From Dusk Till Dawn (1996)
Directed by Robert Rodriguez
Before George Clooney was Hollywood's leading man, Tarantino gave him his first lead in a feature film and helped transform him into a full-fledged movie star. From Dusk Till Dawn is energetic low-budget vampire madness that is unapologetic trashy, exuberantly vulgar, and extremely gory.
29- I Am Legend (2007)
Directed by Francis Lawrence
I Am Legend aptly blends three film genres for the price of one: Science Fiction, Action, and Horror. For a first-time feature by director Francis Lawrence, I Am Legend deserves credit despite a disappointing ending and some dodgy effects. This is pretty much a one man show, but Will Smith carries the movie with his natural charisma in a touching and tragic performance that involves very little interaction with other characters.
28- Roost (2004)
Directed by Ti West
Put aside the bad acting and take into consideration the budget, and Roost is one hell of a directorial debut for Ti West. One could easily see at the time of it's release that West would be a director to look out for. This independently produced horror flick that was picked up by director Doug Liman's distribution company, Hypnotic, follows four students, who on the way to a wedding take the wrong road at night and end up the prey of carnivorous vampire bats. West makes the most of the slow burn, with excellent compositions, aided by the incredible score from composer Jeff Grace. This homage to low-budget '70s horror movies, places an emphases on atmosphere while taking a bite out of the vampire mythology. Simple and stripped down, West realizes his limitations and does more than most Hollywood productions, with so little to work with.
27- Nosferatu the Vampyre – (1979)
Directed by Werner Herzog
Just the other day I found myself asking SoS contributor Derek Gladu if Werner Herzog had ever made a horror film. How we both forgot his Nosferatu the Vampyre is beyond me. Made in 1979, written and directed by Herzog, the film was conceived as a stylistic remake of the 1922 German Dracula adaptation, Nosferatu, eine Symphonie des Grauens. It stars Klaus Kinski as Count Dracula, Isabelle Adjani as Lucy Harker, Bruno Ganz as Jonathan Harker, and French artist-writer Roland Topor as Renfield. Nosferatu the Vampyre may not be scary in a traditional sense, but it looks great, and features a legendary cast.
26- Interview With The Vampire (1994)
Directed by Neil Jordan
One of director Neil Jordan's major Hollywood productions, Interview With The Vampire stays close to its source material, while improving on it in many ways. The "epic" of epic vampire films, Interview with A Vampire broke weekend box-office records when it premiered and has since earned a spot in the pantheon of great vampire films. The gothic settings, superlative makeup by Stan Winston, stunning cinematography, murky tone, and good dialogue make for a compelling and engrossing a piece of entertainment. The casting of both Brad Pitt and Tom Cruise made it the most anticipated film of that year, but it is child actress Kirsten Dunst who gives the most spectacular performance in a rather complex part. Her performance alone is worth the watch, even if you are not a fan of Anne Rice.
25- Blade (1998)
Directed by Stephen Norrington
British director Norrington helmed this David S. Goyer adaptation of the Marvel Comics character created in 1973 by writer Marv Wolfman and artist Gene Colan. Blade is a dark, edgy, thoroughly watchable action movie featuring jaw-dropping fight sequences, a hip techno soundtrack and perfect casting for its titular character.
24- Stake Land (2011)
Directed by Jim Mickle
Winner of the Toronto International Film Festival Midnight Madness People'c Choice Award, Jim Mickle's socially relevant, sombre, and nerve-wracking post-apocalyptic horror is best described as The Road with vampires. Despite a miniscule budget, Mickle delivers a visually-evocative bleak genre movie that hints at truly great things to come for its talented director. When vampires fall from the sky during a long, extended shot, you can only begin to imagine what Mickle can do if someone would just award him a decent budget.
23 – Dracula: Pages from a Virgin's Diary (2002)
Directed by Guy Maddin
Guy Maddin resurrects the style and visual grammar of the silent cinema in this ambitious screen adaptation of the Royal Winnipeg Ballet's acclaimed dance production, which incorporates elements of Bram Stoker's novel Dracula and F.W. Murnau's film Nosferatu. It was originally filmed as a telefilm for CBC Television in Canada, but critical and popular acclaim brought it to a United States theatrical release. The idiosyncratic Canadian filmmaker imitates early talkies, shooting it as a silent film complete with title cards and some mimicked special effects of the time such as tinted screen colour, shadow play, and vaseline on the camera lens to create a blurry effect. Dracula: Pages from a Virgin's Diary is best described as Nosferatu meets The Red Shoes.
22- Black Sunday (1960)

Directed by Mario Bava
Technically this film is just as much about witches as it is about vampires, so don't be surprised if you see it again listed in this series. Black Sunday, also known as The Mask of Satan, was considered Bava's directorial debut, although he had completed several previous feature films without credit. A densely atmospheric black-and-white fright film that clearly took its inspiration from the classic Universal horrors, Mario Bava's directorial debut still stands as one of the most influential and important genre films ever made, and he would never again match the success of this venture. Although taken from the 1835 classic Russian ghost story The Vij by Nikolai Gogol, Bava tweaked the story to deliver a fine mixture of folklore, traditional superstition, and genre convention. Technically speaking, the film is a work of art, with superb sound design and striking camerawork. Already an established cinematographer who was renowned for making a film look much better than its low budget would anticipate, co-cinematographers Bava and Ubaldo shot the entire film with a dolly, achieving a dream-like look. Sunday is one of the best looking Italian horror films of the 70′s, with its crumbling landscapes, shadowy black-and-white imagery, fog, castles, crypts, long passageways, and crawling insects. By today's standards, Black Sunday seems fairly tame, but it was banned in the U.K. at the time of its release and in the U.S. the film was heavily censored. Despite the censorship, Black Sunday was a worldwide critical and box office success and launched the careers of director Mario Bava and movie star Barbara Steele, who has dual roles in the film as both the evil witch and princess whose blood the witch wants to drain. Her gothic black hair and saucer-like dark eyes made her famous, but sadly it was a role she would forever be typecast in. The film was ignored by the critics when released, but soon gained a cult following and opened the door for the Italian Gothic horror films to come. An absolutely essential cornerstone of any worthwhile horror DVD collection.
21- Cronos (1993)

Directed by Guillermo del Toro
Cronos revealed the dark genius of Guillermo del Toro. This stylish and innovative take on the familiar vampire movie marked the directorial debut of Mexican filmmaker. Starring veteran Argentine actor Federico Luppi and American actor Ron Perlman, Cronos was the first of several films on which del Toro collaborated with the two actors. The film garnered international acclaim and several awards and many of the aesthetic qualities and thematic devices that del Toro made a career of are already present here. Cronos is simply one of the most beautiful, compelling, hypnotic and creepy films listed here, and a must see.
20- The Hunger (1983)
Directed by Tony Scott
Fans of horror who are looking for something different will likely be most pleased by this unique entry in the genre. In his feature debut, director Tony Scott casts David Bowie as centuries-old vampire John Blaylock, a clever way to attract the MTV audience. However the real stars of his film are Catherine Deneuve and Susan Sarandon, who play predator and prey. The Hunger has three memorable scenes: The first features a Deneuve and Bowie manhunt in a disco as the legendary rock group The Bauhaus sing 'Bela Lugosi's Dead'. The second involves Bowie rotting away in a hospital waiting room. Finally, the third memorable scene comes with the thrilling climax, hearkening back to images from EC Comics.
19- Shadow of the Vampire (2000)
Directed by E. Elias Merhige
Shadow of the Vampire is a largely fictionalized but entertaining portrait of F.W. Murnau, whose 1922 picture Nosferatu became the model for all future films on the Dracula theme. Using an unrecognizable Willem Dafoe in the role of the obscure German actor Max Schreck and John Malkovich as Murnau, director Merhige captures a remarkable study of obsessive filmmaking that ranks as one of the most unusual bio-pics ever made.
18- Trouble Every Day (2001)
The increasingly diverse French auteur Claire Denis directs a film that is profoundly disturbing, yet hauntingly unforgettable. Trouble Every Day is a modern-day horror story about a man and a woman, living thousands of miles apart, who are afflicted with the same self-destructive brain damage that affects their sexual appetites. Trouble Every Day looks, sounds and simply feels like no other vampire film in recent history. Trouble can be viewed as more of an oddity than a true horror film but many cinephiles will be thrilled at its strange and ambitious take on the horror genre. The score, provided by the Tindersticks, carries the film along with a slow, menacing, edgy sense of unease, building up to a gruesome, bloody and unforgettable finale. Trouble Every Day is cinematically astonishing.
17- The Addiction (1995)
Abel Ferrara's 1995 horror/suspense experiment blends the urban vampire adventure with philosophical analysis. Scripted by Ferrara's longtime collaborator Nicholas St. John, the film is really only superficially about vampires. The Holocaust, the My Lai massacre, and the philosophy of Heidegger and Nietzsche are just some of the themes and ideas Ferrara claims inspired him. Ferrara converts the old vampire mythology into a modern psychological horror story. Although unintentionally funny at times, the films is always entertaining and beautiful to look at.
16- The Lost Boys (1987)
Directed by Joel Schumacher
A slightly scary teen comedy on the horrors of adolescence. The Lost Boys is an exhilarating hybrid of horror and suburban comedy and perhaps Joel Schumacher's finest film. Starring both Corey Feldman and Corey Haim, The Lost Boys will forever be a cultural touchstone of '80s cinema – A film that documents all that was bad and good about the decade.
15- Valerie and Her Week of Wonders (1970)

Directed by Jaromil Jires,
Set in a vaguely-defined Transylvanian townscape sometime in the last century, Valerie and Her Week of Wonders is a bizarre gothic fable of a young woman's descent into womanhood. There is no clearly-defined story, but essentially the film works as a parable of menstruation. Directed and co-written by Jaromil Jires, a key member of the Czech New Wave, Valerie and Her Week of Wonders is one long, erotically charged nightmare of sexuality and death and young and old. And yes there are vampires.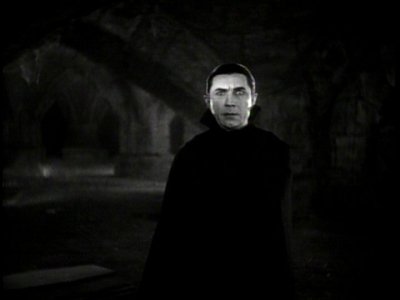 14- Dracula (1931)
Directed by Todd Browning
I'm not one to believe that this is quite the masterpiece as it's reputation will lead you believe, but it appears on my list for the striking first twenty minutes and Bela Lugosi's seminal performance. Many consider it the prototype for the horror film, but apart from the opening, the picture drags on it's heels once the action moves to England.
13 -Vampire Circus (1972)
Directed by Robert Young
By the beginning of the 1970s, British Hammer Films began to dwindle. William Hinds, had retired from the company, and the studio struggled to maintain relevance in the face of the shifting interests of young audiences. The post-modern movement was altering the cinematic landscape and the existing Dracula series continued to unleash a string of films with mixed results. However something rather interesting began. Another, more innovative approach emerged as filmmakers began to tweak the standard vampire mythos in strange and new ways – hoping to pump new life into the genre. One of those entries is Vampire Circus. The result is one of the studio's more stylish and intelligent projects.
English filmmaker Robert Young made his directorial debut with Vampire Circus, and while it features neither Peter Cushing or Hammer counterpart Christopher Lee, Young keeps things stylish, gory, cliched, silly and inventive. Shot in Technicolor, Circus is a beauty to observe, with it's outlandish art direction and colourful cinematography. Erotically charged, it could be labeled as a '70s sexploitation film, albeit with rich subtext and multiple readings. Undermentioned and underrated, this is one film I highly recommend.
12- Alucarda, La Hija De Las Tinieblas / Innocents From Hell (1978)
Directed by Juan López Moctezuma
Partly nunsploitation, partly a possession/satanism movie and part vampire flick, Alucarda (spelt Dracula backwards), finds satanic going-ons in a convent after orphan Justine comes along, only to be seduced by another orphan named Alucarda. Director Juan López Moctezuma came along during the new wave of 70's Mexican genre pics that would express radical and subversive views. Alucarda never received much attention from critics nor audiences, but over the years became something of an underground cult classic. Moctezuma (who also produced Jodorowsky's El Topo and Fando Y Lis) was an important intellectual figure in Mexico in the fifties, sixties and seventies, and his three horror films (which also includes Mansion of Madness, and the American co-production Mary, Mary, Bloody Mary) were all distinctive works. The film was independently financed outside of the Mexican mainstream industry and was shot with an English-speaking cast. The set design and art direction is stunning as well as Xavier Cruz's cinematography. The gruelling exorcism conclusion to Alucarda reminds one of the final scene in Brian De Palma's Carrie. While it is not widely known by many cinephiles, many fans who have seen it, including myself, consider it an unrecognized gem. Seriously this movie is batshit crazy and a must see!
11- Last Man On Earth (1964)
Directed by Ubaldo Ragona
George Romero cited The Last Man On Earth as his major influence in creating his classic zombie film Night of the Living Dead. Vincent Price plays a scientist who is the last survivor on Earth after a plague has turned the rest of the population into vampires. This was the first-ever adaptation of Richard Matheson's novel I Am Legend and in my opinion, it is easily the most faithful and best.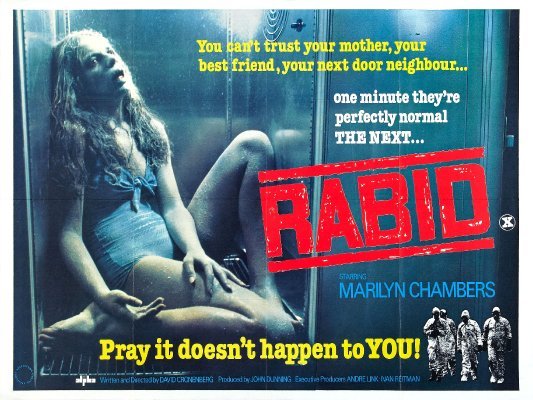 10- Rabid (1977)
Directed by David Cronenberg
David Cronenberg's underrated second film continues to develop his theme of bodily manipulation. After undergoing radical surgery for injuries from a motorcycle accident, a young woman (former adult film star Marilyn Chambers) develops a strange phallic growth on her body and a thirst for human blood. Vampire-like, she prowls the city of Montreal, using her sexual powers to attract victims. David Cronenberg's film explores the relationships between sex and violence, and the slow corrosion of modern society.
9- Martin (1976)
Directed by George A. Romero
George Romero is famous for his trilogy of zombie movies, but Martin is his only vampire film. Gruesome, gory and one of the best vampire movies ever made, Martin is not for the weak at heart but if you think you can stomach its graphic violence, it is a must-see. This grim horror tale is a shocking, thoughtful reworking of the vampire myth whose protagonist just so happens to be a shy, alienated 17-year-old who thinks he may be a vampire.
8- Near Dark (1987)
Directed by Kathryn Bigelow
Kathryn Bigelow's Near Dark has been dubbed repeatedly "the best vampire movie you've never seen." What Near Dark does better than so many other movies of its kind, is keep us off-balance and surprised. It is an amalgam of tropes and motifs from familiar genres, mixing in the likes of vampire legends, biker movies and westerns but reconstructed in such a way that the end result is creepy, violent, smart, and at times funny. The film also benefits from some wonderful performances, stunning visual texture, and music by Tangerine Dream.
7- Thirst (2009)
Directed by Park Chan-Wook
Park Chan-Wook reinforces his reputation has one of the leading directors working today and although Thirst may not be the greatest vampire movie ever made, his desire to try something different makes it a fresh take on the genre. The key ingredient to its success is the pitch perfect performance of Korea's leading actor Song Kang-ho (The Host), who carries the film's broader themes of guilt, conscience and redemption almost single-handedly.
6- Bram Stoker's Dracula (1992)
Directed by Francis Ford Coppola
A seductive retelling of the legendary tale, Bram Stoker's Dracula is Francis Ford Coppola's erotic, blood-filled blockbuster feast. Here, Count Dracula is played masterfully by an irresistible and intense Gary Oldman and the eccentric Professor Van Helsing is played by none other than Anthony Hopkins. The casting alone (minus Keanu) is worth the price of admission, but we are still treated with some of the best art direction, cinematography and effects in any horror film. In fact Coppola opted to do all the eye-pleasing visual effects in-camera, utilizing shadow puppets, smoke, miniatures, and other time-honoured tricks of the trade. The result is a a visual style much like a storybook come to life.
5- Daughter of Darkness
Les lèvres rouges
Directed by Harry Kümel
Belgium's premier horror filmmaker Harry Kümel directs this lesbian-themed vintage vampire flick heightened by a stunning performance from Delphine Seyrig. I'm not a huge fan of lesbian vampire films but Daughter of Darkness is subdued rather than exploitative. Best described as a European art-house flick that sways far away from the traditional vampire movie, the film excels with the brush strokes of atmosphere and psycho-sexuality. Cinematographer Eduard van der Enden, who shot Jacques Tati's Trafic infuses the film's imagery with a pervading sense of the modern gothic. Unlike most lesbian vampire films, Daughters of Darkness is worth watching, worth recommending and worth buying.
4- Let Me In (2010)
Directed by Matt Reeves
The pressure in adapting a story or remaking a film is that the filmmakers already have an archetype to which everyone will compare their work to. Some people will be unwilling to give this film a chance, but those who do, will be thankful. Let Me In is a film that achieves the rare feat of remaining faithful to its source material while emerging as a highly accomplished work in its own right.
3- Vampyr (1932)
Directed by Carl Theodor Dreyer
Vampyr ranks in many circles as one of the greatest horror films of all time, and I agree. Almost entirely devoid of the outright scares we've come to expect in the genre, yet it creates a sense of unease, even more than 75 years after its release. Vampyr is just one of many reasons why director Carl Theodor Dreyer is considered one of the greatest filmmakers of all time. With the help of Rudolph Maté's luminous photography, Dreyer creates a poetic psychological horror film. The coffin carrying sequence and buried alive scene towards the end will forever be etched in your memory. An absolute masterpiece.
2- Nosferatu: The First Vampire (1922)
Directed by F.W. Murnau
The earliest surviving film based on Dracula is Nosferatu, an unauthorized adaptation of Bram Stoker's novel. One of the first vampire movies, it is perhaps on one of the best vampire movies ever made. Generally creepy from beginning to the last frame.
1- Let the Right One In (2008)
Directed by Tomas Alfredson
Even in a pop culture landscape littered with the bloodthirsty undead, Let The Right One In stood out as a poignant coming of age story as well as a bone-chilling horror film. The haunting mediation on the difficult and often painful transition into adolescence garnered much praise on the festival circuit in 2008 and earned a loyal cult following through word of mouth. Based on the novel of the same name by John Ajvide Lindqvist, who also wrote the screenplay, Sweden's Let The Right One In is hypnotic, horrific, and it groundbreaking. It follows the classical rules of vampire mythology but takes those very same rules we are accustomed to and updates each of them in new and exciting ways. Perfectly paced, and patient in building its atmosphere to set us up for some horrific moments. It has its moments of restrained fright, but never shies away from the gore when it's called for. An instant classic of modern horror cinema and easily the most fascinating film to appear on this list.
Honorable mentions: French director Jean Rollin made some interesting vampire films, even if not really any good. Perhaps his most entertaining of the bunch is Fiance of Dracula and Two Orphan Vampires. Lesbian Vampire Killers is also a fun watch and Let Sleeping Corspes Lie is perhaps the most faithful adaptation of Bram Stalker's Dracula, and also marks the first vampire film out of Pakistan. Finally Fright Night holds a bit of nostalgia for me, but doesn't quite achieve a cult following such as another 80's vampire film found on this list – The Lost Boys. All of these make for a fun watch but just didn't make the cut.
Related: Best Horror Movies | Best Halloween Movies | Best Werewolf Movies | Best Australian/New Zealand Horror Movies | Best Horror Comedy Movies
[wpchatai]