Throughout the month of October, Editor-in-Chief and resident Horror expert Ricky D, will be posting a list of what he considers the greatest horror films of all time. The list will be posted in six parts. Click here to see every entry.
As with all lists, this is personal and nobody will agree with every choice – and if you do, that would be incredibly disturbing. It was almost impossible for me to rank them in order, but I tried and eventually gave up.
****
Special Mention:
Shock Corridor
Directed by Samuel Fuller
Written by Samuel Fuller
1963, USA
Shock Corridor stars Peter Breck as Johnny Barrett, an ambitious reporter who wants to expose the killer at the local insane asylum. In order to solve the case, he must pretend to be insane so they have him committed. Once in the asylum, Barrett sets to work, interrogating the other patients and keeping a close eye on the staff. But it's difficult to remain a sane man living in an insane place and the closer Barrett gets to the truth, the closer he gets to insanity.
Shock Corridor is best described as an anti-establishment drama that at times is quite funny. The film deals with some timely issues of the era it was made in, specifically the atom bomb, anti-communism, and racism – and it can be dissected and discussed at various levels: psychological, sociological, and symbolic. It features everything from a raving female love-crazed nympho ward, opera-singing psycho patients, fetishism of all sorts, electroshock therapy, racially-incited brawls, and classic prison style riots.
So why it include it as a special mention? The final scene, without giving anything away, could very well label Shock Corridor a psychological horror film. Either way, it is an amazing film that everyone should see and features some brilliant camera-work by Stanley Cortez who also shot another film featured on this list, The Night of the Hunter.
25: (TIE) Dawn of the Dead / Day of the Dead
Directed by George A. Romeo / Directed y George A. Romero
Written by George A. Romero / George A. Romero
1978, USA / 1985, USA
Much has been written about George Romero's Dawn of the Dead, perhaps more than any other horror film. Released 10 years after Romero's original Night Of The Living Dead, Dawn Of The Dead was tonally distinct from its predecessor. Working on a much bigger budget, Dawn carried a blend of horror, action, and comedy, containing more humor and social satire than the original. Romero's framing of social depravity via his decaying, walking dead as metaphors is ingenious. The film effectively evokes the tensions between pacifist movements and more aggressive social orders of the time. Dawn works as a horror movie and as a denouncement of consumer culture as illustrated by the indoor shopping mall where a group of human survivors take shelter from the plague sweeping the nation.
Dawn sets itself apart in several ways from Night. Leaving behind the eerie black and white shadowy look of its forefather, it favors a brightly lit color canvas. Extending the scope of the original, the small farmville setting is replaced with a shopping mall, and the epidemic has spread upon the world at large. The film feels and looks like a bigger picture; broader, and bloodier, establishing a new record at the time for explicit on-screen carnage.
****
Having to follow in the footsteps of two of the two most highly regarded zombie movies in history couldn't have been easy. Day of
the Dead is unquestionably the most controversial and divisive entry in George A. Romero's original trilogy. During production, Romero openly admitted that the script he ended up with was far different from his original vision. The comic relief of Dawn is nowhere to be found, and the director's obsession with social decline is the most opinionated of his canon. Unlike most of the films found within the subgenre, the movie is concerned more with existentialism and gender/political divides than scares. Romero chose to directly address the nature of human emotions and prejudices, resulting in bitter and cynical characters barricading themselves in concrete bunkers, and forced to hide like an oppressed minority. In Day Romero comments on racism, tribalism and social and governmental concerns.
Gore wizard Tom Savini has identified this film as his magnum opus, and the Dead series helped Savini to become an idol in modern horror filmmaking. As the climax hits, some of the most spectacular and disgusting onscreen effects ever filmed unfold.
24: Alien
Directed by Ridley Scott
Written by Dan O'Bannon
UK – 1979
Boasting one of the greatest taglines of all time – "In space, no one can hear you scream" – Alien blends science fiction, horror and bleak poetry into what could have easily turned into a simple B-monster movie. Be warned: Alien can test a viewer's patience. This is an extremely slow burn and unusual for the genre. Despite the budget, stellar effects and ambitious set design, Alien in a sense is a minimalist film – from the simple opening title sequence to the first 45 minutes, it is all dialogue. There is no horror and there is certainly no action. But patience is a virtue. The second half of the film is technically a marvel – tense, horrifying and visually breathtaking. Alien remains one of the best examples of sustained tension and despite a slow start, the first half still conjures up a sense that something very, very bad is going to happen. Hold on to your stomachs, it is going to be a bumpy ride. Oh and I just can't go one without mentioning how incredible Sigourney Weaver is. She, single-handed, carries the majority of the picture as the tough resourceful, independent, and extremely bad-ass heroine.
The script, written by Dan O'Bannon, (who based the screenplay upon Star Beast, a story that he had written earlier on in his career), is also cluttered with Freudian and sexually-charged symbolism and images, that the creature itself was designed with a phallic head and an open vaginal mouth. Note that in the film's most shocking scene, it is a man who becomes 'impregnated' by the creature as a surrogate mother. Also note that the name for the starship's computer interface that awakens the crew members is simply called "Mother" (or MU-TH-R 182).
Nominated for two Academy Awards, Best Visual Effects and Best Art Direction/Set Decoration, it won a single Oscar for Best Visual Effects (awarded to H. R. Giger and four others). Because of the original film's success, Scott was able to finance his next futuristic film, Blade Runner, still considered to be his best.
23: M

Directed by Fritz Lang
Written by Fritz Lang and Thea von Harbou
1931, Germany
Fritz Lang's M is not, strictly speaking, a horror film but a radical, analytical film that entertains many of Fritz Lang's cinematic obsessions. A simple way to classify it would be crime drama, but M is far more ambitious. M was Lang's first sound film and Lang took liberty to experiment with the new technology. Here is a movie that knows when silence is more effective than noise. It is a film that features a complex soundtrack that includes many sounds occurring off camera and suspenseful moments of silence before a sudden loud noise. In M, a simple whistle or ring of a bell will set the audience off balance. The director also experiments with pacing. While it begins with fast edits and some brilliant montage work, it slows down with time. Legendary Cinematographer Fritz Arno Wagner, who had shot several films for Lang (as well as Murnau and Pabst ) does some of his best work here. Lang did not want to show any acts of violence or deaths of children on screen and relied heavily on Wagner to suggest rather than show with brilliant use of shadows and composition. Like Hitchcock, Lang implies violence and mayhem instead. Behind its single-letter title lies plenty of intricacies: the innovative use of sound; the detail of police procedure and the parallels drawn between the law-holders and the criminal underworld. Like the very best horror films, M works on many levels – It is a crime drama, but it's also a commentary on German society masquerading as a suspense thriller.
Mostly responsible for the horror portion of the film is actor Peter Lorre, whose bone chilling performance is always the focus of the film, even when he is not on screen. Equally frightening is Lang's use of Grieg's "In the Hall of the Mountain King" from "Peer Gynt." This is the tune that Lorre whistles throughout the film whenever he is on the prowl.
Much can be said about M. The film has become a classic which Lang himself considered his finest work. It's an impeccable film and a model of psychological suspense.
22: Picnic at Hanging Rock

Directed by Peter Weir
Written by Cliff Green
Australia, 1975
Based on Joan Lindsay's 1967 novel, which suggests the events actually occurred, Picnic at Hanging Rock relates the story of the disappearance of several schoolgirls and their teacher during a picnic to Hanging Rock on St. Valentine's Day in 1900, and the subsequent effect on the local community.
Weir recalled that when the film was first screened in the United States, American audiences were disturbed by the fact that the mystery remained unsolved. The questions that linger after seeing Weir's masterpiece reveal as much about you as they do about the film. Picnic at Hanging Rock creates a haunting atmosphere with tour-de-force imagery, score, pacing, direction and performance. Simply a masterpiece.
21: The Innocents
Directed by Jack Clayton
Written by Truman Capote
US, 1961
If you've never heard of it, don't feel bad because most people haven't – but just take my word that it deserves its rightful spot on any list of great horror movies. Co-written by Truman Capote, the movie has the most startling opening of any ghost film to date, with a creepy song written by Paul Dehn and Georges Auric sung over a black screen. The lush photography is by two time academy award winning cinematographer Freddie Francis, who would go on to direct his own features. The film also features an amazing performance of intense, neurotic seriousness by Deborah Kerr and two great child actors (including Martin Stephens, previously known as the lead child in Village of the Damned). Stylish, intelligent and creepy, The Innocents ends with one of the most brave and devastating finales of any horror film. Truly one of the greatest ghost stories of all time.
20: Eyes Without a Face (Les yeux sans visage)

Directed by Georges Franju
Written by Pierre Boileau
France, 1960
Eyes Without a Face pioneered the theme of the mad surgeon, and spawned countless imitators including Circus of Horrors and at least four Jesus Franco pictures (including Faceless and The Awful Dr Orloff series). Eyes also influenced the Japanese art-house film The Face of Another.
It was the feature length directorial debut of Georges Franju, who had previously made a number of shorts – his best-known being The Blood of the Beasts (1949), a documentary that unraveled the horrors inside a slaughterhouse (available in the criterion DVD release of Eyes Without A Face). The screenplay is credited to five writers – among them is Pierre Boileau and Thomas Narcejac, a duo of popular French writers who adapted a number of classics including Les Diaboliques, Vertigo and even Body Parts.
Methodical and haunting, Eyes Without a Face is an anomaly in the horror genre: a mad-scientist fairy tale. Along with Alfred Hitchcock's Psycho and Michael Powell's Peeping Tom (all released in 1960), Eyes helped shape the modern slasher film with its dark themes, general air of malevolence, visual lyricism, Maurice Jarre's mad jarring score and of course it's fairly graphic scenes of slicing through the skin. The film's title has a double meaning, referring both to the surgical procedure of removing facial features and to the character of the daughter played brilliantly by Edith Scob: because of the mask she wears, her eyes are the only visible moving part of her face.
19: Threads
Directed by Mick Jackson
Written by Barry Hines
1984, UK
Is there anything more terrifying that the aftermath of the global thermonuclear war? Threads is a British television drama produced by the BBC in 1984. Written by Barry Hines and directed by Mick Jackson, it is a documentary-style account of a nuclear war and its effects on the city of Sheffield in northern England. Make no mistake about it – this film is relentlessly grim and one of the most disturbing films I have ever seen. You'll want to take a long hot shower once you're done watching.
–
18: Let the Right One In

Directed by Tomas Alfredson
Written by Tomas Alfedson
Sweden, 2008
Even in a pop culture landscape littered with the bloodthirsty undead, Let The Right One In stood out as a poignant coming of age story as well as a bone-chilling horror film. The haunting mediation on the difficult and often painful transition into adolescence garnered plenty of praise on the festival circuit in 2008 and earned a loyal cult following through word of mouth. Based on the novel of the same name by John Ajvide Lindqvist, who also wrote the screenplay, Sweden's Let The Right One In is hypnotic, horrific, and groundbreaking. It follows the classical rules of vampire mythology but takes those very same rules we are accustomed to and updates each of them in new and exciting ways. Perfectly paced, and patient in building its atmosphere to set us up for some truly shocking moments. An instant classic of modern horror cinema and easily the most fascinating vampire film to appear on this list.
17: Wicker Man
Directed by Robin Hardy
Screenplay by Anthony Shaffer
1974, UK
There is no denying that this early '70s British export crosses genres as easily as it defies audience expectations. Robin Hardy's The Wicker Man is a film that rejects categorization; it can be considered a horror film, but also a psychological thriller, a musical, a melodrama and a prime example of a short-lived sub-genre known as "folk horror".
Arguably one of the greatest cult films to emerge from England, The Wicker Man presents the pagan elements objectively and accurately – accompanied by authentic and stirring traditional Celtic music, a believable, contemporary setting (shot around a remote Scottish isle) and riveting performances by the ensemble cast. First-time director Robin Hardy does a stellar job; his modest directing keeps things tense and scary, despite giving the film a brightly-lit, sunny shine. The movie is chilling, but bloodless – there is evil here, lurking about, but it doesn't become quite clear until ts unforgettable shocking third act. The ending is brilliantly realized, keeping things provocative, unsettling and outright bizarre. Those final images will burn in your memory long after the end credits roll, a scene as painful to watch as is the expression on the detective's face.
Like many of the best horror films, The Wicker Man works best in continuously surprising audiences by relying on carefully-disciplined suspense rather than cheap, theatrical shocks. The Wicker Man is quite simply a one of a kind, a masterpiece and a film that demands to be seen.
16: Don't Look Now

Directed by Nicolas Roeg
Written by Allan Scott
UK, 1973
Based on a short story by Daphne du Maurier, 1973′s Don't Look Now remains one of the great horror masterpieces, patiently building suspense with haunting imagery and a chilling score. Directed by noted cinematographer Nicolas Roeg, Don't Look Now arguably bears resemblance to giallos, but leans more toward creepy than gory. The film stars Donald Sutherland and Julie Christie wrapped in an emotional blanket of fear, anger, guilt, and love. There is so much to say about this gem. Don't Look Now is a flawless film, with a unique directorial style, stunning imagery, and powerful performances. Roeg's ingenious editing job cutting between flashbacks and flash-forwards creates a haunting meditation on fear, death and the beyond.
15: Les Diaboliques
Directed by Henri-Georges Clouzot
Written by Henri-Georges Clouzot and Jérôme Géronimi
France, 1955
Henri-Georges Clouzot (dubbed the French Hitchcock) created this masterpiece in 1955 – a film which served as the template upon which most of the psychological thrillers that were made in the aftermath of the success of Psycho were based. Hitchcock reportedly wanted to make this movie himself, but Clouzot bought the film rights to the original novel, supposedly beating Hitchcock by only a matter of hours. Based on the novel Celle Qui N'etait Pas, the script was adapted by the French duo Pierre Boileau and Thomas Narcejac, also responsible for a few other films appearing on this list. Not wanting to miss another opportunity, the Master of Suspense snapped up the rights to Boileau and Narcejac's next thriller, D'entre les Morts, which would become Vertigo.
Les Diaboliques is a timeless classic. Clouzot delivers a despairing character study masquerading as a thriller, jacking up the suspense with grueling intensity, presenting a bleak world full of suspicion, manipulation, fear and loathing. Much like Hitchcock's work, Les Diaboliques is peppered with perverse atmosphere and dark humour. The lead performances are all incredible, particularly Clouzot's wife Vera Clouzot, who stars as the vulnerable lead. The twist ending is shocking – one of the greatest of all time – but what is even more amazing is that the murder plot is in many ways the least disturbing element at play.
14: Night Of The Living Dead

Directed by George A. Romero
Written by George A. Romero and John A. Russo
1968, USA
George Romero set a new standard for horror with his low-budget directorial debut. The film, made in 1968, broached many taboos (cannibalism, incest, necrophilia) and changed the face of American horror movies forever while setting the template for zombie films to come. The racial subtext speaks volumes even today, and the film still looks better (despite the shoestring budget) than the majority of its future imitators. One of the best films of the 60′s, and possibly the most influential horror movie ever made. Night Of The Living Dead actually gets better with age.
13: Salò, or the 120 Days of Sodom
Directed by Pier Paolo Pasolini
Written by Sergio Citti
Italy, 1975
Commonly referred to as Salò, this controversial 1975 Italian film written and directed by Italian director Pier Paolo Pasolini with (uncredited writing contributions by Pupi Avati) is one of the most controversial films ever made and banned in several countries to this day. If there was ever a film that earned its notorious reputation, Salo is it. Pasolini was a visionary, a provocateur, a poet, a social critic and one of my all time favourite filmmakers.
It was Pasolini's last film; he was murdered shortly before Salò was released. Many still believe it was Pasolini's political views and the content of Salò that got him killed. Based on the book The 120 Days of Sodom by the Marquis de Sade, Salo is quite easily one of the most shocking movies ever, depicting intense graphic violence, sadism, and sexual depravity. This is a film of conviction, showcasing a hell on earth, a place where demented values are brutally enforced. The "circle of shit" segment is usually when most people walk out vomiting. Good luck! But seriously, this is the greatest movie I've only ever seen and never want to see again (yet I own three different DVD editions). As Pasolini once said, "Artists must create, critics defend and Democratic people support work so extreme that it becomes unacceptable to even the broadest minds of the new state."
Anyone familiar with Michael Haneke's work will understand why he calls Salo one of his three favourite films of all time. By watching to the very end, we the viewers become voyeurs, witnessing the most sickening finale of any motion picture, and Pasolini calls us out in the most obvious way in its twisted conclusion.
12: (TIE) Peeping Tom

Directed by Michael Powell
Written by Leo Marks
UK, 1960
Michael Powell's Peeping Tom is a methodical look at the psychology of a killer and a meditation on violence and voyeurism. The extremely controversial picture was branded as "sick" and "nasty" by major critics upon its 1960 release and banned from any release. These harsh and despicable responses effectively destroyed Powell' career, but later generations embraced the film and many, including myself, regard it as a masterpiece – a chilling work of voyeuristic cinema. The film revolves around a serial killer who murders women while using a portable movie camera to record their dying expressions of terror. Peeping Tom has been praised for its psychological complexity. On the surface, the film is about the Freudian relationship between the protagonist and his father and the protagonist and his victims. However, several critics argue that the film is as much about the voyeurism of the audience as they watch the protagonist's actions. A thoroughly opaque and gritty London atmosphere permeates the grisly proceedings, carried off by a very powerful performance from Carl Boehm, who has the difficult task of convincing us he is a cold blooded killer, while eliciting sympathy for the trauma of his childhood. Powell's roaming camera work and Otto Heller's shadowy cinematography makes Peeping Tom a work of cinematic art.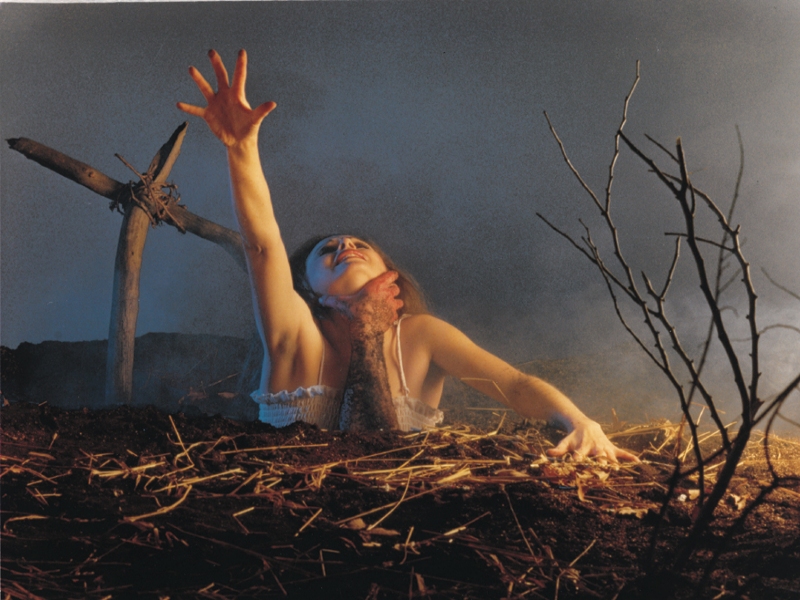 11- (TIE) The Evil Dead  / Evil Dead 2
Directed by Sam Raimi / Sam Raimi
Written by Sam Raimi / Sam Raimi and Scott Spiegel
1981, USA / 1987, USA
This auspicious feature debut from fresh out of film school filmmaker Sam Raimi – shot on 16mm in the woods of Tennessee for around $350,000 – remains a benchmark of modern horror. While many will ague the sequel is far more entertaining, The Evil Dead works far better as a straight up horror film. It actually received a X rating, was banned in many countries, and was later cited as a video nasty.
****
This high-octane, ferocious gross-out semi-sequel to Sam Raimi's cult hit The Evil Dead nearly eclipsed its predecessor's reputation thanks to an endless barrage of visual gags, hyperkinetic camera work, rapid-fire editing, kegs of jet-propelled blood and splatstick gore, and the demented comic genius of Bruce Campbell (aided by an impressive arsenal of weapons, including a sawed-off shotgun and a chainsaw). Campbell's performance shifts to match the needs of the script spitting out the greatest one-liners of any horror comedy. Evil Dead 2 is so outrageously over-the-top that it attains a level of dizzying surrealism and is a must see for any self-respecting movie-goer.
Special Mention:
Thriller
Directed by John Landis
Written by Michael Jackson and John Landis
1983 – USA
Thriller is not so much a music video as it is a short horror film, featuring choreographed zombies performing with Michael Jackson. It was directed by John Landis who had previously directed the hit film An American Werewolf in London and choreographed by Michael Peters who worked with Jackson on Beat It. The video contained a spoken word performance by horror film veteran Vincent Price, co starred former Playboy centerfold Ola Ray and incidentally contained music by composer Elmer Bernstein (who also worked with Landis on An American Werewolf in London). The video set new standards for production, having cost $500,000 to film and the choreography in Thriller has become a part of global pop culture, replicated everywhere from Bollywood to the Philippines. The Thriller short film marked an increase in scale for music videos, and has been named the most successful music video ever, firmly cementing the notion that videos could be something more than just commercials for singles.
10: Jaws

Directed by Steven Spielberg
Written by Peter Benchley and Carl Gottlieb
USA, 1977
Richard Dreyfuss, Roy Scheider and Robert Shaw star in this terrifying thriller about an enormous man-eating Great White Shark that terrorizes the fictional coastal summer resort town of Amity, Long Island on the Fourth of July weekend. Based on the trashy best-selling novel by Peter Benchley (who also provides the screenplay along with Carl Gottlieb), Jaws was a surprise cash cow thanks to a sophisticated, unrelenting publicity campaign, and the first film to rake in over $100 million (it grossed more than $260 million at the domestic box office and nearly $475 million worldwide). It went onto spawn three sequels (all terrible), laid out a blueprint for summer blockbusters and put Steven Spielberg onto the A-list of Hollywood directors.
Spielberg doesn't serve up mass quantities of blood and gore but what makes Jaws work is the confident direction combined with stellar editing that draws the audience into relaxing at precisely all the wrong moments. Spielberg's meticulous attention to creating suspense recalls the best of Hitchcock. Jaws remains tense by not showing audiences the shark for the majority of the film. For the first hour, the only glimpses we catch of the beast are fleeting and indistinct. The camera doesn't dwell upon it until the final act. We are only treated to a long hard look at the shark when it passes by the deck of the ship, setting up the film's most memorable line, "We're going to need a bigger boat." In the final scenes, it becomes apparent why the shark gets so little screen time – it simply looks fake. Spielberg openly admits that if the technology had been better, he would have shown the shark more often. Ironically, it is this handicap that resulted in the film's greatest strength. By keeping it hidden from the audience, the movie effectively builds suspense and the end result is an edge-of-your-seat thriller.
9: The Shining
Directed by Stanley Kubrick
Written by Stanley Kubrick
UK / USA, 1980
Jack Torrance only kills one person, yet he is the monster of the film. No one ever questions Wendy, who not only repeatedly hits Jack over the head with a baseball bat, but also lashes after him with a knife, finally leaving him to die of hypothermia. I'm just saying.
Putting aside all violence, this is no ordinary horror film, boasting a brilliant performance by Jack Nicholson, an incredibly eerie score, beautiful cinematography and flawless direction. There has been books devoted to Kubrick's work. I'm sure you've all heard of it, so let's move on.
8: (tie) Bride Of Frankenstein

Directed by James Whale
Written by William Hurlbut
USA, 1935
The irony of James Whale's masterpiece The Bride of Frankenstein is that Frankenstein's creation is called the Monster, yet he is the least menacing presence in the film. Karloff yet again dominates the screen with a powerhouse performance, managing to invest his character with emotional subtleties that are surprisingly nuanced. The Bride of Frankenstein provides a searing citation of man's inhumanity to man and still finds room for self-parody, social satire and comedy. This is the greatest of all Frankenstein movies and quite possibly the best horror film of the 30′s.
"She hate me," he growls, "Just like others!"
Bride Of Frankenstein has spectacular direction, a thoughtful script, wonderful performances and is enhanced by the vivid Franz Waxman musical score. Whale's genius holds it all together until the tragic, inevitable finale.
#8 (TIE) Frankenstein
Directed by James Whale
Written by Garrett Fort and Francis Edward Faragoh
1931, USA
Frankenstein is and forever will be regarded as the definitive film version of Mary Shelley's classic tale of tragedy and horror, and with great reason. Frankenstein may not be my favourite horror film, but I do believe it is pure perfection. From the standpoint of the subtext, commentary, story, cast, direction, editing, score and photography, the picture is without a flaw. Boris Karloff's legendary, frightening performance as the monster made him an overnight star and created a new icon of terror. This is essential viewing for any true horror aficionado.
#7: Outer Space
Directed by Peter Tscherkassky
Written by Peter Tscherkassky
Austria, 2000
Outer Space has gained a reputation over the years as being a key experimental film alongside the works of such legends as Stan Brakhage and Michael Snow. Horror buffs will recognise the actress in the short as Barbara Hershey from veteran Canadian-born filmmaker Sidney J. Furie's film The Entity. Director Peter Tscherkassky (an Austrian filmmaker at the forefront of avant-garde film practice) essentially samples a sequence from that 1981 Hollywood flick, reducing the original work with heavy photo-manipulation and editing to astonishing effects and unimaginable beauty. Tscherkassky strips the colour and reworks the frames with superimposing images, fragmented through a rapid montage, and adds a new, highly aggressive soundtrack. The result is magnificent. Though only ten minutes in length Outer Space is a lush cinematic production and a relentless assault on our senses.
#6: Psycho

Directed by Alfred Hitchcock
Written by Joseph Stefano
USA, 1960
Psycho proved an unexpected sleeper hit, largely due to a clever promotional campaign where Hitchcock managed to get theatres to sign a contract that refused to let people in after the film had started. He took the idea from Henri-Georges Clouzot, who did the same back in France with Les Diaboliques. Hitchcock was nominated for Best Director at the Academy Awards and of course left the ceremony empty handed.
I figure there hasn't been a film more analyzed than Psycho, but let me point out a few things. There are many reasons why Psycho is a masterpiece: One of the principal reasons is its structure. We follow one apparent protagonist only to have her killed off abruptly. Hitchcock pulls the rug out from under our feet, in one of the most shocking scenes in cinematic history. The shower scene in which Janet Leigh is murdered has gone on to become probably the single most famous scene in any horror film. And yes Psycho is considered the first psycho-thriller / slasher film, by most, but not everyone – Psycho invoked Freudian psychology as motivation for the killer and gave its murderer Freudian childhood traumas, split personalities and confused gender roles, everything that would inspire the slasher films of the 70′s and 80′s. Psycho is pure perfection: Bernard Herman's score – the shower scene – the mother in the cellar – the knife wielding maniac – the creepy old house – the twist ending – even the credits font. Psycho stands the test of time!
Special Mention: Un chien andalou
Directed by Luis Buñuel
Written by Salvador Dalí and Luis Buñuel
France, 1929
The dream – or nightmare – has been a staple of the horror cinema for decades. In 1929 Luis Bunuel joined forces with Salvador Dali to create Un chien andalou, an experimental and unforgettable seventeen-minute surrealist masterpiece. Buñuel famously said that he and Dalí wrote the film by telling one another their dreams. The film went on to influence the horror genre indefinitely. After all, even as manipulative as the "dream" device is, it's still a proven way to jolt an audience. Just ask Wes Craven, who understood this bit of cinematic psychology when he dreamt of the central force behind A Nightmare on Elm Street, a film intended to be an exploration of surreal horror. David Lynch is contemporary cinema's most devoted student of Un chien andalou – the severed ear at the beginning of Blue Velvet is a direct allusion to Buñuel's blood curdling famous closeup on the slashing of an eyeball with a razor. Technically, that scene alone could classify Un chien andalou as the first splatter film. Though it is not a horror film per se, the film does contain a number of disturbing images: an army of ants crawling through a hole in a man's hand, dead animals strung on top of a piano and children playing with dismembered hands. Buñuel and Dalí compile images and scenes that will make you cringe and in the case of the splitting eyeball – look away. Buñuel exploits the viewer, through these horrific images understanding fully well that people enjoy seeing something macabre. The film has lived up to its aim to shock, as viewed in modern times it's still shocking.
5: (TIE) Mulholland Dr. / Inland Empire
Directed by David Lynch / Directed by David Lynch
Written by David Lynch / Written by David Lynch
2001, USA / 2006, USA
Much like Inland Empire, it is almost impossible to summarize Mulholland Dr. in a brief capsule review. Many will say Mulholland Dr. makes little, if no sense, but upon a second viewing, one will find interesting new ways to interpret Lynch's mesmerizing dreamlike thriller. Mulholland Dr. is a thing of dark mystifying beauty – a highly contemplative piece of filmmaking that leaves many obsessed with attempting to untangle the mysteries lurking deep within. This is a horror picture which deconstructs Hollywood as the dream factory and continues to explore the director's obsession of dreams vs. Nightmares v.s film, and the blurry line between.
****
You either love or hate David Lynch. So to sum up Inland Empire, I will quote the Village
Voice's J. Hoberman: "It's an experience. Either you give yourself over to it or you don't. And if you do, don't miss the end credits." I am not even going to attempt to describe this mind fuck of a film in a brief capsule review, except to say, it is utterly brilliant, haunting, bewildering and totally unforgettable.
4: The Exorcist

Directed by William Friedkin
Written by William Peter Blatty
1973 – USA
The phenomenon, that was The Exorcist was a studio's dream come true. With rumours that it was supposedly based on a true story, masse audience walk-outs, protests, vomiting and fainting in the theatres, and even the legendary claims that the production itself was cursed, all helped make The Exorcist the second highest grossing film at the time ($441 million to be exact). The film earned ten Academy Award nominations – winning two (Best Sound and Best Adapted Screenplay), before losing Best Picture to The Sting. The film was released during a cycle of 'demonic child' movies produced in the late 1960s and early 1970s, and featured the incredibly talented cast of Jason Miller, Ellen Burstyn, and who can forget, Linda Blair – whose transformation from sweet innocent to demonic incarnate is one of the most terrifying performances of all time. The Exorcist has been influential in the genre, spawning several sequels, and similar films such as The Omen, none which have come close to matching it's power.
This ever haunting journey into demonic possession is likely just as disturbing today as it was back than, and will always be an important film historically. A must see for any true horror aficionado, The Exorcist is creepy, atmospheric, and contains some truly unforgettable and viscerally shocking scenes – not to mention spectacular special effects for it's time. I still have no idea how they created the "spider walk" sequence.
The Exorcist makes an interesting contrast to Ken Russell's The Devils, a film also about the Catholic church and demonic possession. However in Ken Russell's movie (also featured on this list), demonic possession is viewed as something not real but instead, a product of religious hysteria.
3: The Vanishing (Spoorloos)
Directed by George Sluizer
Written by Tim Krabbé
Netherlands / France, 1988
Based on Time Krabbe's The Golden Egg, this clinical, maddening descent into the mind of a serial killer left audiences buzzing with excitement over its ending. The Vanishing could very well be the most intelligent but least influential serial killer film of all time. This is one of the most interesting character studies of obsession: both Gene Bervoets' obsession with the missing Johanna Ter Steege and Bernard-Pierre Donnadieu's obsession with stalking young women. Written in a non linear fashion, the egg-shaped overlapping narrative tells the same story from two points of view –the perpetrator's and the victim's. If it seems complex, it is, but the facts are laid out in a straightforward manner since we know so much so early in the film. The Vanishing is a simple story, but manages to build one great idea over another great idea throughout. The mystery here isn't who the kidnapper is, but why he took her, and more importantly, where is she now? Every key sequence, every beat, foreshadows the appalling dénouement. This is potent stuff, a brilliantly crafted intellectual thriller that will leave you gasping for a breath of fresh air when it's over.
2: The Texas Chainsaw Massacre

Directed by Tobe Hooper
Written by Tobe Hooper and Kim Henkel
1974, US
The Texas Chain Saw Massacre remains to this day a motion picture of raw, uncompromising intensity, a punishing assault on the senses via the most vivid extended scenes of absolute sustained frenzy ever captured on celluloid. Marilyn Burns's doomed screams will forever be etched in your memory as will the horror icon it produced, the raging chainsaw wielding lunatic Leatherface. Tobe Hooper's The Texas Chain Saw Massacre undoubtedly ranks as one of the best horror flicks of all time, and also boasts one of the most unforgettable abrupt endings ever.
1: The Birds
Directed by Alfred Hitchcock
Written by Evan Hunter
USA, 1963
Although not as shocking as Psycho, The Birds is a more complex, ambitious and sophisticated film, and represents a high watermark in the prolific career of the master of suspense. Hitchcock's inspiration for the film was an actual news report about a bird attack that occurred for unknown reasons, specifically a bird that was known to be prey and not a predator. The Birds is a precursor to nature vs. man horror films as Psycho was to slashers.It is also the second masterpiece Alfred Hitchcock contributed to the genre of small-town thrillers – the first being Shadow of a Doubt. Perhaps the aspect that stands out the most in The Birds is the long pauses between the dialogue. When one thinks of a Hitchcock film, one remembers the long well drawn conversations between the cast of characters. In The Birds, there are countless scenes in which the actors express more through physicality than in words. Hitch apparently wanted The Birds to be a silent film or at least was flirting with the idea of making a silent film, but decided it wouldn't be marketable nor profitable. Hitchcock was also experimenting with the idea to not include a score in his film and instead opted for sounds created on the mixtrautonium, an early electronic musical instrument, by Oskar Sala. Along with Remi Gassmann, they composed a piece that consists primarily of screeching bird sounds, which provides a nerve wrecking, surrealistic backdrop to the sordid proceedings. Although the special effects are dated, they were still rather impressive for the time. Ray Berwick was responsible for training hundreds of birds, gulls, crows, etc. to act like they were attacking without actually hurting anyone (although apparently they did). By employing thousands of real trained birds intermixed with fakes, Hitchcock was able to create the illusion of a mass attack on the quiet community – the result is remarkable, featuring 370 effects shots, with the final shot composed of 32 separately filmed elements.
Two images featured prominently in the film are cages and glass: the cage representing Melanie's own closed minded way of thinking (her own insular cage), and the glass (more importantly broken glass) that suggests the vulnerability of human life. Finally what makes The Birds a true masterpiece is the final shot. The film does not finish with the usual "THE END" title because Alfred Hitchcock wanted to give the impression of unending terror, and boy does he succeed.
– Ricky D