Top 15 Modern N64-Inspired 3D Platformers
For a while, it seemed that the beloved 3D platformer had fizzled out and turned into stardust. Battered old cartridges lacking the crisp, shiny sleekness of CDs lay forgotten amongst the cobwebs, like ancient treasures that Indiana Jones might discover. Gamers had apparently moved on. Just a cursory glance at Steam's most played games reveals a list rife with first person shooters, strategy games, and multiplayer titles with the occasional sandbox or RPG. This list doesn't account for popularity of console games, but it does prompt one question: Why are there are no platformers there?
The year was 1990, and independent French designer Christophe de Dinechin had come up with Alpha Waves, a simple exploration game. What was most notable about Alpha Waves was not its abstract gameplay, ambient music, or interesting name, but the fact that it is considered the first real 3D platform game. Guiness World Records cites first-person adventure game Jumping Flash! (1995) as the true ancestor of 3D games, probably due to its more complex gameplay, but the game that really shook up the genre was Super Mario 64. Its novel, unprecedented approach to open world exploration, polished graphics and exciting missions and mini-games earned it the title of highest selling game on Nintendo 64. And so the golden era of the 3D platformer began. A whole gamut of mascot platformers with epic collect-a-thon gameplay were transformed into celebrities, dazzling the digital red carpet with their good looks and electrifying presence. A conversation about platformer history is simply incomplete without mentioning classics like Donkey Kong 64, Spyro the Dragon, Crash Bandicoot and Banjo Kazooie, and rightfully so. 
These days, there seems to be a general consensus that the 3D platformer is dead—but to quote Velma from Scooby Doo, hold onto your hula hoops. The 2000's undoubtedly saw a decline in the genre's popularity, however, there were still sporadic releases that kept the ball rolling: Jak and Daxter, Psychonauts, Super Mario Galaxy, Rayman 3 and The Last Tinker: City of Colors are just a few. I say 'a few' because there are even more on the way. In no particular order, here are 15 N64 era inspired 3D platformers that are doing some serious justice to the genre:
1. A Hat in Time
Development for this cheeky collect-a-thon started in 2012, and the Gears For Breakfast team has managed to sustain a healthy level of hype surrounding A Hat in Time ever since. Inspired by Banjo Kazooie, Psychonauts and Super Mario 64, A Hat in Time stars a young hero named Hat Kid who sets out on a mission to recover fuel for her spaceship. Judging by the cartoonish, vibrant visuals, this is one that definitely promises greatness.
2. Clive 'N' Wrench
When an aerodynamically blessed monkey partners up with a carrot-cake seeking rabbit, the inevitable result is Clive 'N' Wrench, a time-travelling adventure about collecting ancient stones and defeating an evil tyrant. Clive 'N' Wrench has been in development since 2011 and has undergone massive stylistic changes as well as a re-branding from its former title, Clive and the Stones of the Ancient Bunnies. 
3. Lucky's Tale
The only game on this list that is Oculus Rift exclusive, Lucky's Tale tells the story of a cute little fox who embarks on a thrilling adventure in a bright, beautiful world. Control Lucky as he maneuvers his way through deadly swamp pits, races past lush trees and battles head to head with menacing bosses—all through the lens of virtual reality.
4. Warden: Melody of the Undergrowth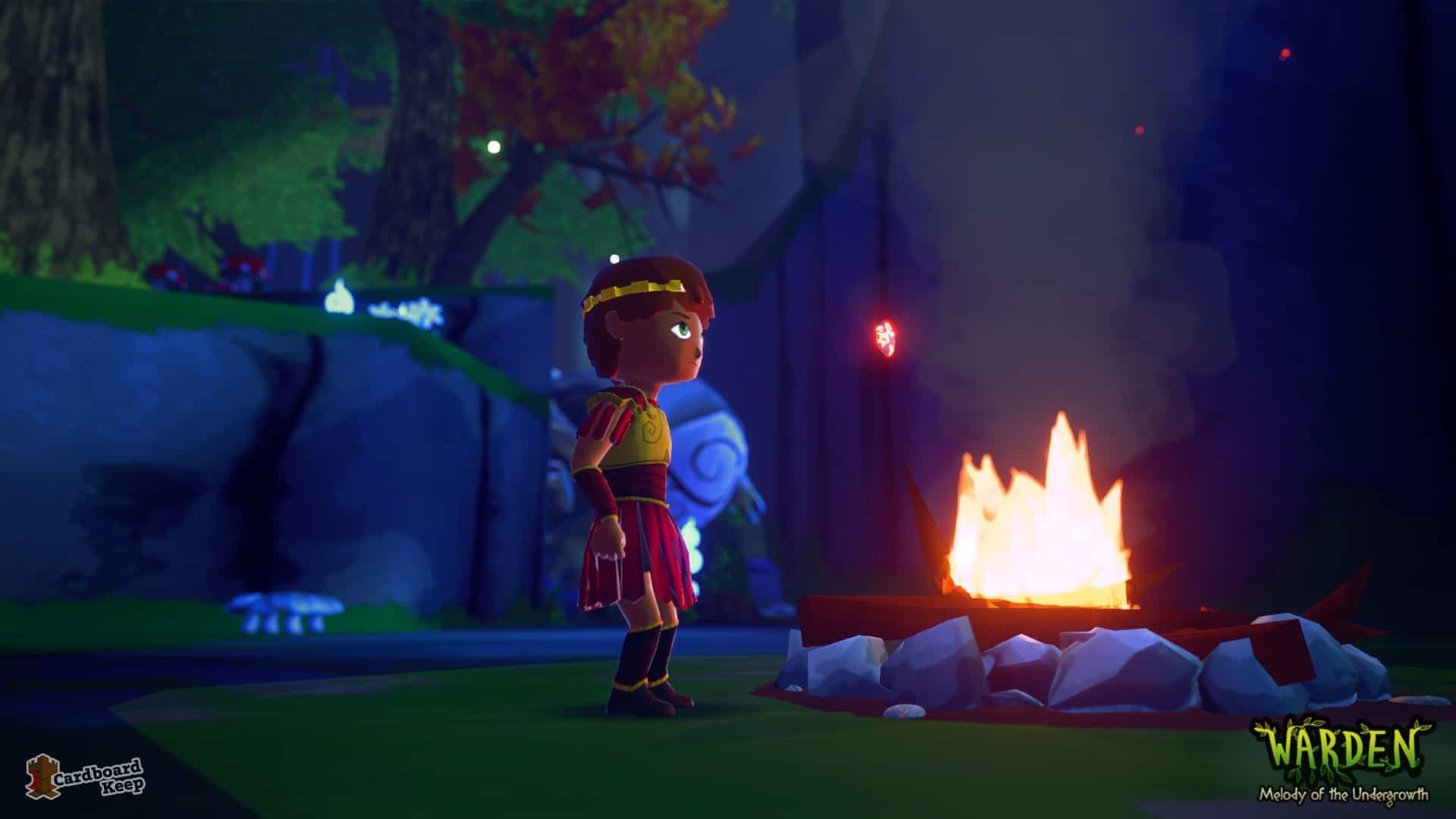 Music is one of the most important components of 3D platformers, and Warden Melody of the Undergrowth is no exception. Melbourne based developer Cardboard Keep deliver a truly enchanting adventure headed by three characters whose destinies are more intertwined than they think. Experience the magic, puzzles, and full melodic soundtrack today on Steam for $19.99 USD.
5. Yooka Laylee
When Playtonic Games launched the kickstarter for Yooka Laylee, Banjo Kazooie fans worldwide cried tears of joy. An adorable duo of sassy bat and cool chameleon were set to take the stage in a multilayered landscape with exciting new moves, collectibles and the same catchy music that spawned a generation of Grant Kirkhope and David Wise worshippers. We can expect multi-plaform availability upon Yooka Laylee's release, which is set for this October.
6. Poi
A picturesque throwback to the classic 90's platforming era comes alive in Poi, an adventure within a strange, plentiful world. Currently in Steam Early Access, Poi's gameplay and graphics borrow from Super Mario Sunshine and Super Mario 64 but offer a novel, RPG twist in the form of an XP levelling system. Players can choose to play either as a boy or girl as they search for 30 explorer medallions, master wall jumps, and unlock hidden areas.
7. Oliver & Spike: Dimension Jumpers 
A game that combines the sensibilities of Zelda, Uncharted and Ratchet and Clank sounds like a recipe for success. Development for Oliver & Spike: Dimension Jumpers got off to a whirlwind start, but since then Rock Pocket Games have directed their energies to other games like Shiftlings and Moons of Madness. The most interesting part of Oliver & Spike: Dimension Jumpers is without a doubt its gameplay, which lets players warp in and out of different dimensions to get from point A to point B.
8. Macbat 64
Macbat 64 is the definitive tribute to Banjo Kazooie, from the googly eyed characters and playful music right down to environmental textures. It's almost impossible not to imagine the bat protagonist itself as a missing Mumbo Jumbo transformation. And if 3D platforming isn't enough, Macbat 64 also comes with kart racing, 8-bit minigames and first person shooting sections. Play the alpha demo here.
9. The Legend of Lobodestroyo
Old school platforming meets Mexican folklore in The Legend of Lobodestroyo, a game about an unlikely hero named Mutt who is tasked with tracking down and unmasking the evil villains that have taken over the city of Costa Lucha. The Legend of Lobodestroyo boasts diverse worlds, offbeat humour and 'more collectables than an episode of Hoarders'-the perfect remedy for anybody still craving collect-a-thon action.
10. Skylar & Plux: Adventure on Clover Island
Due for release sometime this year, Skylar & Plux: Adventure on Clover Island is an action-packed mascot platformer with a heavy dose of sci-fi. Drawing from Jak & Daxter and Crash Bandicoot, Skylar & Plux: Adventure on Clover Island charts the journey of Skylar, a cat with a mechanically augmented arm, and her feathery sidekick Plux as they roam through burning volcanoes, freezing mountains and merciless deserts.  
11. FreezeME
On the surface, FreezeME might look like a typical Mario 64 style 3D platformer, but it comes with a refreshing twist that will appeal to anyone fond of Instagram. The bespectacled main character-only known as 'R'-comes with a special camera around her neck that allows her to quite literally freeze any object she photographs. FreezeME is accompanied by a positive, triumphant soundtrack and released late last year on Steam, where it is currently available for $13.99USD.
12. Ratchet & Clank
A re-imagining of the first Ratchet & Clank game never looked so good. Freshly released, Ratchet & Clank marks a return to greatness with tight controls, a ton of collectibles, and stunning visuals that match the animated film. For a taste of the explosive, combat-fuelled fun, you can get Ratchet and Clank today from the PlayStation store.
13. Scrap Garden 
Canny is a lonely robot who awakens in a glowing post-apocalyptic world where all the other robots are inexplicably shut down. Inspired by Spyro the Dragon and Donkey Kong 64, Scrap Garden lets you explore stunning natural panoramas, solve challenging puzzles and test your skills in a vast array of minigames as you live a day in the life of a robot.
14. Super Mario Galaxy 3
Though still currently rumoured, Super Mario Galaxy 3 is the highly anticipated sequel in the series that Shigeru Miyamoto is not ruling out. It's been six years since an official Super Mario Galaxy game, but games like Super Mario 3D Land (2011) faithfully preserved the 3D platforming magic. The launch of Nintendo's NX console seems like the perfect excuse for Super Mario Galaxy 3, but only time will tell.  
15. Bound
A poetic, exploratory offering from Plastic, Bound is an abstract platformer that emphasises narrative over gameplay. Its angular graphics are directly influenced by modern art movements such as suprematism, concretism and neoplasticism, a sharp contrast to the graceful and beautifully animated ballerina protagonist.
*                          *                           *                          *
At this stage, it's difficult to tell whether 3D platformers are on the rise or this is their last crusade. With time, games have evolved, and so have the people who play them. A great deal of articles speak of bringing back 3D platformers 'from the dead', as if they were fossilized remains of a once glorious civilisation. Maybe they are. But if more studios keep creating such promising looking games, the collect-a-thon era could very well be back.