2010 was a very good year for film. Looking back at the number of films I saw, I can count at least 50 films that I would recommend with some sort of varying enthusiasm. It became very hard to make my top ten list this year because, especially towards the end of the year, there were so many good films that saw release. In fact, choosing a number one was increasingly difficult and I was tempted to pull a Roger Ebert and not rank these films. However, I gave in, and after a bunch of waffling back and fourth between two films for my number one spot, I decided to go ahead and make it official. I could easily change this list tomorrow or a week from now.
Directed by Debra Granik
I ultimately feel this was the best film of 2010. I have seen the film three times and each time I get something new out of it. It succeeds on every level including as an engaging character study, a powerful drama, and a suspenseful film noir. The performances are pitch perfect with Jennifer Lawrence, John Hawkes, and Dale Dickey all delivering Oscar worthy turns. Director Debra Granik avoids the cliches and trappings of the "hillbilly" film, and instead tells the story as straightforwardly as possible. Lawrence is fearless in the role of Ree Dolly creating one of the most memorable female characters of the year. People shouldn't be turned off by the bleak setting or the Sundance tittle, Winter's Bone is hardboiled noir to the bone. However, Granik elevates it from simply being effective genre filmmaking by establishing a real sense of place. This is the best film of the year.
Directed by Olivier Assayas
Olivier Assayas' five-hour epic about the notorious terrorist Carlos the Jackal might be the cinematic achievement of the year. The film, which is being released around the country in a five hour roadshow version and on television in a condensed two and a half hour version, takes an objective look at the life of Ilich Ramirez Sanchez aka Carlos the Jackal. Edgar Ramirez, playing Carlos from early 20s to his 40s, completely loses himself in the role of someone who is at once charming and a hypocrite. The supporting performances are all excellent here however this is Ramirez's show. His performance is reminiscent of a young Brando. Instead of making the film into an overlong drama, Assayas turns it into a gangster film with the scope of The Godfather.
Directed by Christopher Nolan
Christopher Nolan's film was hands down the most original and daring blockbuster of the year. It is a big budget film that is about ideas, a rarity in Hollywood these days, and the breathtaking action sequences, great performances, and incredible score, made Inception one of the most memorable movie going experiences of the year. The thing that got me about the film is how emotionally invested I was in the film. I cared about the characters in the film and Nolan was able to make the "villain's" subplot as moving as the hero's subplot. The film is incredibly personal to Nolan who, like the man character Cobb, is a dreamer himself.
Directed by Anna Boden and Ryan Fleck
It's Kind of a Funny Story is easily the most misunderstood film of the year, including this site. I kind of wish that only people who were from 15-23 would have been able to review this movie because this is a movie that is aimed at this crowd. Matt Singer and Allison Wilmore said on their end of the year podcast for IFC News that there should have been a rule stating nobody under 17 be allowed to see this film and I kind of agree. This is one of the most accurate portrayals of teenage depression that I have seen on film. It was advertised as a straightforward Zack Galifiankis comedy and it simply wasn't. I feel that had it been marketed for what it was, a coming of age drama that happens to be very funny in places, the reviews would have been better. Galifanakis gives one of the best performances of the year as the depressed Bobby and he shows just how much range he actually has.
Directed by David Fincher
From the brilliant opening scene featuring the back and fourth between Rooney Mara and Jesse Eisenberg to the deposition scenes to the powerful final scene, David Fincher's The Social Network had me in its grip. It is a terrific entertainment, and effortless to boot. From the opening scene, my mouth was agape at the dialogue and the acting on display. The way Mara and Eisenberg handled Sorkin's wordy screenplay was spot-on, while at the same time lets us make up our own mind about the events that take place in the film. Eisenberg's Mark Zuckerberg isn't so much a villain as he is a tragic hero, a genius who lacks any kind of social skills. Eisenberg completely inhabits Zuckerberg with so much sure minded confidence on the outside yet tremendous doubt on the inside. He does this just with a matter of facial gestures. Watch closely during the scene when he confronts his ex-girlfriend Erica Albright at a bar. Or during the final scene. It is an incredible performance. The film also benefits from spot-on supporting performances from Mara, Andrew Garfield as Eduardo Saverin, Justin Timberlake as Sean Parker, Armie Hammer as the Winklevoss twins, and Max Minghella as Divya Narenda.
Directed by Maren Ade
Maren Ade's film is one that offers a realistic look at a relationship that is seemingly perfect. It doesn't manipulate or condescend towards the audience by painting the boyfriend Chris as the cardboard villain or the girlfriend Giti as the perfect hero. Both are relatable and flawed individuals. Ade's camera captures the realistic everyday exchanges between two people in a relationship and how, when things are not going well, the littlest things can seem like the biggest deal in the world. The makes beautiful use of the sun-kissed location of the Mediterraneans. The soundtrack is wonderful as well, and doesn't call attention to itself in the way that it could have. Birgit Minichmayr gives a fierce performance as Giti which is certainly one of the best of the year. The film doesn't offer any easy answers about relationships, but the great last line "look at me" is always where we can begin.
Directed by Andrea Arnold
Like Everyone Else, Andrea Arnold refuses to give us any easy answers in her remarkable coming of age film Fish Tank. Mia is a strong-willed and often angry teenager growing up in the Essex slums of England whose life gets thrown for a loop when her mother's handsome new boyfriend Connor moves in. Katie Jarvis plays Mia in a breakout performance. It says something about a film that it makes this year's list despite my not having seeing it since 2009's Chicago Film Festival. The film got the longest ovation of any film that I have seen there. While the film might be bleak at times, the ending is undeniably hopeful without being cheap.
Directed by Lee Unkrich
I have to put a little arthouse film that is getting no recognition right now called Toy Story 3. Leave it to the geniuses at Pixar to outdo themselves once again and make not only the best film in the franchise, but the best Pixar film, period. What I admire the most about this film is how dark and mature it is. There are scenes of genuine terror when Woody and the gang are kidnapped and captured. It helps that the film features what is easily Pixar's best villain in Lotso Bear, voiced by Ned Beatty. Beatty doesn't overplay it, instead sounding like a southern gentleman while inflicting real pain on our main characters. Ultimately, however, the friendship between Buzz and Woody is what wins out. I love spending time with these characters and Michael Arnedt's script is as funny and poignant as the first two. I can't wait to re-watch it again.
Directed by Luca Guadagnino
Anchored by the performance of Tilda Swinton's career, I am Love is a lush and sensuous cinematic feast. In every way, Luca Guadagnino's film is pure cinema and it demands to be seen on the big screen. Swinton flawlessly speaks Italian in a Russian accent as Emma Reechi, an bored wife to a rich Italian family who seeks a longing for discovery in her life. When she meets her son's younger friend who happens to be a chef, she falls helplessly in love with him. They begin a passionate affair. This film makes no apologies for what it is, melodrama. However it does so with such bravado that you can't help but be taken in by it. This is bold and daring filmmaking at it's best. A wonderful piece of formalist cinema.
10. Exit Through the Gift Shop
Directed by Banksy?
This is easily the best "documentary" of the year for me. Not only is it a terrific entertainment but it is guaranteed to start a conversation once you walk out of the theatre. I don't care if it is prank being put on by the brilliant street artist Banksy, it is a damn good one. If it is all real, than that makes it all the more fascinating. Just look at the ensuing argument on the podcast between Ricky and Simon about the truthiness of Exit Through the Gift Shop. The film is a hilarious look at the street artist Banksy through the eyes of Thierry Guetta, a vintage clothes salesman/obsessive cameraman. Banksy recruits him to create a documentary, however it becomes clear that Guetta is the more fascinating subject. It is at once completely absurd and utterly believable.
If this List went up to 11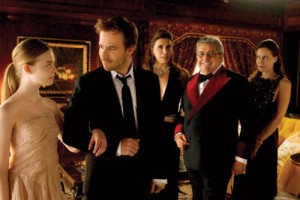 Somewhere
Directed by Sofia Coppola
I have a had a troubled history with Sofia Coppola's films in the past. Not only did she help ruin The Godfather series but she also made two films that I didn't like, Lost in Translation and Marie Antoinette. However all is forgiven with her latest film Somewhere, which is easily her best. The reason for this is that unlike her previous films, there is a strong emotional core, in this case between a father and his daughter. Stephen Dorff and Elle Fanning are remarkable and have remarkable chemistry with each other. This isn't the kind of acting that usually invites awards attention because it is so naturalistic which is a shame. The film is funny, observant, and quietly moving.
SPECIAL JURY PRIZE
At a film festival, the jury usually awards the runner-up film a special jury prize. Roger Ebert was the first critic who started doing this by picking several runner ups from his honorable mention list that almost made the list. Here are my next 10 films in alphabetical order.
Directed by Pedro González-Rubio
This is a beautiful love letter to fatherhood in this wonderfully un-manipulative docu-drama. Pedro Gonzalez-Rubio used a real life father and son to tell the story of a father's last weekend with his son before his son moves to Europe. The father is a fisherman and we see him teach his son how to fish and he also imparts other life lessons to him. It is a quiet, effective film that made me well up a couple times towards the end.
Directed by Anton Corbjn
Anton Corbjn directs George Clooney in his best performance as a weapons maker who hides it in Italy while he has one last job to do. The film is not the action movie that was advertised; instead, it's a slow and meditative film about a lone-wolf assassin who is a master craftsman. The film is beautifully shot, and it plays like a 70s film along the lines of Le Samourai. For whatever reason, the film didn't connect with audiences and it divided critics. I loved the film and I admire Clooney for not only challenging his audience, but for taking on a risk like this. He is not playing the "George Clooney" role, instead he is playing a tortured soul who is searching for some sort of redemption.
Directed by Roman Polanski
Roman Polanski's latest is his best film since The Tenant, a masterfully crafted thriller that is a lot of fun. It's Polanski in pure thriller mode. but it is so watchable and entertaining. The film's final scene, from where this still comes from, is a brilliant uncut take that goes straight from a piece of paper being passed along to a those sheets being scattered on the street. The film is made with this gritty passion as if Polanski is elbowing us in the theatre, high-fiving us after every brilliant scene. The performances are all pitch-perfect, and Alexandre Desplat's score is one of the best of the year, perfectly capturing the mood and tone of the film with a pounding darkness mixed with mischievous wit.
Harry Potter and the Deathly Hallows: Part 1

Directed by David Yates
David Yates outdid himself by making the best Harry Potter film yet with Harry Potter and the Deathly Hallows. This film is mature and very dark with very little lightness. The film is grim and bravely bleak with wonderful cinematography. The apocalyptic imagery invokes The Road and so does the bleak tone. My favorite section of the film was the woods sequence when Harry, Ron, and Hermoine walk through the treacherous woods looking for the horcrux and slowly going insane. My favorite scene of the year might be the lovely dance sequence set to O Children by Nick Cave. The performances are once again tremendous with Yates getting the best out of each actor.
Directed by Tom Hooper
Don't be fooled by thinking that this is a staugy and boring period piece. It isn't, it is a terrific entertainment and Tom Hooper manages to turn it into a buddy comedy. The film takes into the personal journey of Bertie so expertly that we really come to care about him as a character. When he is finally able to overcome his stutter, it is as if he just climbed Mount Everest. Colin Firth gives an extraordinary performance and right now is at the top of his game as an actor. Geoffrey Rush shows impeccable comedic timing as Lionel Logue, the eccentric speech therapist.
Directed by Mark Romanek
This is a film that snuck up on me and surprised me. I was worried going in because I knew the twist and I thought that I wouldn't like it given the fact that I knew everything. That was not the case at all because this movie is ultimately about these characters dealing with their fate while trying to live their lives. I was deeply moved by the ending of this film and how tragic it is. It is beautifully shot and scored with enough subtlety that the score doesn't intrude and tell us how to feel. The performances are all great with the standout being Keira Knightely who is an actress I have never really cared for. Her performance was a revelation for me. The film also has really good supporting work from Charlotte Rampling and Sally Hawkins.
Please Give
Directed by Nicole Holofcener
Nicole Holofcener's best film yet, Please Give is filled with humanity, humor, and a love for it's characters. Even if the characters might not be likable, the film always shows their humanity. Holofcener's film is on par with early Woody Allen in depicting the life of these troubled and neurotic New Yorkers. The film is filled with great performances with the stand outs coming from Rebecca Hall and Sarah Steele. Holofcener perfectly balances a comedy about these adults with a very moving coming of age story involving Steele's character, who along with Hall, is really the heart of the film. Right now, there is no better writer of women than Holofcener. While the trailer showcased the comedy of this film, it is surprisingly dark.
[wpchatai]