With more than three decades of experience in the entertainment industry, American actress Alanna Ubach has managed to defy most of the odds in Hollywood to have a lasting impact. Not only has she starred in over 200 different roles, but she has also worked as a model and voice actress throughout her lengthy career.
We have compiled a detailed list of 25 things you didn't know about Alanna Ubach for you to get to know her even better than you may already do.
1. Alanna Noel Ubach was born in Downey, California, on October 3, 1975.
She is the daughter of Sidna and Rodolfo Ubach. Her parents are immigrants, including her father who was born in San Juan, Puerto Rico, and her mother, who was from Sinaloa, Mexico but raised in Los Angeles, California.
2. Alanna may have grown up in California, but she embraces her raised Puerto Rican ancestry on her father's side.
She is extremely proud of her Latin culture and has been quoted as saying in an interview with Brite and Bubbly, "I have no choice to allow my culture to be the vessel of everything that I do and everything I portray."
3. In the voice acting part of her career, she has lent her vocals to several characters in many different animated television shows and movies.
These include the main character on El Tigre: The Adventures of Manny Rivera, as Liz Allan on The Spectacular Spider-Man, to the character Lola Boa on Brandy and Mr. Whiskers, as Strudel on Pound Puppies, and four characters in the Oscar-winning animated film Rango which came out in 2011.
4. Alanna garnered a positive review from The New York Times in 1994 when she played the role of a Jewish girl in Kindertransport at the Manhattan Theatre Club.
This was very encouraging for her career.
5. She landed the role of a new character named Josie, the first female assistant, on the television show Beakman's World.
She won a Young Artist Award as a Performer in a Children's Program for her role in Beakman's World and is very proud of that and it meant a lot to her.
6. Alanna was really busy in 1993 when she played the role of Gloria in the movie, Airborne, and the role of Maria in Sister Act 2: Back in the Habit.
7. In 1994, she played the character, Angie, in Hits! along with landed a part in the movie, Renaissance Man, as Emily Rago.
In 1995, she landed the role of Noreen in The Brady Bunch Movie.
8. She starred in the movie, Freeway, in 1996 with Kiefer Sutherland and Reese Witherspoon but that was not the only time she got to work with Reese.
She played the role of Serena McGuire in the first of the Legally Blonde movies as well as the second one, Legally Blonde: Red, White, and Blonde. She will reprise her role as Serena McGuire in 2022 in the third movie in the Legally Blonde series alongside Reese Witherspoon.
9. Alanna was the voice of the family's matriarch, Mama Imelda, in the movie, oscar-winning 'Coco', in 2017.
Along with many other movies in which she was cast as a voice actress, including Snowflake and Queen Kazoo in Puppy Dog Pals and Cutter in Monsters at Work in 2021 along with other animated shows.
10. She has starred in over 200 theater, film, and television projects, including the Peabody Award-winning 'Men of a Certain Age.'
11. She played the role of Alanna has been nominated for a SAG award for her role as a former judge, Fox News Host, and celebrity Jeanine Pirro in the movie Bombshell.
The New York Times touted her as a "seriously talented actress" to someone "keep your eye on."
12. She is one of the most familiar faces when it comes to the TV series, Girlfriends' Guide to Divorce on Netflix in her recurring role as Jo Hernandez-Frumpkis which she played from 2017 to 2018.
13. In 2004, Alanna landed the role of Isabel Villalobos, a Latino maid, and caterer, in the hit comedy movie, Meet the Fockers.
14. She has been a guest star on several TV series, including as Gina on Party of Five, as Celia Walton on The West Wing, and as Roxy on an episode of It's Always Sunny in Philadelphia.
15. She played herself as a voice artist in the documentary of voice actors and actresses in, "I Know That Voice."
16. Alanna has plenty of theater experience under her belt too, starring in a one-woman show, Patriotic Bitch, in 2008 which she received plenty of praise and good reviews from fans, viewers, and even critics.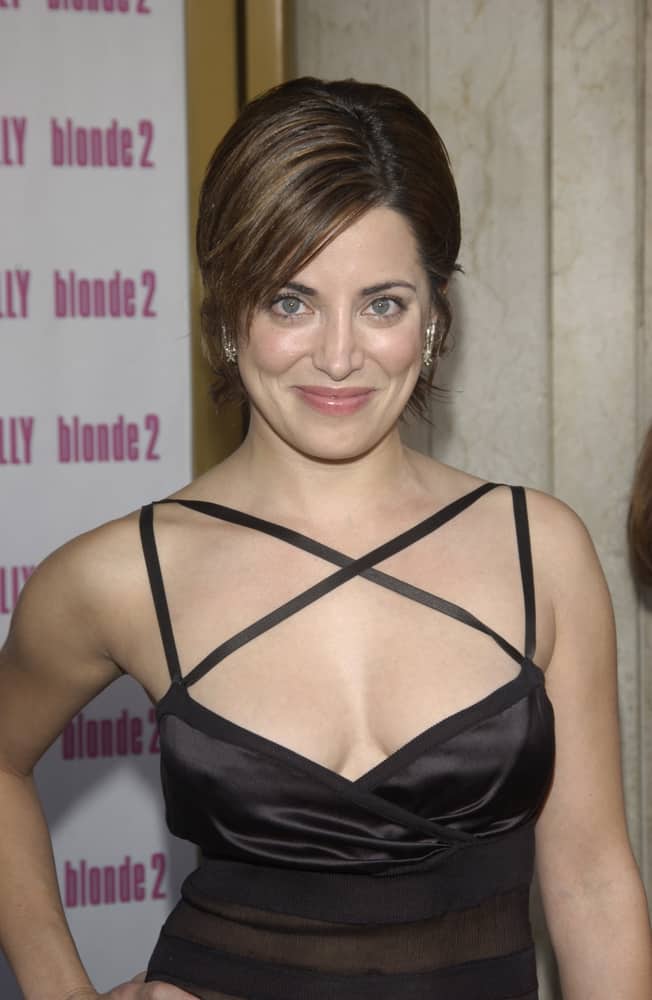 17. Unlike some actors and actresses, Alanna actually loves to watch TV shows and movies in her downtime, and one of her favorites to watch is the HBO series, Succession.
She has said that she really enjoys the storyline of the show as well as the great acting of the cast.
18. Alanna truly does a little bit of everything when it comes to the entertainment industry.
Not only has she starred in several hit television series and major movies along with her voice acting roles, but she has also voiced the characters in many video games, including Grand Theft Auto V.
19. Alanna landed the role of Suze in the groundbreaking series, Euphoria, on HBO but was actually scheduled to play the role of Rue's mother on the show.
20. It is important for Allana Ubach to stay in contact and connected with her fans through social media.
She loves the ease and opportunity that advances in technology have afforded her in keeping in touch with her favorite people, the fans who support her. She even has an account on Cameo and sells video shoutouts for birthdays, weddings, and more that are personalized for the person they are meant for. She loves every minute of interacting with her fans and also has a Twitter account as well as Facebook and Instagram accounts to help her stay connected with her amazing fans.
21. Alanna married sixteen-time Grammy award winner, Thom Russo, several years ago.
She and her husband reside in Los Angeles, California, and Alanna Ubach gave birth to their son, Thomas Rodolfo Russo III, in July of 2017. Her husband is a record producer, composer, engineer, mixer, and songwriter.
22. She is not always in front of the camera. Alanna Ubach also enjoys working behind the scenes on movie sets and the sets of television series.
In 2003, she not only wrote and directed a short film called A mi amor mi dulce, but she also produced it.
23. Alanna has proven that she has the staying power needed by an actor to make it in Hollywood and embraces every opportunity that comes her way.
24. Alanna Ubach is enjoying her family life with her husband and son.
But she's looking forward to her upcoming roles in Legally Blonde 3, her role as a porno actress in the upcoming movie, El Tonto, as well as the many other opportunities that will surely come this actress' way, voice artist, and singer's way over the next three decades of her amazing career.