For whatever reason, it's the beginning of the weekend, and you have nowhere to go, nothing to do when you get there, and no one to do it with. Okay, Netflix it is. You walk into the kitchen for a snack: pizza, pretzels, chips, nachos, cookies, popcorn, Cheezits, flaming hot Cheetos, pizza bites, and maybe you can squeeze in that popcorn shrimp.
As children, my brother and I didn't get TV snacks except on Saturday night. That's when Dad had to do the night shift. Mom would get yummy things, park us in front of the TV, and share the yummy things. I remember RC Cola, rotisserie chicken, potato salad, and ice cream on Saturday nights on Mom's bed watching TV. My brother and I couldn't wait for Saturday to arrive.
Today, it's a little different. Anything goes. Parents are pretty sure to hear the ancient call of "Aw, Mooooom!" if they put healthy things in front of the kids. On the other hand, imaginations are beginning to reign over TV snacks today with parents concocting some interesting combinations with texture and taste. We've made a list of some imaginative TV snacks for you. We guarantee you won't hear a single "Aw, Mooooom!"
You Can't Have Snacks Without Dip
Hot Cheesy Bacon Dip
What goes better on or in any food on the planet? Bacon, of course. Try this dip, and we promise the kids will love it:
You'll need:
8 oz. Cream cheese
2 cups shredded cheddar cheese
8 oz. Greek yogurt
¼ cup mayonnaise
6 slices of bacon cooked crispy and crumbled
1 TB Worcestershire sauce
¼ TS red pepper
¼ TS onion powder
Combine all the ingredients. Hold out ¼ cup cheddar cheese and ¼ cup bacon. Place mixture in a two-cup oven-safe dish. Sprinkle the cheddar and bacon you held back. Bake at 350 degrees for 20 minutes. The kids can dip chips, crackers, or veggies.
Guacamole Ole!
You'll need:
3 avocados
1 tomato, peeled and quartered
1 lime juice
1 TS chopped garlic
½ of a fresh jalapeño
½ TS black pepper
1 TS salt
¼ TS cumin
½ TS cayenne pepper
½ TS paprika
1 TB sour cream
Place all the ingredients into a blender or food processor and blend until smooth. Top with chopped jalapeños and tomatoes for color and texture.
Family Favorite Taco Dip
You'll need:
1 8 oz pkg softened cream cheese
1 8 oz cup sour cream
3 TB homemade taco seasoning or 1 pkg store-bought taco seasoning
1 jar salsa
1 cup shredded cheddar cheese
black olives sliced
diced tomato
diced onion
Combine cream cheese and sour cream in a bowl and beat until smooth. Add taco seasoning and mix well. Spread mixture into a 9 x 13 glass baking dish. Layer salsa on top of the mixture. Layer shredded cheddar on top of this. Layer tomato, olives, and onion on top of all of it. Chill until serving time.
This dip can be used with tortilla chips, potato chips, cheese crackers, or fresh veggies. The kids won't mind.
Buffalo Chicken Dip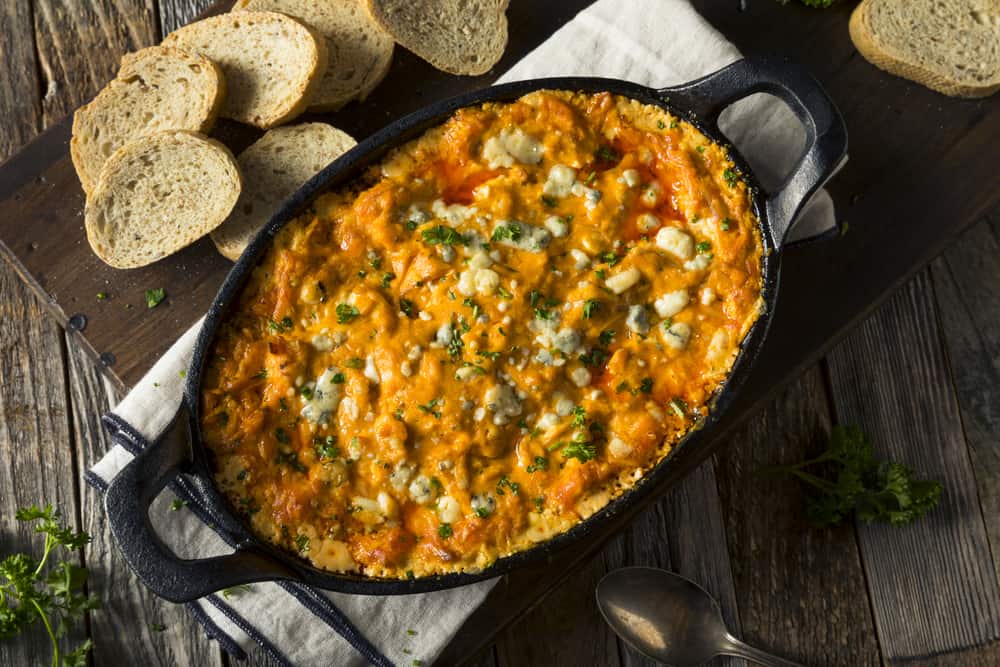 You'll need:
2 chicken breasts pre-cooked and shredded
1 8 oz. Pkg cream cheese softened
1 bottle buffalo sauce
1 bottle bleu cheese dressing
1 pkg shredded cheddar cheese
Combine ingredients in a 9 x 13 glass baking dish, holding back ½ cup shredded cheddar. Sprinkle the remaining cheddar on top. Bake at 350 degrees for 20 minutes or until it's bubbly. The kids can dip their wings, chips, or veggies into this dip happily.
Roasted Garlic Dip
You'll need:
1 large garlic bulb
1 TB extra virgin olive oil
½ cup sour cream
½ cup Greek yogurt
2 TB lemon juice
1 TS lemon jest
2 TS cumin
Salt and pepper to taste
½ TS cayenne pepper optional
Preheat oven to 350 degrees. Slice a sliver off the garlic bulb to expose the cloves. Drizzle olive oil over the cloves. Wrap the garlic bulb in tin foil and place in preheated oven for 40 minutes. The garlic bulb should be tender and/or creamy. Remove and set aside.
Place cloves in a blender or food processor. Add the other ingredients. Blend until creamy. Transfer to a serving bowl and sprinkle with salt and pepper. Chill until ready for use.
Our Take On Cool Foods To Dip
Got your remote, got your blanket and pillow on a comfy couch, got your dip, and now all you need is superlative snacks in which to dip them. We have you covered.
Nacho Tots
You'll need:
1 pkg frozen tater tots
7 oz fresh chorizo or ground beef
1 can diced tomatoes with green chilies not drained
12 oz cubed Velveeta
1 can drained and rinsed black beans
½ cup sliced jalapeños
¼ cup fresh cilantro minced
1/3 cup sliced green onions
1 avacado medium ripe and cubed
1 medium tomato cubed
½ cup sour cream
Preheat oven to 425. Place tots in a 9 x 13 ungreased glass baking dish. Bake 40 minutes.
While tots are baking, cook chorizo or ground beef on medium until it's not pink. Crumble it and drain. Set aside. In the same frying pan, place diced tomatoes and cheese. Cool until it's blended and cheese melts. Pour this over the tots. Top this with chorizo or beef and black beans.
Bake for 10 minutes. Top with jalapeños, cilantro, and green onions, tomato, and avocado. Serve with sour cream. Great way to sneak veggies past the kids.
Fruit And Cheese Platter
You'll need:
10 fresh strawberries cut in half
2 medium navel oranges separated
1 bunch seedless red grapes
1 bunch white grapes
2 medium apples sliced
1 cup fresh blueberries
1 cup fresh blackberries
2 medium bananas sliced
ten slices watermelon
½ cup mixed nuts
8 oz Brie cheese
8 oz mascarpone cheese
½ cup honey
On a large platter, arrange cheeses, fruits, and nuts. Place a small crock of honey among the fruits and cheeses. A great way to get healthy fruits and cheeses past the kids.
A Twist On Pigs In A Blanket
You'll need:
Tube crescent rolls
Slices of any kind of cheese
Slices of meat or fruit
Here's where the twist comes in. Sliced apples and pears taste great paired with cheese. Gouda goes well with fruits. Got leftovers? Thinly slice whatever meat you cooked last night, layer it with cheese, and wrap it up in a blanket.
BLT Pizza
You'll need:
1 tube pizza crust
2 TB olive oil
2 TB Parmesan cheese grated
1 TS garlic powder
½ cup mayonnaise
2 TS ranch dressing mix
4 cups shredded romaine lettuce
3 or 4 chopped plum tomatoes
½ pound strips of bacon crumbled
Preheat oven to 425 degrees. On a 15 x 10 x 1 baking sheet press out the dough. Brush with olive oil and top with cheese and garlic powder. Bake until done for about 15 minutes. Let cool a bit.
While it's baking, mix mayonnaise and ranch dressing mix. Spread on pizza crust. Top it with bacon, lettuce, and tomato. You can put healthy food like fresh vegetables and even fruits on a crust and call it pizza, and your family will love it.
The Coolest Trail Mix
You'll need:
A very large air-tight container
4 cups Rice Chex
4 cups Honey Nut Cheerios
4 cups Fruit Loops
1 large jar or can of mixed nuts
1 large pkg M&Ms
1 pkg dried cherries
1 pkg dried pineapple
1 pkg dried mango
2 cups raisins
3 TB honey
4 TS chili powder
1 TS onion powder
1 TS oregano
1/3 cup melted butter
In a very large bowl, combine the cereals, nuts, candies, and fruits. Combine the butter and honey and drizzle over the mixture. Sprinkle chili powder, onion powder, and oregano over the mixture. Toss well to coat it all.
Spread on a 15 x 10 x 1 baking sheet in a single layer. Bake at 350 degrees for 20 minutes. Stir it once. Let it cool before placing it in the airtight container.
FAQs
Is It Okay To Watch TV While Eating?
Watching TV while eating could be making us overweight. The brain is distracted, which makes the body dissatisfied. Harvard reports studies undertaken in Britain in which people were allowed to watch TV while eating and another group was not.
The results of the studies found that those who watched TV while eating ate more at the meal due to distraction. The group not allowed TV ate less late that night. So the boob tube could be making us gain weight.
What Are Healthy Snacks To Buy?
Medical experts tell us that most store-bought "foods" contain colorings, preservatives, and other non-organic things in order to prolong shelf life. These things sit in the intestines until they're passed. They're not organic, so they do the body no good.
The healthiest snacks to buy are fresh vegetables and fruits. They can be cooked into any dish imaginable or just enjoyed in their natural element. Hungry for something crunchy?
Thin slice a potato, place the slices on an oiled cookie sheet, and sprinkle flavoring over them. Bake at 350 degrees for 15 minutes, and you have much healthier potato chips. Cheese and riced cauliflower can be baked into chips, too.
What Is A Good Junk Food Snack?
There's no actual "good" junk food, or it wouldn't be called junk. However, one cheat day won't kill us, so grab a bag of Funyuns or Cheetos. A better candy bar would be Payday or Mounds. Jello isn't anything more than flavored gelatin, so go get some red Jello. Pretzels are good, as is plain vanilla ice cream.
What Is The Most Eaten Snack In The World?
Hands down, it's chocolate. The global snacking industry sells billions (billions) of dollars worth of snacks. Sixty-four percent of the world's snackers chimed in with chocolate being their fave go-to snack.
Why Is Movie Theater Popcorn So Good?
Everyone thinks movie popcorn is covered in enough buttery oil to drown us, but that's not the secret to why it tastes so very good. It begins with refined coconut oil in which the kernels are popped. When they start popping, Flavocol is added.
This is the "secret ingredient," a sort of salt that gives the popcorn that yellow, salty, buttery taste. Of course, adding "butter" or oil after it's popped just adds to the experience.
References:
Scrambled Chefs: 25 of The Best Savory Dip Recipes For Sharing
Taste of Home: 55 Sweet and Savory Snacks For Your TV Marathon
Harvard Health: Distracted eating may add to weight gain
The Washington Post: The definitive guide to how people around the world snack