Throughout the vast history of cinema the profession of law enforcement has been portrayed heavily and made its mark on the big screen in both dramatic and comical fodder. Whether it be straight up cops and robbers or crooked officers on the take in gangster flicks or ant-hero gun-slinging loners trying to buck the system the presence of crime-busting cads never fail to add compelling, if not at times over-exaggerated, insight into the world of law-enforcing personalities.
The one element of the law-enforcing community that seems somewhat limited but still registers mightily in some cinematic arenas is the concept of the sheriff. Sheriffs do cast a prominent shadow in all sorts of fields in the movies: westerns, medieval times, contemporary country car-chasing farces and even some urban melodramas.
In Arresting Developments: Top Ten Sheriffs in the Movies we will take a look at some of the notable on-screen sheriffs in film that have made us crack up hysterically or captured our attention with no nonsense, go-for-broke justice in the name of their sworn duty to the badge.
The selections for Arresting Development: Top Ten Sheriffs in the Movies are (in alphabetical order):
1.) Sheriff Bart from Blazing Saddles (1974)
ARRESTING DEVELOPMENT: Mel Brooks brings his robust, off-kilter nuttiness to the forefront in the outrageous Blazing Saddles as he ridicules the western genre in a riotous spoof headlined by the salt-and-pepper tandem of Gene Wilder and the late Cleavon Little. Specifically, Little stars as Bart, a black sheriff hired under false pretenses to oversee a hostile town not too thrilled in the presence of the slick ebony law enforcer. Gradually, the crafty Bart wins over the intolerant townsfolk with his wits and the support of his fast-gun trickster in sidekick Deputy Jim The Waco Kid (Wilder). Sheriff Bart was cool, refreshingly calculating and used his perceived "handicapped" racial profile to outsmart the local riff raff headed up by the duplicitous Hedley Lamarr (the late Harvey Korman). Confidently, Sheriff Bart wore the black hat (and black skin) as he outlasted the goofy-minded evilness meant to deter his badge in Brooks's twisted observation of western showdowns.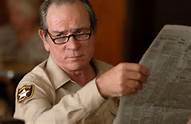 2.) Sheriff Ed Tom Bell from No Country for Old Men (2007)
ARRESTING DEVELOPMENT: The Coen Brothers skillfully directed, wrote and edited the surreal and lethal sleepy-minded No Country for Old Men and put forth the methodical tactics of stone-faced Sheriff Ed Tom Bell (Tommy Lee Jones) as the lead investigator involved in a Rio Grande-based drug deal gone sour. Bell must crack the case and deal with the escalated violence and dubious key players involved in the deadly chess game of chance that includes the hunted in Llewelyn Moss (Josh Brolin) and demonic stoic-faced hunter Anton Chigurh (Javier Bardem in his iconic Oscar-winning role). Indeed, Bell has his hands full but there is no other sheriff so experienced and perceptive to get down to the business of murder and mayhem than Jones's subdued badge-wearing badass.
3.) Sheriff John T. Chance from Rio Bravo (1959)
ARRESTING DEVELOPMENT: Sheriff John T. Chance certainly faced major adversity in Howard Hawks's stimulating western thriller Rio Bravo. But Sheriff Chance had one thing going for him–he was played by the legendary John "The Duke" Wayne. And anyone knows that you do not mess with the strapping likes of Sheriff Chance or The Duke for that matter. One realizes the toughness and resiliency of small-town Sheriff Chance when he has to babysit the menacing likes of a jailed Joe Burdette (Claude Akins) while worrying about his sinister sibling Nathan (John Russell) trying to bust him out with his loyal henchmen. Chance is all the more cagey in his sheriff-related duties as he has to rely on the force of unconventional protectors he must work with that includes a drunken and damaged Dude (Dean Martin), a gabby and elderly crippled Stumpy (multi-Oscar winner Walter Brennan) with an itchy trigger finger and a young gun-fighting hotshot Colorado Ryan (Ricky Nelson), Also, John T. Chance must deal with the affections of an alluring saloon gal Feathers (Angie Dickinson) that fancies the rugged Badged One as he faces down the pending Burdette danger.
4.) Sheriff Little Bill Daggett from Unforgiven
ARRESTING DEVELOPMENT: Sheriff Little Bill Daggett from Unforgiven was as cold and as iron-fisted as they came in the Wild West. The lawman was as cemented in cynicism and hardcore justice as anyone could be in trying to keep his dusty town disciplined and to the rhythms of his ideal personalized beat. In fact, Sheriff Daggett was so calculating and menacing that his character's portrayal by the great Gene Hackman eared him yet another Academy Award for the veteran performer. Clint Eastwood's sullen single father, widower and ex-gunfighter-turned farmer Bill Munny may have been the lead in terms of the anguished soul searching for redemption on behalf of the town' s outraged whores. Still, Hackman's Little Bill stole the show with his icy and shifty sheriff. And believe this folks…this is not an easy task to do with a solid cast that includes the aforementioned Eastwood and the always adventurous Morgan Freeman.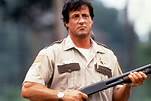 5.) Sheriff Freddie Heflin from Cop Land (1997)
ARRESTING DEVELOPMENT: Plenty of offenders have been critical of mocking the movie-making choices of Sly Stallone outside of his Rocky and Rambo personas (and even these iconic Stallone big screen alter egos got lambasted after a while). But Stallone's Sheriff Freddie Heflin was actually an inspired portrayal in James Mangold's underrated gritty urban crime drama Cop Land. In a film populated by some impressive notable names such as Robert De Niro, Harvey Keitel, Ray Liotta, Annabella Sciorra, Cathy Moriarty and Robert Patrick, Stallone gave a solid and sympathetic performance as New Jersey-based suburban city Sheriff Heflin, a bewildered law enforcer caught in the thick of hotbed corruption among the cops (specifically corrupt cops) and mobsters that use his territory as a location for shady activities across the bridge from New York City.
6.) Sheriff Ronald E. Hewitt from Sheriff (2004)
ARRESTING DEVELOPMENT: The 2004 documentary Sheriff may not be a household presentation that are on the immediate lips of moviegoers when discussing movie mavericks with a sheriff's badge. Nevertheless, Sheriff is riveting when it profiles the day-to-day operations of dutiful Brunswick County, North Carolina Sheriff Ronald E. Hewitt in filmmaker Daniel Kraus's expose of southern justice. From ruthless killers to tracking down bank robbers Sheriff brings a realistic resonance to the life of a countrified sheriff out to perform his service in hunting down some of the ominous law-breakers that dare to invade and jeopardize his region. One is not quite sure about Hewitt's "shoot first and ask questions later" philosophy but one thing is definitely for sure…being horrendously naughty in Brunswick County will not hold water for the badged badass that means legalized business.
7.) High Sheriff of Nottingham from Robin Hood (2010)
ARRESTING DEVELOPMENT: As everyone knows in the English folklore of Robin Hood that the High Sheriff of Nottingham is the villainous opportunist that becomes the tyrannical oppressor of an absent King Richard's village. In Ridley's Scott's high-octane Robin Hood from 2010 we find Robin of Locksley (Russell Crowe) and his faithful band of brothers challenge the shady shenanigans of Prince John (Oscar Isascs) and the devilish High Sheriff of Nottingham (Matthew Macfadyen) as they look to restore order to the people and thwart the misguided ruling of this terrible twosome. Whatever version of Robin Hood one chooses to enjoy they need to realize that the High Sheriff of Nottingham is one of the deliciously wicked minds in the movies (and literature) to hold the moniker of "sheriff" and defeat the nobility of such a title with gleeful dishonor.
8.) Sheriff Buford T. Justice from Smokey and the Bandit (1977)
ARRESTING DEVELOPMENT: The late and great Jackie Gleason breathed inspired buffoonery into Smokey and the Bandit's blustery bumpkin Sheriff Buford T. Justice. The bombastic Justice and his inept son/deputy Junior (Mike Henry) were always in cartoonish car-chasing pursuit of the pedal-to-the-medal Bo "Smokey" Danville (Burt Reynolds) and his curvaceous cutie pie passenger Carrie a.k.a. "Frog" (Sally Field). Gleason comically skewered the concept of the southern sheriff–laughably patriotic, indignant, narrow-minded, self-absorbed, commanding yet klutzy and a badge-wearing windbag of self-importance. Sheriff Justice wanted to be the deterrent of the good ole' boys such as Smokey that are determined to test his over-inflated sense of justice that ironically was this boisterous badge wearer's namesake as well.
9.) Sheriff Jason McCullough from Support Your Local Sheriff (1969)
ARRESTING DEVELOPMENT: The late James Garner was no stranger to appearing in satirical western movies including his 1950's landmark role in TV's Maverick. Well in director Burt Kennedy's slaphappy Support Your Local Sheriff we get more of Garner's trademark unctuousness as the traveling Jason McCullough, a guy passing through town en route to his dream destination in Australia. Of course McCullough needs money desperately to head to the Land Down Under. His prayers are answered when he accepts the job opening as a sheriff in the gold mining town just for the payment it brings to complete his journey to another part of the world. The newly Sheriff McCullough may have bitten off more than he can chew when dealing with the rambunctious townsfolk and the slimy bad guys that want to move in and make considerable trouble. Fortunately, the wily McCullough was able to handle the sheriff business with slick fortitude as he disarms his gun-slinging adversaries with his charm and instinctual wit.
10.) Sheriff Buford Pusser from Walking Tall (1973)
ARRESTING DEVELOPMENT: Folks, they do not come any larger than life than Tennessean tough guy Sheriff Buford Pusser in director Phil Karlson's explosive Walking Tall starring Joe Don Baker as the heavy-stick carrying lawman out to clean up his southern town with the baddies looking to make the former wrestler-turned-lawman's life a living hell. Based on the real-life exploits of the controversial badge-bashing sheriff Walking Tall is pretty much the epitome of southern justice gone raw and haywire. Pusser was intimidating with or without his signature wooden whipping tool and Baker played all his ballistic butt-kicking antics to the hedonistic hilt. Younger moviegoers will understandable recall Dwayne "The Rock" Johnson's 2004 version of Walking Tall as the millennium's second coming of the pissed-off Pusser (The Rock was rechristened "Chris Vaughn" for this updated entry). Still, nobody will give edginess to Sheriff Buford Pusser the way Baker inhabited this badge-wearing bronco with intense fury in the name of his family and importantly the law.
HONORABLE MENTION:
Police Chief (and later Sheriff) Gillespie from In The Heat of the Night (1967)
–Frank Ochieng
[wpchatai]