Moone Boy, "Godfellas"
Written by Chris O'Dowd & Nick Vincent Murphy
Directed by Declan Lowney
Aired July 10th, 2013 on Hulu
In a year full of fantastic imports, Moone Boy seems to have slipped through the cracks. This Irish series, which was picked up in July by Hulu, was created by Chris O'Dowd and stars youngster David Rawle as 12 year old Martin Moone and O'Dowd as his imaginary friend, Seán Murphy. The series follows Martin's exploits growing up in a small Irish town in the late eighties and early nineties and is based on O'Dowd's childhood experiences. "Godfellas", the fifth of the first season's six episodes, centers on Martin's newfound desire to become an altar boy. He's immediately taken with the idea upon seeing a group of them process in at his confirmation, "You Can't Touch This" playing in his head as they slo-mo saunter down the aisle.
While Martin ponders the intricacies of church politics, and starts living a Goodfellas parody, his parents discuss their relationship with religion and his eldest sister gets involved with the music ministry, taking a shine to the music coordinator. Yes, Martin is adorable and yes, it's a lot of fun to see Chris O'Dowd as his Mickey, training him for Holy Thursday service, but what makes "Godfellas" stand out is its specificity. From an early discussion of dress shoes to the gender and age makeup of the church choir, the episode is filled with details viewers will recognize. The dialogue is snappy as well, with memorable lines including one sister's thoughts on her future and the priest's reaction to Seán, and the relationships between the all of the characters feel incredibly honest. With its blend of childhood whimsy, religious satire, and cinematic parody, "Godfellas" is a breath of fresh air and one of the more overlooked gems of 2013. –Kate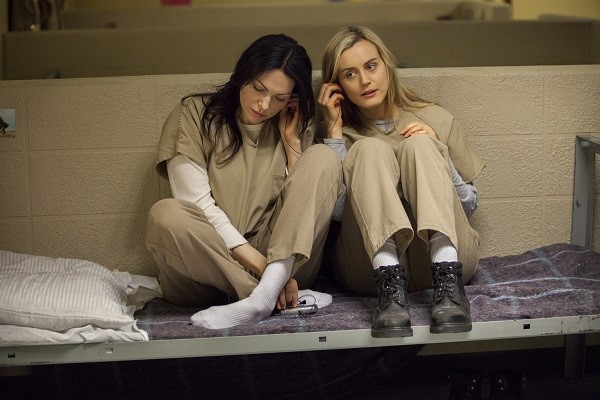 Orange is the New Black, "Tall Men with Feelings"
Written by Lauren Morelli
Directed by Constantine Makris
Released July 11th, 2013 on Netflix
In film, prison always serves as a fantastic metaphor for purgatory: it's a colorless world where "right" and "wrong" lose all meaning, a place where people can cleanse their souls before being rebirthed into the light (re: Rectify's opening scene), or cast away into the darkness forever (re: "Six Minutes", which you can read about below), often by someone who never understood them (or their life) in the first place. This is an idealistic metaphor, of course: as Orange is the New Black – the most surprisingly awesome new show of 2013 – shows us time and time again that prison might be a purgatory – but it's a damn corrupt one, a place where a girl's suicide is buried under some paperwork and self-deprecating guards wreak havoc on inmates for the sake of giving their weak egos a crutch to lean on.
There are a lot of themes that Orange is the New Black touches on through its hilariously bleak, yet endlessly optimistic first season, but it always finds it way back to the "gray" of prison – and more importantly, in life, using a minimum-security prison as a backdrop to explore whether there's such thing as 'good' or 'bad' people, or just a bunch of fucked-up creatures reeling from a kick in the ass karma just gave them. "Tall Men With Feelings" poignantly captures this through the episode's three major storylines, and in one particular moment, when Suzanne looks at Piper and asks her "Why does everyone call me Crazy Eyes?".
In a show full of complex characters and heart-wrenchingly honest emotions, those ten seconds stick out as one of the most emotionally affecting scenes of the year: how does one judge someone they don't understand? Even Mendez is more than a mustache and a dick, right?
– Randy
The Killing, "Six Minutes"
Written by Veena Sud
Directed by Nicole Kassell
Aired July 28th, 2013 on AMC
The Killing is not a great series. Often, it's not even a good one. In an alternate universe where Veena Sud was able to tell her stories in UK-style six-episode chunks, or instead opted for an all-out procedural format, Dets. Linden and Holder might not have become the best characters ever to be left stranded on a perpetually winding path to nowhere compelling. The glimpses of greatness – a shot here, a supporting performance there – only serve to make the whole enterprise more maddening. So, too, does "Six Minutes", the greatest possible episode of The Killing. I say "greatest possible" for two reasons: for what it lacks and what it spotlights. It lacks excessive red herrings, misery-porn incidental figures, over-egged sexual tension, and simultaneously grotesque and fetishized violence. Meanwhile, it spotlights the consistently excellent work of (and chemistry between) Joel Kinnaman and Mireille Enos, as well as guest MVP Peter Sarsgaard, along with the show's firm grasp of pervasive, effective gloom. Left only with the series' sturdiest tools, "Six Minutes" is free to tell a simple, heartbreaking story with a minimum of fuss and emotional or plot manipulation. The results are frustratingly outstanding. –Simon
It's Always Sunny in Philadelphia, "The Gang Broke Dee"
Written by Charlie Day & Glenn Howerton & Rob McElhenney
Directed by Richie Keen
Aired September 4th, 2013 on FXX
Currently in its ninth season, It's Always Sunny in Philadelphia delivered some of its best episodes this year, chief among them its season premiere, "The Gang Broke Dee". Kaitlin Olsen is an underappreciated comedienne and comic actress, overlooked by the Emmys (and other such awards) each year. Once again this year, she was not nominated for a Golden Globe, and if "The Gang Broke Dee" isn't enough to get her noticed, it's hard to imagine she ever will be. She's hilarious in this episode devoted to her character, Dee, finally reaching her breaking point and succumbing to nihilism. The entire conceit is great, from its look at the standup comedy scene to Dennis's reaction against it; the episode may focus on Dee, but we get just as much examination of Dennis. Then there's the episode-ending reveal, which is masterfully executed by the characters and writers alike. With fun guest appearances from Lavell Crawford, Peter Jacobson, and Ken Davitian, great character moments for Dennis and Dee, and laugh-out-loud comedy throughout, "The Gang Broke Dee" not only stands out as one of the best episodes of the year, but proof that nine seasons in, It's Always Sunny in Philadelphia is still going strong.  –Kate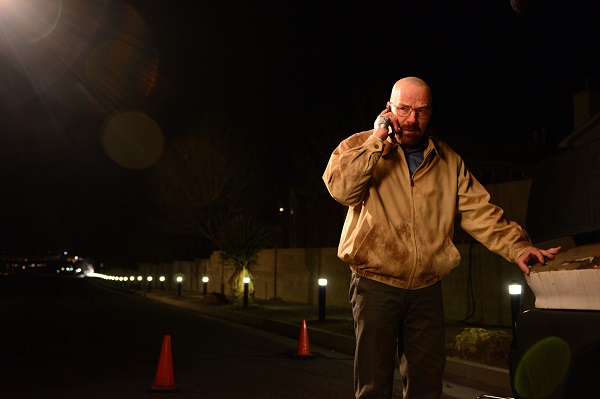 Breaking Bad, "Ozymandias"
Written by Moira Walley-Beckett
Directed by Rian Johnson
Aired September 15th, 2013 on AMC
There is no greater praise to heap on "Ozymandias" than this: it would have been a perfect series finale. Not "perfect" as in wrapping up every possible loose end in a tidy fashion (for that, we would wind up having the fine-but-not-revelatory final two episodes), but instead in terms of laying bare the ugly truths and consequences of Walter White's year-and-change of empire-building. Sure, it would have been bleak: Marie left as a weeping widow, Jesse as a hopeless meth-cooking slave, and his wife and son left reeling in a tailspin of anger and imminent notoriety…but Breaking Bad has always been bleak. Mercilessly so. If anything, "Felina" was a break from tradition, forgoing the series' remarkable sense of constantly escalating chaos and destruction in favor of comparatively timid symmetry. By contrast, "Ozymandias" finds every aspect of the show operating at peak strength: Rian Johnson's restrained but impactful direction, the perfectly unexpected comic interludes and music choices (Walt and his barrel waltz), and the almost unbearable shock to the system provided by Hank's demise. Simply put, it's the best-ever outing for one of the best series ever. Period. –Simon
Masters of Sex, "Pilot"
Written by Michelle Ashford
Directed by John Madden
Aired September 29th, 2013 on Showtime
Whatever the failures of Masters of Sex's first season, ambition is not among them. As laid out beautifully in the series' pilot, the series attempts to tackle a huge number of social and historical issues surrounding sex and sexuality, fields that have vexed humanity for the better part of always, all through the prism of two real-life sex researchers and their family and peer group. That makes for a whole lot of heavy lifting, but "Pilot", aided by John Madden's even-handed direction, is more than up to the task. Showrunner Michelle Ashford's briskly paced teleplay communicates everything we need to know about Virginia Johnson and William Masters in an efficient, but not too hasty, fashion. What's more, it puts forward a completely different vision of what "period TV" can feel like compared to the likes of Mad Men by emphasizing what hasn't changed in America in the five+ decades since the events depicted rather than what has. Unfortunately, one of the pilot's boldest choices wound up as a major liability for the rest of the season: Dr. Haas's assault on Virginia remains a shocking moment, and a necessary one for underlining the dangers for women attempting to assert control over their sex lives – in 1957 or at any other time. While the rest of the season wound up biting off a little more than it could chew – both in terms of thematic breadth and a few too many characters and subplots – "Pilot" provided a sterling blueprint for what may still blossom into a truly great series. –Simon
The Good Wife, "Hitting the Fan"
Written by Robert King & Michelle King
Directed by James Whitmore, Jr.
Aired October 27th, 2013 on CBS
After four seasons of buildup, and an opening four episodes of slow burn this fall, The Good Wife went all in with "Hitting the Fan", blowing up the show in compelling, dramatic fashion and starting over from scratch. After four years of fantastic guest stars providing the "them" in the show's legal battles, all of a sudden it was all-out war between a group of characters we care about. There are no "them"s anymore; it's Alicia, Carey, and Robin versus Will, Diane, and Kalinda (with David Lee as their ringer) and the consequences of this fracture will be felt throughout the rest of the series. "Hitting the Fan" is filled with intense, incendiary scenes, beginning with its 15-minute build to Alicia's firing, culminating in perhaps the most powerful desk-sweep in television history.
After yet another emotional elevator ride for Alicia (definitively giving The Good Wife the edge over Grey's Anatomy in elevator scenes), the episode transforms into a caper, as Carey, Robin, and the rest of the Florrick/Agos crew work to gather as much intel as they can before being found out. There are moves and countermoves and, once the dust has settled, it's clear we're in for one hell of a ride. It's not all (beautifully baroque) melodrama either, there's plenty of excitement and comedy as well; Alicia on the warpath is a wonderful thing to see and her hand gesture to Will and Diane in court was as satisfying as anything on TV this year. While most of the series being praised at the end of the year are intense cable dramas, The Good Wife proves that fantastic storytelling is still possible from a network (quasi-) procedural. "Hitting the Fan" not only ranks among the show's very best episodes and marks a bold new start for the series, it's a highlight of what has been an exceptional year for television. –Kate
Key & Peele, "Sexy Vampires"
Written by Rebecca Drysdale, Colton Dunn, Keegan-Michael Key, Jay Martel,
Jordan Peele, Ian Roberts, Alex Rubens, Charlie Sanders, Rich Talarico
Directed by Peter Atencio
Aired October 30th, 2013 on Comedy Central
There's no challenging Key & Peele as the best sketch-comedy show going right now. (At least, not yet: with a bit of polish and maybe a tiny budget increase, Inside Amy Schumer, the show's network-mate, could make a decent run for it in '14.) Keegan Michael-Key and Jordan Peele have hit that sweet spot where even when a sketch doesn't land, you can almost always appreciate its attention to detail and/or willingness to follow any old rabbit hole all the way down in pursuit of a laugh. If "Sexy Vampires" is anything to go by, they might be able to kick it up a notch by opting for more themed episodes, because this installment, their first Halloween episode and their first to feature a vague through-line, is almost 100% killer. There's a discussion between extras on a The Walking Dead stand-in, there's a roommate meeting about how who's responsible for the ghost-like weirdness at the group's apartment, and there's the titular sexy vampires, whose personal style does not mesh with their latest recruit's. While almost every bit lands, one sketch in particular, "Continental Breakfast", is one for the ages, doubly so for not seeming to fit into the Halloween theme, until…you'll see. –Simon
Black Mirror, "The National Anthem"
Written by Charlie Brooker
Directed by Otto Bathurst
Aired November 12th, 2013 on DirecTV
From the brilliantly warped mind of Charlie Brooker comes a darkly comic series made up of disconnected single-episode stories that present dystopian visions of the future and explore the dark sides of our modern technological obsessions. "The National Anthem" is the shocking first tale that examines the power of social media, while playing on the anxieties surrounding the technology. In this installment, which Brooker wrote, the Prime Minister's daughter is held hostage, to be released only if the he has sex with a pig on live television. What starts as an audacious and hysterical satire transitions to disbelief, horror, and sadness. Much like the spectators within the episode, we the viewers are left with the discomfort of watching a man who's left with no choice but to degrade himself live on television.  The big twist comes at the end when we learn that (spoilers!) the kidnapper is a Turner Prize-winning artist who orchestrated the kidnapping in order to create a piece of artwork. The episode ends with a reporter dubbing it the first great artwork of the 21st century – an event watched by 1.3 billion people, who all to some degree, took part in it. The "National Anthem" is funny, tragic, and timely, and a fantastic start to a promising series. –Ricky D