Of all the canards foisted upon and between culture fans in 2013, there was none more dubious than the notion that the supposed "battle" of television vs. film had come to an end, with the former declared the victor. Besides the fact that comparing such disparate mediums is a fool's errand at best, both are such vast and complicated enterprises that any pitched battle likely only pits narrow conceptions of each against the other. (Strawman vs. strawman, the most popular form of discourse on the Internet.) The simplest way to invalidate the entire argument quickly: where films only have to be taken on their own terms as one complete work, TV series need to be considered in at least three contexts: by episode, by season, and by the overall run of the series.
With several shows ending their runs this year, including Breaking Bad, Dexter, Southland, Spartacus, and The Killing (up until its latest resurrection, that is), much of the conversation has naturally shifted towards the big picture, but 2013 was an incredible year for standout episodes – even, in some cases, for series that didn't necessarily have a great year overall. Prompted by this wealth of televised riches, TV editor Kate Kulzick, Televerse cohost Simon Howell, general editor Ricky D, and managing editor for TV Randy Dankievitch brainstormed and compiled their personal favorites, with only those deemed worthy by a majority making the cut. The resulting list of survivors (organized by airdate) is a wonderfully diverse picture of the medium at work in 2013, in 15-to-60 minute chunks.
30 Rock, "Game Over"
Written by Robert Carlock & Sam Means
Directed by Ken Whittingham
Aired January 10th, 2013 on NBC
30 Rock finished its seven-season run this year, going out with a strong final stretch of five episodes. Viewers expecting a Seinfeld-style parade of guest stars in the finale would be disappointed though, as Tina Fey and co. wisely focused the final few episodes on the core cast. They didn't forget the show's many colorful guest stars altogether though; in "Game Over", we get the chance to have one more adventure with Jack's former enemies Devon Banks (Will Arnett) and Kaylie Hooper (Chloë Grace Moretz), his PI Lenny Wosniak (Steve Buscemi), and the ever-delightful Dr. Leo Spaceman (Chris Parnell). John McEnroe drops by to play Homonym! with the returning Steve Higgins, Megan Mullally continues to help Liz with her adoption proceedings, and we get a hilarious guest turn from Octavia Spencer as herself, managing to out-Tracey Tracey. Aside from the familiar faces (and pleasant surprise of Spencer), this episode stands out for its zany tone, reversal of roles (great to see Tracey having to be responsible), and sheer laugh-per-minute ratio. "Game Over" highlights many of 30 Rock's strengths without forgetting to be funny and almost 12 months later, it remains one of the best half-hours of the year. –Kate
Enlightened, "The Ghost is Seen"
Written by Mike White
Directed by James Bobin
Aired January 28th, 2013 on HBO
Make no mistake: Enlightened is about the journey of Amy Jellicoe (Laura Dern). But the finest episode of the series pushes Amy and her journey to take down Abaddonn to the background to focus on Tyler (played by creator/writer Mike White), Amy's timid accomplice-in-crime down in the purgatory of the Abaddonn IT department. Led by Tyler's heartbreaking voiceovers and a stunning guest appearance from Molly Shannon, "The Ghost Is Seen" is – like all of Enlightened – about personal transformation, about having hope when it seems utterly illogical to do so, and about how that journey is impossible to take by yourself. The only hope we have in a corrupt, selfish world is to find someone else to share it with: something Tyler finally realizes when he takes Eileen (Shannon) out on the weirdest, cutest little date you'll ever see on television.
A spiritual companion to season one's "Consider Helen", "The Ghost Is Seen" pushes the manic energy of its star character to the background for a contemplative episode about a "ghost" occupying the world of Enlightened, be it a physical one (as Tyler's boss suggests: "Maybe you should get a spray tan… you're white as fuck") or one that only exists in our mind (Helen's dead husband, and as seen in "The Trip", Amy's miscarriage). The past will haunt as long as we let it, and the longer we wait to let go, the harder it is to remember who we are and what we love (Levi, Amy's ex-husband, is another testament to this idea).
It's hard to say something's a "signature" episode of a series when it barely features its main character, but "The Ghost Is Seen" is just this, echoing the sentiments of Amy's twenty episode-long journey through the lens of the show's most depressing – and oddly, most hopeful – character. It culminates in the episode's closing montage, one of the most beautiful, emotionally rewarding scenes of the year: while Joanna Newsom's "Esme" plays softly in the background, Tyler and Eileen share a dinner and a smile, a simple, poignant reminder of how powerful a little bit of hope can be. –Randy
Parks and Recreation, "Emergency Response"/"Leslie and Ben"
Written by Norm Hiscock & Joe Mande ("Emergency Response")/Michael Schur & Alan Yang ("Leslie and Ben")
Directed by Dean Holland ("Emergency Response")/Craig Zisk ("Leslie and Ben")
Aired February 14th and 21st, 2013 on NBC
Originally conceived as a possible series finale for the show (at the time of its writing, the show's back-nine episode order had not become official), "Emergency Response" and "Leslie and Ben" represent Leslie's ultimate victory in Pawnee, ending a journey that began all the way back in "Pilot" when she took on Lot 48 as her personal pet project. And although the episodes don't give the other characters a ton to do (save for Andy's failed police test), "Emergency Response" and "Leslie and Ben" are a testament to all that is Parks and Recreation and in particular, the idea that victory is impossible without love, be it love of one's hometown, love of another person, or love of those who stick by your side, even in your craziest moments. Throw in an all-time classic montage of Ron Swanson making wedding rings out of a sconce, and it's no surprise this hilarious, emotional two-parter made our best of the year list. –Randy
Bunheads, "Next!"
Written by Amy Sherman-Palladino
Directed by Amy Sherman-Palladino
Aired February 25th, 2013 on ABC Family
It was easy to be upset by Bunheads' early cancellation, especially since ABC Family took months to make up their minds about it, but in retrospect, it was a bit of a miracle that the series even got a shot at all. "Next!", the season/series finale, underlines this point. Unlike the starry, relentlessly self-congratulatory Smash, Bunheads was never less than stone-faced in presenting the realities of working in the performing arts, and never more so than in the epically unfair (and realistic) audition process faced by Michelle. Besides being an excellent showcase for wunderkind lead Sutton Foster, the hour also left plenty of room for the actual Bunheads to shine, particularly in their collective attempts to grasp their emerging sexuality (to hilarious and poignant effect), culminating in one of the series' most devastating scenes. It's a shame that TV's increasingly wide canvas still can't seen to find room to allow series like Bunheads to prosper, but that's show business. –Simon
Bob's Burgers, "O.T.: The Outside Toilet"
Written by Lizzy Molyneux & Wendy Molyneux
Directed by Anthony Chun
Aired March 3rd, 2013 on FOX
Bob's is no stranger to folding oddball pop-culture parody/homages into its 22-minute family-sitcom format with aplomb, but "O.T." is by far its more graceful and hilarious yet, bolstered as it is by Jon Hamm's great turn as the eponymous sentient toilet. Yet for all of the spot-on riffs on Spielberg's friendly-alien opus, what makes "O.T." perhaps the best Bob's to date is the way it makes the greatest possible use of the entire Belcher clan, especially the kids, whose interactions with the awe-inspiring (to them) O.T. produce some of their funniest moments ever. Their adventure also gives Bob and Linda a rare chance to cut loose, and their drunken suit-aided antics are almost as funny. If you've been looking for proof that Bob's is the best network sitcom going (animated or otherwise), you could find plenty worse places to start. –Simon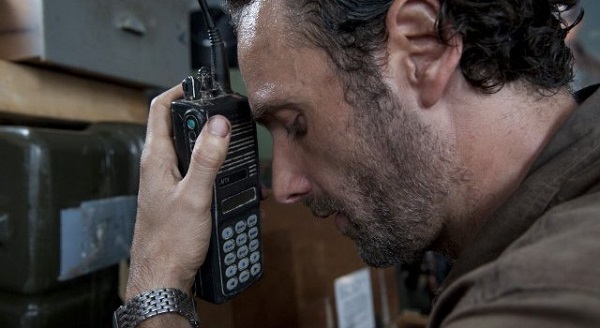 The Walking Dead, "Clear"
Written by Scott M. Gimple
Directed by Tricia Brock
Aired March 3rd, 2013 on AMC
"Clear" reached new dramatic heights for The Walking Dead season three. This is a very strong episode, and the second best after the series pilot, "Days Gone Bye." For the second time in the show's history, The Walking Dead takes Rick Grimes and a couple of others away from the rest of the group for the entirety of the episode, and much like Season Two′s "18 Miles Out," "Clear" is essentially a side-trip episode. Both episodes were also written by Scott Gimple, who took over as showrunner for season four. The re-introduction of Morgan Jones (Lennie James), a character who made his first appearance in "Days Gone Bye," was long overdue – 30 episodes overdue, to be exact – but Morgan is just one of several reasons why this episode stands out. "Clear" doesn't really help further the plot – in fact, it sidesteps just about every major plot element of the season – but the episode is brimming with great writing and character development and is a much needed change of pace. Episodes like "Clear" should remind everyone, including the show's writers, that small but powerful character moments make for incredibly strong installments. Here's hoping we get more stand alone episodes in the future which will allow the characters featured to grow both within the group and with us, the viewers. –Ricky D
Girls, "On All Fours"
Written by Lena Dunham & Jenni Konner
Directed by Lena Dunham
Aired March 10th, 2013 on HBO
If 2013 played host to a more divisive season than Girls' sophomore outing, it's not coming readily to mind. While the more widely-discussed "One Man's Trash" wound up as the season's biggest, ugliest cultural battleground, "On All Fours" is easily the series' gutsiest outing, a truly dark and challenging hour in the midst of a shaky, tonally imbalanced season. Already far from the most straightforwardly sympathetic lead on television, Lena Dunham made the brave choice to fold in some of her own experiences with OCD, resulting in the now-infamous Q-tip scenes (say it with me now: "aaaaargh!" ). It isn't pretty, and neither is the sequence that launched a thousand thinkpieces on the line separating rape and consensual sex, not to mention undermining our collective affection for one of the series' best-drawn and performed characters: Adam thoroughly debasing poor Natalia in the bedroom. Like it or not, these character nadirs represent the sort of unvarnished realities that a warts-and-all approach should include. That the very next episode (the season finale, "Together") seemed to retreat into romantic fantasy and "touching" reconciliation, earnestly or otherwise, points to the series' still-palpable growing pains. Beware, however: if it's got room to grow, it probably has room to plunge into greater depths, too. –Simon
New Girl, "Quick Hardening Caulk"
Written by Brett Baer, Dave Finkel (story) & Ryan Koh (teleplay)
Directed by Lorene Scafaria
Aired March 19th, 2013 on FOX
Although New Girl is a consistently funny, enjoyable comedy, there are times when it struggles to balancing its ensemble, be it with Schmidt dating two girls, CeCe entering an arranged marriage, or Winston doing anything. However, there are times when the show's able to find that sweet medium between everything, and there's no better example than in season two's "Quick Hardening Caulk", which brings the Nick/Jess teasing to a fever pitch and finds Winston playing the voice of sanity to Schmidt, who is struggling to see the "subtlety" of his obsession with an exotic fish. Playfully witty and openly confrontational, "Quick Hardening Caulk" can almost be considered 'anti-sitcom', pushing beyond the normal scheme of laughing at ironies or misunderstandings and forcing its characters to face the very real challenges in front of them.
Never a show afraid of change, "Quick Hardening Caulk" not only marks the beginning of a major change to a core dynamic of the show, but shows how useful comedy can be when it nudges people to work through things together, instead of spending all its time pointing and laughing at misfortune, with a convenient pat-on-the-back ending thrown on. Love is a complicated thing, whether it's significant others, friends, or family members, and if there's one thing New Girl captures well (next to its fantastic exploration of gender dynamics in recent episodes like "Menus"), it's that. –Randy
Justified, "Decoy"
Written by Graham Yost & Chris Provenzano
Directed by Michael Watkins
Aired March 19th, 2013 on FX
If "Ozymandias" conquered the year with its sheer brute dramatic force and artful execution, Justified's "Decoy" is the year's most flat-out enjoyable, entertaining hour of television. Co-written by showrunner Graham Yost, "Decoy" is a master class in pacing, character writing, and wry self-awareness, packed with quotable dialogue and moments of fist-pumping awesomeness. What's more, it set the stage for yet another very solid season endgame packed with the thrills and moments of gobsmacking emotional resonance we've come to expect from Justified. In lieu of further justification (ha!), a highlight reel: "Man, I love the way you talk. Using forty words where four will do." "God of the Old Testament? Kind of a dick!" "Only when I handle firearms in public." Drew's tales of Arlo in Vietnam. "I would like a young Gérard Dépardieu to play me in the movie. I'm honoured." "Ho-lee shit. They circled the wagons!" "That's a comment, not a solution." "The doctor on TV? Nancy Drew? Drew…Drewbacca?" "What happened is Bob's a tough son of a bitch." "I didn't think to ask if he plays guitar." "Well, I think if there'd been an explosion, it woulda been bigger–" Augustine and Ava's standoff. "Oh, that's sweet." The escape route. Plenty more in between. Roll on Season 5, and RIP Elmore Leonard. –Simon
Adventure Time, "Simon & Marcy"
Written by Cole Sanchez & Rebecca Sugar
Directed by Adam Muto (supervising director)
Aired March 25th, 2013 on Cartoon Network
While Adventure Time has become a veritable cult phenomenon, it still hasn't broken through to the mainstream, at least critically. It has to fight against the still-lingering prejudice many hold towards animation, not to mention series with 15-minute runtimes, not to mention its fanciful setting and labyrinthine mythology. Those who approach the series with an open mind, however, will discover a joyful, thoughtful, and incredibly creative show. There have been many episodes that stand out this year, but a particular favorite is "Simon & Marcy," which explores the previously only-hinted-at backstory of two popular characters, the Ice King and Marceline, the Vampire Queen.
While the episode certainly has additional meaning to longer-term viewers of the series, it's still incredibly powerful to first-timers like myself. What begins as a rather random, if adorable, lark in a post-apocalyptic world in its last minutes becomes an emotional exploration of love, self-sacrifice, and loss, taking audiences from smiles to tears in 10 minutes, and recontextualizing a staple of TV history in the process. It's an impressive feat and one that few series pulled off at all, let alone so successfully, this year. Excellence in television is not limited to prestige dramas and it's certainly not limited to live-action. Adventure Time may not look like the series populating most of the year-end Top 10s, but it's a great show and more critics, myself included, should find the time to catch up with it and give it the praise it's due. –Kate
Part One / Part Two / Part Three
[wpchatai]