Box Office Sabermetrics is a bi-weekly column that will attempt to apply the statistical analysis Sabermetrics, used in Baseball, to the box office results each weekend.
Let me tell you about my personal history with M. Night Shyamalan. When I was 10 years old, I watched his third film Signs for the first time, and it changed my life. Signs was the first film to make me love films, to want to spend my life doing something with films. It was the first film that I watched and immediately understood and grasped onto the subtext and themes of the film, and the fact that a film could do that blew my tiny mind.
Before then, I had always loved film, but I had always watched them only taking in what was explicitly on screen. M. Night Shyamalan then became the first director I got into, as I went back and watched The Sixth Sense and Unbreakable and went to the theater to see The Village three times in its release. Those were the good times.
Then came Lady in the Water, and Shyamalan's career took a sharp down turn, one that had already been on a steady decline. The Happening bombed, and after the two hour dump that was The Last Airbender and quasi-Scientology-love-letter After Earth both bombed, Shyamalan became box office poison and lost any good reputation he had. Ever since The Village (in my opinion, his last good film), he had only made films that were really bad, and it became harder and harder to root for him each time. Where I once spent months counting down the days to a new Shyamalan film, I now groaned when I heard his name.
With Shyamalan though, there's always a twist, and the twist here is that his latest film The Visit just made really good money. Check out the results below.
The Perfect Guy                                                                   $25.88 million
The Visit                                                                                $25.42 million
War Room                                                                             $7.72 million
A Walk in the Woods                                                          $4.74 million
Mission: Impossible – Rogue Nation                              $4.1 million
Straight Outta Compton                                                    $3.92 million
No Escape                                                                             $2.88 million
The Transporter Refueled                                                 $2.03 million
90 Minutes in Heaven                                                        $2.03 million
Un Gallo con Muchos Huevos                                          $2.02 million
Sure, The Visit didn't top the weekend, but that doesn't mean it didn't make a significant return. The film was produced by low-budget wunderkind Jason Blum and his Blumhouse production company, who have spent the last half-decade laughing their way to the bank at other studios with their effective buy low/sell high business model of genre films. The budget for The Visit was just the Blumhouse standard $5 million – the lowest of Shyamalan's career – and their business model proved to be the one needed to get Shyamalan another win.
Now before we get to what this means for Shyamalan, let me tell you about my personal history with Jeff Francoeur. I have been a fan of the Atlanta Braves since I was about 10 years old. In 2005, they called up rookie right fielder Jeff "Frenchie" Francoeur. In just 70 games that year, he put up monster numbers with 14 HR, 45 RBI and 20 2B, with an impressive .300/.336/.884 line. The Braves had found their next franchise all-time great who would lead them for the next several years. He had a gun of an arm and could field anything that came his way in right field, nabbing a Gold Glove award in 2007, and he was dangerous at the plate too. He followed up the next two seasons with more or less consistently with what was expected of full season play for him. In 2006 he mashed 29 HR, drove in 103 RBI and had a line of .260/.293/.742. 2007 saw his power drop with just 19 HR, but a steady 105 RBI and an improved .293/.338/.782 line. After that though, he became a shell of the player he was those three years and began a steady decline into anonymity, with him currently serving time for the Philadelphia Phillies. He was supposed to be the iconic player that I would grow up with, only he wasn't. I wanted him to do great things with the Braves, but with each year it became harder and harder to root for him as he struggled, and when they traded him in 2009 I could only nod my head approvingly.
The reason why I bring up Shyamalan and Francoeur in the same piece is because, well, they are pretty much the same. Both started their careers out with big hits. The Sixth Sense grossed $293 million domestically and $672 million worldwide, all against a budget of $40 million. Francoeur placed third in the National League Rookie of the Year voting in 2005. Both were immediately projected to be the next great thing in their respective fields by the press.
Both claims were sadly as far from the truth as they could get. Francouer went from franchise phenom to castoff bench player in a matter of years. His highest home run total since those has been 20 in 2011 with the Kansas City Royals, he hasn't finished a season hitting .300 or above since his rookie year, and 76 is the highest amount of runs he's driven in since his first three seasons. His OPS hasn't sat above .800 since 2011 as well. He became a roster journeyman since his promising beginnings in Atlanta, getting dealt to the Mets in 2009, and then to the Rangers the following year. He then played a few years in Kansas City, then hopped between the Giants and the Padres before landing in Philadelphia this year, where he's hitting an okay-for-his-expectations .269/.297/.746 line.
M. Night Shyamalan experienced a similar career path after immense promise and bankability. After the big success of The Sixth Sense, he followed it up with the underrated qausi-superhero film Unbreakable the next year. He had a larger budget this time around with $75 million, but only brought in a domestic gross of $95 million. Foreign markets would push it to $248 million worldwide, but it wasn't enough to convince studio executives to greenlight the proposed sequel/trilogy that Shyamalan had constructed to follow Unbreakable. His next film would come two years later with 2002's Signs, and that proved to be another big hit for him. It grossed a massive $227 million worldwide off a $72 million budget and rode the foreign markets to an overall $408 million worldwide. This was his Jeff Francoeur 2007 season equivalent. His first three films had gone similarly to Francoeur's first three seasons – some cause for worry, but overall a steady show of promise and capability.
The decline in box office receipts had technically been happening since The Sixth Sense, as neither of his follow-ups had matched those massive numbers, but people wouldn't really start to notice the decline until 2004's The Village. Off of a $60 million budget, it opened to a big $50 million, topped out domestically at $114 million and $256 million worldwide. Very healthy returns, but still only barely higher worldwide numbers than that of Unbreakable, his least grossing film at that time.
His first official bomb came with 2006's Lady in the Water, which only grossed $42 million domestically off of a $70 million budget. Foreign markets would only bring its worldwide total to $72 million. Shyamalan's steady decline had arrived at a flop. The biggest reason was not only that the film was awful – his first indefensibly awful film – but that critics had simply tired of Shyamalan's "always a twist" gimmick in his screenplays. The jig was up concerning Shyamalan when it came to the film critic community. He followed it up with the even worse-performing The Happening in 2008. The budget was a more modest $48 million compared to his inflated ones from previous films, but it only grossed $64 million domestically, and although worldwide receipts ended up at $163 million, whatever remained of Shyamalan's critical reputation had evaporated, as that film will always be remembered as bafflingly awful. Don't forget, this film has scenes like this and this and chooses to play them straight.
The Last Airbender bombed spectacularly, only grossing $131 million domestically against a massive $150 million budget – the highest budget of his career. Somehow studios chose to still give him money as After Earth got a $130 million budget, but only topped out at $60 million domestically. The guy had bombed himself out of studio pictures, his name became a toxic one associated with awful filmmaking and poor returns. Just like Jeff Francoeur, Shyamalan had started off with so much promise and bankability, but had faded into irrelevance……………or did he?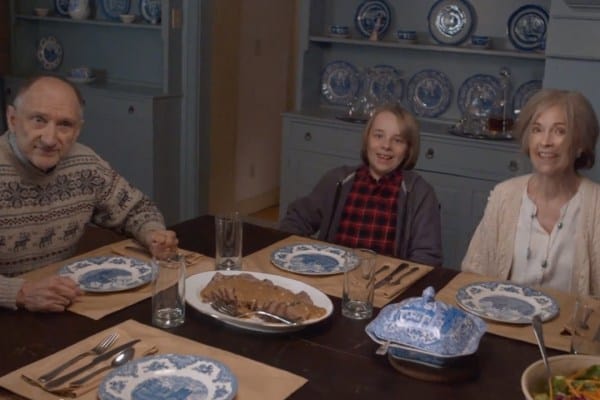 Normally the $25 million for The Visit would be considered a small opening weekend return, and this weekend was a light one at the box office, but consider the fact that with that return this movie just made back five times its budget in one weekend. In fact, it's the first profitable opening of Shyamalan's career – The Sixth Sense only made $26 million its opening weekend against its $40 million budget, and would make its big splash off of word of mouth the following weekends. No other film of Shyamalan's has outright gone past and eclipsed the budget before now. It's also the first film of his to make a domestic profit since The Village, and The Visit did it in three days. That's 11 whole years of low returns. With that in mind, we could be looking at perhaps his most profitable film in a long time, perhaps of his whole career. The film has gotten negative to mixed critical reactions, but that almost doesn't even matter in the grand scheme.
Shyamalan has a box office hit whether or not the film is good (Disclosure: I have not seen the film at this time), and that's all he needs to be able to say when he goes to pitch his next film. I can only hope for a similar measure of renewed success for Jeff Francoeur now, because 10 year old me is having a great time right now.