While traveling in the US, UK, Europe, or otherwise abroad, you might choose to dine at a fine restaurant. Upon developing an interest in cooking, you may desire a cookbook beyond the Joy of Cooking that excites your interest in trying new foods and dishes.
Flipping channels on the television one evening, you might happen upon a cooking show or two and think to yourself, "That guy is definitely not the Julia Child type." Chances are good that you either happened upon Master Chef Gordon Ramsay or celebrity chef Bobby Flay.
Let's review what the two have in common. They're both good-looking. Many women describe them as hot. Some guys do, too. They both own a bevy of restaurants around the world. They both have authored cookbooks. They both cook a mean meal. They both have a reputation as a jerk. Let's look at where they diverge to learn which cuisine creator you will try.
Table of Contents
Gordon Ramsay, OBE
What does a hot, young soccer player do when he blows out his knee at age 18, only three years into his career? If you happen to be Gordon Ramsay, who joined the Scottish Premier League Glasgow Rangers at age 15, you decide to go to college and become a chef. Ramsay played for the Rangers until age 18 when he suffered a knee injury that ended his soccer career. The year was 1985 and the young athlete segued into school after recovering from the injury. Ramsay threw himself into his studies, earning a degree in hotel management in 1987 from North Oxon Technical College.
Quick Facts
Birth Date: November 8, 1966
Birthplace: Johnstone, Scotland
Citizenship: British
Twitter: @GordonRamsay
Instagram: @gordongram
Youth and Education
Although born in Scotland, his family relocated when he was age five to Stratford-upon-Avon, England, once home to William Shakespeare. There he learned soccer and played association soccer or amateur level soccer, for Oxford United, a youth league team. At 21, he moved to London, taking a job under chef Marco Pierre White at Harvey's, then under chef Albert Roux at La Gavroche. France proved the next destination in his hands-on learning.
He spent the early 1990s working in the kitchens of Master Chef Joël Robuchon and Master Chef Guy Savoy studying classic French cuisine. His years of apprenticeship paid off in 1993 when he landed the head chef post at London's Aubergine restaurant. In a matter of fewer than three years, Aubergine earned two of a possible three Michelin stars. The feat in 1996 produced the first two of Ramsay's 16 stars.
A Bevy of His Own Eateries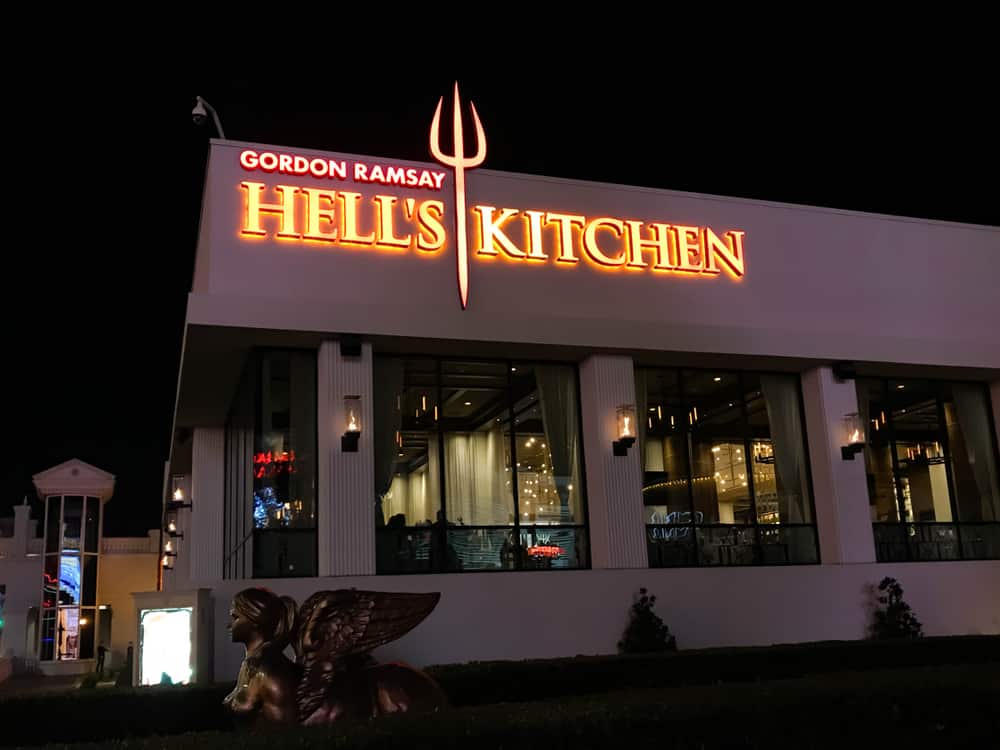 Two years later, in 1998, Ramsay opened Gordon Ramsay, his first restaurant. After compiling knowledge and testing it at Aubergine, he created one of the best restaurants the world over, not in his or this publication's opinion, but according to the esteemed Michelin Guide which awarded the restaurant three stars in 2001. His second establishment, Pétrus, opened in 1999, earned its first Michelin star in just seven months of existence.
In 2001, Ramsay opened Gordon Ramsay at Claridge's which had its first star by 2003. The restaurant closed in 2013, but numerous others have taken its place. The Master Chef opened other Michelin star-earning restaurants following this, including the Savoy Grill, the Boxwood Café which closed in 2010, Maze, and La Noisette which closed in 2008.
Ramsay also traveled to Dubai in 2001 to launch Verre his first venture outside of Europe. The restaurant still operates in the United Arab Emirates, Ramsay ended his association with it in 2011.
In 2006, he decided to take Manhattan, opening his first American restaurant, Gordon Ramsay at the London, which closed in 2014. Two years later, he skipped the tango, but opened a restaurant outside Paris in Versailles, called Gordon Ramsay au Trianon. Since that year, a multitude of ventures in Australia, Japan, and South Africa opened as well as further ventures stateside.
Cute Chefs Belong on TV
The BBC, a British television station, first brought Ramsay to television in 1996 as a judge on the cooking competition MasterChef. Three years later, he became the subject of a documentary, "Boiling Point," covering the opening of his first restaurant. The documentary did so well that producers followed it up with a miniseries, "Beyond Boiling Point," in 2000.
Forget your typical cooking show. Ramsay attacked television the way he went at earning Michelin stars. While the fine dining set got to know his exquisite culinary skills by dining where he opened eateries, the average Joe discovered him when he became a television star.
Great Britain decided to feature the chef on the 2004 series "Ramsay's Kitchen Nightmares" which ceased production in 2014. The premise of the show had Gordon Ramsay visit failing restaurants and work with its owners and chefs to turn them profitable. He followed it with "Hell's Kitchen," which saw him career coach aspiring chefs using a hands-on approach. It ceased production in 2009.
The US spotted the UK shows and rather than airing the Brit version, decided to have the chef film American versions beginning in 2007. This included "Hotel Hell," a show that extrapolated the formula of "Hell's Kitchen" to lodging. It began production and first aired in 2012, while the US's "Kitchen Nightmares" ceased production in 2014. The always busy Ramsay continued filming on both sides of The Pond. His UK show, "The F-Word," began in 2005.
The title plays on the word food and the chef's love of the four-letter expletive, f*ck. In 2010, US television debuted "MasterChef," a competition between amateur cooks to win a cash prize and cookbook contract. Ramsay serves as co-host of it and "MasterChef Junior," a youth cooking competition, which hit the US airwaves in 2013.
In the late 20-teens, he began charting new television territory. Ramsay hosted a two-part UK documentary in 2017 "Gordon on Cocaine." No, there's not a food sharing the name of the illegal drug. Ramsay is anti-drug use, mostly from personal experiences related to close family and friends. His older brother, Ronnie, has an addiction to heroin. Ramsay lost his best friend, chef David Dempsey, in 2003, due to cocaine.
Dempsey fell to his death while high on the substance. The loss hit Ramsay hard. He has crusaded in his own restaurants to keep them clean, having surfaces including the toilets tested for residue. In the US, drug testing of those in restaurants is legally required. Ramsay says it should be in the UK, too.
In 2019, perhaps taking inspiration from the late Anthony Bourdain, the chef launched the show "Gordon Ramsay: Uncharted," in which he travels the world tasting cuisines and partaking in their larger culture.
Paperback Writer and Hardcover and E-book, Too
Click image for more info
You can't really take the world by storm if you leave a media outlet unaddressed. Ramsay began writing in 1996, authoring "Gordon Ramsay's Passion for Flavour." Since then, he has authored numerous cookbooks, including:
Gordon Ramsay's Home Cooking: Everything You Need to Know to Make Fabulous Food
Gordon Ramsay Quick and Delicious: 100 Recipes to Cook in 30 Minutes or Less
Gordon Ramsay's Healthy, Lean & Fit: Mouthwatering Recipes to Fuel You for Life
The Hell's Kitchen Cookbook: Recipes from the Kitchen
Ramsay in 10
Gordon Ramsay's Ultimate Home Cooking
Gordon Ramsay's Ultimate Cookery Course
Gordon Ramsay Makes It Easy
Gordon Ramsay's Fast Food: More Than 100 Delicious, Super-Fast, and Easy Recipes
Gordon Ramsay Ultimate Fit Food [Hardcover] [Jan 04, 2018] Gordon Ramsay
MasterChef: The Ultimate Cookbook
Gordon Ramsay's Great British Pub Food
MasterChef Junior Cookbook: Bold Recipes and Essential Techniques to Inspire Young Cooks
Cooking for Friends
Ramsay's Best Menus.
Click image for more info
The prolific chef, restaurateur, TV star, and author writes about a book per year, focusing each tome on his favorite cuisine of the moment or the television show currently in production. Any attempt at an exhaustive list would become moot almost immediately. In 2006 and 2007, he released two autobiographical tomes, "Humble Pie" and "Gordon Ramsay's Playing with Fire," respectively.
Personal Life
He married for life when he married schoolteacher Cayetana Hutcheson, nicknamed Tana. The couple married in 1996 which culminated in a longstanding romance. Ramsay had to wait in line for his chance to ask out Tana. When he met her in 1992, she was 18 and dating one of his close friends, Tim, a sous chef. After his friend and she broke off their romance, he waited the requisite amount of time and asked her out. The couple never looked back.
They have five children and one of the strongest marriages in the restaurant industry. The children range in age from toddler (Oscar) to 23. The four oldest children range in age from 19 to 23 — the eldest Megan, 21-year-old twins Jack and Holly, and Tilly, 19. Throughout their lives, their dad has needed to travel for work. To provide stability to their lives, they remained in the UK to attend school with their mother staying with them.
Ramsay moved to the US alone whenever he had to open a restaurant or film a TV show. Tana Ramsey transitioned from her teaching career temporarily to stay at home mother. In 2011, she opened a salon. She also has appeared on a few television shows, including "Dancing on Ice," "Market Kitchen," the US "MasterChef," and "Matilda and the Ramsay Bunch," a show created by her daughter Tilly.
The couple owns a home in London and rather than up-end the family when they need new space, Ramsay petitions the local council to allow changes as he did in early June 2021. The home will receive a basement makeover that adds a bedroom, wine cellar, plant room, and a full bath.
The Upshot of the Deal
Ramsay earned a reputation as a foul-mouthed tough guy on TV because it shocked people that someone who creates fine dining experiences would talk like a normal person with a "sh*t" here and an f-bomb there. He's actually a nice guy, a doting dad who even TikToks with his daughters and plays in the kitchen with his son.
In order to get to spend more time with his family, he had a full-restaurant kitchen built into the London house. It allows him to shoot his UK TV shows at home. He still believes in hard work and prolific achievement, and he has found ways to balance the two biggest parts of his life.
Bobby Flay
At first blush, reading all his bad press, you might feel bad for celebrity chef Bobby Flay. The guy did make rather a turnaround in life since he quit high school. Few dropouts find their calling, return to school with renewed verve, and whiz through college to become world-famous at, well, anything. So, right there, Flay may have an ego, but some of it is deserved. While some have accused him of not actually being a chef, that was a statement referring to his attitudes and behaviors, not his actual schooling and apprenticeships which did earn him the title of chef.
His Internet haters have become so prevalent that he had to dub his Twitter a "no-hater zone." This handsome chef who fellow chef Rachael Ray openly crushes on has drawn both ire from contemporaries and love from food audiences. Flay became the first chef honored with a star on the Hollywood Walk of Fame, but if you look up "Bobby Flay" in the Urban Dictionary, the entry defines the chef as "the biggest jerk ever."
Quick Facts
Birth Date: December 10, 1964
Birthplace: New York City, NY
Citizenship: American
Twitter: @BFlay
Instagram: @bobbyflay
Youth and Education
Perhaps deep down, Flay always knew of his interest in food. When he was eight years old, he asked his parents to give him an Easy-Bake Oven for Christmas. They complied and threw in a GI Joe doll for good measure. Flay had no desire to work in restaurants and school bored him. He quit high school, some sources say at 15, some say at 17. Accurately though, his scholarly father, an investor in the NYC theatre district eatery Joe Allen's, told him if he wanted to quit school, he had to work.
He started out at a pizza place, then moved to a Baskin-Robbins ice cream shop. His future oddly changed when a busboy at Joe Allen's needed to take a two-week leave of absence to care for his sick grandmother. Flay stepped in to cover his shifts. He still wasn't interested in becoming a chef yet, but when the two weeks ended, one of the higher-ups in the kitchen asked if he would take a job in the kitchen.
They needed someone to fill in there. He says to this day that he said yes because he had no other plans that day. Kitchen work and preparing food clicked. The chefs noticed his innate skills and so did the restaurant owner. The owner offered to pay his tuition to attend the then-new French Culinary Institute, now known as the International Culinary Center. He just had to earn his GED first and gain admittance. Flay obliged, excited to have discovered something that so interested him. The guy who dropped out of school devoted himself to his studies and graduated at the top of his class.
His first job cooking in a kitchen after graduation was as sous-chef at the Brighton Grill on Third Avenue. He impressed the owner and when the executive chef got fired, he was offered the job. He accepted, then quickly quit the job, recognizing that he did not yet have the experience to run a kitchen.
He took a job as a chef at Bud and Jams under Jonathan Waxman who whetted his interest in Cajun and Southwest cuisines. He did a stint working on the floor at the American Stock Exchange, before landing his first executive chef position. He held the job of executive chef at NYC's Miracle Grill from 1988 to 1990.
Flay remains true to his school. He periodically serves as a master instructor and visiting chef at his alma mater, the French Culinary Institute. When not teaching, he still drops by the school where he funded a scholarship to help future chefs. Since 2003, he has funded the Bobby Flay Scholarship, a full scholarship to the French Culinary Institute. This annual award goes to one of the students participating in the Long Island City Culinary Arts Program. Flay serves on the selection committee.
Regaling NYC and Beyond with Southwest Eateries
Restaurateur Jerome Kretchmer took notice of the young Flay. In need of a southwest cuisine chef for his eatery Mesa Grill, he offered Flay the executive chef position. The eatery launched on January 15, 1991, with Flay soon becoming a full partner. It closed in 2013. Easing into restaurant ownership, he opened his second establishment, Bolo Bar & Restaurant in November 1993 with business partner Laurence Kretchmer.
Learning from his weeks-long initial stint as a head chef, Flay spent a decade working with his NYC business partners learning the business and creating delicious food. He felt ready to branch out in 2004, so he opened a location of Mesa Grill at Caesars Palace in Las Vegas. The following year he opened another NYC location, Bar Americain, an American Brasserie which closed in 2017. He followed it with a New Jersey eatery, Bobby Flay Steak, an Atlantic City attraction in the Borgata Hotel Casino & Spa
In 2007, he opened his first foreign location eatery, a Bahamas' Mesa Grill in The Cove on Atlantis Paradise Island. The same year, Bolo closed due to a construction project that would replace its building with condos. In 2008, Flay earned his sole Michelin star to date at The Las Vegas Mesa Grill.
He founded his chain, Bobby's Burger Palace (BBP), in 2008. The first location in Lake Grove, Long Island, NY was joined seven months later by one in Eatontown, New Jersey, then a third location just four months later in Paramus, New Jersey. Exiting the metro, he opened his next chain locations in Connecticut, as well as a second Bar Americain. BBP continued its growth in 2009, opening locations in Philadelphia, PA, Washington, D.C., Garden City, NY, Hanover, MD, and College Park, MD. Today, Flay owns 19 locations in 11 states and the District of Columbia.
On TV: Real Him, Fictional Him, and Actor Him
While he became famous on "Iron Chef" that isn't Flay's whole Internet Movie Database (IMDB) resume. He has appeared as a regular on more than 20 cooking shows such as "Beat Bobby Flay" and "Worst Cooks in America" but has logged appearances on 116 television shows and appearances as himself. What's more interesting is he has also played fictionalized versions of himself written into some of TV's biggest shows.
He has guest-starred on everything from "Law & Order: Special Victim's Unit" (Law & Order: SVU) to "Portlandia." He even did a voiceover part of himself for the cartoon movie "Scooby-Doo! and the Gourmet Ghost." Flay doesn't always play himself. He has taken two traditional acting roles, too. In 2005, he played Leo Ashford in the Design episode of "Law & Order: SVU" and in 2016, playing Gary the Prisoner in the episode Inside Man of "Angie Tribeca."
Cookbooks to Get You to Fire Up Your Grill
Click image for more info
The chef began with "Bobby Flay's From My Kitchen to Your Table: 125 Bold Recipes," released in 1998. He showed his sense of humor in the 2007 tome, "Bobby Flay's Boy Gets Grill: 125 Reasons to Light Your Fire" which gave many men new reasons to fire up their grill on the weekends. The prolific author has churned out droves of cookbooks to encourage cooking at home and especially cooking on a grill with:
Bobby Flay Cooks American: Great Regional Recipes With Sizzling New Flavors
Vegan diet cookbook: With 66 unique recipes has never been so incredibly delicious!
Lose weight Diet Cookbook: With intermittent fasting, an alkaline diet, and Tabata and start a healthy life 2021
Bobby at Home: Fearless Flavors from My Kitchen: A Cookbook
Bobby Flay Fit: 200 Recipes for a Healthy Lifestyle: A Cookbook
Brunch at Bobby's: 140 Recipes for the Best Part of the Weekend: A Cookbook
Bobby Flay's Barbecue Addiction: A Cookbook
Bobby Flay's Boy Meets Grill: With More Than 125 Bold New Recipes
Bobby Flay's Bar Americain Cookbook: Celebrate America's Great Flavors
Bobby Flay's Throwdown!: More Than 100 Recipes from Food Network's Ultimate Cooking Challenge: A Cookbook
Bobby Flay's Mesa Grill Cookbook: Explosive Flavors from the Southwestern Kitchen
Bobby Flay's Burgers, Fries, and Shakes: A Cookbook
Bobby Flay's Grill It!: A Cookbook
Bobby Flay's Bold American Food.
Bobby Flay's Grilling For Life: 75 Healthier Ideas for Big Flavor from the Fire
Click image for more info
A Personal Life to Put Soap Operas to Shame
Flay tried to find love but, evidently in all the wrong places. He has married and divorced three times. In the early days of his career, he married Debra Ponzek, a chef. Their brief marriage lasted from 1991 to 1993. Two years later, he married Kate Connelly with whom he has a daughter, Sophie Flay, a journalist. The couple married in 1995 and their daughter was born in 1996. He and Connelly divorced in 1998. Flay stayed single for quite a while before falling for actress Stephanie March.
The two married in 2005 but divorced after a decade as husband and wife. The marriage officially dissolved in 2015 but their friends saw the end coming the year before when March's appendix burst and Flay went to work, as usual, sending his personal assistant to the hospital instead.
He's known throughout the culinary world for crass and childish behavior. Famed Japanese chef Masaharu Morimot deemed him not a true chef when Flay dropped his cutting board to the ground and jumped on it after an "Iron Chef" episode filming. The esteemed Japanese chef cited a true chef's reverence for his cutting board and knives – the essential tools of the trade.
"He stood on the cutting board," Morimot said. "Cutting boards and knives are sacred to us."
Gordon Ramsay and Ben Sargent join Morimot in their derision of Flay. Some of this may stem from business practices at one of his restaurants. In 2009, some former employees sued him for wages, tips, overtime, and misappropriated gratuities. Flay maintained that he's innocent of wrongdoing in the matter, but he settled the case for $800,000.
He's done a few eyebrow-raising things, too, such as suing furniture seller Jamie Stern Designs in 2017. Stern would not accept a return of a sofa Flay bought. Flay claimed the sofa was so uncomfortable you could not sit on it. He had paid $19,000 for the all-leather seat and wanted his money back.
That same year, he used shock value to quit his job on the "Iron Chef." Flay had a t-shirt made that read "LAST IRON CHEF BATTLE EVER." He wore it beneath his chef jacket until the end of the episode when he ripped open his jacket to let the world, including the show's producers, know that he quit.
"[Food Network] said to me, 'Why didn't you tell us?' and I was like 'I didn't tell anyone. That's the whole point, that it's a surprise!'" Flay said.
He stated they were both physically and emotionally exhausting since the network had him do between six to eight food contests per week with each one requiring 60 minutes of "pure energy, creativity, and execution." He pulled the stunt so he could leave on a high note.
He has actually made some participants on "Throwdown With Bobby Flay" cry. The Food Network show invited chef Ben Sargent who left the show in tears after Flay confronted him on set.
Gordon Ramsay abhors him for no specific event. It does grate on him that people consistently try to compare the two chefs when their backgrounds and cuisines differ so greatly, as do their personalities.
"…I can still look at a box of raw ingredients and put together the best f***ing dish you'll ever eat," Ramsay told Men's Journal. "That's why I laugh when they say, 'Let's see if he's a real chef. Let's get him up against Bobby Flay on Iron Chef.' I'm like, 'F***ing do me a favor… come on. I've forgotten more than he's known!'"
Flay challenged him to a cooking duel which Ramsay at first turned down. He then decided he would take the challenge. He traveled to Flay's restaurant but Flay was a no-show for the contest.
The late chef Anthony Bourdain's contempt for Bobby Flay stretched to a desire to do him bodily harm. No one knows if something transpired between them, but in a talk at The Academy of Music he said, "Beat Bobby Flay sounds promising until you realize it's about cooking."
Chef Giada De Laurentiis got along with Flay until they did an episode of "Iron Chef" with him. The pair formed a chef team against Rachael Ray and Mario Batali. They lost to Ray/Batali, which did not bother Flay at all. "I think that more than the loss, which I was really upset about, I was upset that he didn't seem to care… And I thought, you're a jerk, and I never want to be around you again." She did not speak to him for a year.
Perhaps the only colleague love he gets comes from chef Rachael Ray who openly crushes on him. Her audiences enjoy their flirting when he visits her show. The two have competed against one another and worked alongside one another without it harming their friendship or working relationship.
The Upshot of the Deal
Flay knows the business of restaurants. His expertise in business helped him create an upscale burger chain and a series of TV series tied to books. Although he has only one Michelin star that does not seem to have been his goal. He strongly focuses on his career but has not had luck with love and marriage. He and his daughter built a healthy relationship though and have worked together. Flay finds himself vilified by other chefs yet a fan favorite of most of the US, who watch him weekly and buy his many cookbooks.
Wrap It Up Like a Taco
The two chefs have dissimilar talents. They cook different types of food, only dovetailing at burgers, which Ramsay found a necessity to succeed in America. Ramsay has a more diverse cuisine experience. He has studied many European cuisines and American food. His creativity in menu and recipe creation and attention to detail on multiple business levels have earned him double digits of Michelin stars. Flay can cook under the most stressful of conditions and has experience running a chain restaurant. He's focused more on the TV show aspects rather than fine dining.
Frequently Asked Questions
If you had a few questions arise while reading this article, read on and learn a few important terms of the culinary world and Europe.
What does OBE stand for?
OBE stands for Officer of the Order of the British Empire. It is one of two levels of knighthood in the British realm. The other, Member of the British Empire, or MBE, requires the individual to be addressed as Sir if male or Dame if female.
What is a Michelin star?
The publication, the Michelin Guide, visits hotels and restaurants to experience them firsthand, then ranks them. An establishment can earn up to three stars. The guide began as a value-added marketing tool for tire manufacturer Michelin, so, yes, the Michelin Man provides you with restaurant advice in a way.
What is a Certified Master Chef?
Currently, there are 67 living Certified Master Chefs in the world. Think of it as a master's degree in the culinary arts. All chefs earn an initial degree, typically in culinary arts or hotel management. A chef earns their CMC status by completing a program and testing offered by the American Culinary Federation. To qualify to take the exam, the candidates must already have advanced levels of education and experience. The CMC exam requires eight days of testing that covers a multitude of cuisines, cooking methods, and styles. Six of the CMC teach at the Master Chefs' Institute.
Where Can You Buy Ramsay's and Flay's Books and Videos?
You can pretty much do one-stop shopping for the products of both of these chefs at Amazon.com. You can also shop your local bookstores for their books. Most of the seasons of their respective cooking shows have come out on video, so you can purchase DVDs or digital files from Amazon. You can also find these products at eBay, Walmart, and Target.
References:
Mashed: People Who Can't Stand Bobby Flay
TV Overmind: Why Masaharu Morimoto said Bobby Flay isn't a Real Chef
Master Chefs Institute: What Is A Certified Master Chef?
IMDb: Bobby Flay
LetStyle: Gordon Ramsey vs. Bobby Flay – who is the better chef
People.com: Bobby Flay Explains Why He Quit Iron Chef During Filming—and Why Food Network Was 'Not Thrilled'
The New York Times: Bobby Flay Will Close Bar Americain in Midtown
Rachael Ray Show: Bobby Flay
Insider: 17 things you probably didn't know about Bobby Flay
Amazon: Bobby Flay
Mashed: What These Celebrity Chefs Looked Like Before The Fame
Mirror: Inside Gordon Ramsay's £7m London mansion as he plans wine room in huge renovation
TheNetline: The untold truth of Gordon Ramsay's wife, Tana Ramsay
Britannica: Gordon Ramsay
Biography: Gordon Ramsay
Gordon Ramsay: About Gordon
Twitter: Gordon Ramsay
Instagram: Gordon Ramsay
Gordon Ramsay Restaurants: Gordon Ramsay Restaurants
The Sun: WHAT AN HONOUR What is an OBE and what does it stand for?
Daily Record: Gordon Ramsay on Cocaine: 'It's not glamorous, I lost my best mate to it'
Amazon: Gordon Ramsay Cookbook