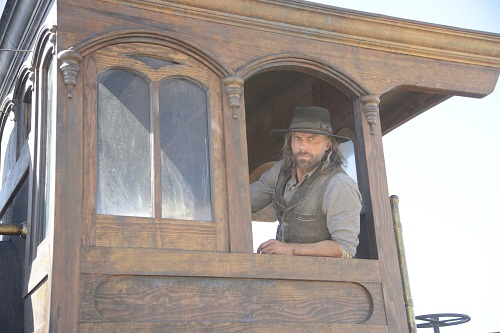 Hell on Wheels, Ep. 2.09 and 2.10, "Blood Moon", "Blood Moon Rising": True selves and bloody goodbyes
Hell on Wheels, Season 2, Episode 9: "Blood Moon"
Written by Mark Richard and Jami O'Brien
Directed by Terry McDonough
Hell on Wheels, Season 2, Episode 10: "Blood Moon Rising"
Written by John Shiban
Directed by John Shiban
Airs Sundays at 9 pm (ET) on AMC
After a season full of massive character development, dirt, and an on coming storm, Hell on Wheels comes to a head with a two hour season finale that is nothing short of a blood bath.
Beginning with the town in carnage, most of the buildings burned to the ground. "We're just trying to understand what happened here", a railroad official tells a haggard Cullen. "The White Spirit," Cullen (Anson Mount) responds. Most of the episode is told in flashback, recounted by Cullen to the men from the railroad company.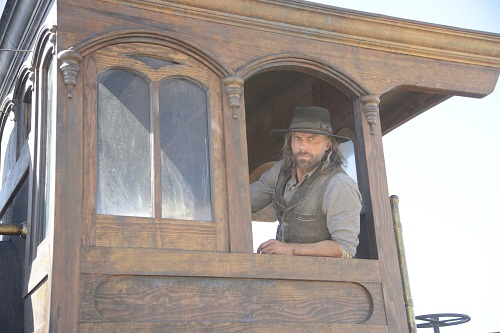 With Lily's (Dominique McEllitgott) theft of the railroad records and plan to have Durant (Colm Meany) and Hannah (Virginia Madsen) arrested, Durant commissioning Lily's murder, and Mr. Toole's suicide in front of his wife, this episode serves as a reminder that every single Hell on Wheels character is cold, cold, cold. Cullen might be looking for his "true self" at the beginning of the episode, but every character seems to be running from what they really are.
One of the best scenes of the night goes to the first images of the train traveling across the bridge that many of the characters have been striving to build all season. It's a daunting scene that's theatrically shot and very impressive. The first hour is filled with interesting shots, like Cullen's solitary boots stomping across the railway; the wrenching scene between Elam (Common) and Eva (Robin McLeavy) is also a standout.
"Suffering builds character", The Swede (Christopher Heyerdahl) warns Durant as the town prepares for the impending attack by the Sioux. The haunting image of The Swede skipping through the burning town is eerie and sure to be a memorable one as the show carries on. The entire season has been building towards a bloody and burnt ending. The most stunning moment, however, comes at the end of the episode as the Swede murders Lily.
While I was never a particular fan of Lily, I was intrigued by what her relationship with Cullen did to him. For a character who's spent two seasons as a vicious and cold revenge-fueled man, his admission to Lily that all he has left is his job and her at the beginning of the episode is startling and interesting for him. Even though it came too late, the writers managed to sway me towards a Cullen and Lily relationship that's never going to happen.
Mount's stunning performance as Cullen finds Lily's body is painful and spectacular. In an instant you see a multitude of emotions pass across his face: shock, anger, guilt, pain, determination, and white hot rage. "Bohannon only thrives on narrow escapes from his own recklessness", Durant tells Hannah. And as Cullen finds Lily's body you understand his obvious regret. He continued his war with the Swede and Lily paid the price. Cullen has now found the bodies of two women that he's loved and the only thing he has left is a job he wasn't even sure he wanted.
While "Blood Moon" has moments of quiet contemplation, its follow up "Blood Moon Rising" is brutally violent, compelling, and painfully intense. The attack scenes are wonderfully directed and thought out. As the Sioux cross into the camp, we see for the first time what that bridge really is. Rather than the gateway into something bigger and better it's supposed to be, it's a door for all the bad to come through.
"It's the nature of this place. It always makes you do things that can't be undone", Mickey (Phil Burke) says at Mr. Toole's funeral. This season Hell on Wheels came into its own, arriving at an extraordinary conclusion. While there were some bumps along the way, the season finale proves that Hell on Wheels isn't a show to be dismissed.
Tressa Eckermann