Riffing on Terek Puckett's terrific list of director/actor collaborations, I wanted to look at some of those equally impressive leading ladies who served as muses for their directors. I strived to look for collaborations that may not have been as obviously canonical, but whose effects on cinema were no less compelling. Categorizing a film's lead is potentially tricky, but one of the criteria I always use is Anthony Hopkins's performance in Silence of the Lambs, a film in which he is considered a lead but appears only briefly; his character is an integral part of the story.
The criteria for this article is as follows: The director & actor team must have worked together at least 3 times with the actor in a major role in each feature film, resulting in a minimum of 2 must-see films.
One of the primary trends for the frequency of collaboration is the sheer rate at which some of these directors worked. Many, like Altman, Ozu, Fassbinder, Bergman, Almodóvar, etc, made 1-2 films a year during long stretches of their career. Sometimes, the director came across an actor who perfectly manifested his (only male directors are listed here, unfortunately) style or thematic constructions, such as Ozu with Setsuko Hara or Cassavetes and Gena Rowlands. Often, there was a particularly productive decade, such as Altman with Shelley Duvall or Almodóvar with Carmen Maura. Romantic involvements were common, as with Bergman and Liv Ullmann or Rossellini and Ingrid Bergman. Other times the director and actor worked less frequently, such as Chabrol with Isabelle Huppert or Joel and Ethan Coen with Frances McDormand, but their collaborations were no less dynamic.
This isn't meant as an all-encompassing list of every collaboration that would fit within the parameters. The goal was to highlight some pairings that may have gone under the radar at the time, or ones that are particularly emblematic of a particular cinematic period or ethos. Some of the more famous collaborations, like Katharine Hepburn/George Cukor, Josef von Sternberg/Marlene Dietrich, and Bette Davis/William Wyler have already been celebrated plenty in their time.
****
Robert Altman/Shelley Duvall
Must See Collaborations: Thieves Like Us (1974), 3 Women (1977), Popeye (1980)
Other Collaborations: McCabe and Mrs. Miller (1971), Brewster McCloud (1970), Nashville (1975), Buffalo Bill and the Indians (1976)
Few directors so perfectly epitomize a decade as Altman does with the American 70s. MASH (1970), his breakout film about the Korean War but really about Vietnam, ushered onto the screen perhaps the slyest depiction of the growing American discontent in Vietnam. That same year his seldom-referenced, but no less awesome, Brewster McCloud (1970) saw him team for the first time with wide eyed newcomer Shelley Duvall.
Over the next decade the two made seven films together, three of which saw Duvall play the lead. Her iconic performance as Olive Oil to Robin Williams's Popeye is arguably one of the best casting choices in history. Playing Millie Lammoreaux in Altman's 3 Women (1977), the director's first foray into more experimental territory, Duvall got the chance to use her celebrated quirk for a more dramatic effect. The result is a terrifically dense yet incredibly watchable film (similar to Bergman's Persona) that foreshadowed Duvall's turn in Kubrick's The Shining and Altman's criminally underseen Come Back to the Five and Dime, Jimmy Dean, Jimmy Dean.
Yasujiro Ozu/Setsuko Hara
Must See Collaborations: Late Spring (1949), Early Summer (1951), Tokyo Story (1953)
Other collaborations: Tokyo Twilight (1957), Late Autumn (1960), The End of Summer (1961)
By the time Japanese master Yasujiro Ozu teamed up with Setsuko Hara in 1949, the director had already made more than 20 feature films and Hara had worked with Akira Kurosawa. The pairing marked a particularly significant turning point in Ozu's career, as the rest of his output focused almost exclusively on shomengeki stories, or Japanese slice-of-life narratives involving ordinary people and their lives. The insightful family dramas they made together are what later garnered attention for Ozu in the West.
Tokyo Story is rightly placed among cinema's greatest achievements, in large part because of Hara's portrayal of Noriko, a post-war widow struggling to keep her footing as a single woman, but it's Late Spring that perfectly showcases the harmony between Ozu's commentary on marriage and society and Hara's ability to be at once funny and heartbreaking. Her portrayals of the unrelated Noriko characters in the loose trilogy Late Spring/Early Summer/Tokyo Story solidified Hara as Japan's "Eternal Virgin," a nickname given her by an adoring public. After Ozu's final film, Hara gave up acting and has lived a quiet life outside the public eye.
Ingmar Bergman/Liv Ullmann
Must See Collaborations: Persona (1966), Scenes from a Marriage (1973), Autumn Sonata (1978)
Other Collaborations: Shame (1968), Hour of the Wolf (1968), The Passion of Anna (1969), Cries and Whispers (1972), The Serpent's Egg (1977)
Ingmar Bergman, among the world's most decorated and celebrated directors, owes a bit of his canonization to his primary leading lady, Liv Ullmann. By the time of their first collaboration in 1966 on Persona, Bergman had already firmly established himself with The Seventh Seal, The Virgin Spring and Wild Strawberries, among many others. Ullmann's presence coincided nicely with a slightly more experimental period for the director.
Like his other female leads Harriet Andersson and Bibi Andersson, Ullmann was, for a time, a romantic interest and "other woman" to one of Bergman's five wives. Their creative connection far outlasted the romantic, thankfully. And while the majority of their collaborations aren't among the director's most written about, including Shame, The Passion of Anna, The Serpent's Egg and Hour of the Wolf, all fantastic, Ullmann's performances in Persona and Scenes From a Marriage, especially, are among the cinema's very best.
Michelangelo Antonioni/Monica Vitti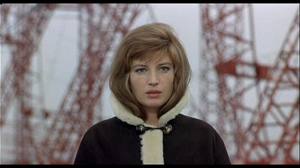 Must See Collaborations: L'avventura (1960), La Notte (1961), L'eclisse (1962), Red Desert (1964)
Other Collaborations: The Mystery of Oberwald (1980)
As in some other famed director/acting collaborations, Michelangelo Antonioni hit his artistic peak during the five year period during which he worked with his creative muse, Monica Vitti.
Strong and beautiful, Vitti, along with Sophia Loren, embodied the new Italian woman. Unlike the commercial success Loren experienced in her collaborations with Vittorio De Sica (including her Best Actress Oscar for Two Women), Antonioni and Vitti's films played more to an art house crowd. Beginning with L'avventura in 1960, the Italian director and actress made four films in five years, all part of a trilogy and, depending how you connect them, tetralogy. Continuing with La Notte and L'eclisse, and somewhat in Red Desert, Vitti played mysterious yet identifiably relevant feminine archetypes. Though her characters in the films are different, there is a thematic coherency between the works, primarily in the quandary of modern love so perfectly embodied through Vitti's performances.
Claude Chabrol/ Isabelle Huppert
Must See Collaborations: VioletteNozière (1978), Story of Women (1988), La Cérémonie (1995), Merci pour le chocolat (2000)
Other Collaborations:Madame Bovary (1991), The Swindle (1997), Comedy of Power (2006)
Isabelle Huppert can do anything exceedingly well, but she does nothing traditionally. Strikingly beautiful yet not commercially so, funny but not particularly comedic, Huppert is likely the world's most versatile and consistently great female actor, yet it takes a true directorial master to channel all of her innumerable talents into one contained package.
She found her match with Claude Chabrol, the comparatively unheralded (a contentious statement) French New Wave director who churned out quality yet not always commercially successful films for five decades. Chabrol's cinematic ennui perfectly suited Huppert's unquantifiable allure, notably in La Cérémonie, a film in which Huppert's character plays a free-spirited mail clerk/killer, and Story of Women, during which Huppert unsympathetically embodies Marie-Louise Giraud, a performer of illegal abortions and one of the last women in French history to be guillotined.
David Lynch/Laura Dern
Must See Collaborations: Blue Velvet (1986), Wild at Heart(1990), Inland Empire (2006)
Ushered into Hollywood through her famous acting parents Diane Ladd and Bruce Dern, Laura Dern graduated to the big leagues when, as a 19 year old, she teamed with David Lynch in 1986's now legendary Blue Velvet.
Dern's statuesque, classical beauty belied her aptness at cinematic grotesqueries, making a near perfect match with Lynch's interest in marrying the classical with the strange. Her portrayal in Blue Velvet of Sandy Williams, the wide-eyed wannabe investigator, set her up for the leading turn as Lula Fortune in Lynch's nightmarish take on the The Wizard of Oz, Wild at Heart. Continuing the narrative strangeness Lynch achieved in his dystopian Hollywood allegory Mulholland Drive, his next collaboration with Dern best showcases her immense acting abilities, in the dual role of Nikki Grace/Sue Blue in Inland Empire.
Pedro Almodóvar/Carmen Maura
Must See Collaborations: Dark Habits (1983), What Have I Done to Deserve This? (1984), Women on the Verge of a Nervous Breakdown (1988), Law of Desire (1987)
Other Collaborations:Pepi, Luci, Bom (1980), Matador (1986), Volver (2006)
The first, and arguably most interesting decade of Spanish auteur Pedro Almodóvar's career came during the fruitful 80s decade during which he paired almost exclusively with Carmen Maura.
Beginning with high camp and comedy, seguing into sexual transgression and melodrama, the 80s saw Almodóvar adopting and adapting the styles of the masters he most respected to create something completely unique. For her part, Maura served as the first of Pedro's muses, a position currently held by Penelope Cruz. The range Maura inhabits within her roles in Almodóvar's films is nothing short of astounding, going from camp to tragic heroine almost imperceptibly. The marriage of Maura's vast skill set with Almodóvar's unique female protagonists helped bring the director to international audiences and acclaim.
Woody Allen/Mia Farrow
Must See Collaborations: Broadway Danny Rose (1984), The Purple Rose of Cairo (1985), Hannah and Her Sisters (1986), Husbands and Wives (1992)
Other Collaborations: Zelig (1983), September (1987), Radio Days (1987), Another Woman (1988), Crimes and Misdemeanors (1989)
Among prolific director Woody Allen's legendary leading ladies, Mia Farrow is seldom referenced as the best; that award almost always goes to Diane Keaton. More often than not, people talk about Mira Sorvino's tour-de-force in Mighty Aphrodite, Penelope Cruz in Vicki Cristina Barcelona, or Dianne Wiest in Bullets Over Broadway or Hannah and Her Sisters, all great performances that led to Oscar wins. Yet Mia Farrow is by far the actress with whom he's worked the most.
Part of this conspicuous absence of dialogue is no doubt accredited to the very public, very inappropriate way the couple broke up in the early 90s. Still, Farrow brought her own unique brand of neurosis to Allen's roles, headlining some of his most underrated films such as The Purple Rose of Cairo and Broadway Danny Rose, and starring as the eponymous Hannah in arguably Allen's best film of the 80s. Farrow evinced a quiet confidence in letting her co-stars shine, a rare quality for a leading lady.
Rainer Werner Fassbinder/Hanna Schygulla
Must See Collaborations: The Bitter Tears of Petra von Kant (1972), Effi Briest (1974), The Marriage of Maria Braun (1979)
Other Collaborations: The Merchant of Four Seasons (1971), Beware of a Holy Whore (1971), Berlin Alexanderplatz (1980)
In the category of prolific filmmakers, it'd be hard to argue against the enfant terrible of New German Cinema, Rainer Werner Fassbinder (40 films in 17 years). One of the first (and still few) directors to unashamedly and directly address homo and transsexuality, Fassbinder, like most artistic geniuses, marched to his own beat and passed too soon.
Schygulla had worked with Fassbinder a number of times, including Beware of a Holy Whore, the director's freestyle film-about-film, The Bitter Tears of Petra von Kant, and most notably Effi Briest, Fassbinder's black-and-white adaptation of Fontane's 19th Century novel. But it was their collaboration on The Marriage of Maria Braun that broke Fassbinder out of the shackles of the arthouse, the film gaining international attention thanks to Schygulla's powerful performance.
John Cassavetes/Gena Rowlands
Must See Collaborations: Minnie and Moskowitz (1971), A Woman Under the Influence (1974), Opening Night (1977), Gloria (1980), Love Streams (1984)
Other Collaborations: A Child is Waiting (1963), Faces (1968)
Commonly and appropriately referred to as the godfather of American independent cinema, John Cassavetes basically invented the DIY approach, quite literally at one point early in his directorial career taking his films from theater to theater trying to get them booked.
And while all his films hold up immaculately well, the true revelation is in wife Gena Rowlands's insurmountable headline performances. The first film of his in which she starred, Minnie and Moskowitz, began a string of landmark acting with Gloria, Opening Night, Love Streams, and A Woman Under the Influence. Rowlands's performances always teeter on the verge of peril, the ultimate testament to the trust she put in her husband's impeccable writing and direction. Together they produced some of the most seamless manifestations of character in the history of cinema.
Jean Luc Godard/Anna Karina
Must See Collaborations: Le Petit Soldat (1960), A Woman is a Woman (1960), Vivre sa vie (1962), Band of Outsiders (1964), Pierre le fou (1965), Alphaville (1965)
Other Collaborations: Made in U.S.A. (1966)
If Godard is known for being the front-man of the French New Wave, then Anna Karina surely was the face of the cinematic revolution. After Godard's breakthrough Breathless, Karina starred in 7 of the director's films in as many years, most of which are considered Godard's best.
Among many things beautiful in Godard's fertile 60s period, Karina's childlike face provided the perfectly versatile canvas on which the director could play out his archetypal feminine fantasies. Perhaps most famous for the dancehall scene in Band of Outsiders, but it's Karina's performance in Vivre sa vie, notably the interplay between her audience of Dreyer's Joan of Arc, that perfectly articulates everything the actress provided to Godard's many talents.
Roberto Rossellini/Ingrid Bergman
Must See Collaborations: Stromboli (1950), Europa '51 (1952), Journey to Italy (1954), Fear (1954)
Other Collaborations: Joan of Arc at the Stake (1954)
One of the more interesting and undervalued director/actress collaborations came courtesy of the films between Hollywood superstar Ingrid Bergman and her comparatively unsuccessful husband Roberto Rossellini.
By the time she starred in Stromboli, the pair's first film together, Bergman had already won an Academy Award (for Gaslight) and been nominated two other times. For his part, Rossellini was considered the pioneer of the Italian neorealism movement, headlined by his films Rome, Open City and Germany, Year Zero. It was those films that caught Bergman's attention, leading to a marriage and fascinating artistic peak for the two artists. Equally fascinating is to consider that, upon release, none of their films were successful or well received. Time has fared kinder, as Stromboli and Journey to Italy, particularly, are now widely regarded as classics. The seldom screened but recently restored Fear is an incredible addition to the "Women's Film" genre of the period.
Nicolas Roeg/Theresa Russell
Must See Collaborations: Bad Timing (1980), Insignificance (1985)
Other Collaborations: Eureka (1983), Castaway (1986), Track 29 (1988), Cold Heaven (1991)
Among all the actors included, Theresa Russell is probably the least consistent in terms of quality. Her performances, at times, veer into unintended melodrama or caricature. And yet, in a few of the films she made with then-husband Nicolas Roeg she evinces an undeniably palpable energy and dynamism, however under-appreciated the films may be.
Starting with their first collaboration in 1980's deconstructionist psychosexual thriller Bad Timing, Russell embodied a complicated, sexually adventurous sort of tragic heroine. Insignificance, thanks to a recent Criterion release, has finally started to get the respect it deserves, the film a clear influence on Harmony Korine's interesting misfire Mister Lonely. An allegory on fame and celebrity, Insignificance features a tangled cosplay in which Russell, as a Marilyn Monroe type, has a tryst with an Albert Einstein type. Fascinating stuff.
Joel and Ethan Coen/Frances McDormand
Must See Collaborations: Blood Simple (1984), Fargo (1996), The Man Who Wasn't There (2001)
Other Collaborations: Raising Arizona (1987), Burn After Reading (2008)
Joel and Ethan Coen are known for their versatility and mastery of tone, the latter of which was particularly evident in their debut feature Blood Simple, a murder mystery par excellence. Since then the filmmaking brothers have riffed on a number of classic Hollywood genres, always updating with their postmodern disease.
Their first film is also notable for launching Frances McDormand's career, beginning a professional collaboration (she married Joel in 1984) that weaves in and out of each's filmography. Her Oscar winning turn in Fargo is undoubtedly the most recognized of her acclaimed career, but McDormand has lent her no-nonsense comedic timing to a number of their notable works, including The Man Who Wasn't There and Burn After Reading.
Louis Malle/Jeanne Moreau
Must See Collaborations: Elevator to the Gallows (1958), The Lovers (1958), Viva Maria! (1965)
Other Collaborations: The Fire Within (1963)
On Louis Malle's first narrative film, the snappy murder thriller Elevator to the Gallows, Jeanne Moreau stars as a woman planning to murder her husband. It put the two of them on the map, notably launching Moreau as the most versatile and talented of the French New Wave leading ladies. Their then controversial film The Lovers ignited an obscenity case that made its way to the US Supreme Court.
Throughout her career, Moreau starred in films from from just about every notable European director (as well as being married to a fairly famous American one, William Friedkin). Malle's films are hard to classify, as they came during the nouvelle vague but don't necessarily fall within the artistic confines of that movement per se; his style is more traditionalist. Moreau's appeal is similarly hard to qualify, but in Malle she seemed to find a director who understood the idiosyncratic nature of her appeal and gave her interesting vehicles in which to explore.
Derek Jarman/Tilda Swinton
Must See Collaborations: The Last of England (1987), War Requiem (1989), The Garden (1990)
Other Collaborations: Caravaggio (1986), Edward II (1991), Blue (1993)
I should be totally upfront that I've never seen a Derek Jarman film, which, for a gay cinephile, seems downright inexcusable. This collaboration popped up a number of times in my research, most notably as part of the reason the world has a Tilda Swinton to marvel at every day.
Knowing the endlessly fascinating nature of Swinton's post-Jarman output leads me to believe that Jarman, the earliest contributor to what was later deemed the New Queer Cinema, helped facilitate the actress' androgynous appeal. Together, the pair made a series of films that adapted classical works or historical events, frequently through a sexually frank lens and/or queer reading. Consider this included because it's the collaboration that most piqued my interest.
____________________________________________________________________
Other notable collaborations include: George Cukor/Katherine Hepburn, Bette Davis/William Wyler, Josef von Sternberg/Marlene Dietrich, Alfred Hitchcock/Grace Kelly, Vittorio de Sica/Sophia Loren, Carlos Saura/Geraldine Chaplin, and Mike Nichols/Meryl Streep.
Of collaborations that are still new, Lars von Trier's upcoming film Nymphomaniac will mark Charlotte Gainsbourg's third turn for the director, and still-new Argentinian filmmaker Matías Piñeiro has utilized the impressive María Villar in his first three features.
****
[wpchatai]