Cottage Country
Written by Jeremy Boxen
Directed by Peter Wellington
Canada, 2013
Are people experiencing any fatigue with the decades old 'cabin in the woods' horror routine wherein a small party of reasonably innocent individuals opt to spend some much desired vacation in a solitary cabin in the wilderness, only to be chased, mauled, haunted or possessed by the nebulous forces of evil? Evidently not given that so many such movies are still produced on a consistent basis, yet every now and then a creative team cracks the code to making one that feels genuinely different. 2012's Cabin in the Woods is one such film, and so is the Canadian made Cottage Country, from director Peter Wellington and screenwriter Jeremy Boxen.
Todd and Cammie (Tyler Labine and Malin Akerman respectively) are a couple very much in love who, through the personal reservation website created by Todd himself, have made plans to spend a few days at the the family cottage, a simple matter of escaping the humdrum and stress brought upon by work and city life. To their utmost surprise, Todd's lazy, unambitious pothead brother Salinger (Dan Petronijevic) and foreign, unintelligible girlfriend du jour Masha (Lucy Punch) have also arrived for the weekend. After receiving orders from Cammie to demand that the two uninvited guests depart as soon as possible, the brothers engage in a furious physical confrontation, the result of which will have a nightmarish impact on everyone's lives…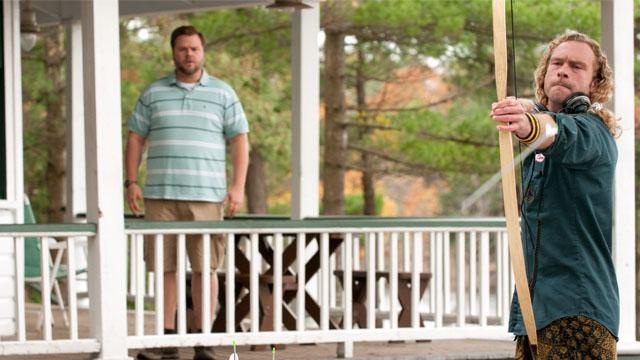 Writing about Cottage Country is a bit of a challenge considering that a major event occurs about 20 minutes into the film that changes the entire complexion of the story and the character dynamics between the four weekend getaway vacationers. For the purpose of not spoiling the fun for those lucky enough to catch the film in theatre or on video, important details shall be skipped over. Suffice to say that director Peter Wellington, his crew and entire cast have brilliantly collaborated to make one of the funniest, freshest horror comedies in recent memory, much like the aforementioned Joss Whedon picture.
The writing and acting in particular are of the highest order given the material, striking a cunning balance between comedy and the need to preserve a sense of fun and imminent danger as Todd and Cammie witness their world cave in on them quicker than they can concoct new ideas to put a bandaid on their rather grotesque problem. The crucial factor at play as the predicaments grow ever more psychologically taxing for poor Todd is that the movie never embraces mean spiritedness. Despite however much the reality of their situation is deadly serious and, frankly, demonstrates appalling moral judgement on the part of the protagonists, the film is consistently fun. It is a rare film that can explore as dark a theme as that featured in Cottage Country (morally questionable human behaviour in the face of tragedy) yet preserve a relatively light air in which the central figure, Todd, is genuinely relatable and earns the audience's empathy from beginning to end, proving that it is possible for a film to have its cake and eat it too.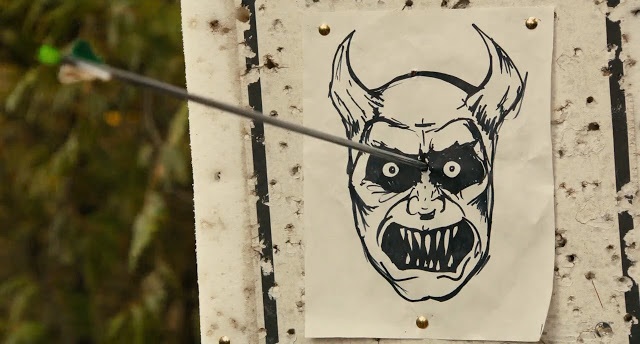 Speaking of Todd and the good feelings he produces amongst audience members, credit to actor Tyler Labine for his flawless performance as man who wants nothing else but to be happy with his stunningly beautiful girlfriend, then commits an egregious mistake, but due to his lack of any backbone allows the quagmire to worsen. Labine's comedic timing all the while injecting the character with the uncomfortable look of, as the saying goes, a deer caught in the headlights, is fantastic. Malin Akerman measures up to the task as Cammie, a woman so consumed by the desire of a happy marriage and motherhood ('34 years old!' as she barks to her subservient fiancé) that she proves to be the most villainous personality of the bunch. Dan Petronijevic and Lucy Punch are equally effective as a couple who embrace counter-culture aspirations with extraordinary vulgarity. Benjamin Ayres, as a pot smoking, sexually aroused Orthodox Jew, practically steals every scene he gets. Keeping plot points evasive, his character is smart, perceptive and cool, but too smart and cool for Cammie's liking.
As is always the case in films when characters attempt to cover up errors, things grow exponentially more harrowing and risky every step of the way, bringing Cottage Country to a highly entertaining and surprising conclusion. Director Wellington paces the the film exquisitely, never leaving the audience the time to figure out what might happen next, or just their breath after laughing. Cottage Country very well may be one of the year's best surprises.
-Edgar Chaput
–
The Fantasia Film Festival celebrates 15 years and runs from July 18th to August 7th, 2013. For a complete schedule of films, screening times, and ticket information, please visit the official website for the Fantasia Film Festival.