Now in its 11th year, the UK's premier horror, fantasy and extreme cinema festival is once again destined to bring terror and carnage to London's West End, the Film4 sponsored Frightfest which runs for five days over the August Bank Holiday weekend at the Empire cinema looks certain to showcase the very best in genre cinema from around the world, with strong looking entries from Japan, Mexico, Serbia, South Korea, Italy, Australia and of course the UK being revealed in this years ravenous programme. Frightfest is renown for breaking a number of genre favourites over recent years, since its inauguration in 2000 the festival has secured World or European premieres to a number of genre classics – Let The Right One In, Martyrs, Wolf Creek, Ginger Snaps – as it is for it's degenerate patrons cheering on and revelling in the gruesome on-screen activities. After last years special guest John Landis arrived to present a new print of An American Werewolf In London this year the baton passes to fellow legend Tobe Hooper who brings two surprises with him, a new print of the savagely influential The Texas Chainsaw Massacre and an ultra rare screening of his phantasmagorical-sounding debut Eggshells, a project long thought lost which receives its UK premiere on the Saturday, with an interview session for follow both screenings.
With a total of 35 films screening over the gore drenched extravaganza there will be inevitably be something for everyone but here are Sound On Sight's most anticipated nightmares for 2010;
Hatchet 2 – This year's opening film is the inevitable sequel to 2006's Hatchet, which itself debuted at Frightfest. This maniacal sequel takes on a revenge motif as Marybeth returns to the seek a bloody revenge on the phantom that dispatched her family in the Louisiana swamps. This potentially crowd-pleasing romp seems like the ideal opening to festivities, the appearance of genre stalwarts Tony Todd and Kane Hodder should also keep the fan-boys happy.
–
Eggshells – A freshly spruced print of genre legend Tobe Hopper's inaugural effort might not be for completists only – this intriguing-sounding counter-culture blast from the Age of Aquarius brings the likes of the Monkees Head or little known Mondo Hollywood to mind. A potential respite from the blitzkrieg to follow and a must-see for fans of obscure curios.
–Alien Versus Ninja – In the tradition of Tokyo Gore Police comes this splattery piece of Japanese carnage, the title summarises the film's goofy trajectory as yes, well, some aliens attack some ninjas in feudal Japan. What more do you want?
The Clinic – If Beatrice Dalle getting all maternal in the notorious L'Interieur a few years back then made you squirm then this might not be for you. In a particularly mean-spirited sounding slice of ozploitation, a pregnant woman on a road trip with her fiancé is kidnapped and awakes in an abandoned abattoir only to find her baby has been surgically removed – and that's just the start of her troubles. Set in 1979 to eliminate the obstacles of DNA testing, genetic profiling or, I suspect, the saviour of mobile phones, this could be an engaging slice of matriarchal mayhem.
I Spit On Your Grave -A remake of one of the most notorious terrors of the video nasty era. One hopes it will avoid the blunders of last year's The Last House On The Left reimagining as a wronged woman wrecks a terrible revenge on her torturers and rapists.
The Dead – The only zombie movie of the festival has generated significant buzz from its screening at this year's Cannes festival. The Ford brothers are taking the mini-genre back to its roots in this odyssey of a military man fighting across the African savannah to reach his family. His lethal struggle unfolds against the backdrop of a global virus that resurrects the dead. Some terrific headshots, apparently….
We Are What We Are – Fresh from the Directors' Fortnight at Cannes comes something a little different, a film that is being touted as the Mexican Let The Right One due to its crossover potential, it's a charming, some would say heart-warming (potentially quite literally) tale of family ties and obligations amongst a family of cannibals whose sustenance is placed in jeopardy when the elder of the clan unexpectedly dies – who will be braze enough to step into the vacant hunter's shoes?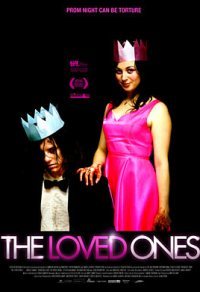 The Loved Ones – Already a festival hit at the Toronto International Film Fest's Midnight Madness section, this Australian film melds Pretty In Pink with Misery. A deranged girl and her insane (but loyal) father kidnap the school hunk to re-enact the school prom for her after her amorous advances are rejected
A Serbian Film – Every year seems to produce a immensely controversial movie that laughs in the face of moral responsibility and this year the prize goes to A Serbian Film. A retired porn star finds himself financially ruined and hesitantly accepts an offer to appear in a film project, a lunatic director is attempting to make the ultimate comment on the sex industry – and it seems that not all the bodily fluids being spilled will be translucent. When a film comes with a health warning to the jaded Frightfest gorehound crowd, you know this could be quite a ruthless experience.
The Last Exorcism – The festival closes with some satanic shenanigans couched in the verite, fly on the wall format as a con-man preacher seeks to make amends for his wicked ways. Cotton Marcus is collaborating on a documentary that exposes the frauds and tricks of his trade when he is enlisted to aid a desperate family expel the evil from their land. Their daughter Nell has been infected with a malevolent spirit and soon Marcus finds himself locked in a desperate bid to save his ward and his own immortal spirit.
Special mentions go to the Lucas-baiting Fanboys, the Argento and Bava inspired homage Amer which has already dazzled crowds at Glasgow's Frightfest earlier in the year and the intriguing sounding documentary Video Nasties: Moral Panic, Censorship & Videotape which as the title implies focuses on the Eighties VHS controversy, its censorship struggles and subsequent impact and legacy on genre film-making.
– John McEntee
[wpchatai]