When it came to devising a list of what I felt were the top ten Television shows of 2012 I contemplated sticking with the theme of "Hey You Geeks!!" and centering the list solely on the best sci-fi and nerd related shows on TV. I generally group "Geek TV" into a segment of shows exclusively featuring a sci-fi, comic book, fantasy or horror spin. Unfortunately, that does an injustice to both the term Geek and the medium of Television. Geeks are not held to one or few specific genres and the geek classification can be attached to literally anything if someone is enthusiastic or expertly dedicated to that particular thing. Not to mention, a lot of the sci-fi, horror and comic shows on TV tend to be terrible.
Sure, there are Walking Dead geeks who create memes after each episode and debate every zombie kill and change from the comics. But then there are also Greys Anatomy or Parenthood geeks as well. Whenever those shows air, my Twitter feed lights up with viewers emoting tearful or annoyed spoilers to an emotionally invested fan-base. That's why, for my Best TV of 2012 list as well as the Best Films of 2012 list I'll post in a couple weeks, I refuse to be genre specific. I geek out over lots of things, not just sci-fi and comic books, and although those genres are the general focus of "Hey You Geeks!!," the end of the year is a time to celebrate every facet of geek-kind.
Here are my picks for 2012's ten best shows on Television. Beware. If you have yet to watch the current seasons of these shows, there will be spoilers ahead…
10) Fringe – In its final season, Fringe remains the best science fiction series on television and one of few big network shows bold enough to do something different. Last weeks episode with Walter's wondrous LSD trip was incredible. Not afraid of reinvention, the latest season has propelled the Fringe universe years into the future to a dystopian world full of time manipulating half-humans. Perhaps best of all, and rare among the multitude of cancelled network shows, Fringe gets to enjoy its final season by ending its run with an actual showrunner conceived conclusion.
9) Treme – David Simon's Treme is a much more light-hearted affair than his magnum opus The Wire. Through long musical interludes with New Orleans greatest musicians and flowing vignettes of post-Katrina life in all its hardship and tradition, Treme manages to beat with more heart than any other series on television. Season three was no different, focusing on the corrupt housing reconstruction and beyond corrupt police force with bridging musical moments from Professor Longhair, John Boutte and countless others. Outside of the music, my favorite parts of the series are the restaurant scenes featuring guest chefs from David Chang to Emeril, and all written by Anthony Bourdain. Everyone in this elongated ensemble is brilliant, and I look forward to the short and final fourth season HBO has granted Simon for 2013.
8) The Walking Dead – Part one of season three finally brought us into the prison and delivered the most violent and dark season yet. The subplot of Woodbury and the Governor connecting through Merle and Michonne has been expertly built around turn by turn betrayals and escalating violence. The most striking and gut-wrenching scene of the season was Carl shooting Lori. I think I stared at my TV in shock for a half-hour after that episode ended. All I can ask for the upcoming second half of season three is please don't kill Darryl.
7) Game of Thrones – Season two of Thrones was really good, but far from the greatness of season one. That is, until the second to last episode; the action packed epic scale Battle of Blackwater. Started with the napalm-like wildfire taking down a harbor full of ships, the episode escalated into Tyrion's brave charge towards what looked like his inevitable end. There were other memorable high points throughout the season as well, from crafty assassin Jaqen H'ghar to Crastor's incestuous Wildling nest of son sacrificing horror. That last shot of the last episode though, the one with the zombie-like walkers moving towards the wall, gives me high hopes for April's season three premiere. Winter is here.
6) Louie – Funniest show on TV? Yes. But the greatest thing Louie has going for it is Louis C.K.'s fearless ability to shed comedy for often rich, vulnerable moments of reality. For every funny moment in Louie there are equal measures of somber. In season three, Robin Williams guest starred in a brilliant and serious role as a friend of a friend who mourns that friends passing with Louie in what becomes a celebration of indignity. Melissa Leo guest starred as the aggressive fellator who believes fervently in reciprocation. Parker Posey guest starred across the season as Louie's slightly crazed, freewheeling fling. And then came the three episode arc with Louie being schooled in the business of late-night talk shows by a deadpan and Twin Peaks level bizarre David Lynch.
5) Homeland – Season two wasn't as restrained as season one, but Homeland remains one of the most thrilling shows on television. Claire Danes stuns in every scene with a portrayal that compels by juxtaposing unstrung insecurity in one of the most calculated security agencies in the world. It's a gripping irony. Her tense and complicated relationship with Brody, his capture and the killing of Abu Nazir have led to a conundrum of loyalty with the highest of stakes. As Carrie covers up Brody's murder of the Vice President, Homeland is primed to enter its third season with even greater complications.
4) Mad Men – It was so nice to have Mad Men back after its long hiatus, and season five was one of the shows strongest to date. I firmly believe that Mad Men is the best written show on television. Blending subtle hints of the cultural shift of the mid-1960's brought race relations, gender indifference and LSD to Sterling Cooper Draper Pryce. Highlights from this great season include Megan's mod-rendition of "Zou Bisou Bisou," Roger's LSD trip, Harry's Hare Krishna encounter, Lane's cowardly end, the whoring out of Joan, depressed "fat Betty," and a Bond like Don Draper ending the season with a drink.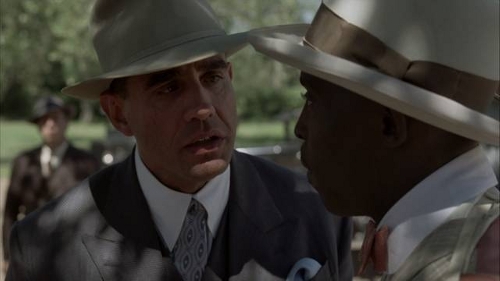 3) Boardwalk Empire – The most energetic, dark and amazing season yet, season three delivered the gangster epic I'd hoped for since Boardwalk first began. The always loyal Richard Harrow, played perfectly restrained by the great Jack Huston remains the most compelling character on the show. This season introduced a new, equally compelling character to the mix, the villainous, simple-minded and ultra-violent gangster Gyp Rosetti. Rosetti is played with sheer ferocity by Bobby Cannavale who deserves at least a nomination for the Best Supporting Actor Emmy. For once, Kelly Macdonald's Margaret Schroeder didn't bore me. Quite the opposite. Her hidden relationship with Mr. Slater had me rooting for her all the way to his shocking end.
2) Hatfield's and McCoy's – This was my biggest surprise of 2012, and from The History Channel of all places. A three part mini-series about one of the deadliest family rivalries in history, Hatfield's and McCoy's ended up being the best acted, most continuously exciting shows on TV. Starring Bill Paxton and Kevin Costner, this tale of feuding clans on the border of West Virginia and Kentucky also turned out to be the greatest Western I've seen since the Coen's True Grit. If you missed this or passed it over with little thought, I urge you to seek it out now.
1) Breaking Bad – The greatest show on TV for the past five years. What more can I say that hasn't already been said. Instead, here are the highlights from season five. If you haven't seen any of Breaking Bad yet, maybe these vignettes will spark your curiosity enough to get off your ass, on your ass actually, and watch. The junkyard magnet evidence heist. Vamonos Pest. Mike's riverside retreat. The methylamine train heist. The young casualty of said heist (still shakes me). Skylar's cancerous waiting game and dip in the pool. And finally, leading to the final season, Hank's discovery of the WW initials in 'Leaves of Grass.'
Honorable Mention: The exciting and high stakes action on the somewhat far-fetched, always entertaining Last Resort which was sadly cancelled by ABC.
-Tony Nunes
Chat Box - Go ahead, make my day and ask me questions about movies and TV shows...