With a litany of on-demand services such as Netflix and Disney+, streaming has never been hotter in today's digital era. Moreover, there's a barrage of live TV streaming services ranging from AT&T TV Now, YouTube TV, and ESPN Plus, to Sling TV, all in a bid to monetize on the cord-cutting phenomenon. Throw in broadcasts, and there's no better time to kick cable to the curb.
Nonetheless, not everyone is built to be a 'cord-cutter.' Ditching satellite or cable and the bills they usher in sounds like a dream come true theoretically, but it's not something that you want to jump right into without conducting your due diligence.
As with most things, there's a way to go about cord-cutting that sends you right back to your cable company eating humble pie, and then there's an ideal way that will spark a smile. Well, we prefer the latter. So, read on to learn about how to get the package from the array of Internet TV providers and a few of our top picks.
Best Internet TV Providers
Here's a breakdown of the streaming power-players that you want to keep your sights on.
Hulu + Live TV
For a monthly subscription of $55, coupled with the standard on-demand Hulu experience, you get about 55 live cable channels. Depending on your locality, you also get a local network lineup that's almost complete.
It all sounds hunky-dory until you realize all-time favorites such as Nickelodeon, AMC, Discovery, Comedy Central, Animal Planet, and VH1 are missing. And, other Internet TV providers lack these channels. So, we recommend subscribing to Philo for $20 per month to make up the difference.
Sports fans are on cloud nine with channels such as TNT, ESPN2, TBS, ESPN, FS2, NBC Sports Network, and FS1 right at their disposal. Nonetheless, pro sports networks ranging from NFL, MLB, NHL, and NBA are amiss. Hulu + Live TV is available on Nintendo Switch, Android TV, Xbox, Amazon Fire TV, Google Chrome Cast, Roku, and Apple TV.
Sling TV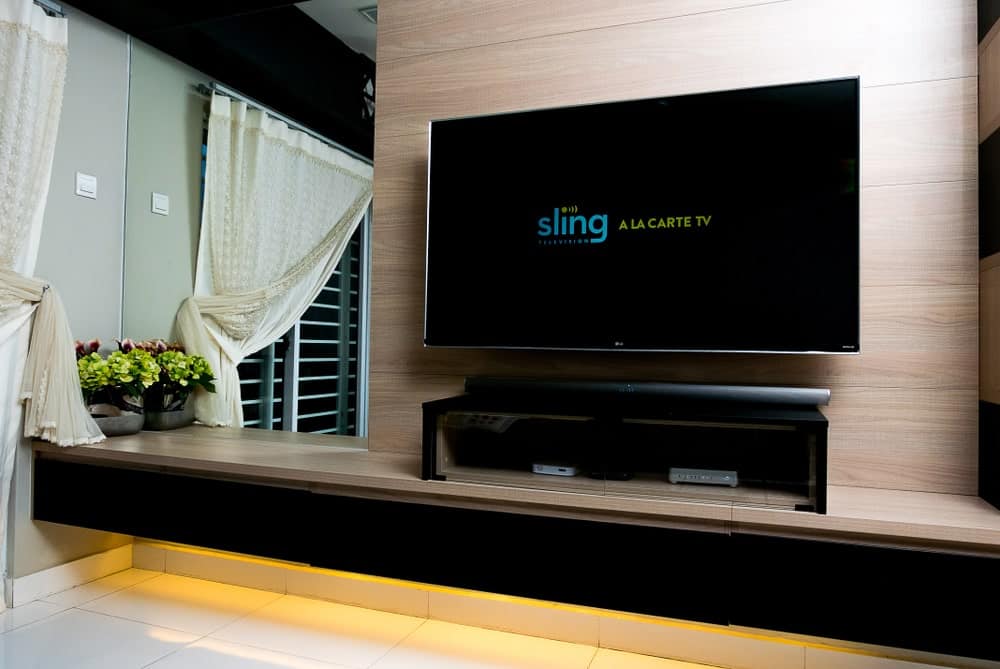 It's strikingly similar to Hulu + Live TV when it comes to channel options and its user-friendly interface. While it's customizable with various add-on packages, Sling is cheaper.
The Sling Blue (40 channels for $30 per month) and Sling Orange (30 channels for $30 per month) package are ideal for casual TV watchers. But avid viewers will want a combination of both packages (Orange & Blue) that has 50 channels at a monthly subscription of $45.
As Sling's complete package, Orange & Blue packs a smattering of college and regional sports channels, with the option to add NFL Red Zone, NBA TV, and NHL for an extra $10 per month. But, be careful because these extras can nickel and dime users to death.
For instance, you'll need to pay an additional $5 every month for every add-on channel such as Paramount Network and MTV.
Sling TV is compatible with Apple TV, Xiaomi, Air TV Player, Xbox, Amazon Fire TV, Roku, Android TV, and Google Chrome Cast.
Philo
If local and sports channels aren't your cup of tea, then Philo could be the budget live streaming answer for you. It offers one package of 58 channels for a monthly subscription of $20.
You'll find HGTV, Discovery, BBC America, AMC, Comedy Central, Hallmark, AMC, Food Network, and A&E, to mention a few. You may recognize some of these as the renowned channels amiss from other Internet TV providers.
The lack of local or sports channels majorly contributes to Philo's low monthly subscription rate. Moreover, it's not as customizable as its competitors when it comes to overall presentation coupled with channel grids.
Furthermore, Philo's cloud DVR is only unlimited for 30 days. But, a pocket-friendly cost of $20 per month, there's plenty to love about this provider. It carries AXS TV that's soaring in popularity as the go-to for professional wrestling. Philo is compatible with Roku, Amazon Fire TV, Apple TV, and Android TV.
YouTube TV
It's the company's live streaming service that's the perfect 'cocktail' of amazing sports and entertainment channels and the most familiar interface across the globe.
YouTube TV only has one package; a $64.99 monthly subscription that provides entire lineups in more than 100 markets along with on-demand capability in the absence of certain networks.
Sports fans will be grinning from ear-to-ear upon discovering that sports channels such as TBS, NBC, ESPN, FS2, ESPN2, FS1, NBA TV, MLB Network, and TNT. While this is solid coverage, YouTube TV lacks in entertainment options such as Hallmark, A&E, and Lifetime.
Nonetheless, the upside to this Internet TV provider is that it provides limitless cloud DVR storage that stores recorded shows for up to 9 months.
Moreover, YouTube TV's search function is one of the best in live streaming TV courtesy of its excellent Google integration. So, all hail the Google overlords! It's accessible on Android TV, Xbox, Apple TV, Roku, Amazon Fire TV, and Google Chrome Cast.
AT&T TV NOW
It's a live channel guide that's strikingly similar to its DIRECTV satellite counterpart. And, more importantly, most of the on-demand channels and movies you'd expect are included. AT&T TV NOW doesn't give users the best bang for their bucks on its budget packages. Let's face it.
Most couch potatoes will want to get their hands on the MAX package that comes with a monthly subscription of $80 for 60 channels, including HBO.
On the flip side, the interface is somewhat clunky with herky-jerky scrolling and latency problems that you won't face with DIRECTV seamless satellite menus.
While AT&T TV NOW is far from a bargain, if your goal is to ditch the satellite dish and sidestep contracts then, it's a hassle-free gateway into the world of 24/7 TV streaming. And, it's available on Android TV, Google Chrome Cast, Amazon Fire TV, and Apple TV.
Disney+
It's a long-awaited Internet TV provider that debuted in November 2019. Disney+ dropped a handful of new originals such as Star Wars: Adjacent Mandalorian and an abundance of legacy movies and TV shows from the Marvel and Disney vaults.
Factoring in the sheer volume of available content, a multitude of people expected Disney+ to significantly pricier than other Internet TV providers such as Prime Video and Netflix.
But, this couldn't be further from the truth because Disney+ costs $6.99 per month, making it one of the inexpensive options. The low price tag, kid-friendly aura, and up to 4 multi-streams have made it the go-to for families. It's impossible to argue with 10 million subscribers after the 1st month of its debut.
Apple TV+
A week before Disney+ took the world by storm Apple TV+ came out of the woodworks with more subdued hype and little grasp of what it entailed. Would it stream any of the all-time favorites? Would it be pricey? Would it be compatible with non-Apple devices? People had a plethora of questions racing through their minds.
The answers to these sought-after questions are: Apple TV+ is only packed with new content such as The Morning Show.
Users shouldn't expect previously-released movies and shows. Secondly, the monthly subscription of $4.99 is pocket-friendly. Thirdly, it's compatible with most non-Apple streaming devices. Apple TV+'s image and functionality is nothing short of stellar just as expected from Apple products.
Nonetheless, taking the all-original route implies that there are slightly more than 12 in-house series and movies to take your pick from on Apple TV+.
Netflix
You're not only familiar with it but also probably have it. Streaming guru Netflix has evolved to become a relentless powerhouse of programming and curated outside favorites.
Prime Video
It offers live streaming on certain NFL and NBA games, including Thursday Night Football, but for the most part, it's one of the on-demand services.
Nevertheless, if you gravitate more towards on-demand movies to pair with your Amazon Prime free shipping, then Prime Video is unbeatable.
You'll stumble upon more than 18,000 movies that are incomparable to the 4500 movies available on Netflix. And, most of them are stream-free with Prime subscription.
CBS All Access
Along with streaming exclusives ranging from Why Women Kill and Star Trek (Discovery) to The Good Fight, CBS All Access has a vast assortment of originals and affiliates. So, that implies live access, hence the name.
From CBS Sports and News to programming like Young Sheldon, Survivor, and NCIS, this Internet TV provider has it all.
HBO NOW
Just like CBS All Access, HBO NOW provides live streams of its TV programming. It's an on-demand service that's rich in blockbuster movies and original content.
Furthermore, there's no waiting time for the originals as shows such as Succession and West World are accessible for streaming simultaneously on HBO NOW and appear on satellite or cable.
Best of all, users don't need satellite or cable subscriptions to delight in this Internet TV provider.
Key Considerations
Internet TV providers may have as many as more than 10 packages available, simultaneously. In turn, this can have you scratching your head wondering what you need and how to get the best deal on it. So, to steer you in the right direction, consider the following tips.
Know Your Numbers
It's essential to have hard facts to lay on the table when you reach out to your provider. Inquire about the best package for new customers in your respective jurisdiction to avoid wasting your breath low-balling.
Consult the Right Department
A myriad of Internet TV providers outsources their regular customer support operations. If you reach out to the cancellations department right off the bat, you stand a better chance of speaking with a representative who has access to a better package for you.
With more providers penetrating the industry, competition is stiff, which means you have a leverage to negotiate a lower rate that works best for you.
Be Polite
Trying to get the best package means heeding the adage, 'you catch more flies with flies than vinegar.' So, regardless of how irked you are by the bills that repeatedly creep every month, fight the temptation to become confrontational. Politeness goes a long way. So, ask nicely, and you just might receive what you want.
Take Notes
Don't take the verbal promises of a representative and run with it. Jot down the precise terms of the package you were offered coupled with the rep's name. Then, call back before your next statement comes out and ensure what you're charged tallies with what you were told.
The Highest Deal Doesn't Always Imply the Best
The best packages being promoted by an Internet TV provider are not usually the most pocket-friendly. These top-of-the-list options usually fall in the $100 per month bracket and only factor in a small number of television channels coupled with moderate internet speeds. It's essential to keep your eyes peeled for all the available combos to ensure you're getting what you need within your budget.
Furthermore, consider any service costs that a provider may throw at you. Nonetheless, some companies factor in service charges, such as activation costs within their promotional pricing.
So, if you don't find a package that best fits your needs and expectations on the company's site, you can reach out to a customer support agent to double-check if there's anything else they can put together for you. If you're on the quest for flexibility, DIRECTV is a great option to consider.
Be Wary Of Long-Term Commitments
Once you get up into the higher tiers that come with superior download speeds coupled with premium channels, you could be tied down to a 2-3 year agreement to get an appealing discount rate. There are no qualms if you're certain you'll stick with the given Internet TV provider. But, if you'd prefer having free rein to shop around for a sweeter deal, then it's best to avoid the commitment of contract, particularly when it comes with significant termination charges that can run into hundreds of dollars.
Be Keen On the Add-ons
It might seem like a great idea to sign up for the 1st offer that catches your eye because it has the download speeds and channels you want. But, ensure you take the time to read and understand the fine print because, as they say, the devil is in the details. And, the last thing you need is unwarranted surprises down the road.
For instance, a barrage of Internet TV providers is jumping right into the streaming world along with conventional services. So, if you want access to shows and movies while on the move using your tablet or smartphone, you'll want a package that includes this feature.
Keeping that in mind, there are positive extras and incentives to consider even though they're not cast in stone and are subject to change. An abundance of provider packages, for instance, include HD DVR that ensures your programs record in high-definition.
Exclusive packages are another incentive to consider. For example, DIRECTV deals highlight the NFL Sunday Ticket that permits users to tune into the action with a multitude of devices. Moreover, you can revel in DIRECTV's Fantasy Zone that's inclusive of this Sunday package.
Taxes and Fees
It's a no-brainer that monthly the subscription for your package isn't the only cost you'll incur. Other service charges that can accumulate pretty fast are activation, equipment rental, and installation. The silver lining is that you can typically have these costs waived.
So, feel free to inquire while ordering your package whether the installation is free. And, as a tip, there's a higher likelihood of getting free installation when you order multiple services. Furthermore, some providers allow you to do the installation at a lowered cost or for free.
[wpchatai]