Joey Anash's Street Fighter: Legacy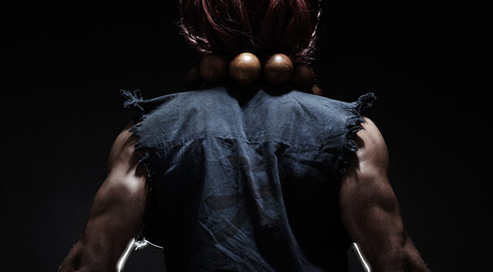 If we could take back Street Fighter: The Legend of Chun-Li and learn from our mistakes with video game adaptations, will we ever get a decent Street Fighter movie? Besides the 1994 attempt at a feature film, Street Fighter has really been an accomplished video game franchise. After the dust settled from the aftermath of Legend of Chun-Li, one man has stepped up to this challenge to create a short film recognizing the potential of Street Fighter. Keep reading to check out the short film along with trailers, featurettes and pictures!
Actor Joey Anash, you might recognize him as Desh from The Bourne Ultimatum, has taken it upon himself to create a Street Fighter short independent film. With help of his friends and colleagues, Joey has been working on this project for almost a year. The film focuses on the characters Ryu (Raya Dao) and Ken (Chris Howard) with an omniscient presence of Akuma (Joey Anash). On his website, Joey claims a real passion for the video game franchise and its rich story lines,
"As an actor, film maker and a fan, I have been repeatedly disappointed by the many diluted, un faithful and outright butchered movie adaptations of fighting video games. It was clear to me, that given the way the movie industry worked, we would never see a super faithful, darker toned and more adult themed (or just plain good!) incarnation of Street fighter unless a die-hard fan director or film-making team with the game canon knowledge, film making know how and connections stepped up to the plate to helm such a project."
Here are the teaser trailers:
Street Fighter: Legacy is co-directed by Owen Trevor and the post-production talents of Prime Focus have made his vision a reality. Anash describes this film as a "love letter to the Fans and the brilliance of the game."
You can watch the film here or go to the YouTube page to watch it in full HD 1080p:
I think the film does a really good job at capturing the essence of the video game itself. I wish there was more of a story than just a fight sequence. Perhaps we will get one if there is more support of this project to go more than 3 minutes. The fight scene is pretty cool and the fight choreography in the featurettes is below. Although the faces made in the film are a little laughable, the character design is really well done. The music really sets a great tone of what the video game holds along with the scenery.
You can also check out some of the featurettes of the making of the film as well:
For you XboxLive owners, boot up your xbox 360 now and head to the Inside Xbox section to watch an exclusive interview with Joey Ansah (Akuma/Co-Director), Chris Howard(Ken) and Owen Trevor(Co-Director).
I'll also add in some bonus pictures in from their Facebook page which you can click to enlarge them!