Humans are a pretty strange species. We enjoy games about virtual goats that ride skateboards and vandalise their surroundings, sports games with worm-like re-imaginations of our bodies, and games where an octopus masquerades as 'a normal human dad'. Maybe that explains why indie games are all the rage these days. They cover territory that many AAA games do not, which means they take conceptual risks, experiment with different and previously unseen game mechanics, and the results can be staggering. Screencheat and Crossy Road are two examples of Australian indie game success stories, the latter of which is currently being adapted into a Disney version.
It's an encouraging sign when the Australian game industry as a whole is showing strong signs of sales growth. So is the message that video games are 'the standout performer in the entertainment industry', which motivates Australian developers to continue sharing their digital visions with the world. Perth-based organisation Let's Make Games is an initiative that supports West Australian game developers by showcasing their achievements and spreading news about locally brewed games that engage the wider Australian public. Below is a (continuously updated) list of the games released so far in 2016, an eclectic mix of 2D platformers, post-apocalyptic zombie shooters, pro-environmental lumber adventures and much more.
World's Fastest Pizza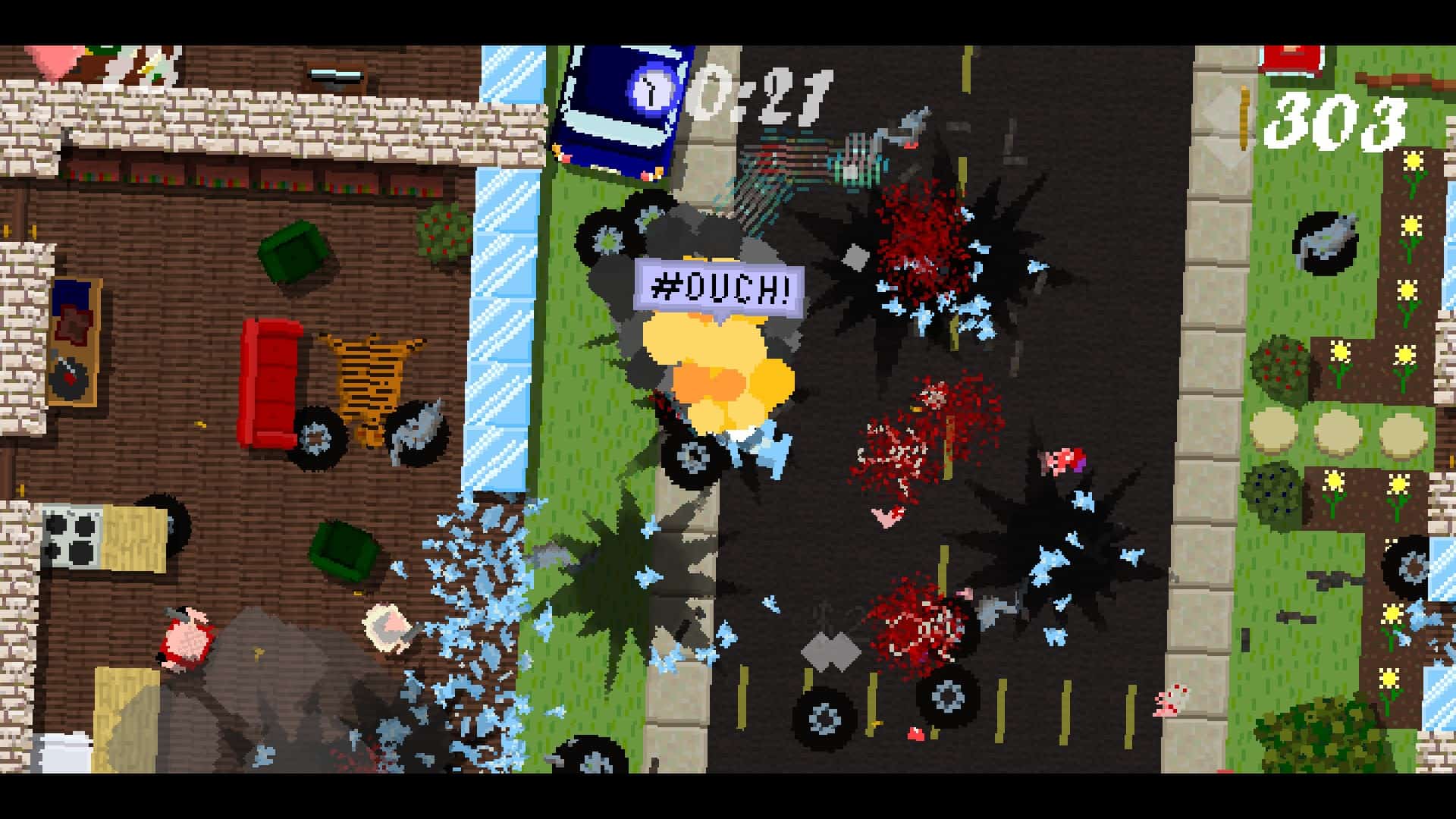 Freshly released on Steam, World's Fastest Pizza is a top-down action arcade game that asks players to 'rid the world of hunger and spread the joys of pepperoni'. In layman's terms, that's pizza delivery. Control Tortoiseman, a superpowered alien from the planet of Tortopia as he delivers pizza under the alias of Cornelius Pretorius, and try not to blame developer Oscar Brittain for giving you pizza cravings. Brittain has layered World's Fastest Pizza with mayhem fuelled gameplay, a 'cheesy' game soundtrack, and flippant humour with ample Australian cultural references. Try the demo here and purchase the full game on Steam for just $2.99 USD.
Final Days
Although it also adopts a top-down perspective, zombie multi-player horror shooter Final Days offers a very different (and much darker) storyline: the end of the world is nigh, and heavy warfare has created mutations that left humans thirsty for eachother's blood. So it's no surprise that the gameplay encompasses locating potential threats, destroying mutant hordes, and being immersed in a tense, foreboding atmosphere. Final Days has recently enjoyed a successful Steam greenlight campaign and is expected for release sometime in 2016 on PC, Mac and Linux.
Square Heroes
Square Heroes was originally released on PC last year to very positive Steam reviews, and has made the leap to PS4 in 2016-making it the first Western Australian game to achieve the feat. Designed for all ages, Square Heroes is described as a 'comical arena shooter' that is a perfect multiplayer party game. Players each control a genetically engineered killing machine who must embark on a quest to level up and unlock up to 30 explosive weapons in a fast-paced galactic tournament. Square Heroes is available for $4.99 USD on PC and PS4. Stay up to date with the latest news from Gnomic Studios via Twitter and Facebook.
Nekograms
If you like games that are cute, fuzzy, and all about cats that look like Pusheen, then look no further than Hungry Sky's Nekograms. The objective of the game is to rearrange pillows on a 4×4 grid to help the cats get some shut-eye, all while a beautiful lullaby plays in the background. Though still in development, Nekograms is due for release this year on mobile devices. Follow the developers on Twitter and like their Facebook page to keep up to date with Nekograms' progress and for adorable weekly cat screenshots.
Lumber Larry 
In a day and age where environmental protection and preservation have become serious issues, a game like Lumber Larry is a shining example of games created for a good cause. An endless-runner style obstacle course adventure, the game stars Larry the Lumberjack who dashes down mountains and forests to avoid a relentless avalanche in hot pursuit. Fortunately, Larry's talents extend beyond woodcutting and allow him to duck, roll, collect upgrade powerups and sprint from the impending danger that make for a challenging gameplay experience. In addition to the bright, colourful cartoon-like visual style, the game's environments have been specifically designed to teach players about the impact we have on the environment. Players are further encouraged to support international conservation charities by purchasing power ups and in game items, which reflects developer Pale Blue Dot's commitment to raising awareness about and supporting charitable causes that help make the Earth a better place. Lumber Larry is out now on the App Store for free. You can stay in the loop with Pale Blue Dot's latest news through Twitter and Facebook.
BetaMax – Cookie Desert & BetaMax – Sherbet Plains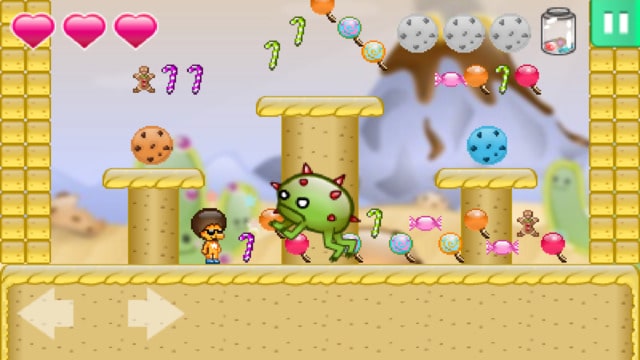 James Cook's descent into pure saccharine madness is on full display in BetaMax – Cookie Desert and BetaMax – Sherbet Desert, 2D platformers currently at home on mobile devices. The BetaMax series aims to recapture the essence of the SNES and Megadrive eras complete with classic sidescrolling action, item collection and stomping on enemies. Both games star Max, a groovy, afro sporting hipster who travels through candy filled worlds to save his beloved Min. And the sweetness doesn't stop there, with Max starring in an additional two free adventures: Icecream Valley and Chocolate Caverns. For more information about the BetaMax series, you can follow the developer on Twitter and like their Facebook page.
Dog Eat Dog
According to the proverb, every dog has its day. But in Imperial Unit's debut puzzle strategy title Dog Eat Dog, only one can be victorious. Dog Eat Dog is teeming with exotic locations, gorgeous voxel art and more than 280 levels of challenging canine fun in addition to some very unorthodox humour. Gameplay will include shooting pugs out of cannons, hurling cats into volcanoes, and sucking birds into the vacuum of space-crazy shenanigans that would no doubt horrify animal rights activists. Get your paws on Dog Eat Dog for free today on iOS and Android devices.
Jump Legends
Jump Legends was born from a desire to 'redefine the endless runner genre', and by the looks of things, developer Fabled Realm has quite literally taken the gameplay to a whole new level. Set in an abstract, futuristic city in the sky, Jump Legends tells the tale of the Adventurers, a race of people who hunger for exploration and discovering the unknown. Blessed with high endurance levels and natural athletic skill, the Adventurers set forth on a thrilling quest in which they overcome obstacles and collect loot along the path to the forgotten land of Great Fall. Jump Legends features simple, easy to learn tap controls, 15 fully animated characters, and a challenging bevy of courses that will entertain players for hours. You can get Jump Legends from the App Store for free today. An Android version is scheduled for release in the near future, so be sure to follow Fabled Realm on Twitter for the latest news.
Quadrant & Laserbreak 2 
The sequel to Errorsevendev/Apex Creative's highly successful Laserbreak 2 is a celebration of the physics based puzzles, coin collection and target destruction that made the original title so addictive. Laserbreak 2 offers players over 75 thrilling levels, enhanced game performance and the same physics-based gameplay players know and lover. Laserbreak 2 is the perfect brain training game for casual puzzle game enthusiasts and is available for free on the Google Play Store today. Errorsevendev/Apex Creative has also recently released Quadrant, a simple yet stunning arcade experience that splits gameplay across four different dimensions and like the Laserbreak series makes for a clever brain training experience. Quadrant challenges players to avoid red obstacles, and collecting as many points as possible by surviving in a hazardous world.
Roid Rage
Described as an 'intergalactic speed tapper', Roid Rage is the action-packed asteroid shooter proudly brought to you by Outback Pixels. Roid Rage began its digital life in a 72 hour game jam, and although originally intended for PC, Outback Pixels quickly realised its potential for a touch screen environment. The game tasks players with demolishing 'roids', collecting resources, upgrading their skills, boosts and space crafts, and scanning the dark depths of space for scraps and fuel to embark on future missions. Watch out for the low-poly comets that zoom past the beautiful backgrounds and try and steal your roids, and test yourself by beating your PB in unlimited roid challenges. Try some addictive, finger-breaking fun today by downloading Roid Rage from the App Store today.
PopOptiq thanks Jess Watson of Let's Make Games for her time and helping to make this feature possible.