Midnighter #6
Written by Steve Orlando
Pencils by ACO
Inks by ACO with Hugo Petrus
Colors by Romulo Fajardo
Letters by Tom Napolitano
Published by DC Comics
It's safe to say that Midnighter #6 is the climax of Steve Orlando's work on the series so far. It's filled with head exploding action, mindblowing layouts from ACO, and there's also time for love and relationship stuff as Midnighter gets to meet his boyfriend Matt's dad, Grant Dell, an affable older man living in the "commuter city" of Porter, Connecticut, who was targeted by some of Midnighter's enemies to get at him. And there's a twist: these bad guys can get past Midnighter's past and fool the computer in his head that gives him the result of every fight he finds himself in. Colorist Romulo Fajardo brings the reds out in full force in his palette to highlight the violence of Midnighter's actions as well as his fierce love for Matt and protecting people, who are being exploited by folks with God Garden tech. Letterer Tom Napolitano also plays a big part in the fight scenes with sound effects writ large that meld well with Midnighter's head smashing, bone crushing moves.
Whenever ACO draws a Midnighter comic, he gives readers a powerful visual tour de force into the unique mind of its protagonist and the bloody consequences of his abilities. He drops the mic starting with page one, which directly continues Midnighter's #5's cliffhanger ending of Matt being in the crosshairs of the fighter with a panel shaped like a sniper scope flanked by red, visceral inset panels that foreshadow the fight to come, including the grater-type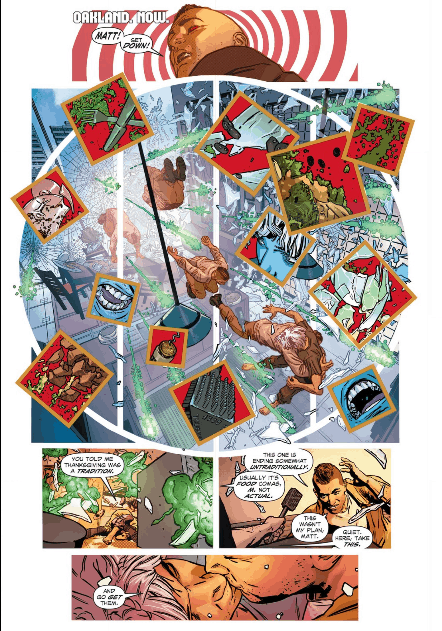 weapon that Midnighter uses to make Multiplex (A supervillain who can make copies of himself and has appeared both in Midnighter and The Flash TV show of all places) go night night. Each line of dialogue that Orlando supplies Midnighter with in this opening sequence is action hero gold to go with his bombastic, romantic gesture of flying a military helicopter down to pick up his boyfriend.
Even though he's one of the DC Universe's biggest badasses, Steve Orlando doesn't neglect Midnighter's human side between the set pieces. He and ACO get to show some of Matt and Midnighter's weird, yet adorable home life together in a montage, which includes beers with the guys, hiking, and growing a new apartment out of special molecules. There is also a subtle panel of Matt typing something on his laptop away from Midnighter's sight-line that might show that there is something off about him. ACO frames the montage in a more traditional six panel grid to show that this is Midnighter relaxing versus the tripping, flipping layouts that he uses when Midnighter is in the middle of an intense fight. It also puts readers at ease before the twists and turns of the final pages.
The final six pages of Midnighter #6 are the series at its most suspenseful and riveting. ACO pours out the blood and gore in his art and even shows off on almost-Steranko-esque pop art, screen print side when Midnighter realizes he doesn't know what's coming next in the fight he's in, or in life in general. This is him at his most vulnerable, and Orlando starts to physically and emotionally break down Midnighter as a character as the issue rolls to its stunning cliffhanger. It's amazing in an age of leaks and companies spoiling big storylines months before they come out that a surprise like this could happen, and the ending will break readers' hearts building on the connection that Midnighter has with Matt along with making logical sense with his abilities.
Midnighter #6 is exclamation point after exclamation point with jaw busting action and intense layouts from ACO, colors from Romulo Fajardo that punctuate the big moments in the issue, and a loose, emotional script from Steve Orlando loaded with amusing one-liners and some backstabbing reveals. Reading Midnighter is like getting a new action movie each movie with a well-developed gay protagonist, who is both confident and vulnerable.