Normal School (Escuela Normal)
Directed by Celina Murga
Written by Celina Murga, Juan Villegas
2012, Argentina
Any time a narrative film or documentary, or any art form for that matter, attempts to portray a well-defined social entity, whether it be a community or an institution contained within walls, there can be moments of giddying excitements as uncanny parallels begin to surface, acting as mirrors by which society as a concept and a reality, or aspects of both, are seen anew, as if through a pair of virgin eyes. And even if there is never a eureka moment or instance of epiphanic revelation, it is at least always interesting to see how certain constants always prevail, certain modes and patterns of order, even in the midst of apparent chaos.
Celina Murga's Normal School is true fly-on-the-wall filmmaking; sometimes fly-on –the-back, fly-on-the-shoulder or fly-all-over-the-place. Set during the final trimester of the year in 5th School Parana, a bustling, chaotic Argentine high school housed in a sprawling building equal parts colonial grandeur and postcolonial disrepair, the documentary is careful not to interfere with the goings on as teachers and students alike struggle to make sense of their days. There are no interviews or voice-over narrations. There is no score. This is pure observational cinema, sitting in on heated classroom debates as much as it does on day-to-day upkeep and administration. Of course, considering that the final cut probably represents only a tiny percentage of the total footage shot, it would be naïve to assume that Murga and her crew are without agenda or that their eyes weren't at least drawn to certain elements in preference of others.
After a very verite opening sequence, tracking a student in his late teens through the darkened early morning streets all the way to his scribbled-to-splinters desk, what follows is an endearingly unadorned introduction to the school's charismatic but overly adaptable principal as she goes about her morning routine, if it can even be called that. Normal School quickly finds itself preoccupied with a selection of politically-minded senior students preparing for the upcoming student elections as they approach graduation. If this is not because Murga intends the documentary to be in some way an exploration of the Argentinian socio-political fabric as seen through the eyes of those slowly coming to understand its complexities, then it is at least because following these bright and impassioned teenagers lends a sense of direction and purpose to a film that is being compared by some to the hands-free documentaries of Frederick Wiseman, who himself made a film called High School. The emergent lead characters of Normal School, so to speak, are introduced in startlingly economical ways, often through interactions with teachers and peers which establish their views on life and Argentine society as much as it exhibits their outspoken testiness and youthful hubris.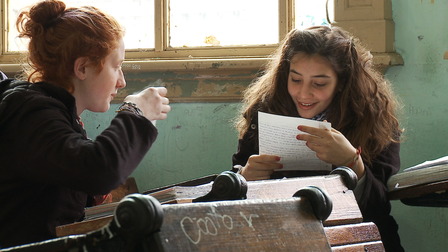 To say this film is not more than often captivating and engrossing, as disorienting as it can be, would be an utter lie. Murga and her team capture the raw energy of student politics with verve. The idealism and the seeds of cynicism, the speechifying  and the naysaying, the didactics and the arbitrariness, but also the genuine desire to do some good; all of these are made manifest in high school politics, at times frighteningly similar to the big-time (for anyone familiar with the televised parliamentary sessions as shown in Australia and the UK). Normal School proves that politics is truly the economics of human sentiment and emotion, because what group of people are more unabashedly emotional than the teen populace. The thing is, the way Murga shoots and cuts her documentary is so hell-bent on naturalism that it feels scatterplot in its attempt to capture life as it unfurls in this hectic setting. At time the subtitles can barely match the dialogue for speed, and as people speak over each other in the foreground and the background, those viewers who would answer "uhhhh…" to "¿Hablas español?" may get the impression that a true experience of this school is simply out of their reach. On this note, as a non-Spanish speaking non-Argentine it is a difficult task appraising the value of this film. Perhaps to a select audience, the nuances and nuggets of insight possibly present within the film might be more appreciable. Yet, as a piece of filmmaking it's hard to find the artistry in Normal School if not in the construction of a semi-coherent pseudo-narrative from who knows how many hours of footage. As a socio-political document though, it may or may not have a fresh or valuable perspective on the state of the Argentine educational system (which, if it is to be generalised on the basis of this film and the sentiments many of the teachers within it voice, is terrible), on the national political climate, or perhaps on Argentinian society as a whole. But to make such a judgement, more than just a cursory bit of research will probably be necessary.
This being said, a film should nonetheless be subject to cinematic standards if nothing else, and by these, Normal School likely passes. Barely. Because, as much as one might wish to view this documentary as the prouct of some underlying artistic modus operandi, there is a nagging sense of haphazardness about it, something decidedly "home video", which may add to its charm but detracts terribly from its cogency. If Murga's intention was to simply and neutrally portray all facets of life at an escuela, she should have resisted the urge to weave footage into a narrative fabric after the fact. My suspicion is that the she did have a meaningful imperative, and on this front Normal School is not an unequivocal success by any stretch. It's curious to learn that some years ago Celina Murga was selected and mentored by Martin Scorsese for the Rolex Protégé Series on the basis of her second feature A Week Alone, and a general obliqueness to her work that he found compelling. It would be interesting to explore Murga's earlier work to see what exactly caught Scorsese's eye (not to say his word is gospel, though many would disagree). Perhaps Murga's strengths lie within the realms of narrative film to which she should return. Somehow I suspect she will. Scorsese is the executive producer on Murga's fourth feature la tercera orilla (The Third Side of the River). I wonder if it's a documentary.
Tope Ogundare
Visit the official website for the Melbourne International Film Festival