Most of our parents disdained music and arts as our future careers. This is because they firmly believed that the field of music and arts had lower chances for success. But still, there are many who dream to rock the music world with their own tune and style. This might come by being a lead singer, drummer, keyboardist or guitarist. The dream to conquer the hearts of people with just your sound and stand in the spot light with the screams of your fans is just too tempting to let go.
Though it is a tempting dream, the road towards success and fame is a steep one and often people lose their passion and wake up to "reality". Some persist towards this path of life and succeed while some have triggered opportunities with their music alone and have their name added onto the list of the famous. In either case, musicians have been continuously celebrated throughout the long course of history. With every tune and by the lyrics in their records, they earn money from being loved and listened to. The amount of income they generate make them millionaires and stars of their own respective rights. Fame, glory and wealth, music could give you these.
Thus, we deny the accusation of musicians not being a money earning profession. And we declare that with enough skill, persistence, and genius in your tune you can earn lots of money that other profession can't accomplish. In order to solidify this claim here are ten accomplished guitarist all over the world who top our list as the richest guitarists around.
What's the key to getting on this list if you're a guitarist?
The key is not just being great on the guitar.
You need to write or be a co-writer of the hits. This is one thing every guitarist has in common in this list… they all wrote or co-wrote many of the hits they play. The big money… money that keeps on coming in year after year is from writing.
#10 THOMAS EARL "TOM" PETTY – $75 MILLION NET WORTH
Born in October of 1950, Tom Petty is a renowned American musician, singer, songwriter, multi-instrumentalist and record producer. He is also known for his Rock and Roll and Blues Rock style of music and as the lead singer of Tom Petty and the Heartbreakers. Not only that but he is also a member and co-founder of the famous 1980s super group called Traveling Wilburys. Tom Petty has recorded a number of hit singles during his time in Tom Petty and the Heartbreakers. But, it was on his time as a member of Traveling Wilburys that he reached the highlight of his career. Starting in 1988 when he first founded the group with Bob Dylan, George Harrison, Roy Orbison, and Jeff Lynne, they have gained popularity with their song Handle with Care which was originally written as a B-side of one of Harrison's singles. The song was the catalyst for the group to record a full album entitled Traveling Wilburys Vol 1 which was followed by Traveling Wilburys Vol. 3. He incorporated traveling Wilburys into his live shows continuously playing Handle with Care and for 2008 he made "End of the Line" as the staple of his set list.
Thomas Earl Petty born in Gainesville, Florida was already interest in rock and roll music since he was ten after he met king of rock and roll, Elvis Presly. After meeting Elvis Presly he instantly became a fan and wanted to make music of his own. This gained strength when he saw The Beatles. After his strong will of wanting to learn rock and roll and being a fan of Elvis Presly and the Beatles, he went to his first guitar teacher Don Felder, who was also part of the Eagles. His will and passion for music and arts made his relationship with his father very difficult and caused it to turn into verbal and physical abuse of Thomas. Although he had a tough relationship with his father, Thomas was close to his mother and his brother. In 1994 his tribute album You Got Lucky was released and this garnered huge achievements like from George Gershwin and Ira Gershwin Award for the Lifetime Musical Achievement award. He also won American Society Composers, Authors and Publishers Golden Note Award. He even had his own star on the Hollywood Walk of Fame because of his huge contribution to the recording industry.
Petty also loved owning guitars over the years. From 1976 to 1982 his used a sunburst 1964 Fender Stratocaster, he also used Rickenbacker guitars and a rose Morris. He also used electric guitars like the Gretsch Tennessean he used in a tour, a Fender Telecasters and a Gibson Firebird. For acoustic guitars, Petty has had a signature C.F. Martin HD-40, and has written virtually all of his songs on a Gibson Dove Acoustic saved from his 1987 house fire. He currently uses a Gibson J-200 in a natural finish and a late '70s guild D25 12-string acoustic.
True to our list, Tom Petty has reported net worth of $75 million as of 2015. The money came from the songs he performed and the royalties he has as a producer and as songwriter. Apparently, the goddess of music bestowed her love on Tom Petty. Without a doubt, Tom Petty belongs on our list.
#9 ANGUS YOUNG – $140 MILLION NET WORTH
Angus Young is an Australian guitarist of Scottish origin. He is best known as the co-founder, lead guitarist, songwriter, and the sole permanent member of the Australian hard rock band, AC/DC. His amazing skill in guitar is even recognized by The Rolling Stones magazines. His band, AC/DC, remained together ever since their formation on 1973 and has released 17 studio albums over the long course of their career. The band has sold over 200 million albums worldwide with a record of 70 million units in the US.
Their 1980s album, Back in Black, has been the album accountable for selling 50 million copies worldwide and takes the throne of the second all-time highest selling album worldwide. This album also has the record of reaching 22x multi-platinum in US alone. The album Back in Black fell a little behind Michael Jackson's Thriller.
Young was influenced to be a guitarist when he was young, about five to six years old. He heard Little Richard playing. Through this, when he became older, he also became an influence to many young rock and roll guitarist aspirants. In an interview the legend said that his influences were his brother Malcolm, Chuck Berry, Freddie King and Muddy Waters. On August 24, 2006, Young received Kerrang! magazine's Legend Award from the editor, Paul Brannigan, calling AC/DC "one of the most important and influential rock bands in history." On May 16, 2012, Young was named Best Australian Guitarist of All Time by a poll conducted by Australian Guitar Magazine. Young and his brother Malcolm are huge supporters of the Scottish football team Rangers F.C.
Aside from his extreme richness Angus Young is very sentimental and still has his first ever Gibson SG, 42 years old, and admits that it is his favorite guitar of all time. Young left school before his 15th birthday. Not long afterwards, he took a job working as a typesetter at a "men's" magazine that sported the title, Ribald. Malcolm, incidentally, had by then put in a couple of years doing sewing machine maintenance for a company that manufactured bras. Most AC/DC fans know that it was the Young brothers' sister, Margaret, who encouraged Angus to wear his schoolboy get-up on-stage. But fewer fans realize that it was also Margaret who christened her siblings' band "AC/DC" after noticing the letters on a vacuum cleaner. According to biographer Susan Masino, Angus and Malcolm liked the fact that the letters denoted power and electricity. In a 1992 interview with Guitar magazine, Young hailed Louis Armstrong as "one of the greatest musicians of all time." He went on to explain: "I went to see [Armstrong] perform when I was a kid, and that's always stuck with me. It's amazing to listen to his old records and hear the musicianship and emotion, especially when you consider that technology, in those days, was almost nonexistent. There was an aura about him."
AC/DC further laid their stable musical foundation when they released their next album named "For Those About to Rock We Salute You". With the release of this album they cemented their title as the most popular hard rock act of the time. With the release of the next three albums, AC/DC experienced a decline but they recovered with their 1990 studio album "The Razors Edge" which was a 5x multi-platinum album in US and sold 10 to 12 million copies worldwide. Finally, in 2003 Angus Young and his band mates were inducted into the Rock and Roll Hall of Fame and the next year they were ranked 72 on Rolling Stone magazine's list of 100 greatest artist of all times.
#8 THE EDGE – $200 MILLION NET WORTH
https://www.youtube.com/watch?v=XmSdTa9kaiQ
David Howells Evans or better known as The Edge was born on August 8 1961. He is a British born Irish musician and songwriter most renowned as the lead guitarist, keyboardist, and backing vocalist of the rock band U2. He was one of the original members of the band and had recorded 13 albums up to date as well as one solo record. The Edge as a guitarist has a trademark minimalistic and textural style of playing with the use of rhythmic delay effect which yields a distinctive ambient, chiming sound that became the U2's signature tone.
Beginning their public performance life in small venues in Dublin back in 1977-1978, the band had delivered their distinctive sound. They then branched out to other venues elsewhere in Ireland. In December of 1979 they did their first concert outside of their turf playing their music in London followed by an extensive tour of the British Isles in the following year. It was also of the same year that they released their debut album entitled Boy.
As a guitar player, The Edge's sounds are typified by low-key strums which he achieves through extensive delay effects and reverb. The Edge contributes just a few simple lead lines with depth and richness of the delay. His style as he described it was a nice ringing sound and the chords are from two strings which can be made one.
His first guitar was an old acoustic guitar that his mother bought him at a local flea market for only a few pounds; he was nine at the time. He and his brother Dik Evans both experimented with this instrument. He said in 1982 of this early experimentation, "I suppose the first link in the chain was a visit to the local jumble sale where I purchased a guitar for a pound. That was my first instrument. It was an acoustic guitar and me and my elder brother Dik both played it, plonking away, all very rudimentary stuff, open chords and all that." The Edge has stated that many of his guitar parts are based around guitar effects. This is especially true from the Acthung Bay era onwards, although much of the band's 1980s material made heavy use of echos.
In 1981, The Edge nearly left the group because of religious reasons. Shortly after deciding to deciding to stay with U2, he wrote a song which would later be called as "Sunday Bloody Sunday" which took the spotlight because of its militaristic drumbeat, harsh guitar and melodic harmonies.
#7 DAVE MATTHEWS – $250 MILLION NET WORTH
Born as David John Matthews, Dave Matthews is an African American singer songwriter, musician and actor. He is best known as the lead vocalist, songwriter, and guitarist for the band, Dave Matthews Band. Born in Johannesburg, South Africa in 1967, Dave Matthews and his family immigrated to the United States when he was just two years old settling in Westchester County, New York. From 1990 to 2003, Matthews mainly focused on his songwriting and performances with the band. Occasionally, his activities would venture outside that of the band in various solos and records. He sang on the track "Sing Along" on the second album of Blue Man Group titled Complex back in 2003. He also released a solo album entitled "Some Devil" that earned platinum later of the same year. A single from the album called "Gravedigger" won a Grammy Award in 2004.
Music had always been Dave's first love and he started learning to play the guitar at the tender age of nine. Dave Matthews' net worth of $250 million is mainly due to the huge success of his band, which he founded in 1991, with some other jazz musicians. The first album 'Remember Two Things' was an instant success and the band managed to land a contract with RCA. The album 'Under the Table and Dreaming' was their main ticket to glory, as it went platinum, a record four times. Matthews also played a cover for one of Neil Young's songs entitled "The Needle and the Damage Done" at the 2010 tribute, MusiCares Person of the Year to honor Young. He, along with the band, opened for The Rolling Stones on their Bridges to Babylon Tour, 1997-1988. He sang Wild Horses and Memory Motel with the famous vocalist Mick Jagger.
Dave Matthews is known to be one of the most famous guitarist and one of the richest in the field. Aside from his music career, he is also involved in acting and politics. Furthermore, he also invested in a vineyard in Albemarle County, VA he named as Blenheim Farm. Dave Matthews owns thousands of acres of property around the world, enough to make him the largest land owner in Virginia. Dave Matthews Band is the most successful touring musical act of the last 10 years. They tour non stop and have sold over 50 million albums since 1990. This vineyard is now known to produce 5,500 cases of wine per year including their signature Petit Verdot. With these activities, it is no surprise that Dave Matthews has earned a net worth of $250 million.
#6 ERIC CLAPTON – $250 MILLION NET WORTH
Eric Patrick Clapton, born on the 30th of March 1944, is a famous English rock and blues guitarist, singer and songwriter. He is also famous as the only three-time inductee to the Rock and Roll Hall of Fame, once as a solo artist and separately as a member of the Yardbirds and Cream. Clapton's value as a guitarist has earned him the reputation of being one of the most important and influential guitarists of all time. This is further proved when Clapton ranked second in Rolling Stone magazine's list of the "100 Greatest Guitarists of All Time" and fourth in Gibson's "Top 50 Guitarists of All Time". Not only that, he was also named number five in Time magazine's list of "The 10 Best Electric Guitar Players" back in 2009.
During the middle of 1960s, Clapton left his band Yardbirds to play blues with John Mayall & the Bluesbreakers. He later then also left Mayall. After leaving Mayall, he formed the famous trio Cream along with drummer Ginger Baker and bassist Jack Bruce. With the trio, he played sustained blues improvisations and "arty, blues-based psychedelic pop", a tune that made his name renowned in the musical world even more. He then formed the blues rock band called Blind Faith with members Baker, Steve Winwood, and Ric Grech. Clapton's work in 1970 had the distinctive influence of the mellow style of JJ Cale and the reggae of Bob Marley. His famous version of Marley's "I Shot the Sheriff" made the reggae genre reach the mass market.
Two of his most celebrated covers were "Layla", recorded with Derek and the Dominos; and Robert Johnson's "Crossroads", recorded with Cream. With the death of his son Conor in 1991, Clapton's pain was expressed in his famous song "Tears in Heaven" which was featured on his Unplugged album.
Eric Clapton is also regarded as among the very powerful and successful guitarists of time both critically and financially. In the 1960s, the musician chose to not be an associate of "The Yardbirds" anymore and he became involved into blues music and collaborated with John Mayall and the Bluesbrakers. Because of his richness he made news about buying his car. Eric Clapton ordered a stunning $4.7 million special edition sports from Ferrari. The SP12 EC is described by the carmaker as being "created as homage to Clapton's career and his long lasting experience as a Ferrari owner". SP stands for special project and EC stands for Eric Clapton. The design was most closely predicated on the previous Ferrari model 12 BB. Eric Clapton has owned three 12 BBs over the years, so it would make sense to model a custom built Ferrari specifically for Eric Clapton after that vehicle. The car has been described by Ferrari as also having shades of the 458 Italia incorporated into its design.
When the musician left the Bluesbrakers, Eric Clapton created his own group called "Cream" which also played blues music and which brought vast amounts to the overall sum of Eric Clapton net worth. During the 1970s Eric Clapton's music style reminded the reggae beats of Bob Marley and mellow fashion performed by J.J. Cale. Among the very critical matters is that Eric Clapton helped reggae music to enter the mass market along with his reedition of Bob Marley's single called "I Shot the Sherriff". Additionally, a lot of Eric Clapton singles achieved leading positions in various music chart lists. Moreover, talking about his achievements and awards, Eric Clapton has won 18 Grammy awards
#5 DAVE GROHL – $260 MILLION NET WORTH
David Eric Grohl, or more commonly known as Dave Grohl, is an American rock musician, multi-instrumentalist, singer, songwriter and producer. He was once the drummer for the grunge band Nirvana and the front man of the rock band Foo Fighters of which he was the lead vocalist, one of the guitarist, and the songwriter. He was also the drummer and co-founder of the rock group Them Crooked Virtues. A part of his fortune was due to the royalties he has for writing all the music, as he performed all instruments for the short lived Late! and Probot.
His career started at 17 years old when he auditioned with local DC favorites Scream to replace the drummer Kent Stax. He even lied that he was 20 years old just to get the position. He toured with the band extensively after he dropped out of school. He recorded a couple of live albums and 2 studio albums.
When Scream disbanded after Ben Pape left the band to join The Four Horsemen, he joined Nirvana on the advice of Osborne. At this time, the band released Nevermind which became a huge success. But, Grohl was struggling with his position in the band. It was during this time that he started to write songs as Late! With a style and sound more suited to mainstream rock radio, the band had great commercial success during the 2000's with hit singles such as "Everlong", "All My Life" and "The Pretender". The bands critical acclaim was cemented when their album "Wasting Light" was nominated for a Grammy for Overall Album Of The Year. As well as fronting arguably the most popular rock band of the 21st Century, Dave Grohl has also kept himself busy by recording drums for albums by Tenacious D, Queens Of The Stone Age and Them Crooked Vultures.
In the later years of Nirvana, Grohl's songwriting contributed much to the band. He worked with Cobain on the song "Color Pictures of a Marigold" and later he would record the song for the Pocketwatch cassette. After Cobain's death, he founded the Foo Fighter. Following Kurt Cobain's death and Nirvana's demise, Dave spent six days recording music on his own trying to distract himself from the pain. He played most of the instruments on the tracks and recorded them himself. When he was done, he produced 100 cassette tapes and handed them out to friends. One of those tapes ended up in the hands of a record executive at Capital Records who signed Dave on the spot thinking the songs were created by a full band. The Foo Fighters were born from this process and would go on to to have a very successful music career. Despite being one of the most successful musicians of all time, Dave is generally considered to be one of the nicest and most down to earth celebrities in the world.
David Grohl is known to be a strict and hardworking guitarist. His passion for music lead him to the list of the richest guitarist with a net worth of $260 million.
#4 BRUCE SPRINGSTEEN – $300 MILLION NET WORTH
Bruce Frederick Joseph Springsteen born on September 23 1949 is an American musician, singer, songwriter, and a humanitarian. Nicknamed as "The Boss", he is best known for his work with the band E Street Band. Bruce Springsteen is renowned for his poetic lyrics, Americana, working class, and political sentiments to his adored native New Jersey. He has a distinctive voice and his lengthy and energetic stage performances became his trademark. Almost all of his net worth comes from his profession as a vocalist and songwriter. The star came to be in New Jersey, where he was likewise raised and spent most of his life. Bruce became involved in music when he was still a teen. In those days, the teenager got his first guitar and loved playing it. He has been performing on stage since 1965. Springsteen became a member of the band, Earth and Steel Mill. His talent in songwriting gained him a recording deal from Columbia Records in 1972 which led him to stardom. Some of his notable songs such as Born to Run, Human Touch, Born in the U.S.A., and High Hopes, among others.
In August 1975, Springsteen along with the members of E Street Band began a five-night, 10-show stand at New York's The Bottom Line club. The event caught the attention of major media attention and was broadcasted live on WNEW-FM. Oklahoma City rock radio station WKY, in lieu with Carson Attractions, prepared an experimental promotional event that resulted in a sold out house at the 6,000 seat Civic Center Music Hall.
Born to Run was released on August 25, 1975 and Springsteen climbed his way to success. The album peaked at No. 3 on the Billboard 200, proving the hot response and while reception at US top 40 radio outlets for the album's two singles was not overwhelming, almost every track on the album received an album-oriented rock airplay, especially the songs "Born to Run", "Thunder Road", "Tenth Avenue Freeze-Out" and "Jungleland". These songs all remained perennial favorites on many classic rock stations. Critics largely had excellent remarks about his first works, which contained "Greetings from Ashbury Park" and "E Street Shuffle". The record additionally added an enormous sum of money to the overall net worth of Bruce Springsteen. The record got platinum certification fifteen times by the RIAA organization.
Bruce Springsteen with his wide range of activities made a name and a fortune for himself with his distinct sound. He possess a net worth of $260 million which makes him one for our list.
#3 TOBY KEITH – $320 MILLION NET WORTH
Toby Keith Covel was born on July 8, 1961 and is more known professionally as Toby Keith. He is an American country music singer, songwriter, record producer, entrepreneur and actor. During the years of 1993 -1997, Keith released his first four studio album titled: Toby Keith, Boomtown, Blue Moon and Dream Walkin', in addition to the Greatest Hits package for various divisions of Mercury Records before he left Mercury in 1998.
These albums received gold or higher certification and produced several chart singles, including his debut "Should've Been a Cowboy", the song that topped the country charts and was titled as the most played country song of the 90s. The debut song received three million spins since its release according to Broadcast Music Incorporated.
He signed with DreamWorks Records Nashville in 1998. Keith then released his breakthrough single "How Do You Like Me Now?!" in the same year. The song was the title track to his 1999 album of the same name and became the number one country song of 2000. It is also one of several chart-toppers during his time on DreamWorks Nashville. His next three albums, Pull My Chain, Unleashed, and Shock'n Y'all, all produced three more number ones each, and all were certified multi-platinum. A second Greatest Hits package followed in 2004, and after that, he released Honkytonk University.
Though he only played 29 shows in a Forbes scoring period, Keith still out-earned most of his country peers thanks to his wide range of brand extensions. With his own record label, a multi million-dollar endorsement deal with Ford, mescal line Wild Shot and more than 20 locations of his I Love This Bar And Grill, he'd make the list of the top richest people in the world even if he stopped touring and playing guitar. But he always claimed liking to perform. In 2004 Forbes featured him on their cover page declaring how rich Toby Keith was. He hasn't earned less than $48 Million a year over the past 6 years. In 2007, he and his family was awarded $2.8 Million from an insurance company over the death of his father in a car accident. His albums have sold more than 33 million copies. Generally, Keith on his musical career has released seventeen studio albums, two Christmas albums, and four compilation albums. He has also placed sixty-one singles on the Billboard Hot Country Songs charts and that includes twenty number one hits and twenty-one additional top 10 hits.
Toby Keith is one of the top men at the height of wealth as a guitarist with a net worth of $300 million.
#2 KEITH RICHARDS – $340 MILLION NET WORTH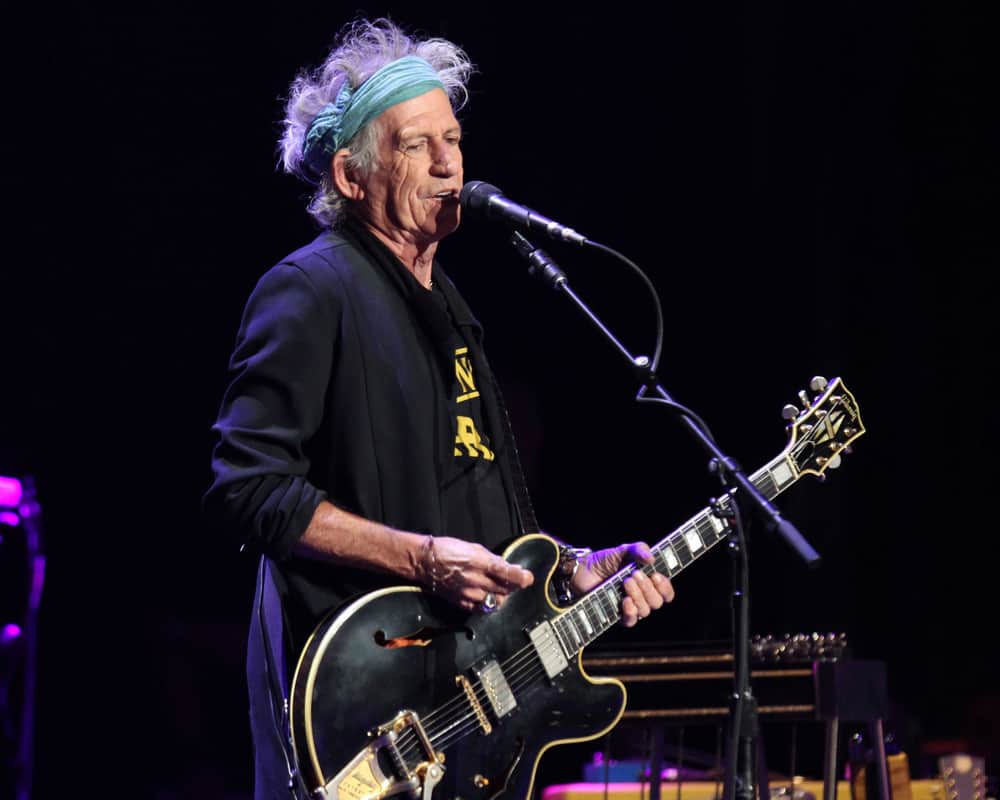 Keith Richards is a known English guitarist, singer, songwriter, best-selling memoirist and one of the founding member of the popular rock band The Rolling Stones. Rolling Stone Magazine credited Keith Richards for "rock's greatest single body of riffs" on guitar and ranked him 4th on its list of 100 best guitarists. Fourteen songs that Richards wrote along with Rolling Stones' lead vocalist Mick Jagger are took its place among Rolling Stone magazine's "500 Greatest Songs of All Time".
Stewart once noted that Richards was the Rolling Stone's bandleader and that his job is oiling the machinery. Billy Wyman and Ronnie Wood also acclaimed that although most bands follows the drummer there is just no 'not' following Richards' leadership.
As a guitarist Keith Richard's playing was "direct, incisive and unpretentious". He is always focused on chords and rhythms all the while avoiding any showy and competitive virtuosity by not trying to be the fastest gun in the west. The famous band's guitarist prefers teaming as he is never seen touring without teaming with other guitarists.
Another secret to his success is his sincerity towards music. He still regards acoustic guitar as the basis for his playing, insisting that the limitations of electric guitar would cause him to lose that special touch in his music. Richards plays acoustic guitar on many Rolling Stones' songs including "Play with Fire", "Brown Sugar" and "Angie". All guitar parts of the studio versions of the songs "Street Fighting Man" and "Jumpin' Jack Flash" features acoustic guitars overloaded to a cassette recorder and then re-amplified through a loudspeaker in the studio.
When Keith was expelled from technical school, Keith Richards registered into Sidcup Art College. Also, while growing up, Keith Richards made friends with Mick Jagger as well as the boys examined in primary school collectively before moving out in 1954. When Keith Richards met Mick Jagger after a number of years without seeing each other, they soon recognized their common fascination with music and began collaborating. Their working collectively added lots of sales to both of them, including Keith Richards net worth. So, Keith Richards moved to London to dwell with Mick Jagger and also to continue focusing on music. Shortly after, they created a brand new group that has been called "The Rolling Stones" and which raised the total quantity of Keith Richards net worth a lot. All these involvements added a lot of revenues to the total estimate of Keith Richards net worth. One of the band's members, with whom he had the strongest connection, was Mick Jagger. Together with him, Keith Richards has written many hits of "The Rolling Stones". Moreover, according to the Rolling Stones magazine, the duo has written 14 songs which are considered to be the best songs in the history of music.
The famous guitarist made it as number two on the list with his net worth of $340 million which includes all his song royalties since 1960s.
#1 JIMMY BUFFETT – $400 MILLION NET WORTH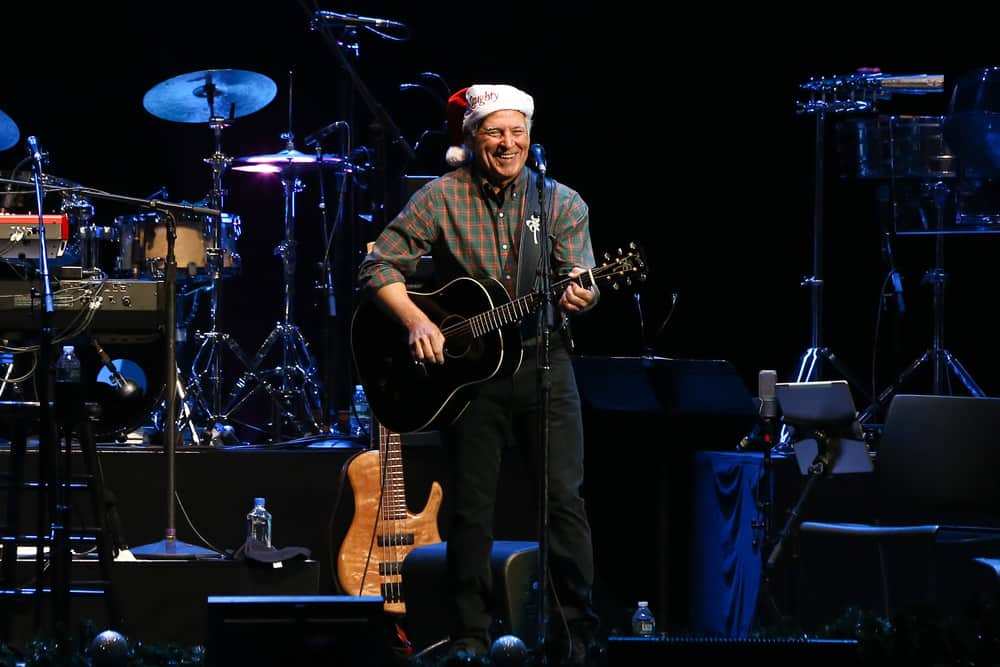 https://www.youtube.com/watch?v=GSjOlA7eSnI
Jimmy William Buffet or Jimmy Buffet for short is an American musician, songwriter, author, actor, and businessman born on the Christmas of 1946. His music that portrays an island escapism lifestyle is his trademark tune. He recorded Margaritaville with his Coral Reefer Band that ranked 243th on the Recording Industry Association of America's list of "Songs of the Century" and Come Monday. His fan club was named the Parrotheads.
Aside from being a talented musician, Buffett is also successful as a best-selling writer and is involved in the operation of two restaurant chains which were named after his two hit songs "Margaritaville" and "Cheeseburger in Paradise", he owns the former and co-founded the latter.
He first began his musical career in Nashville, Tennessee during the late of the 60s as a country artist. He recorded his first album, the folk rock Down to Earth, during the 70s. Along this time, he was often found to be busking for tourist in New Orleans. It was the country music singer Jerry Jeff Walker who first took interest in him and brought the guitarist to Key West on a busking expedition during November 1971.
Buffett then moved residence to Key West and started the establishment of the easy-going beach-bum persona for which he is known. He first played for drinks at the Chart Room Bar in the Pier House Motel and then combined country, folk, rock, and pop music with coastal as well as tropical lyrical motifs for a sound which is called gulf and western. One of the best in the business at extending his brand, Buffett boasts a Margaritaville empire with more than two-dozen locations. His earnings from non-musical business ventures dwarfs income from both his songs and live shows, putting him in an elite group alongside the likes of Diddy and Dr. Dre.
Apart from music, Buffett is also a best-selling writer and is involved in two restaurant chains named after two of his hit songs, "Cheeseburger in Paradise" and "Margaritaville". Furthermore, he is the owner of the Margaritaville Cafe restaurant chain and co-developer of the Cheeseburger in Paradise restaurant concept with OSI Restaurant Partners (parent of Outback Steakhouse), which operates the chain under a licensing agreement with Buffett. With the broad range of interest and success, it is no wonder that Buffett topped the list of the richest guitarist. He has a net worth of $400 million which is comprised of his earnings in his musical career, acting career, and as a businessman.
Being able to play the guitar is quite a common talent for most but these top 10 richest guitarist surely know how to make the most out of their talents. These artists also know how to play it well in business and how to make their money grow.
Why not try playing the guitar yourself and upload your video on the popular video sharing website Youtube, you'll never know you might just hit it big. Always learn how to make your money grow through investments just like these stars in this list and you might just be the next richest person in the world.
[wpchatai]