Sarah préfère la course (English title: Sarah Would Rather Run)
Written by Chloé Robichaud
Directed by Chloé Robichaud
Canada, 2013
Some people are driven to accomplish a perfectly singular goal, even at a young age. Be it a professional career, an artistic endeavour, a pilgrimage to a specific place, the objective means everything to them. Most of the other tasks, obligations and activities they perform are in one way or another a stepping stone on the journey to achieving that goal. In some cases their dream is but a part of their personality, something that helps make them whole. For others, the dream practically consumes them, replacing all else in terms of importance, as is the case for the central character in Chloé Robichaud's film Sarah préfère la course, which premiered at the 2013 Cannes Film Festival.
Sarah Gagnon (Sophie Desmarais) is entering adulthood. The viewer meets her for the very first time on an outside running track where she is competing in an athletics competition. Sarah is not like other people her age however, not just because she loves to run. Plenty of girls in today's age partake in sports, only that the protagonist s obsessed with the sport. It is virtually all she has on her mind, wanting nothing more than to improve upon her previous best times. The fact of the matter is that Sarah has little in the way of personality. Nothing makes her laugh, few things make her smile and her interactions with friends and family consist mostly of listening blankly to what other say and offering unenthusiastic replies in turn. An invitation from McGill University to its running team could change her destiny, although her experience of living in Montreal away from home proves more challenging than anticipated.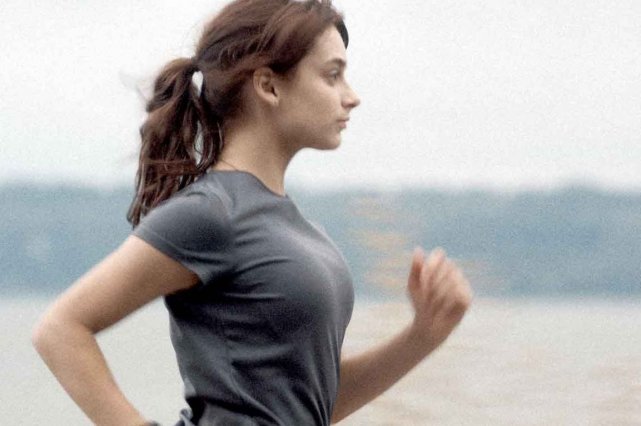 Chloé Robichaud's has woven a compelling, effortlessly intimate character piece with Sarah préfère la course. None of the fat, all of the emotionally conflicting moments that, when put together, paint a picture of a young woman so invested with the one true love in her life that other matters, like how to pay for university and rent, are of secondary concern to her. The director employs a very cold cinematic style, refusing to add much of a score, notwithstanding for a few key scenes, and employing a lighting scheme which feels uninviting most of the time. Visually, it is a bland world, with even the richest, warmest colours sapped of their typical comforting effect. The strength of the coup is that instead of alienating viewers, it actually helps pull them into Sarah's world, like seeing the world through the protagonist's eyes. She is devoted to her favourite sport and nothing more, therefore even the colours of the world fade away to an extent.
The attraction to a film of this ilk is in the unorthodox nature of its central figure. Were this any other ordinary coming of age story, it might still hold well for its acting and direction, but feel slight when weighed for its thematic resonance. Director Robichaud has chosen to explore the world of a loner constantly, and unwittingly, earning the attraction of the people around her. If she could, Sarah would probably just run all day long without ever bothering to say saying hello to anyone. The pattern the film adheres is reminiscent to plenty of other films about high school students and young adults who begin to face life's bigger challenges for the first time. Whereas the majority of competitors stay true to themes of self-discovery insofar as the heroes do end up 'growing up' and becoming better, more fully fledged people, Sarah préfère la course has no such interest. It knows full well that its character is too absorbed with her favourite activity. There are even other wrenches thrown in that would, in other films, shake her world up considerably, such as her roommate's (Jean-Sébastien Courchesne) idea to get married in order to benefit from government grants for young married students. It would be incorrect to assess that such events have no effect on her (that would actually diminish the film's potency), but none can claim supremacy over her real interest. Sarah is a strange character in how her few misadventures confirm what she does not like rather than opening her up to new experiences. In fact, the only sore spot is the one revelation that may suggest something about her she herself never knew. The film plays on it for a short bit as if it will become a major plot point, but thankfully reverts to its old habits for the home stretch, pardon the pun. It is oddly refreshing to watch a film that is so dedicated to the way the protagonist is at the start of the film that said character remains mostly the same in the middle and at the end. The lack of growth on the surface level in fact indicates that Sarah is already her full self at the start of the picture.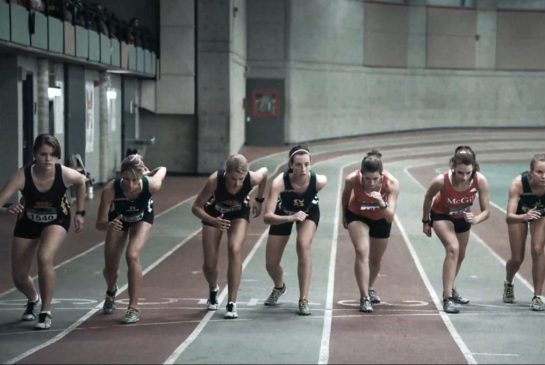 The most surprising aspect is the excellent acting from Sophie Desmarais. One would think that a movie about someone who does not care one iota about anything except running would feature a bland performance from its lead. In many ways it is a bland performance because Sarah is so closed off against the world, yet that does not tell the entire story. She is confronted by challenges, it is just that she always thwarts them off by shielding herself with her running. There is a sense of struggle in many scenes even though it is extremely subtle. In other words, Desmarais accomplishes a lot by doing very little. Looks, nods, slight movements of the lips, these are the hints that there is a living being under her dominantly placid expression.
The film was warmly received at the most recent Cannes Film Festival and it is easy to see why. It takes a simple, mostly familiar tale and puts an unorthodox spin on it, making its heroine a compelling figure to study by actually not making her interesting by most social standards. Chloé Robichaud decided to think outside the box and her efforts, and those of her star, pay off handsome dividends.
-Edgar Chaput