"Bachmanity Insanity"
Written by Carson Mell
Directed by Eric Appel
Airs Sundays at 10pm on HBO
Silicon Valley is a reliably hilarious show and an astute critique of the excesses of corporate America and the tech industry. It's also a sausage fest (much like the real Silicon Valley). The gender dynamics of the show have mostly been a forgivable offense during the show's run. The toxic masculinity many of the characters is quite obviously parodying the male-dominated industry, and the few female characters tended to be smart, accomplished women in leadership roles. But at a certain point the lack of any real women on the show starts to seem less like a critique and more like an endorsement of that dynamic. The show has made its point about a lack of women in the tech industry many times; it's time to move on. Silicon Valley will never have an even split of men and women, but it's time for the show to start adding a bit of diversity to the ensemble and cast some women who aren't austere executives. "Bachmanity Insanity" initially seems to be attempting to right the wrong, but quickly backtracks and jettisons the women it so briefly introduced.
Richard and the gang go out to a Mexican restaurant to celebrate his reinstatement as CEO of Pied Piper. While at the bar, Richard meets Winnie, who works at Facebook (although Guilfoyle is convinced that she must be a bartender), and they start dating. The episode telegraphs the outcome of Richard's dating when he starts calling her M'Lady in front of the guys, which instantly brought to mind Amy Schumer's brilliant sketch about toxic male entitlement.
With Richard having some (initial) dating success, the other Pied Piper members decide to give it a try. Dinesh has been flirting with Elisabet, one of the long distance coders they recently hired. The only problem (aside from the sexual harassment thing and lack of an HR department) is that the video quality from Estonian isn't great, so he can't be sure she's as attractive as he assumes. When he fixes the video quality, Dinesh confirms that she is as attractive as he hoped, except that she suddenly becomes cold and mentions having a boyfriend when she gets a better look at him. Apparently the Pakistani Denzel was not a very apt nickname. Jared also decides to get back in the dating game (he claims he chose not to pursue women to focus on Pied Piper). He ends up bringing over a woman that the rest of the team unanimously find stunning, so all is right with the world.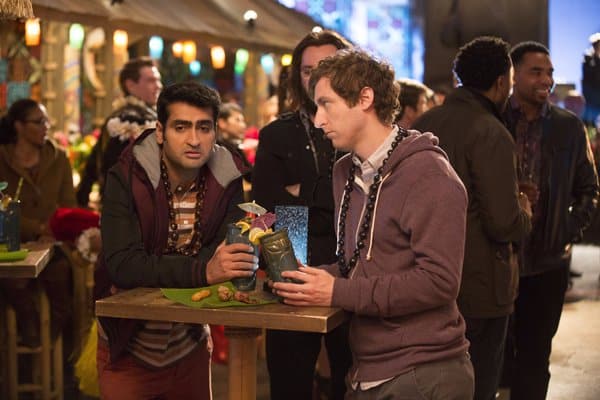 On the office front, Richard is starting to seem like a tyrannical ruler over his new coders. He gets furious when anyone dares to use spaces instead of tabs (even though it all works out the same in the end). Guilfoyle and Dinesh warn Winnie since she happens to be a prime spaces sinner. Once again, though, Richard screws himself over by not being able to contain his anger at minor inconveniences. At dinner he's visibly twitching when Winnie brings up the spaces and accidentally compares himself to Hitler. Later, he loses all control when Winnie taunts him by hitting the space bar extra hard. After he says he'll never sleep with anyone who uses spaces over tabs, Richard falls down the stairs (he tried to go down them eight steps at time). It's a fitting end to that relationship, and maybe to the show's current attempt to add women to the cast.
The show ends with Erlich and Big Head's Hawaiian-themed party at Alcatraz. Erlich is essentially throwing it just to gloat at everyone he hates. The party is a success, until the planner says that vendors have complained that his checks are bouncing. And then Big Head and his business manager explain that Big Head is broke, and therefore Erlich is also broke. It wasn't clear to me if they're broke because Big Head already spent most of his money (for things like moving the swimming pool closer to the house and then moving it back to its old spot), or if Erlich's spending did them in, or if it was really a team effort. The episode ends fittingly when Erlich gets on stage to tell everyone "Aloha," and Big Head adds "Uh, that means hello. Oh, and goodbye."
Perhaps Silicon Valley will continue to incorporate women in to cast. But I have a feeling that effort ended about as abruptly as Erlich's party. Maybe part of the problem has to do with the women who have appeared on the show so far. Although the actress playing Winnie seemed perfectly fine, most of the women appearing on the show don't have the kind of background that the men in the cast have in stand-up or comedies. There are so many great women comics that it just doesn't make any sense why the show hasn't tried to mine that talent. It's seems unlikely to expect any change, but I'll keep holding out some hope.
Stray Thoughts
Guilfoyle is pretty sure Winnie is a bartender. "You a bartender?" "I work at Facebook." "As a bartender?"
No self-respecting reporter would freak out the way the one at CodeRag did. So she's either just a glorified blogger, which isn't in character with her portrayal in the previous episode, or it's just a bit of bad writing.
I'm looking forward to seeing more of Casanova Jared
Big Head's business manager was a great straight man. It would be nice to see more of him in future episodes.
Erlich is gross when he wants to be mean to people: "Get ready. In T-minus five minutes, big head and I are going to take that stage and I am going to ejaculate my success all over the faces and hair of my fiercest rivals, like some sort of viscous web of payback."
Dinesh sums up the show's thoughts on women: "That is a good point. Any time you're near a woman it is important to explain why. Otherwise they get nervous."
This is my last Silicon Valley post for PopOptiq, so thanks for reading.