#20 – Valhalla Rising
Directed by Nicolas Winding Refn
Nicolas Winding Refn, who made the underrated Bronson in England and the striking Pusher series in Denmark creates a brutal, yet thoughtful, re-envisioning of the Viking saga. This Malick/Jodorowsky hybrid is one of the best looking films in recent memory. Its breathtaking digital photography across the bleak and otherworldly landscapes and atmospheric electronic score sets a tone quite like any other other film this year. There's a midnight cult here for those who yearn for one. Valhalla Rising confirms Refn as one of the most fascinating directors working today.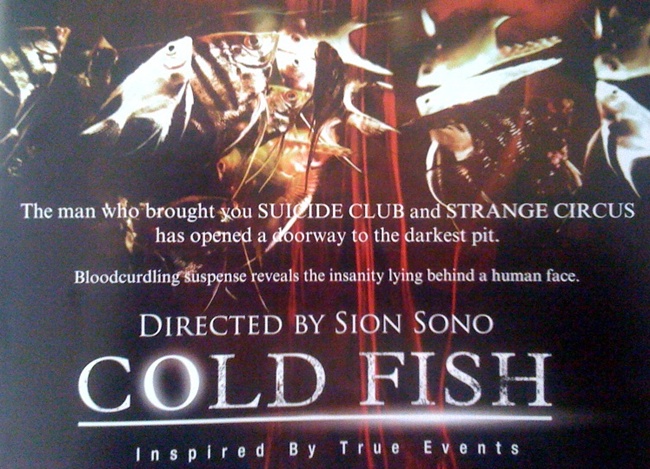 #19 – Cold Fish
Directed by Sion Sono
Unflinching and unconscionable, Cold Fish is a black comedy with an obsidian pitch, a queer balancing act of outrageous humor and fathomless gore. Sly religious icons clutter the screen and the fetishistic fascination of Sono's previous work is apparent, all wrapped up in an atypical analysis of madness and neurosis that he excels at. Although it doesn't equal the numbing run time of Sono's previous film – Love Exposure ran for a grueling four hours, while Cold Fish clocks in at two and a half – the film does not feel labored or lurched as it brusquely moves toward its shocking termination. Denden is ostentatiously the film's hero, driving the meek Shamoto to fulfill his masculine obligations that are enforced by society, to conform to the status quo and control his distant wife and rebellious daughter. In its last half hour, the film descends into a Charnel house carnival with a typhoon of sloppy, gelatine intestines bursting across the screen, a crimson detritus that will provoke gasps and laughs in equal measure. Controversial yet controlled, Cold Fish is a fine example of challenging world cinema, and with a planned adaption of the book Lords Of Chaos in the works, Sono is proving to be an exceptional talent to watch… (read the full review)
#18 – We Are What We (Somos lo que hay)
Directed by Jorge Michel Grau
In the same way Let The Right One In reinvented the vampire brand and [Rec] put a clever twist on the epedemic /zombie film, We Are What We Are reinvigorates the cannibal genre with an emotional portrait of a family bound by a terrible secret and driven by monstrous appetites. Unlike most cannibal films, We Are What We Are eschews the easy options of excessive gore, graphic violence, sex and and cheap laughs to create a deeply moving drama with a spoonful of black comedy and a healthy serving of horror. It's a slow burning film with an engulfing atmosphere that occasionally leaves you feeling uneasy and other times laughing along. For every moment of bloodshed (of which there is surprisingly little), there are subtleties and surprises that transcend this exhausted genre. Though the violence is nowhere near as brutal as the cannibal movies of the late '70s or early '80s, We Are What We Are hasn't forgotten its roots, administering just enough bloodshed to upset mainstream movie-goers. It also provides us with nice, small moments of color for the characters, short but clever lines of dialogue and plenty of room for development. Director Jorge Michel Grau (who also wrote the script) conjures up one of the best, most imaginative and resonant family-themed horror stories to date… (read the full review)–


#17 – The American
Directed by Anton Corbijn
Action fans and George Clooney enthusiasts might well be ill-prepared for The American, which, despite its marketing as a slam-bang thriller, is actually closer in spirit to Euro arthouse fare, and features Clooney in full-on "emptied out" mode. (It's best described as a brooding drama slightly peppered with violence.) Anton Corbijn's film, his follow-up to the lauded Ian Curtis biopic Control, is strongest when it avoids crowd-pleasing impulses to focus in on Clooney's brooding performance and the unusually craftsmanlike nature of his work… (read the full review)
#16 – Never Let Me Go
Directed by Mark Romanek
In the five years since its Booker prize nomination, Kazuo Ishiguro's novel Never Let Me Go has collected a cadre of devoted fans who were quietly reassured that despite the recruitment of an American director – Mark Romanek – to bring this literary favourite to the big screen, it would maintain its quintessential British flavour by casting three of the contemporary UK's most promising acting talents, with an adaptation from local screenwriter Alex Garland and an indigenous shooting terrain of Sussex, Sommerset and Surrey. With these cultural qualities in mind, it was unsurprising to see Never Let Me Go selected as the opening gala feature of the 54th London Film Festival, as the curators sought a prestigious marriage between literary quality and native constitution, whilst it's certainly not in the vein of afternoon tea or the reassuring thud of willow on leather Never Let Me Go does retain a native Anglican affectation, especially when one considers how the word English is a close lexographical cousin to the word anguish… (read the full review)
#15- True Grit (2010)
Directed by Joel & Ethan Coen
As can be expected, the film is beautifully acted, and though obviously cast for type, each performances offer unexpected moments of depth and surprise. Though not quite on the same level as the Coens' best work, it is nonetheless a great film and one of the year's best. It speaks for the incredible quality of their output that this does not rank among their top couple of films, as many filmmakers would only hope to make a film half as good as this. The Coens once again demonstrate why they are among the very few American filmmakers worth anticipating and they hardly disappoint… (read the full review)

#14 – Greenberg
Directed by Noah Baumbach
Noah Baumbach has made another movie ostensibly about sad white people, but what he shows us is just plain human. It's about how we change, or don't, when the world changes around us. It's about how we react to tenderness, and how we perceive, or don't perceive, ourselves in those moments. Roger and Florence aren't heroes and they're definitely not role models; they are a harrowing image of loneliness and mental incapacitation. And Greenberg's not a movie about growth or love or purpose–it's a movie about being flawed, hurt, people… (read the full review)
#13- Toy Story 3
Directed by Lee Unkrich
Disney's Toy Story 3 passed the $1 billion mark at the box office this summer making it the highest-grossing animated film of all time. The film is the first animated film to break the threshold and only the seventh overall. And, with the success of Alice in Wonderland earlier this year, Disney has become the first studio to release two billion-dollar grossers in the same year. Disney has had only two 'Best Picture' nominees ever, 1991's Beauty And The Beast before the separate animation category was established and last year with Pixar's Up, the first time there were ten nominees instead of five since 1943. Neither won and Disney is the only major studio to never have won the Best Picture Oscar. Perhaps Toy Story 3 can change this.

#12 – Dogtooth (Kynodontas)
Directed by Yorgos Lanthimos
It's important to note that Dogtooth entered on our top ten list in 2009 at number 3. We have contributors across the globe and since movies are released at different times (sometimes different years) not everyone had a chance to see the film last year. It is somewhat amazing Dogtooth entered into our "best of" list two years in a row considering the votes were split by our staff from both years. Infused with its own brand of hyper-stylized realism, Dogtooth feels so out of this world that it's almost impossible to pin down. The winner of the Prix Un Certain Regard at the 2009 Cannes Film Festival, the Greek film is twisted and weird enough that the absurd comedy of Todd Solondz seems lucid by comparison. Dogtooth is not for all tastes, and at many times can be remarkably unpleasant to watch, particularly when it exposes the bizarre sexual undercurrents of the family's life. Licking is a substitute for hugs and the film is peppered with oddly sexual situations, some amusing, all disturbing. Even aside from the sexuality, the family's home life can only be described as bizarre. Cats are alien creatures that should be destroyed with garden shears, and reenacting the dance choreography in Flashdance is accepted at the dinner table. At times the film is extremely graphic, with pools of blood dripping from the frame, and scenes best described as pornographic… (read the full review)
#11 – Castaway On The Moon
Directed by Hae-jun Lee
Being as it is a deserted island picture, you would think Castaway On The Moon would seem derivative of previous work – and while picking up on some influences from Robert Zemeckis' Cast Away and Pen-ek Ratanaruang's Last Life in the Universe, Castaway On The Moon offers something decidedly original: a deserted island story about a man who isn't really deserted at all. Castaway On The Moon is a masterful piece of filmmaking – compelling, smart, and truly original but more importantly it manages to entertain while supplying observations on society, nature, determination, choice, isolation, friendships, ability and more… (read the full review)
NEXT

[wpchatai]