It's always tricky for the Sound On Sight staff to choose their favourite films each year. Since we have contributors across the globe and because many movies have different release dates in various countries, there's always a few movies that not everyone on our team has the opportunity to watch. These films have a disadvantage. since half of the team can't vote for them, and so sometimes their is one or two great films that just don't make it in. However I do believe that each and every year the eclectic mix of movies that appear on our list, really does show how much ground we cover. On our list this year you will find three Canadian films, several genre films, a few foreign language films and a bit of the mainstream. Each Sound On Sight critic submits a list of their ten favourite films in order of preference. The first place film of every list will get ten points and so on until the tenth spot receives one point. In addition each film gains an extra point for every list it appears on. I'm extremely happy once again with our list and I strongly believe it is one of the best you will find online. We've totaled up the points and here are the results.
Also worth noting: Mother, Fish Tank, Une Prophete, REC[2], Wild Grass & Everyone Else were all included in last year's list.
#30 – Splice
Directed by Vincenzo Natali
From the director of Cube comes a film about the terrors of messing with science. Adrian Brody and Sarah Polley star as two scientists who combine human and animal DNA in order to create a new being. However, the result is more than they bargained for. It looks to be a pretty fun little throwback to early horror films about the dangers of playing God, though the cast is stronger than a film of this nature would ordinarily be. It's always interesting to see what experimental sci-fi horror shenanigans director Vincenzo Natali is involved with.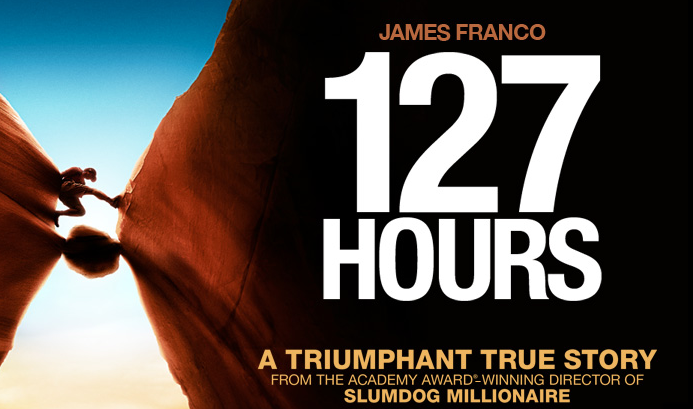 #29 – 127 Hours
Directed by Danny Boyle

How does one make a film about a man literally stuck in a rock?
In his follow-up to the immensely successful, Academy Award winning Slumdog Millionaire, Danny Boyle brings out a tour-de-force performance from James Franco in a powerful and compelling story of one man's will to survive. Based on the true story of mountain climber Aron Ralston's (Franco) remarkable adventure to save himself after after his right hand was crushed and trapped by a boulder during a freak accident in an isolated canyon in Utah, 127 Hours follows Ralston over the next five days as he examines his life and finds the courage to finally free himself by any means necessary. As for Franco, he has never been more alive than he is here in an extraordinary portrayal of the famed adventurer. For long stretches, it's a one man show, and Boyle helps stretch the actor's extraordinary talents to their fullest. His transformation from confident and charming to emotions of shock, fear, anger, and heartbreak is remarkable and Oscar-worthy. Without diminishing the deep transcendentalist yearnings of its young hero, 127 Hours builds to a climax of profound human determination and profound physical pain offering inspiration, exasperation and blunt realization in a true story of one young man's will to survive. The Danny Boyle of the epidemic horror film 28 Days Later and the provocative and controversial Trainspotting gets his nerve back: the final 15 minutes of gut-wrenching terror is not easy on the eyes nor ears… (read the full review)
#28 – Carlos
Directed by Olivier Assayas
Director Olivier Assayas' five-plus hour Carlos, split into three parts is an exhilarating biography of Ilich Ramírez Sánchez, also known as "Carlos," also known as "The Jackal." The film impresses on any number of levels running through about a decade of history with the man proclaiming his intention to be a radical force for Palestine throughout France and England. Anchored by a performance by Édgar Ramírez (Che) as the titles character that easily ranks as one of the best (if not the best) of the year. This is the stuff of legend, Carlos is a remarkable epic-scale movie – a tremendously absorbing blend of history, journalism and drama. Not to be missed.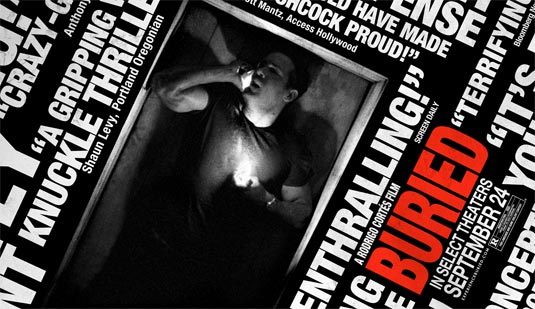 #27 – Buried
Directed by Rodrigo Cortes
From the Saul Bass inspired, cascading titles it's evident that the master of suspense would be proud; one can quite clearly imagine an intrigued Hitchcock mining Buried's foundations for all their anxious credentials. It is quite an achievement to craft a full 90 minutes of tense, nervous atmosphere from such a restrictive location, but Cortés manages to keep his camerawork fluid and engrossing, the tension ratchets up as the plot develops and an incremental understanding and sympathy for our blue-collar victim emerges – he was simply the wrong guy in the wrong place at the wrong time. The film makes some allusions to the alternate horrors of a corporately minded, out-sourced battle-field, and the dulcet tones of a voice cameo from Stephen Tobolowky should satisfy the cult movie crowd. It is the ingenuity of screenwriter Chris Sparling that keeps proceedings tunneling along, although one sequence seems a little contrived and serves as little more than padding to expand the film's run-time. Buried evokes the Stephen King short stories of his Skeleton Crew era and their EC comic progenitors, in that it is a tight, compact tale of terror that deftly explores its congested criteria – given its proximity to some headline making real-world horrors one assumes that this is a film that won't be picking up a distribution deal in Chile… (read the full review)
–
#26 – The Loved Ones
Directed by Sean Byrne
Sean Byrne's debut feature, The Loved Ones, crosses various horror touchstones, touching on teen angst, torture porn, melodrama and conventional slasher tropes. It's a gore-filled shocker that goes for laughs by paying homage to the outlandish low-budget video nasties of the '70s and '80s, blending together Misery, Saw, Prom Night, The Evil Dead and Carrie. The fusion of these horror classics makes The Loved Ones one of the best offerings at this year's film festivals. Bound to provoke reactions from more sensitive audience members, The Loves Ones is destined to become a cult fave. Leaving most viewers with their hands over their eyes and a smile grinning from ear to ear, this dark horse independent gem is a guaranteed wild and unforgettable ride… (read the full review)


#25 – A Serbian Film
Directed by Srdjan Spasojevic
Srpski Film (A Serbian Film) may just be the most controversial and disturbing movie ever made. The film that pivots around a scene of self-styled "newborn porn" was pulled from the schedule of London's FrightFest film festival after Westminster council ruled it could not be shown in its uncut version, and later the BBFC also required multiple cuts to the DVD submission in order to get released. Even with all the cuts the film will still get an '18' rating. The film has had the Sound On Sight team divided all year long, either thinking it was one of the best films of the year, or one of the worse. The filmmakers have stated that A Serbian Film is intended as an allegory about Serbia itself, but our very own Justine Smith had a different opinion in her review from the Fantasia Film Fest screening. However, our very own Al Kratina stated in his review that, "A Serbian Film works only when interpreted as an agonized scream from a nation mauled by a recent history of war and genocide. As anything else, the movie would be a tired exercise in forced shock." We'll let you decidewhich – that is, if you think you can stomach it.

#24- Wild Hunt
Directed by Alexandre Franchi
It's been a great year for Canadian cinema, and The Wild Hunt is one of the best and strangest of the year. Social decay, crippling urbanism and rampant narcissism are ideas explored through LARPING (Live Action Role Playing for those of you not in the know). Wickedly funny, the film quickly spirals into a weird, barbaric Lord of the Flies scenario. When confronted with the choice, it seems most would rather return to the cruel feudalism of the past: society may have changed, but people haven't. One of the most unexpectedly brutal film of the year, it reaches Shakespearean heights of emotion and violence. A medieval reenactment game turns into a Shakespearean tragedy when a non-player crashes the event to win back his girlfriend. First-time feature filmmaker Alexandre Franchi scooped up the prize for best Canadian first feature at TIFF and an audience award at Slamdance. Effective acting, assured direction and breathtaking cinematography by Claudine Sauve, make the low budget production worthy of your attention. Highly recommended for anyone looking for something fresh and original.
#23- Incendies
Directed by Denis Villeneuve
Canada's submission to the Best Foreign Language Film category for this year's Academy Awards comes in the shape of a rather atypical piece of Quebecois cinema – a mostly Arabic language war drama. Originating as a coup de foudre that director Denis Villeneuve had for Wadji Mouawad's play of the same name, Villeneuve's screen adaptation has been hailed as his best feature film to date. Insofar as Incendies is part of the Quebecois cinema landscape, it is a trailblazer. Eschewing the navel-gazing, parochial tendencies characterizing a good deal of local production, this France-Canada co-production stands out as a singular piece not only by virtue of Lubna Azabal's incandescent performance, but by the scale of its ambition, faultless execution, and the haunting, seared destinies of its characters… (read the full review)
–

#22 – La Quattro Volte
Directed by Michelangelo Frammartino
The academic film magazine Sight & Sound has for recent years been charting the emergence of a so called 'slow' cinema on the world stage, a type of cinema exemplified by the likes of Bruno Dumont, Bela Tarr or Carlos Reygadas, a strand of film-making where the emphasis is not on the conventions of dialogue or characterization – or in some cases even a cursory interest in plot. These traditional facets are all being sacrificed on the altar of atmosphere, as very long takes of beautiful landscapes and evocatively lit interiors dominate run-times. La Quattro Volte certainly falls into this latter category, as the film has perhaps a half dozen words of dialogue which are not subtitled, and once the emphasis changes from the herdsman there are no characters at all to speak of, although in a curious way a process of anthropomorphism takes hold in the viewer as the animals and eventually minerals seem to take on an animated life of their own. It may sound trite, but the cycle of life is here in this visual tone poem, a film certainly not for everyone that evokes a sense of Kiarostami or Bresson's Au Hasard Balthazar in its unusual format and structure… (read the full review)

#21 – Uncle Boonmee Who Can Recall His Past Lives
Directed by Apichatpong Weerasethakul
Though often difficult to decipher, the quiet pace and gentle touch of Apichatpong Weerasethakul's newest film, Uncle Boonmee Who Can Recall His Past Lives, makes for a spiritual and meditative film experience like no other. The film is largely deceptive, and it is nearly impossible to grasp everything it has to offer in a single viewing. A cinematic rarity, this will be a film to be discussed for years to come with a special warmth reserved for films that touch and change all those willing to open up their heart and soul to its influence… (read the full review)
–
[wpchatai]