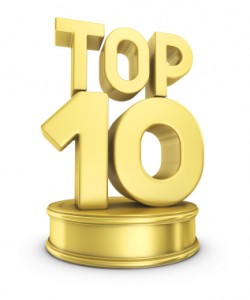 The 87th Academy Award nominations were released on January 15, 2015 representing the excellence in film for the previous year. Naturally there was the standard controversy regarding those films and performances that got unfairly overlooked. Unfortunately, the perceived snubs do happen from year to year so this goes along with the territory. Nevertheless, the lucky selections that do manage to grab Oscar's attention are understandably grateful and psyched to see if the golden statuette will in fact go home with them on the film industry's biggest and most elegant evening.
With the obvious crankiness of Oscar omissions aside and the injustices that go with these "reel" deals has anyone ever considered the Academy Award nominees that are surprisingly recognized that could have gone unnoticed for whatever reasoning? After all there are films and exceptional performances that get lost in the shuffle but manage to get the accolades it deserves in a sea of highly heralded fodder vying for Oscar gold.
In Thanks for Noticing, Golden Guy: Top Ten Oscar-Nominated Actor Acknowledgements we will look at a noteworthy selection of past and present Academy Award-nominated actors that could have easily been dismissed being on Oscar's radar in favor of other flashier, publicized choices for acting film excellence. The majority of the actors spotlighted in this movie column could have been tapped for Oscar nods based on other fabulous performances as well.
The top ten thespians mentioned in Thanks for Noticing, Golden Guy all have one thing in common: they came close to touching the movie industry's top prestigious prize but fell short and did not win. Perhaps the surviving names on this list may be victorious in future tries for an Academy Award victory? Let's wait and see, shall we? In the meantime, who would you consider to be included in this special group of performers?
The selected actors for Thanks for Noticing, Golden Guy: Top Ten Oscar-Nominated Actor Acknowledgements are:
1.) James Cromwell, Oscar-nominated as Best Supporting Actor for 1995's Babe
EXPLANATION: Veteran character actor James Cromwell had been around for years perfecting his craft in acting on stage, television and films. Cromwell certainly has the impressive pedigree hailing from theatrical parents. Generations of audiences knew of Cromwell's TV work in particular as he made guest appearances on the popular American television programs of the day such as Little House on the Prairie and his recognizable stint as bigot Archie Bunker's buddy Stretch Cunningham on the ground-breaking 70's sitcom All in the Family...just to name a few of his small screen credits. Thankfully, Cromwell was recognized by the Academy for his tender role as Farmer Arthur Hoggett in the sweet and inspiring comedy-drama Babe about a cute orphaned piglet with ambitious grooming as a specialized sheepherder. It was nice to see Cromwell get noticed for his poignant performance in an animal-based fantasy that captured the box office imagination of both young and old alike.
2.) Robert Forster, Oscar-nominated as Best Supporting Actor for 1997's Jackie Brown
EXPLANATION: Robert Forster was yet another character actor that has been around for quite some time toiling in previous short-lived TV shows and a string of scattered film appearances throughout the years. Luckily, Forster was able to collaborate with celebrated filmmaker Quentin Tarantino (known for his movie magic of resurrecting actors' careers with his off-kilter, cutting edge cinema) and land the role of sensible soft-spoken bail bondsman Max Cherry in 1997's raucous crime caper Jackie Brown. Among the hustlers gracing the big screen in sordid excess Forster's Cherry was steady, calming and captivating as the overseer of Samuel L. Jackson's garrulous and shifty crimelord to the protector and admirer of the film's titular character as played by the drop dead gorgeous Pam Grier. Tarantino proved to be that lucky charm and directed the acting vet Forster to his first Oscar nod that served as a boost for the performer's big screen career. The relieving justice was Oscar's astute awareness to reward the appreciative Forster for his subtle and conflicted performance in the off-the-cuff madness perpetuated in the provocative and raw Jackie Brown.
3.) James Garner, Oscar-nominated as Best Actor for 1985's Murphy's Romance
EXPLANATION: Who in their right mind was not thrilled when the extremely affable James Garner (whom we sadly lost in the summertime of 2014) scored his well-earned nomination for the perceptive and quirky unconventional romancer Murphy's Romance? The late Garner has always been a welcomed mainstay in the world of television and film with his carefree, impish roles drenched in roguish polish. As Murphy, Garner's turn as the old-fashioned and easy-going pharmacist/store owner whose attraction to a newcomer in pretty divorced single mother Emma (Sally Field) was a winning note that deserved the Academy's undivided attention. Murphy can be cranky and not to be messed with at all (tell that to Emma's wise-cracking and opportunist leech of an ex-hubby played by Brian Kerwin) but his kindness and competitive nature in luring the clueless youngish thirty-something Emma's affectionate heart was skillful as it was endearing. The Academy is to be commended for taking notice of Garner's rural charm in Murphy's Romance as an oldster with decency, dignity and an ornery spirit to match.
Frank's take: The Academy missed the ball on nominating James Garner for 1982's Victor Victoria in the Best Supporting Actor category.
4.) Jack Gilford, Oscar-nominated as Best Supporting Actor for 1973's Save the Tiger
EXPLANATION: Babyboomers may remember the late Jack Gilford as either the pitchman for Cracker Jacks in the 70's or perhaps his brief role as Sophia Petrillo's temporary husband Max Weinstock in the immensely popular NBC 80's sitcom Golden Girls. The truth, however, is that Gilford had a milestone career grounded in nightclubs appearances as a MC/comedian, Off-Broadway productions, television and movies. In fact, Gilford was dubiously blacklisted during the McCarthy era in the 1950's for Communist activities and leftist leanings by the House of Un-American Activities Committee. In short, Gilford has been through the ringer and paid the price dearly. This did not stop the veteran performer from pushing on and trying to revive his showbiz career in later years. Nothing could have come close to golden redemption for Gilford when he starred in a career-making supporting role (next to Oscar-winner Jack Lemmon) in 1973's dramatic character study Save the Tiger. Gilford's Phil Greene portrayal earned the established actor/comedian/activist his Oscar nod after being recognized for his impressive array of past Tony nominations that validated his illustrious duration in entertainment.
5.) Hal Holbrook, Oscar-nominated as Best Supporting Actor for 2007's Into the Wild
EXPLANATION: Respected stage, screen and TV actor Hal Holbrook finally got his due from the Academy when they granted him an Oscar nomination for his notable turn as haggard Ron Franz from 2007's Into the Wind. Holbrook, known for his one-man persona as Mark Twain not to mention his high-profile third marriage to the late Designing Women singer-actress Dixie Carter, has been a main staple in a fulfilling showbiz career punctuated with memorable performances in movie projects and various television productions. Easily, Holbrook's involvement in Into the Wind could have been overlooked for sexier and prominent supporting performances. Fortunately, the momentum of several critics' circle awards help shine some considerable light on Holbrook's understated poignant performance forcing Oscar to applaud his on-screen endeavors.
6.) Samuel L. Jackson, Oscar-nominated as Best Supporting Actor for 1994's Pulp Fiction
EXPLANATION: Samuel L. Jackson had been making the rounds in Hollywood for quite some time before his name became a household sensation in cinema as he was chosen by filmmaker Quentin Tarantino to fill the explosive shoes of on-screen black-suited hitman Jules Winnfield in the erratic and pulsating crime caper Pulp Fiction. Jackson was absolutely magnetic and hypnotic as the philosophical fright knight flinging complicated Biblical passages as if he was reciting the alphabet in front of his grade school teacher. Forceful, transfixing and menacing, Jackson was the bombastic backbone that spearheaded Pulp Fiction into its legendary lunacy. Twisted and fine-tuned in his criminal craft Jackson's Jules was oddly poetic as he was penetrating in fearful forethought. For Jackson to not have scored an Oscar nod for his acerbic graphic gunman would have caused some heavy-handed indignation beyond belief. In fact, some are still questioning why Samuel L. Jackson was shut out of the Best Actor category where his Pulp Fiction co-star John Travolta benefited based upon his nomination there? After all, Jackson's screen time was about the same as Travolta's and he (Jackson) had the trickier and memorable dialogue that he spun so convincingly as a spider's silky web.
Frank's take: The Academy missed the ball on nominating Samuel L. Jackson for 1991's Jungle Fever in the Best Supporting category.
7.) Frank Langella, Oscar-nominated as Best Actor for 2008's Frost/Nixon
EXPLANATION: Hands down critically acclaimed actor Frank Langella is one of his generation's best thespians on the American stage as well as his selected screen presence. Mainly identified for his robust interpretation of Dracula Langella has collected his share of Tony and Obie Awards for his heralded work in theater. In fact, Langella's foray into films have not been too shabby either. As the maligned and scandalous U.S. President Richard M. Nixon in the Ron Howard-directed Frost/Nixon Langella gave a stirring performance behind the twitchy conflicts of Tricky Dick's compromised psyche. Sure, there were the easy criticisms launched (for instance how Langella did not quite resemble Nixon's physicality) but this is mere nitpicking given the committed actor's brilliance in mannerisms and tormented psychology. Langella could have played Nixon in a powered wig and still capture the realistic effect of the deceased Commander-in-Chief in compelling personalized flaws and political purgatory. The Academy would have been in question if they did not salute the mesmerizing big screen technician for his acting chops as the polarizing politician.
Frank's take: The Academy missed the ball on nominating Frank Langella for 2007's Starting Out in the Evening in the Best Actor category.
8.) Bill Murray, Oscar-nominated as Best Actor for 2003's Lost in Translation
EXPLANATION: The Sophia Coppola-directed Lost in Translation put veteran funnyman Bill Murray on the serious movie map and showed audiences that his range for comical/dramatic edginess had indeed a legitimate pulse behind his trademark drollness. Nostalgically, folks recalled Murray's heyday cultural icon status on the original Saturday Night Live broadcasts while others were clinging on to his past hit and miss comedies and dramas from yesteryear. But Murray's tremendous turn as a disillusioned American has-been actor Bob Harris forced to travel to Japan and revive his movie career through lucrative Japanese whiskey ads hit a critical nerve with critics and moviegoers alike. Murray's adrift uncertainty and malaise coupled with the company of fellow detached young American housewife Charlotte (Scarlett Johansson) as they turn the exotic hotel and streets of scenic Japan as their therapeutic playground to ease their disillusionment. The Academy finally took Murray for the genuine artist that he displayed so soulfully in Translation and reminded film fans what a talent the ex-SNL alum is in actuality.
Frank's take: The Academy missed the ball on nominating Bill Murray for 1998's Rushmore and 2005's Broken Flowers in the Best Actor category.
9.) JK Simmons, Oscar-nominated as Best Supporting Actor for 2014's Whiplash
EXPLANATION: It is a given that first-time Oscar nominee JK Simmons has more to his big screen credibility beyond his past Spider-Man J. Jonah Jameson persona or even as the current TV pitchman for Farmers Insurance. As another actor that has been "that familiar face" in what seems like countless TV work and his share of movies over the years Simmons is picked as one of the elite 2014 Oscar nominees for his solid showing as a respected yet demanding music academy teacher Fletcher in writer-director Damien Chazelle's absorbing Whiplash. The Academy is to be given props for celebrating Simmons's iron-fist portrayal of an intense instructor bent on getting the best out of his musical students with unquestionable potential. Simmons's Academy Award nomination gives proof that durable small-scale films can be rewarded with big-time performances that a veteran performer such as Simmons unselfishly delivers effortlessly.
Frank's take: The Academy missed the ball on nominating JK Simmons for 2007's Juno in the Best Supporting Actor category.
10.) Lee Strasberg, Oscar-nominated as Best Supporting Actor for 1974's Godfather II
EXPLANATION: What can one say about paying the ultimate respect to one of the the founding fathers in method acting when recalling the showbiz pioneer in the late great Lee Strasberg? Strasberg's influence has been instrumental in the famed actors that he taught and trained as they range from reel rebel James Dean to intensifying Oscar winners such as Robert DeNiro and Al Pacino. No one can deny Strasberg's contribution to screen acting as his Group Theater in the early 30's followed by the much known Actor's Studio emerging in the late 40's stressed the principles of Stanislavsky-style techniques in approaching the psychological art of acting. Well, the ultimate artistic treat for the highly revered acting teacher, actor and filmmaker was realized when Strasberg was given an Oscar nomination for his impeccable take on Jewish mobster and Corleone business associate Hyman Roth. The Academy Award recognition for Strasberg's inclusion in The Godfather was definitely fitting for an incredible trail-blazer that left an indelible mark on acting in the continued realm of theater and motion pictures.
HONORABLE MENTION:
Richard Jenkins, Oscar-nominated as Best Actor for 2007's The Visitor
–Frank Ochieng
[wpchatai]