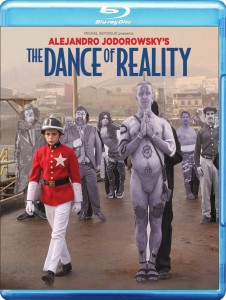 The Dance of Reality
Written and directed by Alejandro Jodorowsky
Chile, 2013
If Alejandro Jodorowsky's name has been in the news as of late, it's largely thanks to Frank Pavich's excellent documentary Jodorowsky's Dune. While this is a fascinating and tantalizing examination of what might have been a stunning feature in the filmmaker's rather limited body of work, it should not distract from the films Jodorowsky actually made since the Dune debacle. This includes the 85-year-old's latest feature (which is teased at the end of the documentary), the autobiographical The Dance of Reality, out now on blu-ray. This Felliniesque chronicle of occasionally inflated childhood reminisces and the sociopolitical factors that form one's identity is a beautiful film, lovingly crafted, episodic though at times meandering, and certainly a passion project for its director.
We first see Jodorowsky himself in the present day, directly addressing the camera and speaking somewhat cryptically about the perils of money (obviously for those who saw the Dune documentary, financial backing was a frequent struggle for Jodorowsky). From there, the real Jodorowsky occasionally reappears, inserted into the narrative, providing words of comfort and wisdom to his fictional childhood self, played by Jeremias Herskovits. Joining young Alejandro is his mother, Sara (Pamela Flores), a pleasant and quite curvaceous woman who operatically sings her dialogue (Jodorowsky's mother always wanted to be an opera singer), and his father, Jaime (Brontis Jodorowsky, Alejandro Jodorowsky's oldest son), an obnoxious, Stalin-loving brute. Jaime is frequently condemning his timid boy, with accusations of everything from being too quiet, to being too effeminate (especially with his locks of golden hair), to being a homosexual. For Jaime, his crude notions of assertive masculinity depend on his son's ability to tolerate pain. Adding to the child's bewildered upbringing is the fact that his mother refers to the boy as her father, apparently because she was (still is?) under the impression that he is her dad reincarnated.
Once this much is established, The Dance of Reality has no real driving narrative path to speak of. The early portions of the film follow young Alejandro as he goes about his daily business in the small seaside town of Tocopilla, Chile, circa the late 1930s. Whether or not it truly was this way, Jodorowsky's recreation of his hometown is one of vibrancy and vitality, in the literal color of its buildings and houses and in its colorful cast of frequently exaggerated characters. The strongest moments of The Dance of Reality come in these early sequences, where we steadily see the factors that shape the man Jodorowsky would become, with elements of new age spiritualism and reactions to politics, art, family, religion, sex, money, and death. It is not all gloom though. We also see the joys of young Jodorowsky: new red shoes (which he quickly gives away) and his role of mascot for the local fire brigade (a position he assumes once the old mascot, a dog, dies). But there are the bad times, the times when he is verbally and physically mistreated by his father or ostracized by other children for being a circumcised Jew.
For much of the film's latter half, the focus shifts to Jaime and his conflicted and complicated political ideology. His initial disdain for dictator Carlos Ibáñez gives way to a resentment that turns Jaime the lingerie salesman into a would-be assassin. Through this portion of the film, The Dance of Reality, while hitting on more substantial political themes, nevertheless loses some of it amusing charm. Ultimately though, this section is itself redeemed by redemption as the initially bellicose Jaime endures a number of trials and tribulations, including some extremely unpleasant torture, only to wind up a comparatively weak and humbled figure. His trajectory is tragic yet finally constructive.
Every film should be judged on its own merits, not necessarily on what came before it. But given Jodorowsky's stunning surrealism of the late 1960s and early '70s, and given the intensely personal nature of The Dance of Reality, one can't help but draw comparisons to his prior works. In this regard, while this latest feature may not have the wall-to-wall brilliant weirdness of El Topo or The Holy Mountain, there are still more than a few moments of classic Jodorowsky imagery, albeit less shocking and provocative: hundreds of sardines washed ashore, Jaime pissing on the radio, a small army of scarred amputees. And there are multiple scenarios and single images of metaphoric significance; like in the works of the late great Hungarian Miklós Jancsó and Greek Theodoros Angelopoulos, however, many of the regional and historical references will likely go missed by those not familiar with the material. Nevertheless, also like in the films of these other two directors, this lack of knowledge does not in any way diminish the impact of the film at hand.
On the technical side of things, the new ABKCO blu-ray is a stunning release, with extremely sharp picture and a few brief, though insightful, interviews. Some have decried Jodorowsky's decision to shoot on digital rather than film, and while the budgetary benefits were likely imperative, the results, in any case, are superb. Some of the special effects falter and some of the interiors have a noticeable hollow, soap opera-like quality, but by and large, this is a great looking movie.
Jodorowsky calls The Dance of Reality "A picture made with soul. My soul." And he was not alone. Accompanying him in the creation of this special work was his wife, Pascale, who did the costumes, and his two other sons, Adan and Axel, appear in the film as well; Adan also worked on the score. For anyone who has seen Jodorowsky speak passionately (like in Jodorowsky's Dune), it is clear that when he has great enthusiasm for something the results can be extraordinary. The Dance of Reality may not exactly be extraordinary, but for a filmmaker like Alejandro Jodorowsky, even a less than perfect movie is going to be unique and always at least worth watching.
[wpchatai]