30. Apollo 13 (1995)
Lost to: Braveheart
In 1995, director Ron Howard brought a true life story of hope in the face of peril and started sweeping up awards. He won the Directors Guild Award. He won the Producers Guild Award. He won the Screen Actors Guild Ensemble Award. He lost the Golden Globe Drama to "Sense and Sensibility," though he was nominated. Nothing could beat "Apollo 13." Oscar night came and the Academy decided to hand the award to Mel Gibson's historical epic about William Wallace, whose only precursor award was a surprise directing win at the Golden Globes. I'm not saying "Apollo 13" is a greater film than "Braveheart." It's just proof that even the mighty may fall if a charismatic actor/director is at the helm.
29. L.A. Confidential (1997)
Lost to: Titanic
Curtis Hanson's neo noir wasn't the only quality loser from 1997 ("Good Will Hunting," "As Good As It Gets"), but the lesson here was a clear one: if you make enough money, nothing can beat you. Critical societies had clearly chosen "L.A. Confidential" as the best film of 1997, but James Cameron's biggest blockbuster in history (at the time) had too much momentum and two stars that everyone loved. "Titanic" was gigantic – a movie that steamrolled everything in its path at the Oscars, regardless how lazy the film seemed and how dependent upon special effects it was. People spent in droves to see it proving that box office numbers really mattered. In 2009, the Academy would partially right their wrong by choosing the better film over another Cameron behemoth, but "L.A. Confidential" still missed out on the award it rightly deserved.
28. Apocalypse Now (1979)
Lost to: Kramer vs. Kramer
War movies are very hit and miss in Hollywood. When you hit dead center on a war movie at the right time period, you can knock it out of the park. Then there are those films that get better with age, when viewers are separated from the era in which the films were released. Such is the case of Francis Ford Coppola's re-imagination of Joseph Conrad's classic novel Heart of Darkness. "Apocalypse Now" is a war film unlike any other, keeping its cards close to the chest and speaking of the brutality of war and the effect it has on a man's psyche in a way that feels queasy. The search for Colonel Kurtz (Marlon Brando) is terrifying enough; then you meet him and the darkness surrounds the film. The Academy went with a divorce/custody battle drama starring Meryl Streep and Dustin Hoffman and, at the time, I wouldn't blame them. But "Apocalypse Now" has gone down as one of the most disturbing, cynical views of combat ever.
27. Crouching Tiger, Hidden Dragon (2000)
Lost to: Gladiator
It wasn't the first and certainly won't be the last foreign film to be nominated for Best Picture, but it will be tough to top the total accolades thrown its way. The Academy tossed ten nominations the way of "Crouching Tiger, Hidden Dragon," Ang Lee's imaginative adaptation of Du Lu Wang's book of the same name. Starring Chow Yun-Fat, Michelle Yeoh, and Ziyi Zhang, this high-flying story of the search for a fugitive and a stolen sword is a parable of feminism set against the backdrop of samurai warriors and insane acrobatics. It took home Oscars for Foreign Language Film, Score, Cinematography, and Art Direction – something unheard of for a foreign film.
26. E.T. the Extra Terrestrial (1982)
Lost to: Gandhi
Steven Spielberg's career arc is fascinating. In the 1970's he made some very gritty, very interesting films that didn't do much to pander to audience. Then 1982 came and Spielberg gave the world a modern fairy tale about friendship and what it means to be an outsider. "E.T." grabbed nine total nominations, winning four (Sound Effects Editing, Visual Effects, Score, and Sound). Movies that center on children aren't typically Academy fare and, while the Steven Spielberg touch helped here, in the end the Academy chose Richard Attenborough's "Gandhi," with a dominating performance from Ben Kingsley. But "E.T." shaped how Spielberg would make films for the next ten years, with a growing focus on pleasing the audience, rather than telling a meaningful story. He broke that streak with Best Picture winner "Schindler's List," but a large piece of his fan base still looks at this one as his greatest triumph and most personal film.
25. The Graduate (1967)
Lost to: In the Heat of the Night
Another loser from 1967 (what a year) that has stood up as a brilliant look at growing up, love, and what a strange thing sex can be. Starring Dustin Hoffman in his first real star-making performance, this Mike Nichols directed comedy treated sex and relationships as a driving force of hilarity and awkwardness, something rarely done so directly before. When Ben (Hoffman) falls in with his parents' friend Mrs. Robinson (Anne Bancroft), he eventually finds himself drawn to her daughter Elaine (Katharine Ross), much to Mrs. Robinson's dismay. The film grabbed seven nominations and surprisingly won the Best Director Oscar for Nichols, his only win. Regardless, of the 1967 nominees, "The Graduate" probably has aged the best and seems to have made this biggest cultural impact, but most of that may be due to the soundtrack from Simon & Garfunkel.
24. Le Grande Illusion (1937)
Lost to: You Can't Take It With You
What's a French Jean Renoir film from 1937 doing on a definitive list like this? It only received one Oscar nomination, although it was for the big one. Well, "Le Grande Illusion" was the first foreign language film to ever be nominated for Best Picture, widening the reach of the Academy dramatically. The first Best Foreign Language Film Oscar wasn't presented until 1957; though, between 1947 and 1955, the Academy presented Honorary Awards to films they felt were worth it. There have now been nine foreign language films nominated for Oscars, but the first after this film was 1969 ("Z") – 32 years between them. Taking all this into account, it's also worth mentioning that it is still one of the most evidently anti-war films ever made from one of France's great masters.
23. The Great Dictator (1940)
Lost to: Rebecca
Charlie Chaplin has gone down in history as one of the greatest screen legends of all time, though he never received much award recognition. Most of this was due to the lighthearted themes of most of his films and the fact that the Academy was still in its infancy. In 1940, Chaplin's "The Great Dictator" grabbed his lone nomination for Best Picture (he was also nominated for Best Actor). The film grabbed a total of five nominations, winning none. But, for a man who spent the majority of his life on screen completely silent, this satirical take down of Adolf Hitler and the Third Reich is a fascinating look at Chaplin in a speaking part, most memorably in a final monologue that is, more or less, Chaplin the man voicing his political opinions in a weary world.
22. Fargo (1996)
Lost to: The English Patient
Joel and Ethan Coen debuted in 1984 with "Blood Simple," a modern film noir that was only a taste of what they could do. They dabbled in dark comedy and more crime drama throughout the 80's and early 90's, eventually coming to this, a true crime story of an inept car salesman's plan to extort money from his father-in-law, only to see it fall apart while a pregnant cop is on the trail. "Fargo" was a revelation – a brilliant piece of storytelling that felt like a foreign film, but remained purely American. It was a near perfect film that grabbed seven nominations and was all but the Best Picture of 1996, until an Anthony Minghella directed British period drama swooped in and took the award. The Coen Brothers would eventually win a Best Picture with "No Country for Old Men," but "Fargo" was the first film that got this close.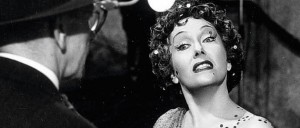 21. Sunset Boulevard (1950)
Lost to: All About Eve
Billy Wilder showing his range again, this time with a film that feels like a horror film. "Sunset Blvd." grabbed eleven nominations, winning three (Score, Black and White Art Direction, Writing). Wilder's masterpiece has gone down as one of the most brilliant, claustrophobic tales of lost glory and fear, with Gloria Swanson giving one of the most unsettling performances of all time against strong work from William Holden. Unfortunately, it was also the year of Joseph Mankiewicz's behemoth "All About Eve" – fourteen nominations is tough to beat. Both films were cynical looks at show business with surprisingly similar themes – how Hollywood can destroy a person's soul, creating a warped sense of self-importance and selfishness. But, All About Eve was an easier film to swallow, despite star Bette Davis and Swanson both missing out on a Best Actress Oscar (Judy Holliday in "Born Yesterday").
— Joshua Gaul
Part One / Part Two / Part Three / Part Four / Part Five