The 1990's introduced the world to Quentin Tarantino, saw the creation of the NC-17 rating, and began the slow call toward fully computer animated films. It began the slow (still slow) movement toward a more diverse industry, with the first African-American director earning an Oscar nomination (John Singleton for "Boyz in the Hood"). And the year after one of the greatest years in the history of film, 1995 came plodding along, trying to keep up. So, for the first definitive list of 2015, we are going to look back 20 years at a year that, at first glance, doesn't look so hot. It's ripe with flops, but it's also full of debuts, trailblazing beginnings, and better films than it gets credit for. But, the caveat still stands: this is not a "best of" list. In fact, there are a lot of bad movies on this list. But, they are movies that made a cultural impact, for better or worse.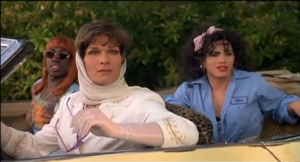 50. Too Wong Foo, Thanks for Everything! Julie Newmar
Directed by: Beeban Kidron
In 1994, Australia delivered "The Adventures of Priscilla, Queen of the Desert" as a gift unto the world, starring Hugo Weaving, Terence Stamp, and Guy Pearce as three cabaret drag queens on a cross-country trip. Naturally, America said "we can do better." We didn't but, at least it was a noble effort. Enter Patrick Swayze, Wesley Snipes, and John Leguizamo as three New York City drag queens embarking on a cross-country trip, in possession of a signed photo of iconic actress/singer/dancer Julie Newmar. Noxemma Jackson (Snipes) and Vida Boheme (Swayze) tie in the New York "Drag Queen of the Year" contest, both winning a trip to Hollywood for the "Miss Drag Queen of the Year" competition. Along for the ride is their protege Chi-Chi Rodriguez (Leguizamo), whom they simply refer to as a "boy in a dress." They sell their plane tickets and buy a Cadillac and head out, running into trouble and plenty of colorful characters along the way, including plenty of homophobic and confused people. Spoiler alert: they make it to Hollywood. Long before the world began to embrace these alternative lifestyles more fully (though never completely), this was an early studio picture that actually celebrated the lifestyle, with many underground drag queens playing major roles, including RuPaul herself.
49. Congo
Directed by: Frank Marshall
In 1994, Steven Spielberg adapted a Michael Crichton novel into a blockbuster film with "Jurassic Park." Naturally, the hope was to catch lightning in a bottle again. Frequent Spielberg collaborator Frank Marshall took a stab at it in 1995, this time with "Congo," from the novel of the same name. Lasers. Apes. Laura Linney. How could this go wrong? Two scientists (Linney and Bruce Campbell) are testing a communications laser in the heart of the Congo when they find an ancient city and two people are killed, leaving Karen Ross (Linney) to figure out what happened to them. She joins a philanthropist named Herkemer (Tim Curry) and a primatologist named Peter (Dylan Walsh), who wishes to take his primate named Amy back to what he assumes is her home. Then things go crazy, as it turns our Herkemer is a crazy person looking for the Lost City of Zinj. The tribe that supports them in their quest takes them to Bob Driscoll (early John Hawkes), a member of an original expedition thought to have been killed. From there, things go crazy with evil gorillas and diamonds. Sounds terrible, right? Well, it's not good, but just so we understand what 1995 gave us: "Congo" was far from a flop. Made for $50 million, it more than tripled that at the box office.
48. Dead Man
Directed by: Jim Jarmusch
Johnny Depp has never been one to choose conventional projects, and a collaboration with eccentric director Jim Jarmusch made sense. "Dead Man" follows William Blake (Depp) from his arrival in the town of Machine to start a job he discovers has already been filled. So, now he's stuck in Machine without a job or place to stay, turning to a prostitute, resulting in him almost gets killed and killing the son of his would-be boss by accident. So, now he's running away from bounty hunters sent to kill him and he is joined by an Indian named Nobody (Gary Farmer), who believes Blake is the reincarnation of the famous poet. Jarmusch has always been different, but he shoots for the stars with "Dead Man," which is not nearly as straightforward as how I just explained it. The movie never feels clear, like the reality of the world is slowly shifting away into another plane of existence. "Dead Man" is a weird fantasy Western that doesn't feel like it belongs in 1995 (or any time, for that matter). It only made about $1 million, but has since found a cult following, partly thanks to a realistic portrayal of a Native American character, not often found in American films.
47. Mallrats
Directed by: Kevin Smith
In 1994, the American independent film took hold, thanks to the success of Quentin Tarantino's "Pulp Fiction" and a tiny little black-and-white film called "Clerks." Kevin Smith's little movie helped give birth to a sub-genre of stoner comedy made for next to nothing, stressing the profanity and pointlessness of the 90's culture. The following year, Smith delivered "Mallrats," a sort-of prequel to "Clerks" that added to a series of films affectionately called the View Askewniverse, named for the production company behind them. The movies are loosely connected, no more so than through the characters Jay and Silent Bob (Jason Mewes and Smith), two stoner nobodies who epitomized everything about the series' style. "Mallrats" was just a minor stop on the journey – he would make better films (Chasing Amy, Dogma – Clerks 2 is actually pretty good), but most importantly, "Mallrats" featured a definitive performance from a young Jason Lee and one of the first major roles for a young man named Ben Affleck. And Michael Rooker getting a stink palm.
46. La Haine
Directed by: Mathieu Kassovitz
1995 was generally not a memorable year for foreign films. Every year is better than most Western World filmgoers give it credit for, but the cultural reach of non-English language films wasn't stellar in 1995. Mathieu Kassovitz's "La Haine" was one of the few that broke through a bit, a French black-and-white suspense/drama about three young men living in the low income housing outside of Paris, commonly called the banlieues. The film takes place over the course of just under a day, allowing us to see the everyday life of these three characters. Vinz (Vincent Cassel) is an angry Jewish man, seeing himself as a Travis Bickle ("Taxi Driver") contemporary. Hubert (Hubert Kounde) is an Afro-French boxer and drug dealer who wants to leave the violence and poverty behind him. Sayid (Said Taghmaoui) is an Arab Maghrebi who serves as a bit of a middleman to the two competing personalities of his best friends. Their friend has been beaten by police and Vinz fantasizes about murdering the cops who did this to him, finding themselves under the watchful eye of law enforcement throughout their otherwise mundane day. As expected, things take a turn for the worse and violence and degradation become ongoing themes, as racism and brutality surrounds them. The film is a small microcosm of France at the time, dealing with their seemingly endless parade of pointless death and violence. Kassovitz's cast of young men is up to the task, delivering a visceral narrative that feels like a claustrophobic nightmare. The film didn't premiere in the U.S. until early 1996, but was a contender at Cannes in 1995, as well as released in both France and the United Kingdom in 1995.
45. Desperado
Directed by: Robert Rodriguez
The second installment of Robert Rodriguez's Mexico trilogy(after 1992's "El Mariachi"), "Desperado" stars Antonio Banderas as a mariachi who is looking for vengeance against the drug lord who murdered his lover and for damaging his hand in a gunfight (all this took place in "El Mariachi"). In a sort of rehash of the first film, he is mistaken for a hitman and gets involved in an incredibly violent drug war, sucked in by a beautiful woman named Carolina (Salma Hayek) who happens to work for the drug lord. Working with a much larger budget than the first film in the series, Rodriguez spares no expense to amp up the violence to an unreasonable, but successful way. After years in Spanish-language movies and television, "Desperado" brought Hayek to the rest of the world, unleashing a leading lady with a Latin flare and beauty. Originally, the MPAA planned to give it an NC-17 rating, due to the excessive violence and the sheer death toll. In the end, to achieve an R rating, many death scenes were cut, including the deaths of the characters played by Danny Trejo and Quentin Tarantino.
44. Waiting to Exhale
Directed by: Forest Whitaker
Remember in the 90's when someone in Hollywood told Whitney Houston she should try to act? Though "The Bodyguard" and "The Preacher's Wife" are memorable in their own rights, it was "Waiting to Exhale" that may have made the biggest social impact. Directed by Forest Whitaker (yes, that Forest Whitaker, in his directorial debut), "Exhale" follows the lives of a group of African-American women as they meet and fall in love with men and look to each other for support as the years go by. Starring Houston, Angela Bassett, Loretta Devine, and Lela Rochon, the group of women go through multiple men, job, and family issues, always coming back to each other, strengthening their bonds. It's fine – a simple, light-hearted story about being a modern woman. But, it has an all African-American cast, making huge waves in the 90's, leading it to become a bit a social icon. Oh..and Angela Bassett sets someone's car on fire. And it's pretty badass.
43. The American President
Directed by: Rob Reiner
Take the interesting political side to "The West Wing" out and make it a romantic comedy and you get Rob Reiner's commercial hit "The American President," penned by the great Aaron Sorkin. Starring Michael Douglas as Andrew Shepherd (he holds the job of the title), he is a widower with a young daughter approaching the end of his first term as president, with little chance of being defeated if he runs again. That is, until he meets political activist Sydney Ellen Wade (Annette Bening), who he begins pursuing romantically in that silly way we always see residents act in the movies. But this new relationship opens the floodgates to attacks from his political rivals, as his wife had only recently died when he ran for his first term, almost making the topic off limits. "The American President" is a fine little dramedy with a good screenplay, the film holds a special place in MPAA history, as it includes three uses of the "f word," but still managed to grab a PG-13 rating. Like it or not, this film was the birth of "The West Wing," with a good chunk of the actors joining Sorkin's TV show, as well as script ideas for the moving subsequently being used in the show.
42. While You Were Sleeping
Directed by: Jon Turtletaub
Julia Roberts may be "America's Sweetheart," but many would argue that Sandra Bullock may fit that bill a little better now. After starring in the ill-fated TV adaptation of "Working Girl" and, of all things, "Demolition Man," Bullock hit pay dirt as the unsuspecting substitute bus driver in 1994's "Speed." A year later, she made her first major foray into the rom-com realm she has since ruled with "While You Were Sleeping," quite possibly the most unethical romantic comedy premise ever conceived. Lonely ticket collector Lucy (Bullock) saves a passenger she has been eying named Peter (Peter Gallagher), leaving him in a coma, but alive. His family assumes they are engaged, a suspicion Lucy never denies. Peter's brother Jack (Bill Pullman), isn't buying the story, but spends the majority of the movie getting to know her, along with the rest of his family warming up to Lucy. Sure enough, as movie magic dictates, Lucy begins to fall for Jack and vice versa. Conflict arises, but all is smoothed out in the end. But, take a step back and consider the story. She lies to an entire family. Then, if they assume the lie is the truth, they all seem to be okay with the fact that she drops her assumed fiance for his brother. Not to mention what a jerk move Jack makes by stealing his comatose brother's soon-to-be wife. Regardless, the film blazed a trail for Sandy, who hasn't looked back since.
41. Pocahontas
Directed by: Mike Gabriel, Eric Goldberg
The last (if that) of Disney's late 80s/early 90s animated movie renaissance, "Pocahontas" is a highly romanticized tale of manifest destiny and the beginnings of syphilis in America. Or it's a love story between John Smith (voiced by Mel Gibson) and Pocahontas (voiced by Irene Bedard), a Native American princess who has been promised by her father to the village's greatest warrior. But, Pocahontas is a modern woman and has her own ideas, believing a change is on the horizon. That change arrived in the form of an English boat, half of which want to kill all the natives and half who wish to make peace. Smith and Pocahontas fall for each (as the story goes) set to an Oscar winning score. Pocahontas even gets the Oscar winning Original Song with "Colors of the Wind," popularized on radio by Vanessa Williams (and sung by me as a seventh grader with the eight grade chorus, which was out of my register at the time). After Disney ran out a gauntlet of gems with "The Little Mermaid," "Beauty and the Beast," "Aladdin," and "The Lion King," they hit a snag with this somewhat insensitive, poorly constructed take on a questionable historical tale. "The New World" this is not.
–Joshua Gaul
Part 1 / Part 2 / Part 3 / Part 4 / Part 5
[wpchatai]