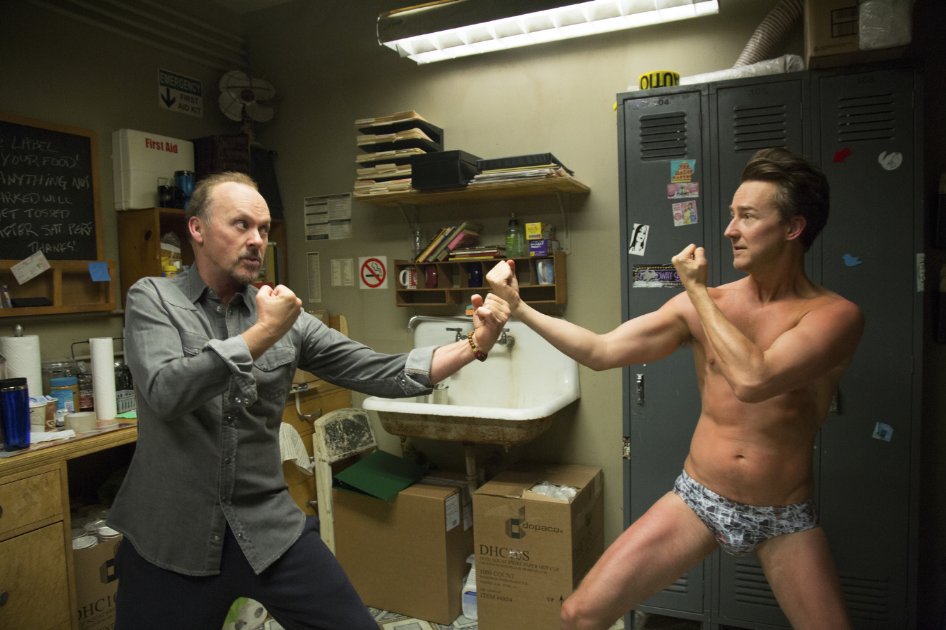 The Hype Cycle is News Editor Brian Welk's roundup of industry news, reviews and predictions of everything Oscar, boiled down into weekly power rankings of the buzziest and most likely contenders in this year's awards season.
The Toronto International Film Festival's People's Choice Award has been one of the most reliable barometers for both Best Picture contenders and winners, having recently recognized Slumdog Millionaire, The King's Speech, Silver Linings Playbook, Precious and 12 Years a Slave.
Chat Box - Go ahead, make my day and ask me questions about movies and TV shows...
This year however, Toronto may have gotten the short end of the stick compared to its contemporaries in Telluride, Venice and the upcoming New York Film Festival. And it remains to be seen whether any of these titles can make for a plausible, formidable or least of all permanent frontrunner. Let's take a look at this week's rankings.
1. Everything about Birdman
Birdman screams pure Oscar outsider on paper: an acclaimed foreign director known for turbulent dramas (Alejando Gonzales Iñárritu's) takes a left turn with a screwball comedy about a washed up superhero actor, done in seemingly one complete take by the The Tree of Life DP. Instead, it's shaping up to be a real insider, a film with as much of an eye for showbiz as Argo and featuring a meta comeback story of its own (Michael Keaton). And just about everyone is screaming masterpiece.
The Playlist couldn't stop raving, calling it "borderline miraculous," "a perfect marriage of form and content" (speaking to Emmanuel Lubeski's cinematography) and much like Charlie Kaufman's Synecdoche, New York. Keaton also shot to the top of the Best Actor race, with Todd McCarthy saying "Keaton soars perhaps higher than ever as a thespian with something to prove…Every vestige of aging skin and thinning hair is revealed by the camera."
Everyone from Keaton to Emma Stone to Edward Norton seems to be in the acting conversation (a runaway contender for the SAG Ensemble prize, says In Contention), along with Lubeski repeating in the technical categories. And yet the film is already battling some backlash claiming that the film is too divisive or weird enough to leave people cold. Those rumors might quell when it closes the New York Film Festival and opens October 17. Read our review here.
2. The Imitation Game
As the winner of Toronto's People's Choice Award, The Imitation Game by Scandinavian newcomer Morten Tyldum has the pedigree to make it an Oscar frontrunner. But it's also being called a crowd pleaser, a well-received critics' pick and a charmingly made wartime biopic, all akin to The King's Speech. Kris Tapley said at the very least it will be "generally agreeable" to plenty, always a boon in a competitive race. The film's subject Alan Turing, is also relatively unknown, points out Anne Thompson, and could help the film achieve an underdog narrative as a hero getting his due.
But most of all, Benedict Cumberbatch has finally delivered a performance fully worthy of his stardom. Vulture calls him "prickly, fascinating, and ultimately heartbreaking," standing as a symbol for both homosexuals and people suffering from Asperger's. Cumberbatch is coming off a busy but unlucky awards season last year following The Fifth Estate, August: Osage County, and 12 Years a Slave. Keira Knightley too is predicted to earn her second Oscar nomination, her first since 2006's Pride and Prejudice.
3. Top Five and Chris Rock
Easily the surprise of the festival circuit was Chris Rock's Top Five, a film so widely loved by the public and the studios alike that it spurred a massive bidding war between them. Deadline reported that Paramount ultimately picked up the film for a whopping $12.5 million, adding that with this film he's "turned a major corner as a storyteller and star," positioning him alongside other iconic filmmaking standups like Woody Allen and Albert Brooks.
The story involves Rock playing a fictionalized version of himself, struggling to maintain his fame while breaking out from the broad comedies that got him started by agreeing to a profile with the New York Times. The film features cameos by comics and friends like Adam Sandler, Jerry Seinfeld, Kevin Hart, Whoopi Goldberg and Tracy Morgan. Pete Hammond called it Rock's Annie Hall and SOS critic Justine Smith said it works as "a wonderful metatextual narrative on the state of the current Hollywood system, as well as a touching romance." Paramount will make a push for the film in December.
4. The Theory of Everything
The story of Stephen Hawking's early life and romance, this British biopic is the contemporary to The Imitation Game. Anne Thompson compared the two contenders and said that The Theory of Everything may have a leg up thanks to Oscar winning documentarian James Marsh's insider status and Hawking's name recognition over Turing.
Thompson also trumpeted the arrival of Eddie Redmayne, likening his performance to Daniel Day-Lewis's Oscar winning turn in My Left Foot. He along with Felicity Jones as Hawking's eventual wife make for a great pairing and could easily find their way sharing Oscar nominations.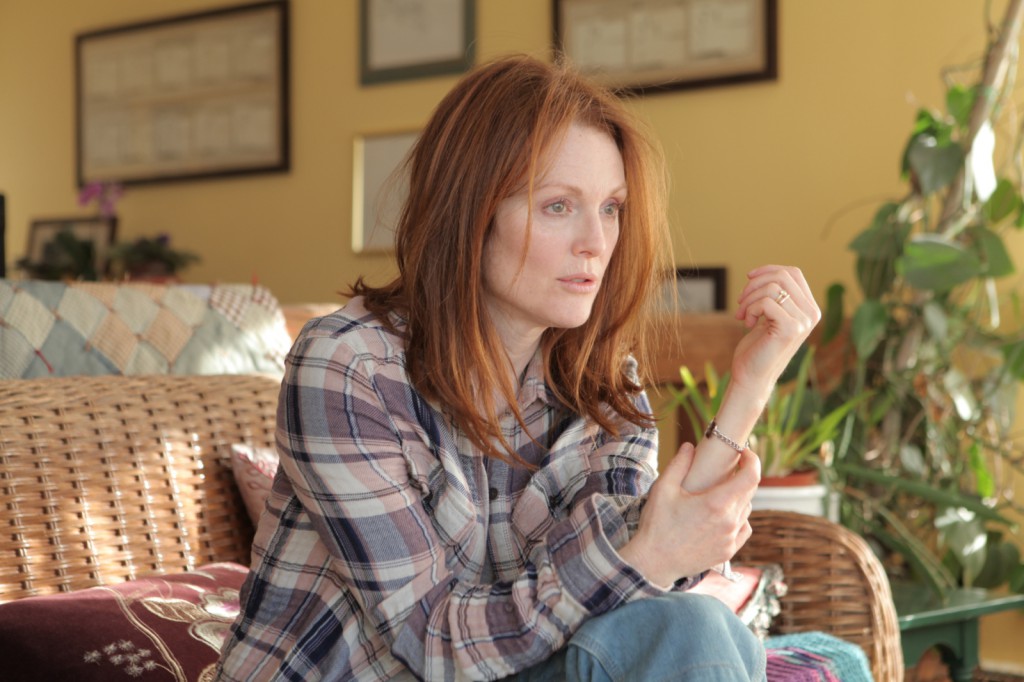 5. Julianne Moore
Julianne Moore started making heat for awards season back at Cannes where her work in David Cronenberg's Maps to the Stars won her Best Actress. That film played at TIFF, but it got bumped to spring 2015, snuffing out any chance for an Oscar this year at least. But right on its tails was the bombshell release Still Alice, rocketing her to the front of the Best Actress heap ahead of Reese Witherspoon and poising her to break her four nomination losing streak.
Moore plays a cognitive psychologist contending with the diagnosis of early onset Alzheimer's and how it affects her relationship with her family, including Alec Baldwin, Kate Bosworth and Kristen Stewart. Gregory Ellwood writes, "In each scene she peels a little bit more of Alice away as the emotional pain of the disease takes its toll. It is incredibly subtle work that has to have been painstakingly thought out." Still Alice was picked up by Sony Pictures Classics, which plans to release it this fall. Read Justine Smith's review.
6. Reese Witherspoon
Reese Witherspoon could be a multiple nominee this year, if not a second time winner. This year she acts as producer for both Best Picture contenders Wild and Gone Girl, and she stars in Wild, The Good Lie and Inherent Vice. The Good Lie received good notices as a crowd pleaser from the director of Oscar nominated Monsieur Lazhar, but so far her best bet is as a Best Actress contender in Wild. She plays Cheryl Strayed in a movie based on Strayed's memoirs. Strayed walked nearly 1100 miles following a series of turbulent moments in her life. Vulture says it's a new mode for Witherspoon and her best work since Election. "Rarely do we get such a thorough portrait of a woman's journey on film."
Witherspoon is considered the on-paper frontrunner because she shares much the same comeback narrative Matthew McConaughey had last year, and now she's saddled up with director Jean-Marc Vallee. Reviews of the film have ranged from polite to mixed, with Eric Kohn saying the director doesn't trust the beautiful visuals to carry the story, and the word from Telluride is that Wild left some people, even potential Academy members, cold. It somewhat bumps it down on the Best Picture chart if it really needs to get a large number of first place votes.
Check back tomorrow for the remaining power rankings for the first round of Fall Festivals.
Chat Box - Go ahead, make my day and ask me questions about movies and TV shows...