Hook
Written by James V. Hart, Nick Castle, Malia Scotch Marmo, and J. M. Barrie
Directed by Steven Spielberg
USA, 1991
Steven Spielberg is known the world over for creating genuine movie magic. From his blockbuster splash Jaws in 1975 up until his 2012 biopic Lincoln, Spielberg is certainly a gifted filmmaker. Very few auteurs are still work today but Spielberg keeps banging out films that dazzle the senses and leave an everlasting impression on the viewer. However, some of Spielberg's films haven't achieved the recognition and respect they deserve. There are certain films that this movie master made that didn't quite achieve a high status. One such film is 1991's Hook, a fantasy adventure which didn't really score well with critics but filled children of the 90s with  joy, innocence, and wonder.
The film follows middle-aged lawyer Peter Banning (Robin Williams), a bitter individual who has forgotten who he is. His childhood has been buried under decades of greed and selfishness. He has a beautiful wife Moira (Caroline Goodall) and two young children, Jack (Chalie Korsmo) and Maggie (Amber Scott). He cares more about his job than them and this is causing a huge strain on their relationship. While on vacation in London, Jack and Maggie are kidnapped by an unlikely abductor, Captain James Hook (Dustin Hoffman), a seemingly fictional character from J.M. Barrie's Peter and Wendy. Apparently, Hook is real and so is Peter Pan. Banning is actually Pan all grown up and he now must venture back to Neverland, search deep within, remember his childhood, fight Captain Hook, and save his kids.
Hook has it all: adventure, comedy, thrills, magic, and a strong family dynamic. The first hour drags slightly but that's only because it is setting up the truly epic story. Sort of a sequel to the Peter Pan story we all know and love, Hook is full of vivid imagination and rousing action. Robin Williams is perfect as Pan: His youthfulness and comedic spirit shine through in many of the scenes. Dustin Hoffman is also brilliant as the titular villain. Everything about him is terrific: His voice, clothes, and sharp metal hook are all magnificent and add to the overall high quality of the film. Hoffman is so believable as Hook that he is almost unrecognizable.
Rounding out the rest of the cast are some very strong actors. A then young and fairly green Julia Roberts plays Pan's pixie companion Tinker Bell and her performance is adequately bubbly. Bob Hoskins plays Smee, Hook's right hand man and he provides some of the film's more goofy, kid friendly gags. Charlie Korsmo (Dick Tracy) plays Banning's irritating brat of a son Jack and one-hit wonder Amber Scott plays the adorable Maggie, who sings a sweet little ditty "When You're Alone", written by the film's score composer John Williams. Maggie Smith also adds a touch of class as an elderly Wendy who lives with former Lost Boy Tootles (Arthur Malet) and housekeeper Liza (Laurel Cronin).
The supporting cast in Hook really stands out. The Lost Boys who inhabit Neverland and often clash with Hook's dastardly pirates are worth noting. They're basically a mix of The Lord of the Flies and The Goonies (also produced by Spielberg). Dirty, rambunctious and full of spunk, this group of misfit minors is comprised of charming child actors. Now, since Pan has been away so long, the young men need a leader, so that honor went to the oldest and most cunning Lost Boy Rufio (Dante Basco). When Banning arrives in their turf, tensions rise and a power struggle ensues. There is even a great food fight scene at The Lost Boys dinner table.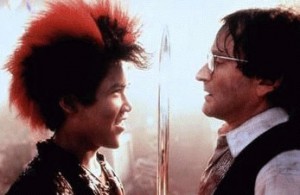 The mystical world of Neverland is given a great look courtesy of the film's production team. Norman Garwood's production design, Andrew Precht and Thomas E. Sanders' art direction, Garrett Lewis' set decoration, and Anthony Powell's costume design all deserve praise because they  truly made Neverland come "alive". These talented individuals were instrumental in the look and tone of Hook. The wizards over at Industrial Light and Magic also contributed to Hook's allure by providing the film's lavish visual effects. ILM actually worked on Hook in a time when revolutionary computer-generated effects were changing the way we saw movies. Films like Willow, The Abyss, and Terminator 2: Judgment Day all contained groundbreaking visual effects and opened the door for 90s movie magic and beyond. Spielberg would even call upon ILM's services again for his next film, 1993's Jurassic Park, which took CGI to even greater heights.
Veteran film score composer and frequent Spielberg collaborator wrote a score for Hook so grand and so epic that it has been used in numerous movie trailers and in award show montages ever since. The score is brimming with wonderful themes and motifs. There is a triumphant heroic theme for Pan, a dark and ominous one for Hook. Smee has a playful little tune and there are themes for The Lost Boys and Pan's family. Very few scores have been able to top Williams' contribution for Hook. It has a feel reminiscent of the swashbuckling scores of yesteryear. It is simple, easy to digest and downright fun. Think Star Wars but with pirates.
Branded by many as one of Spielberg's weaker films, Hook is far from weak. It is an exciting family adventure with a playful sense of humor, excellent production value, and very genuine performances. Robin Williams and Dustin Hoffman led the other actors in this costly production and like a fine wine, movies like Hook need to age a bit before they can be fully appreciated. Spielberg's intentions were noble here and children who were lucky enough to grow up during this film's theatrical release and subsequent VHS sales were treated to a lovely movie with powerful themes. Though we all must grow older, we shouldn't forget our youth. The theme of Hook and Peter Pan in general is that we don't grow up, we just get bigger. With DVD, Blu-ray, and Netflix, one can relive Pan's adventure over and over again. Spielberg's Hook is just plain fun and should be experienced not just by kids but by the entire family.