Nikita, Season 4, Episode 05: "Bubble"
Written by Oliver Grigsby
Directed by Nick Copus
Airs Fridays at 9pm (ET) on the CW
Nikita seemingly taking down MDK and Amanda last week closed, atleast in her mind, a major chapter in her life, possibly the most definitive one. However, the survival of both was the clearest indication yet that this war was far from over, and it would only be a matter of time until the deception came to light. This week's episode focuses on the public reaction to Nikita's story, as well as MDK and Amanda's next steps, in a great episode that promises a thrilling series finale next week.
Watching Nikita's discomfort with the limelight is a fascinating look at another aspect of her character. Nikita's entire life has been spent largely in the shadows and on the fringes of society, something that was only amplified during her time at Division, and amplified further when she went against them. All of this means that Nikita has never truly been the centre of focus, and especially never for her heroic actions. Her past actions to ensure the team doesn't worry about her well-being has made sense in light of the danger she has put herself into, and the fact that she cares for the well-being of those around her, but her similar feelings despite a difference in context here is very telling. Not only is the team not really in danger from what Nikita says to the public (as her exposure of Division is part of MDK's plans), but nothing Nikita is saying is a lie. No matter the government's ulterior motivations, Nikita and the rest of the ex-Division crew rightly deserve acclaim for their actions, but since Nikita was never in it to be regaled as a hero, it makes sense that she'd wear the title uneasily, even if Ryan had turned out to be wrong. Her purpose in life once she broke away from Division has been to help others because it is the right thing to do, and not because of the potential for recognition.
Amanda's attempt to take over MDK also reveals a key part of her character. While a play for control is not a new aspect of Amanda, her earlier actions along these lines could have been seen as survival tactics, or a personal vendetta against Nikita. Collaborating with Oversight to overthrow Percy from Division, forming an alliance with Ari, or even brokering a deal with The Shop all could have conceivably be seen as necessary on her part, but her manipulation of the doubles to pledge allegiance to her, as well as her explicit statement to Ryan, cannot be seen as anything other than a need for Amanda to satiate her hunger for power. In many ways, despite Percy being Nikita's main antagonist for much of the show's run, Amanda is the true opposite of Nikita. While Nikita always puts the needs and thoughts of others over herself, Amanda has always looked after her own self-interest. Perhaps the best example of this can be seen in the fact that Nikita fought hard to help Owen even after she knew what he did to Daniel, while Amanda had no issue fatally shooting Ari in cold blood. In many ways, it's fitting that the final battle comes down to the two of them, and Nikita having people who will stand by her no matter what may ultimately prove to be the difference.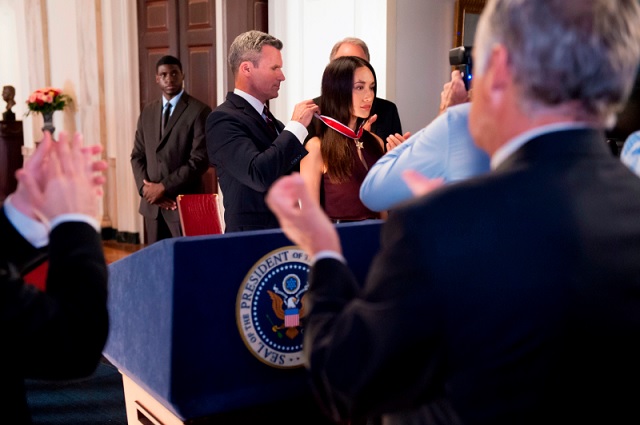 No discussion of this episode, or really the series as a whole, would be complete without talking about Ryan's death. Despite the sadness that such a vital part of the ex-Division crew did not manage to get a much-deserved happy ending, Ryan manages to remain a key part of the team right until the very end, and his value to Nikita cannot be underplayed. Despite only starting off as an analyst, Ryan's ability to see through to the truth when everyone else's vision was obscured, matched only by his unwavering moral compass, always made him integral, and his death is a major blow, regardless of how it happened. As the head of Division, Ryan never gave into the temptation to become like Percy, and always stood as a firm barrier between President Spencer's wipeout order and Division's recruits, despite his lack of emotional attachment to the place, or anyone other than Nikita. Without his actions, it's safe to say Division would not have gotten very far once Oversight and Percy were gone. Throughout the run of the series, he remained a character to root for, even when Nikita used him simply as a pawn to try to fight Division, and his death once again drives home the point that a war like this has casualties. Nikita putting the Medal of Freedom on his body is not only a touching gesture, it's also a fitting one, and even if it is for only one episode, Ryan Fletcher will be missed.
Overall, this is a fantastic episode, and one that promises a great series finale. The final scene of Alex tossing Nikita the gun is a wonderful moment for several reasons. Not only does it harken back to most of the opening season, where Nikita and Alex were the only ones fighting together against Division, but it also gets the two of them working together for the first time this season. Nikita calling Alex is also an indicator that, despite their history, when her back is against the wall, Nikita still counts on Alex over everyone else, a nice nod to the history of the two over the course of the series. Ryan's abduction and ensuing suicide is a solid sequence, and definitely among the show's highlights. It's also good to see Sam formally become part of the group, just in time for their final battle, and seeing Alex and Sam working together effectively as a fighting team holds up Nikita's assertion that they may not have completely lost Owen. Delivering an effective series finale is a tall order for any show, but the way this season has progressed to date indicates the writers are up for the challenge, and it will be exciting to see how everything wraps up next week.
– Deepayan Sengupta