*Disclaimer: the following is based on and an expansion of an article written by Peter Howell, the Toronto Star Movie Critic.
It's a truth universally acknowledged that a film of the lowest common denominator adds nothing to the institution of cinema. But as profiteers like Adam Sandler have already understood, when money speaks, truth is silenced, and nothing has been more vociferously profitable for him than his lowest common denominator filmmaking.
Under his very own moviemaking company, Happy Madison Productions, Sandler has been churning out the most banal drivel since its inception in 1999 (which was widely regarded by some to be a precursor to Y2K). His movies have subjected the world to his penchant for unadulterated nonsense and, in the vain of Sandleresque humour, a whole lot of poppycock.
But to the chagrin of film critics and to anyone with the slightest bit of sense or sensibility, his company not only exists, it proliferated. Boasting a combined net gross of over $3 billion from his company's 28 mainstream films (excluding films like the rubbish Bucky Larson: Born to Be A Star, which was made on a comparatively low budget of $10 million), Sandler and his team average a box office gross of about $115 million per movie worldwide.
Amongst the laundry list of films that make up Happy Madison's anthology is a plethora of those where Sandler stars in himself. You may remember him from such classics as, You Don't Mess With the Zohan, I Now Pronounce You Chuck and Larry, and Grown Ups.
Although he tends to play the same kind of person in every single one of his films, many are reticent to call him a 'character actor', particularly those whom have any respect for the performing arts. While some may argue that Sandler isn't much of an actor, it can't be denied that he certainly plays a character.
In particular, his style of 'acting' consists of playing a middle-aged man that's always lazy, always crass, always irresponsible, always infantile, and always ostentatious. In summation, he's always the man-child, and his films are always just as immature.
However, it's important to note that Sandler is not the sole benefactor of the man-child persona, nor is the persona itself an inherently negative phenomenon.
As counterintuitive as it might seem, Sandler's modus operandi actually follows a hallowed tradition of acting that traces back to some of the most cherished, loved and entertaining movie stars in the history of the pictures.
In fact, where would Hollywood or the entire film industry be without the farcical antics of Buster Keaton, Charlie Chaplin's happy-go-lucky tramp (the antecedent of the man-child), or the endearing idiocy of the Three Stooges?
These characters exude childishness, yes, but they were performed and acted with a genuine sense of fun and naïveté. When we revisit films like Modern Times, we are almost forced to smile as we are bathed in the irresistible purity and sentimental emotions that often stem from films of the nostalgic set.
It takes a hardened and cynical curmudgeon of the highest order to reject the inherent charms of this kind of cinema, and Sandler et al have banked on that idea. But his version of this, however, is in no way the practical equivalent of his forbearers.
For the most part, Chaplin and company existed as harmless entertainment by design. Their juvenile antics were always imbued with a distinct sense of innocence and joie de vivre. This was entertainment that appealed to all precisely because it was so accessible. A great contemporary example of this is Tom Hanks in Big.
Sandler and friends, on the other hand, are not. Although unmistakably juvenile, his modern day version of the man-child is one that revels in sexual innuendos, graphic indiscretions, and unsavory expletives. With touches of homophobia, misogyny and all-around spite, his films can hardly be regarded as either harmless or accessible.
Regardless of his many critiques, Sandler and his fiery brand of movies have earned a lot of money, which, in Hollywood parlance, translates into success. As long as there was an audience to see them, Sandler had the carte blanche to make crap at an industrial level, and as long as Sandler was making industrial waste, audiences were happy to go see it. It's a vicious cycle that has threatened to evolve into a maelstrom capable of turning Hollywood into a veritable wasteland.
But finally, it seems, the times they are a-changin'.
For the longest time, the only period of respite that we've ever had from Sandler's antics was when he decided to take a more dramatic turn in his films, notably those that were primarily produced by somebody else.
His role as the emotionally tortured Barry Egan in Paul Thomas Anderson's Punch-Drunk Love was both surprising and daring, earning himself a nomination at the Golden Globes.
Later, in Judd Apatow's Funny People, which was co-produced by a subsidiary of Happy Madison, Sandler was surprisingly absorbing and sympathetic as George Simmons, a comedian diagnosed with acute myeloid leukemia.
In between, Sandler appeared in a dramatic, if less than critically acclaimed Spanglish, but altogether, he had garnered immense praise from critics for his heretofore-unknown acting ability, and deservedly so. There was even hope that he would drop the slapstick altogether and follow more artistic and noble pursuits, but this turned out to be forlorn.
His more dramatic movies earned considerably less than his other films (an average of $50 million compared to $115 million), so when money talks, the truth is silenced, even if the truth turns out to be complimentary.
Sandler went back to his clownish filmmaking crutch, regularly earning hundreds of millions with his subsequent films, like Just Go With It ($300 million gross) and Jack and Jill ($150 million gross).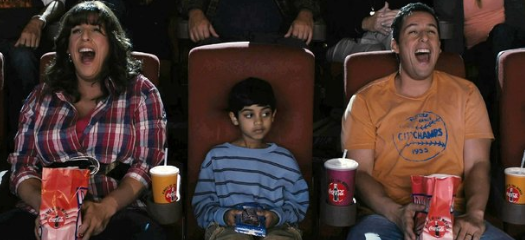 But in 2012, Happy Madison Productions came out with the aptly titled Sandler vehicle, That's My Boy, and here is where he finally loses his plot.
Budgeted for $70 million and starring acting heavyweights Andy Samberg and Vanilla Ice, That's My Boy bombed at the box office, earning a measly $33 million worldwide and appearing fourth, just above Snow White and the Huntsman.
What went wrong? How was this different from the Sandler's previous films, which made hundreds of millions?
Did it have crass humour? Check. Lowbrow tomfoolery? Check. Sandler starring as the man-child? Check. All the components were there, but why wasn't the Happy Madison formula working?
To answer that, let's segue into an appropriate discussion about Jackass.
What started as a television series on MTV, Jackass, as some of you may know, turned into a movie franchise trilogy, featuring a group of colourful characters that were more than willing to perform a variety of ridiculous, foolhardy, rash, and incredibly uninhibited acts of stupidity.
These were the true man-children in cinema, because, for the most part, they weren't acting.
The reason for the popularity of Jackass is stridently simple. Watching funny people doing funny things is actually pretty funny. But it wouldn't be nearly as watchable if the cast and crew weren't so boyish and endearing.
As a general social rule of thumb, ill-advised misadventures can be excused for people, especially men, under the age of 40. From your mid-twenties to mid-thirties, people will tolerate adults acting like drunken college kids because, on the surface, most still look like one.
Same rule applies for the people of Jackass. As wild twenty and thirty-somethings, they were looked upon with an accepting, if not approving, sense of 'boys will be boys'.
Now, Johnny Knoxville, the ringleader of this gang of misfits, is 41. Steve-O, the most audacious, is 38. In fact, one of the principal members, Ryan Dunn, died recently in a tragic car accident.
Watching a bunch of lads pulling pranks may be all fun and games, but when you're pushing 40, these actions have serious repercussions. Your knees start to give, your injuries take longer to heal, and your back starts to go.
Now, it's no longer boys will be boys. Now, the people of Jackass are old enough to know better.
As they age, the people of Jackass have come to realize that they are, in fact, mortal. Next time Knoxville says, "I'm too old for this shit", he may very well mean it.
If the group ends up making another movie, it would be wildly irresponsible of them, both as adults and as fathers. Not only that, it would be irresponsible for the audience to encourage this behavior by watching it.
The same goes, to a certain extent, with the volatile and unpredictable Charlie Sheen. In Ferris Bueller's Day Off, his coked up, enigmatic character at the police station was both age appropriate and quietly charming, in an edgy bad-boy sort of way.
Now 46, it seems like Sheen has hardly evolved one bit. His fratboy lifestyle, which landed him the leading role in Two and a Half Men, has now backfired.
He has since been kicked off the show for arguing with his bosses, using borderline racial remarks, and his nationwide tour was ill received by some of his self-professed fans.
For them, it's swings and roundabouts. Yes, he's in a sad state, but every fan wants to support their beloved. But by supporting him, by buying tickets, by going to his shows, they've come to realize that their well-intentioned money will be used to feed Sheen's habit and lifestyle, further destroying the remnants of his career.
Even his fans, it seems, have had enough with his real-life man-child hijinks. Aside from a few socially awkward contrarians, Charlie Sheen, in his inability to grow up, is now persona non grata. He's no longer "winning".
Speaking of which, let's segue back to Adam Sandler.
As stated before, his latest film, That's My Boy, was both a critical and box office failure. Can it be a coincidence that he's now 45?
In some of his films before this one, he at least made a cursory effort to play a proper adult. In Just Go With It, he was a successful surgeon, and in Jack and Jill he was married with kids. He was still silly in both, but he was nowhere near childish.
In That's My Boy, Sandler's man-child character came storming back with a centrifugal thud. In it, he played Donny Berger, a 40-year-old drunkard and party boy who shot to fame at age 12 for impregnating his hot 22-year-old teacher.
One major problem with the film, even by Sandler standards, is that it's massively misogynistic. As Associated Press film critic Christy Lemire observes, "Every woman is a stripper or a prostitute or some kind of slut in general. Even the grandma in this thing throws herself at Adam Sandler."
She goes on to say that even Leighton Meester, the supposed classy alternative, is depicted as "a liar, a gold-digger, and a shrew". The only woman that doesn't fall into either mold only has about three lines in the film.
Is this how Sandler sees women? Even if it isn't, it's definitely how he chooses to portray them.
What's worse is the film's facetious and tacit approval, under the guise of humour and satire, for statutory rape (as long as it's a young lad and a hot older woman, of course).
Add that to that the plethora of sex professionals in the movie, fart jokes, and people talking in (un)funny voices, and the film amounts to one based on the fantasies and whims of a 12-year-old boy.
Which it is. The only problem is that Sandler's technically 45.
A 12-year-old with chauvinistic tendencies may be excused as youthful ignorance and naivety, but a grown-ass man has no excuse. This turned off most adults; a fact reflected in its dismal financial performance.
The apologist will argue that this is due to the film's R rating. This, again, is swings and roundabouts.
Yes, theoretically, the R rating means fewer viewers. But also theoretically, this means that the people that do watch the films are adults.
Many of his previous films were rated PG-13, which allowed his target market of teenagers to see his movies, resulting in box office smashes. Now that the audience is just for adults, audiences are tired of watching a 12-year-old's mind trapped in the body of a 40-year-old man.
Or to be more specific, Sandler has lost his novelty. He's overplayed his only gimmick, and now he's too old to play it. And he's not the only one.
Take Rowan Atkinson, for example, whose Mr. Bean character can claim true lineage to Chaplin's tramp. In the 90's, Atkinson could pull of his character with universal applause, laughter, and riches, but now, aged 51, his shtick just looks pathetic.
He's since dropped the Bean character, only to take up the persona of the equally slapstick Johnny English. The audience has finally had enough, however, and his Johnny English Reborn raking in a staggeringly low $8.3 million at the box office is proof.
Sacha Baron Cohen may very well be another. Although previously recognized as Ali G, Cohen shot to fame and fortune by playing Borat, the bumbling Kazakh journalist whom was loved precisely for his childish ignorance.
His subsequent films have been deemed as diminishing returns by critics, but his latest, The Dictator, still made over a hundred million. But don't worry – Cohen just turned 40. Just wait a couple of years.
Steve Carell took his first big step towards adulthood in Little Miss Sunshine, and a second when he retired as the oblivious regional manager in The Office. But with conflicting mixed reactions to his new film, Seeking A Friend for the End of the World, how long will it take for Carell to be synonymous with Michael Scott once again?
Then there's Will Ferrel, the man that took his man-child character and traversed the sports world in films like Semi Pro, Blades of Glory and Kicking & Screaming. His character made appearances in a slew of non-sports related films, but for the purpose of brevity, they won't be mentioned here.
It's not that Ferrel isn't talented. He was fantastic in films like Stranger Than Fiction and last year's Everything Must Go, but they, like Sandler's more dramatic endeavors, resulted in less than satisfactory monetary returns.
So he again returned to the man-child in his latest film, Casa de mi padre, which was just about ignored by everyone and earned even less than his dramas. Does it matter that he's 44?
His close friend and frequent collaborator, John C. Reilly, whose acting roles range from Talladega Nights to Boogie, is 47. What will happen to him?
What will happen to the likes of other man-children like Mike Myers, age 49, Jack Black, 42, Paul Rudd, 43, Zach Galifianakis, 42, Kevin James, 47, and Jim Carrey, 50?
Or what about their burgeoning successors Seth Rogen, 30, Russell Brand, 37, Jonah Hill, 28, Seann William Scott, 35, and Jason Segal, 32?
Most of them have done dramatic roles before, but all of them eventually return to their man-child niches. Will they adapt, change, and grow up? Or will they continue on the same dilapidating path as Sandler, Sheen, and Atkinson?
In The Breakfast Club, Ally Sheedy once said that, "When you grow up, your heart dies". However, people like Adam Sandler have shown that, although growing old is inevitable, growing up is purely optional.
But while they may pathologically sustain the assertion of the latter, nature has a longstanding record of balancing its books, and as people like Sandler start to age, so too will the boyish charms and puerile charisma, which have buoyed their careers up to that point.
As these men grow old, their gimmicks will look more and more desperate, and more and more pitiful to watch.
Soon, the years of irresponsibility and juvenile delinquency will catch up with them, and they will be forced to see how unequipped they are for the real world.
They will need to adapt to a more mature form of acting and filmmaking. The way adults do.
And even more tragic, by age 40, even the man-child will be fall victim to nature's indiscriminate and fastidious book-balancing, enterting an age group that's susceptible to high blood pressure, cholesterol, and other heart diseases.
So, in a sense, Sheedy is still right. Even for those who don't grow up, your heart may still die.
– Justin Li
[wpchatai]