Cloudburst
Written and directed by Thom Fitzgerald
Canada, 2011
The story of a gay couple battling against social stigma has become an old, tired genre, so it's only appropriate that in Thom Fitzgerald's lesbian road trip film, Cloudburst, the two leading ladies share a combined age of about 140. Although it's initially humorous and deeply affecting, this road trip runs out of gas half way, and instead, relies on artificial melodrama to take it to its final destination.
Starring acting heavyweights Olympia Dukakis and Brenda Fricker, the story is about two lesbian women, Stella and Dot, who have been living together in Maine for 31 years. However, when Dot (Fricker) is hospitalized after a fall at their home, her granddaughter (Kristin Booth from Below Zero) sends her to a nursing home to be properly looked after.
Not wanting to lose her, Stella (Dukakis), breaks Dot out of the home and, together, they go on a Thelma and Louise type escapade to Nova Scotia, where same sex marriage is legal.
Like a good Apatow movie, Cloudburst has promising ingredients. Likeable characters, provocative motifs, and fiery dialogue, the film jumps off to a great start.
One auspicious aspect, in particular, is the virtually tangible chemistry between Dukakis and Fricker. From the unrestrained bickering to the unspoken, yet obvious affection for each other, the two leads convincingly portray a relationship weathered by 31 years.
Another standout is Dukakis' performance. As the arrogant and hot-tempered Stella, her unique brand of inventive expletives would make Stifler and Jonah Hill's character in Superbad blush.
However, the film starts running on empty by the second half, and, although the central premise is straightforward and purposed, it often goes off on tangents that don't add dimension or nuance to the narrative.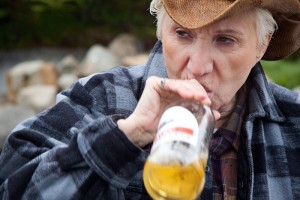 Unlike its contemporary, and more successful, road trip films (like Trains and Automobiles, The Motorcycle Diaries), the characters in Cloudburst don't change very much from point A to Point B, which makes the challenges they come across in between feel meaningless and banal. The character arc is less an arc and more a straight line.
The film's inevitable attempt at pathos feels artificial because it doesn't successfully engender a feeling like they're remotely feasible. However, the gimmick of old women saying filthy things has yet to lose its novelty, and although the film mines this repeatedly for laughs, Cloudburst epitomizes its name by being a film of fleeting and short-lived qualities.
– Justin Li
Visit the official website for Inside Out

For the Canadian Film Festival review of
Cloudburst
, click
here