Yes, he was the punchline of approximately a quarter-million Tonight Show jokes. But Michael Jackson's stop-on-a-dime dance moves and sensual soprano have influenced generations of musicians, dancers and entertainers, and the man was so much more than what the tabloids made him out to be. One of entertainment's greatest icons, he was incredibly gifted, and like most gifted individuals he was an equally troubled genius who kept us captivated at his most dazzling, and at his most appalling moments. The New York Times once described him as one of the six most famous people on the planet. I'd like to up the ante: he was the most famous person on the planet. He influenced artists ranging from Justin Timberlake to Madonna, and genres from rock to pop to R&B to even rap. No other artist has been as unifying.
Jackson also helped elevate the music video, turning it into an art form while still using it as a promotional tool. Using complex story lines, never-before-seen dance choreography, elaborate special effects and famous cameo appearances, he developed some of the greatest music videos of all time.
Before Thriller, Jackson struggled to receive coverage on MTV because he was African American. Pressure from CBS Records persuaded MTV to start showing "Billie Jean" and later "Beat It", leading to a long time partnership between the channel and Jackson, which helped break down racial barriers. With his rise from star to superstar Jackson helped other black music artists gain recognition, and the popularity of his videos helped to put the relatively young MTV on the map.
The Videos
Billie Jean
Billie Jean is considered the video that brought MTV into the mainstream. In fact, it was the first video by a black artist to be aired by the channel, which at the time played only rock music. Walter Yetnikoff, the president of Jackson's record label, CBS, approached MTV to play the "Billie Jean" video. Yetnikoff was furious when MTV refused to play the video, and threatened to go public with MTV's stance on black musicians and remove any other videos from the CBS record label from the TV channel.
The video was directed by Steve Barron, and went on to win Jackson the Billboard Video Award for Best Overall Video.
Jackson's look, a black leather suit with a pink shirt and bow tie, became a fashion trend, particularly among school children.
Beat It
Beat It, directed by Bob Giraldi and choreographed by Michael Peters, was based on the Broadway musical West Side Story. Released after Billie Jean, the video and single helped further establish Jackson as an international pop icon. Like Thriller, the video became famous for its complex choreography, a Jackson trademark. The clip also starred genuine 80 gang members-to add authenticity to the production-and 18 professional dancers. It cost $150, 000 to make and Jackson"s red leather jacket sparked another fashion trend.
Thriller
Thriller is not so much a music video as it is a short horror film, featuring choreographed zombies performing with Jackson. It was directed by John Landis who had previously directed the hit film An American Werewolf in London. Michael Peters, who worked with Jackson on "Beat It," helped choreograph the video, and former Playboy centerfold Ola Ray was cast as Jackson's co star. The video contained a spoken word performance by horror film veteran Vincent Price and incidentally contained music by composer Elmer Bernstein (who also worked with Landis on An American Werewolf in London). The video set new standards for production, having cost $500,000 to film. The choreography in Thriller has become a part of global pop culture, replicated everywhere from Bollywood to the Philippines. The Thriller short film marked an increase in scale for music videos, and has been named the most successful music video ever. It firmly cemented the notion that videos could be something more than just commercials for singles. The result is an exciting film full of gothic imagery that still holds up decades later.
Bad
With Bad, Jackson wanted to out o his previous work. He hired Oscar nominated novelist Richard Price to develop an 18-minute short film and asked Martin Scorsese (considered at the time the greatest American filmmaker) to direct. The video is noteworthy for the beautiful black and white cinematography of Michael Chapman (Raging Bull, Taxi Driver) and features a the first screen appearance from a very young Wesley Snipes.
Smooth Criminal
Jeffrey Daniel of the soul music group Shalamar choreographed the "Smooth Criminal" video with help from Colin Chilvers who directed. Currently there are four different versions of the video but the Original Moonwalker Version runs 39 minutes long. It is most remembered for its 'Anti-gravity Lean', an effect showing Jackson and the dancers leaning forward in a seemingly impossible distance. The effect was achieved using special harnesses with wires and magnets. However the greatest challenge came when Jackson requested a device to replicate the dance on stage during his live shows. Jackson and his team devised an alternative way to achieve the effect on stage using pegs that rise from the stage at the appropriate moment, and special shoes with ankle supports and cutouts in the heels which can slide over the pegs and be thereby attached to the stage temporarily. This allowed the performers to lean at impossible angles.
Black and White
Black or White" was first broadcast on MTV, BET, VH1, and FOX giving them their highest Nielsen Ratings ever. The video featured an all star cast including Macaulay Culkin, Tess Harper, and George Wendt and it's special effects helped usher in morphing as a new technology in film. John Landis returned to work with Jackson again and the video also introduced a young Tyra Banks, just beginning her career as well as actress Peggy Lipton. It is most remembered for it's controversy concerning the last four minutes of the original video showing Jackson walking out of the studio as a black panther and then morphing back into himself. What followed was a very sexually suggestive dance routine having Jackson grab his crotch repeatedly and zipping his pants up.
Remember The Time
Set in ancient Egypt, the video featured groundbreaking visual effects and appearances by Eddie Murphy, Iman and Magic Johnson, along with a distinct complex dance routine. It was also edited by John Singleton coming off his success with Boyz in the Hood.
Scream
Last on the list is the award winning music video for "Scream" choreographed by Jackson, and directed by Mark Romanek. The song marked the first time Michael and his sister recorded a track together.
The general idea was that Michael and Janet were to be on a large spacecraft wanting to be left alone and were heading into space away from Earth. Filmed in black and white, it was heavily influenced by Japanese sci-fi Anime and Michael and Janet took on a darker persona. The video is one of Jackson's most critically acclaimed pieces. In 1995, Scream gained 11 MTV Video Music Award Nominations, more than any other music video, and won "Best Dance Video", "Best Choreography", and "Best Art Direction". It was also given a Billboard Music Award for best Pop/Rock video and a year later, it won a Grammy for Best Music Video, Short Form. It still holds the record has the most expensive music video ever made at a cost of $7 million.
They Don`t Really Care About US
The song was accompanied by two music videos directed by Spike Lee. The first was shot in Brazil, in the cities of Rio de Janeiro and Salvador. The second video was shot in a prison and contained video footage of multiple references to human rights abuses.
Commercially, the song became a top ten hit in all European countries. In the US, radio stations were reluctant to play the controversial composition; it, however, managed to peak at number 30 on the Billboard Hot 100.
The first music video was shot in a favela of Rio de Janeiro showing visibility to poverty and social problems in countries like Brazil. This second version was filmed in a prison with cell mates and is inter-cut with real footage of police attacks against African Americans, the Ku Klux Klan, war, genocide, starving children, assassination, execution, and other infamous human rights abuses by the State, such as Tank Man.
The movies
Captain Eo
During his long layoff between records, Jackson indulged his interest in film and video by working with George Lucas and Francis Ford Coppola on the 3-D short film Captain Eo. The special-effects extravaganza was shown at the enormous widescreen IMAX theaters in Disney's amusement parks for 12 years, beginning in 1986. Michael played Captain EO, a commander of a space ship who had to visit a planet ruled by an evil leader (played by Anjelica Houston). Captain EO and his crew must deliver a special gift to bring love and happiness to the planet through music and dance. The film was directed by Francis Ford Coppola and produced by George Lucas and runs at an estimated 17minutes.
THE WIZ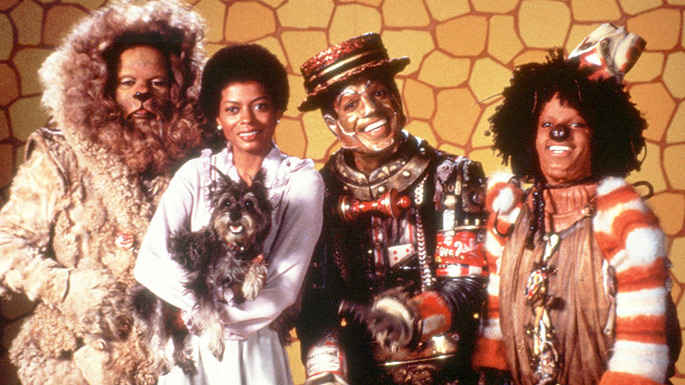 Released in 1978 The Wiz, directed by Sidney Lumet, is a remake of one of Michael Jackson's favorite movies "The Wizard of Oz". The film has an all black cast with Diana Ross playing the lead role of Dorothy and Richard Pryor as The Wiz. Michael Jackson plays the Scarecrow. The film bombed at the box office and has since received a small cult following despite it's very negative reviews.
MOONWALKER
Directed by Jerry Kramer and Colin Chilvers, starring Michael Jackson, Joe Pesci as Mr. Big and Sean Lennon, Kellie Parker and Brandon Adams. Moonwalker was a genuine oddity that came out at the height of Jackson's popularity. It was cinematically released everywhere except America, where it went directly to video supposedly because the producers demanded too high a percentage of profits. Not really a film per se, but more like a collection of Jackson video clips. The film consists of six segments including a brief biographical tour of Jackson's life, a re-imagining of the Bad video (only with child actors), a Speed Demon segment which includes some groundbreaking stop motion and animated effects, and the Leave Me Alone number, all conducted in the style of Monty Python hinged-still cutouts, which offers a tour through Jackson's private life. The centerpiece of the film. an extended 25-minute Smooth Criminal segment is clearly the highlight. The segment was directed by Colin Chilvers, better known as a special effects man on films like Superman.
GHOSTS
Ghosts was written by Michael Jackson and Stephen King and directed by Oscar-winner Stan Winston, the world's foremost creator of creatures. Winston is the man responsible for creating some of the most iconic film characters to date including 'The Terminator', the extra-terrestrial monstrosities of 'Aliens' and the dinosaurs of 'Jurassic Park'. While Thriller could be viewed as a tribute to 1950s – '70s genre films (I Was a Teenage Werewolf and Night of the Living Dead), Ghosts owes more directly to the Universal Monsters series of films. Even its opening sequence recalls scenes of torch-wielding villagers storming the castle gates of an assumed antagonist, a repeating motif in movies ranging from 1931's Frankenstein to 2004's Van Helsing. The short film featured Michael playing a number of characters that look nothing alike making use of the great make-up and special effects.
Note: Look out for an early appearance by Mos Def.
It's clear that Michael Jackson just like me was a hardcore movie geek. Worshipping the icons of the screen past and present, he played homage to his heroes in his work, mixed and mashed genres, worked with the best, introduced us to future stars and changed music and music videos forever.
R.I.P. Michael Jackson
[wpchatai]