Ever since I was a child I've always been an avid collector of many things including action figures. And so growing up, I wished that Nintendo would release a series of action figures for many of the characters in their roster. We never did get those action figures but thankfully Nintendo began releasing amiibos in late 2014. Of course not everyone is happy with these figurines and with reason. No one knew the original two waves were limited and by the time people figured it out, scalpers stepped, in raiding the store shelves and selling the amiibos on on Ebay or Amazon for $60 to 100 a piece. We can't blame Nintendo for not shipping out enough product. After all, amiibos are still a new venture for the company and even Nintendo couldn't predict the phenomenon it has become. Amiibo is in its early days at Nintendo, and I can't hold them at fault for the wrongs of scalpers world-wide; but one valid criticism that I do agree with, is that these pricy figures don't do much in support of enhancing gameplay. Sticking my amiibo on the gamepad in order to receive one additional costume for my Mii character on Mario Kart 8 is very disappointing. After a wait of nearly two months, the latest Nintendo Direct presentation offered plenty to chew on, including the addition of Lucas from Mother 3 in Super Smash Bros., the debut of a 200cc speed class in Mario Kart 8 and yes, plenty of new amiibo figures. Thankfully, these new additions offer more bonus content for us consumers. Here are the highlights…
"The world of amiibo is getting bigger, better and even more interactive," said Scott Moffitt, Nintendo of America's executive vice president of Sales & Marketing. "And with existing amiibo support for games like Super Smash Bros., Mario Kart 8 and more, and upcoming support for Splatoon, Yoshi's Woolly World and Animal Crossing: Happy Home Designer, amiibo continue to stretch the definition of the toys-to-life category."
Not long ago, Nintendo said they were looking for alternate ways to make the new amiibo line more readily available to the public and now they've confirmed the release of a set of amiibo cards that will be based on Animal Crossing characters and will be compatible with the Animal Crossing: Happy Home Designergame. An NFC reader/writer peripheral for Nintendo 3DS, Nintendo 3DS XL and Nintendo 2DS – which offers the functionality for scanning amiibo currently included in the New Nintendo 3DS XL system – will also launch the same day as the new Animal Crossing game.
We already know a new set of amiibo in the Super Smash Bros. series featuring Charizard, PAC-MAN, Wario, Jigglypuff, Greninja, Robin, Lucina and Ness, will launch in May, but July brings Dark Pit and Palutena as well. And in September, Zero Suit Samus, Ganondorf, Olimar, Dr. Mario and Bowser Jr. will join the amiibo family. In addition, Nintendo confirmed that Mewtwo and Lucas amiibo will also be coming!
Using amiibo tap, Wii U users can download the free application called Nintendo Tap from the Nintendo eShop and tap any amiibo to unlock game-play highlights from select NES and Super NES games.
Launching simultaneously with Splatoon on May 29 are Inkling Girl, Inkling Boy and Inkling Squid amiibo figures. By tapping one of these amiibo to the GamePad, players can receive special missions to unlock weapons and gear.
On April 23, a new free downloadable software update to Mario Kart 8 will add support for nine more amiibo figures, including Mega Man, Sonic and PAC-MAN. Players can tap these amiibo to outfit their Mii characters in Mii Racing Suits themed to those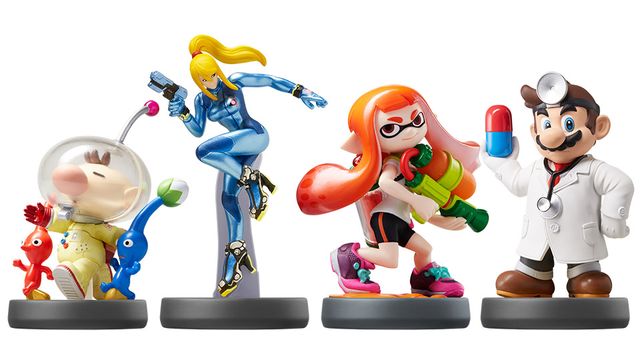 A new set of Yoshi amiibo figures made of actual yarn will launch later this fall along with the Yoshi's Woolly World game. Tapping one of these yarn amiibo to the Wii U GamePad controller while playing Yoshi's Woolly World will make another Yoshi appear in the game to assist the player. When it was first announced during E3 last year, Woolly World had everyone talking about its unique look, and
it seems like its very own amiibo figurines will follow suit. These knitted amiibo are a welcome surprise to the standard figurines we've come to expect, and promise to enhance game play, making it more fun for both single-player and multi-player action. Both the game and the amiibos are set for a June 26th release in Europe, but will only arrive stateside in the fall.