Parenthood, Season 5, Episode 20, "Cold Feet"
Written by David Hudgins
Directed by Michael Weaver
Airs Thursdays at 10pm EST on NBC
This week, on Parenthood: Julia moves on, Hank speaks up, and Zeek and Camille sign the dotted line
After months of dragging their feet, the Parenthood writers finally move several of their season-long arcs forward this week and it's astonishing how much of a difference a little momentum makes. Julia focuses on work and makes a big move in her personal life, Drew moves out of Amber's and has it out with his roommate, Hank and Sarah start to talk about why they haven't gotten back together, Adam and Crosby remember they started a label, Kristina and co. move forward with their school, and Camille and Zeek find their new home. Everyone we see makes strides this week, and after the morass of interpersonal miscommunication (or willful non-communication) that has defined so much of the season, it's incredibly refreshing.
The highlight of this episode, once again, is Ray Romano, who always shines as Hank when given the opportunity. His arc over the season has been a reliable one for the show and it's great to get more time with him here, as Hank takes the difficult step of talking to Sarah. It's rare for Parenthood to make either Hank or his Braverman counterpart, Max, the audience surrogate, but that's what we get here, as the show (via Dr. Pelikan) finally lets us in on why Hank and Sarah haven't picked up where they left off in season four. It's long overdue, but at least the journey has been somewhat interesting and putting us in Hank's shoes for that moment works well (putting that moment at the end of the season, not so much). Romano particularly excels in his physicality, committing to Hank's avoidance of eye contact, and being able to follow his eyes throughout his scenes first with Pelikan and later with Sarah and discern so much from their motion, and the very rare moments when Hank does make eye contact, is incredibly engaging.
Also engaging is Julia, who makes a big move in sleeping with Mr. Knight. It would almost be sweet, if it didn't seem like a foregone conclusion that, now that Julia's starting to move on, Joel will conveniently pop up in the final two episodes having decided he does want to reconcile. That's a concern for next week, however; here she's back on her A game, and it's nice to see the show recognize that. There's nothing to make a character likeable again quite like them doing something useful, and doing it well, preferably while demonstrating a sense of humor. Tying her in with Adam and Kristina's school makes sense and while the question of how she and Joel are possibly maintaining their lifestyles (or Ed his apartment) without more income becomes increasingly problematic over time, with only two episodes left this season, that's a problem easily put on hold until next year.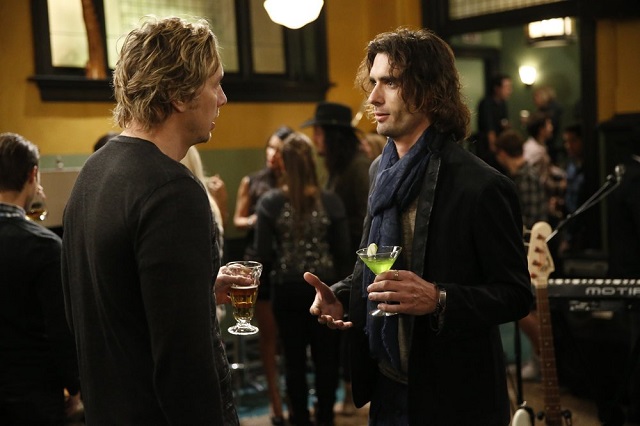 Apparently all Drew needed to get him out of his funk was his mother to drag him back to school and his increasingly likable roommate to force a confrontation out of him. It may be tidy, but at least the Drew-mopes-around-and-pines-after-an-annoying-coed phase of the show seems to be wrapping up, for now. The notion posited this week, and earlier, that Drew's as much to blame for Natalie's acting out as she is clashes significantly with what we saw at the beginning of the season, but otherwise, everything Drew-related is a breath of fresh air.
The final "finally!" this week is Zeek and Camille's sale of the house and potential purchase of their new, smaller home. What started as a painful and honest depiction of a woman desperate to be heard has stretched out overly long, with needless retreads of the same few points. It's great to see a destination on the horizon and while the Bravermans, and a lot of the viewers, will miss the old homestead, at this point, moving day can't come quickly enough.
All of this goes to underline the critique this reviewer and many others have made for months now- the main problem with Parenthood this season hasn't been any one storyline, it's been the show's 22 episode order. There hasn't been enough story to fill a full network season, bogging down the show in retread after retread and contrived stalling tactics, and now that we're reaching the end of the season and the writers are picking up the pace, the series is far more compelling. Here's hoping they keep up this momentum through the next two weeks and learn from the experience when they're (fingers crossed!) breaking season six.
Kate Kulzick
[wpchatai]